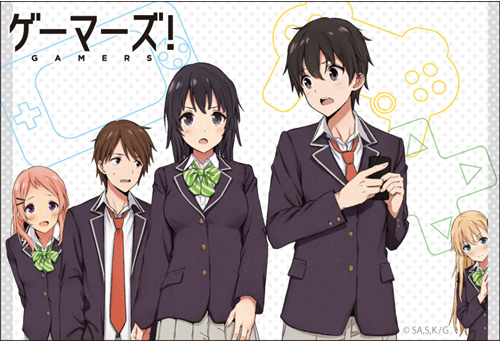 We are going to be the first to admit that otaku and gamers can be a bit awkward. We don't know if it's because the hours of screen time cause awkwardness or the awkwardness is the reason we spend so much time in front of a screen. We just know that for some of us, the geeky life of gaming makes many of us feel different than the "Normies" (well-adjusted peers). The anime Gamers! is a story that focuses on student and gamer Keita Amano. He fits the classic gamer stereotype, a quiet loner who doesn't have much of a social life. One day he discovers that Uehara Tasuku, a cool "normie" guy he looks up to, is secretly a gamer. Keita's world continues to grow like a MMO map after an expansion pack, especially when he is recruited by the school idol for the Gaming Club.
The series that follows is about the relationships between the characters and less about actual gaming. The show is guaranteed, however, to make you cringe in sympathetic embarrassment occasionally as a series of misunderstandings make life very complicated. Gamers! is a wonderful romantic comedy of errors that shows our characters that the love bug must refer to a line of bad code in a dating sim, compiling one problem after another until it all begins to come crashing down on our cast. The fun plot along with great 4th wall gaming references make winners of all who watch it. We now count down the top most awkward characters in Gamers!
6. Tasuku Uehara

Tasuku has a good life. He is handsome, cool, has lots of friends, and a cute-as-hell girlfriend. He also has a secret. Tasuku is a reformed nerd. We initially see him a guy that wants to help Keita out when he sees Keita hanging out in the arcade alone. He sees a part of who he used to be in Keita and becomes friends with him over their shared love of games. We quickly learn that the cool, composed guy is a façade. He is just as confused and uncertain as most geeks. He doesn't even know why his girlfriend, Aguri, likes him. He asks her and her answer has him question a lot about himself. She told him she was in love with him since middle school, back when he was a geek, and changed her whole look to catch his attention in high school. He has a lot of problems processing the answer. Tasuku can't understand how she could have liked the guy he used to be. The statement changes his once-shallow feelings for her.
We see Tasuku attempt to act as the puppet master again and again, bringing the members of their group together in an attempt to get each of them to be honest. The attempts also backfire again and again and we get to watch him struggle in silence as things blow up in his face.
---
5. Konoha Hoshinomori

Konoha Hoshinomori is the younger sister of Chiaki, one of the lead protagonists of the series, and is the president of Hekiuyou Private Academy Student Council. She is basically a model student. She likes to be liked and depended on. Konoha doesn't even mind putting in the extra effort to gain that respect. She tends to sail through school with ease and is ranked high in athletics and academics. She is also average in her own way. The high-achieving school idol has never been able to be number one and feels she only got the job of student council president because Karen Tendou, the most popular girl in school, transferred out. She has a dark secret.
She's hiding the fact that she's a bit of a pervert. Konoha loves adult video games and eroge. She loves them to the extent of dressing up in a disguise and frequenting the area behind the over-18-only curtain at the game shop. The world of Konoha gets even more complicated when she assumes the identity of an online game developer. Keita is friends with this developer online, but they've never met in real life. We get to see her freak out at several points when her secret is on the verge of exposure. Konoha also seems to slowly develop a crush on Keita, who is at the center of many of the misunderstandings. At various points, she seems like the only sane one in the group, but insanity spreads like a virus leaving her in just as a confused state as the other characters in this romcom.
---
4. Keita Amano

Keita Amano is a high school student and avid gamer. He seems to enjoy playing games across genres. If you looked at his stats you'd see that he's pretty average: average height, average grades and zero friends (games are his friends). Keita has below-average stats in almost every game he plays, too. He understands his spot in the social pecking order until that quiet, comfortable status gets up ended. The prettiest girl in school speaks to him and begs him to join her club and because of that one communication his life becomes kind of a mess. When the school idol Karen Tendou tries to talk with him, his ability to speak simply becomes word salad. Words come out of his mouth completely confused and out of order. Keita literally drops everything, like dropping a stack of games all over the floor, when Karen talks to him in a game shop one day. He is just a shy, awkward guy and even manages to alienate a different girl by the name of Chiaki.
You could say that Chiaki and Keita have a lot in common. The two are both quiet gamers who are almost invisible to most of their classmates. A rift quickly emerges between the two because of a disagreement about game elements. She is anti-moe characters and he is pro-moe characters. The burgeoning relationship hits an iceberg and begins to sink fast. Keita's world gets even more complicated by the introduction of a third girl, his best male friend's girlfriend, who helps Keita spin out of control by being a mess herself. We are left wondering, if the potential of dating three girls is what awkward gets you -- what's the downside of being a dork?
---
3. Chiaki Hoshinomori

Chiaki is a bigger geek than Keita. She has almost zero self-esteem in a public setting. Chiaki's world seems to be one online. She is constantly plugged in, playing games, and making games under aliases. When she and Keita first talk, they sit comically far apart and can barely look at each other. With her long hair and eyes on the ground, Chiaki in many ways seems to be a wallflower just like Keita. The change from quietly awkward to public mess begins after she meets Keita and more importantly Uehara. She quickly develops a crush on the handsome Uehara and when he makes an off-handed comment about how she could look cute with shorter hair, she shows up the next day with a bob.
She is a bit indecisive at times, especially when she learns that an online friend and Keita are one in the same. A revelation that her rival is one of her closest online friends causes her to black out for hours, it was as if she had too much data to process and began to lag. She then has to spend a lot of time questioning her feelings about Keita when hours earlier she was attracted to Uehara. We are then set up for a series of awkward interactions and conversations; she even forces her sister to pretend that she was the one he was friends with online. Chiaki is cute and, like a lot of the characters, an absolute mess. She doesn't want to admit that she might possibly like her rival Keita, and that adds another layer of confusion for the already confused characters.
---
2. Aguri

Aguri is Tasuku's girlfriend. The pink-haired girl isn't exactly the smartest in the group, either. She's not really a gamer and is more concerned with gossip and fashion, you know average "normie" teenage girl stuff. Aguri has a rather happy-go-lucky exterior, but her inner self is filled with anxiety that places her in a whirlwind of uncertainty. She is sweet and loyal to her boyfriend, despite all the misunderstandings that lead other members of the group to think otherwise. She has honestly been in love with Tasuku since middle school and worked hard to gain his attention and get him to go out with her.
In a way, she begins to take Keita under her wing to help him befriend the school idol, Karen. Her world begins to spin out of control there. She sees Tasuku from the window of the diner where she is giving Keita advice about talking to Karen; Tasuku is acting very close to Chiaki. The shock causes her to drop two colas on the floor and generally freak out. Aguri and Keita then start spending a lot of time together trying to determine if Tasuku is cheating. The time together makes Chiaki think Aguri is cheating on Tasuku. Aguri, like a lot of the characters, is best experienced by her inner monologues filled with suspicion and jumping to conclusions. Her reactions are exaggerated and priceless. You just have to make sure you're watching in a place where you can laugh out loud whenever you see her and Keita talking at the diner.
---
1. Karen Tendou

Karen Tendou is the blonde-haired perfect school idol you'd imagine her to be. She gets great grades, is well liked by teachers, and is always willing to help out. Karen has plenty of friends and is always the center of attention. She is also the reason the Game Club still exists. She is a hard-core gamer. In one shot of her bedroom we see she has a full-sized arcade machine in one of the corners. One day she finds out that Keita, a boy in her grade, is an avid gamer and recruits him to join the Game Club. He visits the club but decides to take a pass. Keita saying "no thank you" is when things begin to unravel for Karen. Possibly for no other reason than she isn't used to hearing no, she makes a public request in front of his class about joining the club.
She attempts to get him to join and utters the words, heard by the class, "I'm kind of interested in you." It sets off a chain of events and misunderstandings rippling through the entire show. When he rejects her again she feels like she was just rejected after a confession. The look on her face is hysterical. She begins to cry and gives such a classic tsundere response, though not a tsun in reality, "You're nothing to me, you suck at games, it's not like I enjoyed spending time with you…" before covering her face and walking out of the classroom. Oh, and slipping and falling on her face. Meeting and falling in love with Keita turns her into a total hot mess. She can't get up for school on time, is constantly thinking of reasons to walk by Keita's class and she basically becomes a stalker. Karen becomes a rambling idiot when Keita comes up in conversation. The self-doubt espoused by her internal monologue is filled with statements of confusion and frustration. Her wild imagination about what could or could not be going on in Keita's relationships and her reactions like banging her head into a change machine at an arcade are laugh out loud funny.
---
Final Thoughts
Gamers! is an amazingly well written romantic comedy for an anime. The characters are interesting, the girls are cute, and the comedic timing is perfect. A comedy of errors is a well-worn genre, yet you watch and laugh each episode. The setting is a game club, but the reality is it's about the relationships between the gamers. You can watch in horror as line after line of misunderstandings make a more complicated plot. You get the chance in a few episodes to think yeah, that paring could work, but in the end, realize why the canon paring is probably the best pairing. You want to watch Gamers! to laugh at young love and the confusion and embarrassment that happens when you jump to conclusions. You won't regret spending time leveling up in this gaming rom-com.
---