También puedes leer este artículo en:Español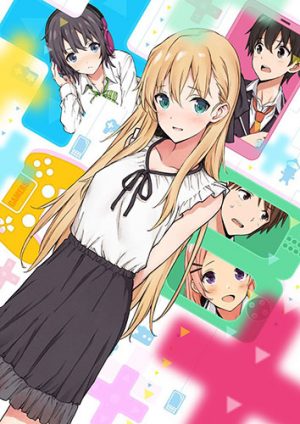 INTRODUCTION / OPENING PARAGRAPH
Video games come in all shapes and sizes They are all too similar to those who play them. Some of us prefer to just play games for fun and to possibly just relax after a long day of school or work. Meanwhile there are those who play for competitive sport, to beat their opponents and show the world they are the best player all around. In the anime series Gamers!, we meet people that accompany a little bit of all the types we just mentioned and because their all together in this comedic series the various banter and interactions are pretty funny. Thus we here at Honey's Anime got to thinking about other anime that reminded us of Gamers! and before long we had our anime titles and wish to share them with you all. Here is our 6 Anime Like Gamers!
Now for our 6 Anime Like Gamers! list we decided to look for a few important key factors that made the shows similar. One of the major elements is these shows have to had made us here at Honey's Anime laugh. We also looked for anime that had friendship being built from some kind of common theme, which is seen in Gamers! where all the friends are in love with video games. This list of anime like Gamers! was a lot of fun for us to write and these anime are definitely going to be shows you'll want to watch if so far you're finding Gamers! just pure fun. Now then folks let's jump into this comedic list of anime, warning wacky and odd characters are inbound.
Similar Anime to Gamers!
1. Netoge no Yome wa Onnanoko ja Nai to Omotta (And You Thought There is Never a Girl Online?)

Episodes: 12
Aired: Apr, 2016- Jun, 2016
For Hideki Nishimura, the online world is his second life filled with action, dangerous quests and traumatic heartbreak. While on his favorite game—using the avatar Rusian—Hideki is flat out rejected by a girl he has fallen in love with and to make matters worse, she tells him that she is actually an older dude. Years pass and Hideki has learned to not fall in love with girls online and would just rather team up with his guild of other guys and the one girl on the team. However, when one of the members requests an online meetup, Hideki is about to learn that the people behind the avatars aren't who he expected in the slightest.
As online gamers ourselves here at Honey's Anime, we know the feeling of how much an online game can feel real. There are times where we completely understand why some just can't find the rift between reality and video game but in Netoge no Yome wa Onnanoko ja Nai to Omotta, some of these characters really can't. Honestly studio Project No.9 really did an amazing job with Netoge no Yome wa Onnanoko ja Nai to Omotta as we were always laughing at the randomness that occurred at times in this show. With awesome visuals and plenty of comedy, fans of Gamers! will thoroughly enjoy Netoge no Yome wa Onnanoko ja Nai to Omotta.
Netoge no Yome wa Onnanoko ja Nai to Omotta PV
---
2. D-Frag!

Episodes: 12
Aired: Jan, 2014- Mar, 2014
The path to being a master delinquent is pretty tough. Kazama Kenji feels he must prove to his school and friends that he isn't a guy you want to mess with as he lets his fists do the talking. Though Kazama is about to meet his toughest opponent in the form of Game Creation Club member Roka Shibasaki who wants Kazama to do something for her, join their club. Now as an official Game Creation Club, Kazama must try to survive to keep his delinquent image as well as survive against the other girls who populate the club alongside of.
D-Frag! reminds us of what we love about Gamers! thanks to the comedic characters and the even weirder club concepts. Helmed by studio Brain's Base, D-Frag! aims to have non-stop random bits of comedy and plenty of comedic banter that seems to almost rival Gamers! occasionally. What we loved about D-Frag! though was that every character didn't feel like they were based on a trope theme or were one dimensional. Characters like Kazama, Roka and the other girls of the Game Creation Club are all unique and it makes the show feel like a true breath of fresh air in the comedy genre. If you think you're ready to join the Game Creation Club and their silly antics then be prepared for a comedy anime that will kill you…with laughter. We have to wonder though, would clubs like this even be allowed to exist in the real world…
D-Frag! Series Collection- Official Trailer
---
3. Saenai Heroine no Sodatekata (Saekano: How to Raise a Boring Girlfriend)

Episodes: 12
Aired: Jan, 2015- Mar, 2015
Tomoya Aki has lived his life as a fan of anime and light novels, better known to the world as an Otaku. Now Tomoya has a mission, to share his love for what makes anime so great by making a video game for all to enjoy. However, even Tomoya knows that he lacks the skills to do this on his own and thus turns to his Eriri Spencer Sawamura and Utaha Kasumigaoka to assist him. Tomoya with his new team of creators form together and now have the means of making a great game together. Yet, if they wish to unleash the best game ever they must have the same love Tomoya does but applied to their real lives.
In Gamers!, we have several characters try to join together based on what they love. That same theme can be found in studio A-1 Pictures work Saenai Heroine no Sodatekata. Watch as a bunch of people attempt to join forces to create an amazing game and at the same try to understand each other's own worlds. We really loved that Saenai Heroine no Sodatekata has a lot of heart and a clear understanding of what it means to get together to share a passion only fans of that medium can understand. If you find Gamers! to appeal to the inner love you have for games then maybe check out Saenai Heroine no Sodatekata.
Saekano: How to Raise a Boring Girlfriend PV
---
Any Anime Like Gamers! ?
4. Ore no Imouto ga Konnani Kawaii Wake ga Nai (My Little Sister Can't Be This Cute)

Episodes: 12
Aired: Oct, 2010- Dec, 2010
If you asked Kirino Kousaka's friends what Kirino is like, they would all tell you the same thing. Kirino is just a popular girl with great grades and the looks of a model. Even Kirino's older brother Kyousuke seems to believe that Kirino is just a cute looking little sister and nothing more. However, when Kirino is in her room she is actually an otaku who loves eroge and anything anime related. One day when Kyousuke ends up finding out about her obsession not only does the barrier they've had between them begin to fade but Kirino now aims to make her brother just like her.
Otakus struggle indeed with their love for all things anime at times. We completely understand Kirino's drama in Ore no Imouto ga Konnani Kawaii Wake ga Nai. While Ore no Imouto ga Konnani Kawaii Wake ga Nai might be a comedy at times there are plenty of romantic themes—though this is more relevant in season 2—all too similar to Gamers! which we see possible relationships soon to form. Trust us folks we here at Honey's Anime loved Ore no Imouto ga Konnani Kawaii Wake ga Nai and equally are loving Gamers! If you're looking for a series that will appeal to your inner otaku struggles, then you'll fully enjoy Ore no Imouto ga Konnani Kawaii Wake ga Nai.
OREIMO Trailer 3
---
5. Kono Bijustubu ni Wa Mondai ga Aru (This Art Club Has a Problem!)

Episodes: 12
Aired: Jul, 2016- Sep, 2016
Clubs are meant to have members who love a specific theme and find joy talking and participating in the clubs various activities. This is what it means to find passion in any club and to enjoy the club to its fullest. For Mizuki Usami he loves his school's art club more than anything. Unfortunately for Mizuki he's the only member who takes the club's activities seriously all the others either sleep or don't even show up! What can Mizuki do to make his other club members enjoy the art club as much as he does?
We won't lie folks, we know exactly how Mizuki feels in Kono Bijustubu ni Wa Mondai ga Aru. We here at Honey's Anime have also had our fair share of club issues and know the annoyance it can lead to at times. Studio feel really did a fantastic job with Kono Bijustubu ni Wa Mondai ga Aru making a beautiful looking show with a nice mixture of comedy and school life. Echoing Gamers! Kono Bijustubu ni Wa Mondai ga Aru has a nice mixture of zany comedy and perfect comedic moments that are heavily infused with the oddness only found in anime. Kono Bijustubu ni Wa Mondai ga Aru will be geared towards those who had school clubs that struggled with certain members and may even give you the ways of how to bring back a dying club, but that isn't assured and we're pretty sure not every way Kono Bijustubu ni Wa Mondai ga Aru talks about is even possible in the real world.
Kono Bijutsubu ni Wa Mondai ga Aru PV
---
6. Genshiken

Episodes: 12
Aired: Oct, 2004- Dec, 2004
Kanji Sasahara has just started college and is trying to find a way to fit in. Then fate had Kanji find an odd club labeled as the Society for the Study Modern Visual Culture or better known as Genshiken. The goal of the Genshiken is to make people realize the greatness of the otaku lifestyle and gladly invite Kanji for a trial run. Initially Kanji has no love for the club but after meeting a few club members and seeing how they accept Kanji for who he is, Kanji decides to join Genshiken. Now Kanji will meet the other club members and end up mixed in with their odd lifestyles and various issues.
Even though Genshiken is 13 years old it holds a lot of the same elements found in Gamers! Genshiken is an early example of creating a show with tons of random characters who all share the same love for a specific topic and theme. Studio Palm Studio isn't known for a lot of their works but Genshiken was easily one of the funnier shows we've seen from the early 2000s. Plus if you fall in love with Genshiken—like we did here at Honey's Anime—there is a second season, OVA and plenty of new spin offs that stand on equal terms with this awesome show. We know it sometimes can be a risk to try new things, but use Kanji as a beacon for what can await trying something different and go watch Genshiken as soon as either Gamers! ends or while you wait for the next episode to air.
---
Final Thoughts
Okay, hold on we'll finish up this list in a second, we need to recuperate after all the laughter. Honestly random comedy is something amazing at times. The ability to just gather such odd people and throw them together in various situations—especially where they share the same love for a hobby or love for each other—creates some of the best comedy in anime hands down. Anyways folks we hope you found a new show to watch while Gamers! continues airing, or at the very least a show you're going to watch when it finally ends. As always we love hearing from those who take their time to read our recommendation lists and thus a comment down below would be really appreciated. Don't worry by the way everyone, we here at Honey's Anime continue watching anime around the clock—though we do sleep at times—to bring you more lists that will make you smile just like this one.
---