Nintendo's E3 2017 event:
When:
9am PDT/12pm EDT Tuesday, June 13th
Where to Watch:
E3 broadcast:  https://www.twitch.tv/nintendo
Nintendo Treehouse:  https://www.youtube.com/user/Nintendo
Introduction
Nintendo has been doing their own thing for a while now. Ever since they abandoned keeping up with Sony and Microsoft in the hardware battle by introducing the less powerful Nintendo Wii, gamers haven't been quite sure what to expect from them. Last year at E3 2016, they forwent the conference altogether and attended E3 with a Treehouse event. For the most part this showing only highlighted The Legend of Zelda: Breath of the Wild and Pokemon Sun & Moon. While those two games were amazing on their own, the fact that they instead opted to keep their other titles for Nintendo Live events instead of on the biggest gaming stage that is E3 left many wanting more.
This time, however, Nintendo has acquired a theater for their live E3 event and plan a professional showing. What's more, Nintendo has quite a few games left in the tank to excite fans. The Nintendo Switch's success is taking off, and the 3DS is still dominating the handheld gaming space. There are just as many reasons to be excited to play on Nintendo systems as ever before. Here are our Top 6 Nintendo games to be on the lookout for during E3 2017.
1. Hey! Pikmin
System/Platform: 3DS
Genre: Puzzle, Sidescroller
Release Date: July 28th, 2017
Going on it's 6th year on the market, Nintendo's 3DS still has games in the pipeline for its dedicated fans. Hey! Pikmin is a spinoff of the mainline Pikmin console series, with a 2D sidescrolling twist. Players will take control of Captain Olimar as he leads his tiny friends through various challenges in order to refuel his marooned spacecraft. While this handheld title is a large deviation from the three-dimensional strategy games of the series, coming from Nintendo, we have high hopes for what's in store. Collectors of Amiibos will also be able to get a new Pikmin variant which goes on sale July 28th, same date as the full game. Nintendo has stated more details on how this will tie in with the 3DS version will be revealed soon.
Hey! Pikmin Hands On Preview - IGN
---
2. Fire Emblem Warriors
System/Platform: Switch, 3DS
Genre: Action, Hack-n-Slash
Release Date: TBA Fall 2017
Similar to Dragon Quest: Heroes and Hyrule Warriors, Fire Emblem Warriors is a Hack-n-Slash, Dynasty Warriors-style action game featuring characters from the long-running Fire Emblem main series. The majority of its cast will be characters taken from the newer games in the series, Fire Emblem: Fates and Fire Emblem: Awakening. While every playable character that has been shown is a swordsman so far, archer and magician type characters also exist. Many of the series' key elements are also being translated to the new gameplay setup, so returning players can look forward to that as well. Although an actual Fire Emblem Strategy/RPG game is planned for 2018, details of that are scarce, so until then, sit tight.
Fire Emblem Warriors - Nintendo Switch Presentation 2017 Trailer
---
3. Xenoblade Chronicles 2
System/Platform: Switch
Genre: JRPG
Release Date: TBA 2017
The original Xenoblade Chronicles was a fan favorite, so much to the point that collectors were hunting for expensive used copies of the game at local retailers. When its spiritual successor Xenoblade Chronicles X released for the Wii U, loyal fans remained hopeful that a sequel was on the horizon for the original. After the re-release for the New 3DS, fans got the news they'd been waiting for. Xenoblade Chronicles 2 looks to be every bit the sequel fans were hoping for. While details are scarce, with E3 on the way, there's more to look forward to.
Xenoblade Chronicles 2 - Nintendo Switch Presentation 2017 Trailer
---
4. Splatoon 2
System/Platform: Switch
Genre: Shooter, Multiplayer
Release Date: July 21st, 2017
Fan support was amazing for the original Splatoon on the Nintendo Wii U, Nintendo's best effort in the console shooter space. With more planning put into place on Nintendo's end for online multiplayer options on the Nintendo Switch, Splatoon 2 is shaping up to be a solid continuation on that front. With a bevy of new gameplay features, weapons and modes, gamers are counting the days until it launches on July 21st. Between now and then however, Nintendo has promised to show even more, and E3 is likely to be just the venue to do that.
Splatoon 2 - Nintendo Switch 2017 Presentation Trailer
---
5. ARMS
System/Platform: Switch
Genre: Fighting, Motion-control
Release Date: June 16th, 2017
Since it was initially displayed, the dual break-apart controller of the Nintendo Switch has been met with mixed reactions. Nintendo has had shaky success in trying to win over traditional gamers to seriously utilize motion gaming, and new fighting game Arms is the latest attempt. A colorful and wacky cast of playable fighters rounds out the fighting roster. Less than a restrictive traditional boxing type game, or even a more reserved attempt like Wii Sports Boxing, Arms is a more fantastical attempt on the sport.
There have been a number of Global Test events allowing Switch owners to play, and the main game is due out shortly after E3 ends. During the conference, however, there is an Arms Open Invitational that Nintendo plans to promote and show off the game with. For any gamers who are interested in playing this but are dead set on standard controls, there is an option to forgo motion altogether. We'll have to wait and see what the full offering looks like after E3.
ARMS - Nintendo Switch 2017 Presentation Trailer
---
6. Super Mario Odyssey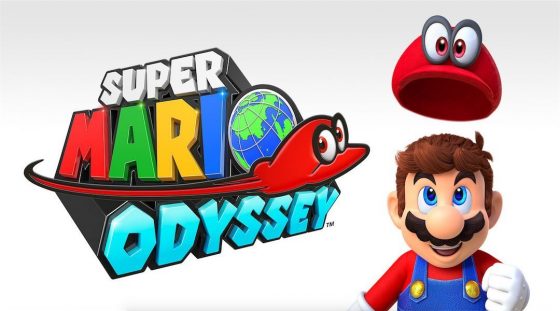 System/Platform: Switch
Genre: Platforming
Release Date: TBD Holiday 2017
Every Nintendo home console has had its definitive Mario game, so it's no surprise that one would be coming to the newly released Nintendo Switch. These titles are often the most inventive and polished platforming games on the market. Nintendo has always put their best foot forward with Mario, and with Odyssey it looks like they are stepping into new territory.
In a drastic change from recent titles, we see our beloved hero Mario exploring the iconic urban landscape of what looks to be New York City. While the more imaginative fantasy worlds of what we're used from the locations such as the Mushroom Kingdom are back, this more realistic locale is a bit of a game changer from what we've come to expect. The graphics have been beefed up from what we last saw in the already impressive Super Mario 3D World on the Wii U as well. All in all it's looking to be another anticipated release from Nintendo's first party.
Super Mario Odyssey - Nintendo Switch Presentation 2017 Trailer
---
Honey's Final Thoughts:
There's more than just games that Nintendo may have in store for expectant onlookers. The NES Classic was just discontinued even though it was arguably at the height of popularity. Scalpers took full advantage of its rarity, often selling the typically $59.99 MSRP system for upwards of $200. Rumors are that Nintendo may have more retro revival plans in store for the future, perhaps in the form of an SNES Classic? Time will tell.
Plans for Nintendo Online have also recently been revealed. The service is free for now, but will be $20/year starting in 2018. Before then, Nintendo hopes to sell gamers on the experience through online enabled titles that will be releasing on the Switch in the upcoming months. More of that will undoubtedly come at E3 and future Nintendo Directs.
---