When is the Xbox E3 2017 event:
When:
2pm PDT/5pm EDT Sunday, June 11th
Where to Watch:
E3 broadcast:  https://www.twitch.tv/xbox
Xbox Youtube Channel:  http://www.youtube.com/xbox
Introduction
Four years ago, Microsoft suffered a massive disconnect with the gaming community at E3 2013. They misjudged gamers' expectations through a series of miscommunications and miscalculations. Fast forward to 2017, they've managed to recover, and feature-wise have an edge up on Sony. Backwards compatibility, both 4K movies and gaming, and a solid online offering, round out an impressive Xbox package. They're also reconnecting with the PC community by bringing numerous Xbox One releases to Windows 10.
The one area that they've really been lacking in is the exclusives category. In past years, Microsoft has gone through a bit of a shift, cancelling many of their high profile 1st party games as well as shutting down studios. The team behind Peter Molyneux's Action/RPG Fable series, Lionhead Studios, is gone. Games hoping to strengthen Xbox's presence in Japan are uncertain. Scalebound from Hideki Kamiya has been cancelled, as well as a next-gen reboot of Phantom Dust. The trifecta of Xbox, Halo, Gears and Forza, have been carrying the platform for more than a generation. With another E3 upon us, we're hoping to see just what Microsoft has in store for the future. Here are the Top 6 games we're looking forward to from Microsoft at E3 2017.
1. Crackdown 3
System/Platform: PC, XBO
Genre: Action, Shooter
Release Date: TBD 2017
In 2007, the original Crackdown on Xbox 360 saw a surge in popularity due to the fact that buying the game was a surefire way to get a Halo 3 beta code. A recurring joke was that after the beta ended, many threw the disc away. The game itself was a very unique kind of hybrid superhero shooter, set in a cartoony open world. On it's own, it was definitely a fun game worth playing. Its sequel, however, didn't quite live up to the original, but that didn't discourage Microsoft from going ahead with plans for Crackdown 3.
Crackdown 3 has been passed on to a 3rd developer, different than those that created the previous two games. The same core gameplay elements are the same, in that you still play as a superpowered agent able to leap buildings, ram vehicles, and wield massive weapons. Developer Reagent Games seems to have taken steps to even flesh out more of a story, something that the previous two games were exceedingly light on. All in all, there's a good deal to be interested in, and we'd like to know more.
Crackdown - Xbox One E3 Reveal Trailer
---
2. Sea of Thieves
System/Platform: PC, XBO
Genre: Action, Multiplayer
Release Date: TBD 2017
Developer Rare has been quiet for a while since the Xbox 360. They made the Rare Replay, which was just a port of many of the studio's most beloved games which they'd created over the decades. Now they're traversing uncharted seas towards a new Pirate-based online multiplayer action game. From what they've shown, it seems to be rather ambitious in its scope.
The game has players working together in five-man teams, exploring the high seas on pirate ships that range from fully crewed vessels, to smaller two man boats. The game takes place in an open world connected with other players online. It even allows for players to play on both Xbox and on PC using Windows 10. With this being Rare's first release in a while, we're anticipating seeing what more they have in store.
Sea of Thieves: Official E3 2016 Gameplay Trailer
---
3. Halo 6 (?)
System/Platform: XBO
Genre: First-person Shooter
Release Date: TBA
Well, first of all, we aren't exactly sure if this one even exists, but history has shown that Halo and Gears of War alternate in their release schedules, almost like the Panchen and Dalai Lama. Halo 5 was an ambitious step for the Halo series, embracing gameplay elements that many competing shooter franchises have as staples. Technically, it was a dream, running at 60fps on Xbox One, a first for the series on consoles. Storywise, it pitted the iconic duo of Master Chief and Cortana against each other, with a vast robot alien armada separating the two. It was a different type of narrative, introducing a new group of Spartans to antagonize the Master Chief and his old war buddies. We're anxious to see what Microsoft has in store at E3 for the Halo franchise, because everyone knows it's coming.
---
4. Ashen
System/Platform: PC, XBO
Genre: Action, RPG
Release Date: TBD
For years, gamers have complained that the Xbox platform has been home to too many shooters, at least as its high profile games go. Microsoft has done a good job in diversifying their portfolio in recent years, and games like Ashen are the key to continuing that trend. An artistic-looking Action/RPG with a serious tone, developer Aurora44 says that the key to success in the game will be forging relationships within this bleak, open world setting. We haven't seen the game in some time, and the only update from its announcement in 2015 was that it was delayed to 2017. What we do know interests us, so let's hope we see it again at E3 2017.
Ashen announce trailer for E3 Xbox One
---
5. State of Decay 2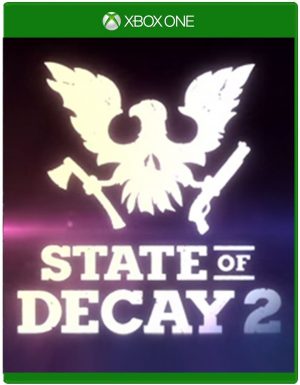 System/Platform: PC, XBO
Genre: Action, Survival
Release Date: TBD 2017
Everything that we know about State of Decay 2's new features sounds like a step in the right direction. The first game was a single-player zombie survival action game, forcing players to struggle against the undead in search of resources. The sequel is adding four player co-op and is adding an even larger open world map to its game. Usually in co-op based games, the difficulty is increased and it means resources are rationed out differently. Developer Undead Labs has opted for a different experience. If you have more players in your team, you can obviously do more to battle the same number of enemies, encouraging further exploration. In your search for allies, the fact that the game is another Xbox Play Anywhere title is a huge help. This means that PC and Xbox players can play together, and that save data and ownership of the game is shared as one on two platforms. This is another one to keep an eye out for at E3 2017.
Announcing State of Decay 2 - Xbox E3 2016
---
6. Below
System/Platform: PC, XBO
Genre: Roguelike
Release Date: TBD 2017
Below is a beautiful game, that just so happens to make the player feel very small. The camera is forced farther back than one might expect in this top-down perspective, rogue-like game. The environments are haunting and massive, and a sense of impending doom for the player is seemingly around every corner. We liked what we saw at E3 2015, but haven't seen much since. It was delayed indefinitely in 2016, with developer Capybara Games saying that they were continuing work till it was finished. Hopefully E3 2017 is the right time for this game's resurgence.
Below Gameplay Trailer
---
Honey's Final Thoughts:
Microsoft is hoping to continue on with its recent momentum. Their strengthening of their PC roots with the Windows 10 platform is a good move, as well as their increasing loyalty to Xbox 360 owners with backwards compatibility updates. Project Scorpio, the more powerful 4K Xbox, is set to make an appearance to compete with the PS4 Pro. In general, the only thing they need is for their 1st party to create more diverse games. Everyone has come to expect Forza, Gears, and Halo from them for more than a decade now. Hopefully this year's E3 will bring us what we're looking for.
---