PC Gaming Show E3 2017 event:
When:
10am PDT/1pm EDT Monday, June 12th
Where to Watch:
E3 broadcast:  https://www.twitch.tv/e3
Introduction
On its third year of having a dedicated presence at E3, the PC Gaming Show will be returning to the stage, this time sponsored by Intel. With Microsoft shifting their focus to strengthening their PC gaming brand in conjunction with the Xbox platform, more console exclusive games will be seeing a gradual shift towards PC systems. Not only that, but the event promises to highlight two new major focuses. The PC Gaming Show will introduce viewers to new Virtual Reality tech, as well as contain a strong eSports presence. Both of these areas in gaming are a strong market for the PC and are steadily growing.
Unlike the three console manufacturers who have a unifying presence, all maintaining their games under their respective flagships, PC gaming is made up entirely of a mix of hardware manufacturers and software developers. Intel will be having their press conference leading up to the event, but other game studios will be featured as well. Here, we'll take a look at our Top 6 PC games that have grabbed our interest leading into E3 2017.
1. Destiny 2
System/Platform: PC, PS4, XONE
Genre: First-person Shooter
Release Date: TBD 2017 (Sept. 9th consoles)
The sequel of what was thought to be a hybrid FPS/MMORPG, it didn't quite live up to the lofty expectations gamers had for it. Created by Bungie, the studio that made HALO on Microsoft's Xbox, 2014's Destiny was a solid FPS, but lacked content for a healthy RPG. It had loot, Raids, and an engaging multiplayer component, but many constraints and design choices hindered the game, keeping it from achieving more. This time, Bungie is no longer forced to develop a game for the previous generation of consoles, allowing them to take advantage of newer hardware's advantages. On the PC, however, Destiny 2 is 60 frames per second, a clear advantage over the previous title as well as the upcoming console version.
At the unveiling event in May, Bungie and Activision-Blizzard debuted Destiny 2 to the world, and PC gamers reported back that it looked phenomenal from what they experienced. Blizzard's team even announced that Destiny 2 would be run through Battle.net, the same system behind popular games like Diablo III and the multiplayer hit Overwatch. With Bungie promising more details at E3, and the already clear advantages held by the PC version of the game, Destiny 2 is looking to be an exciting sequel.
Destiny 2 - Official Gameplay Reveal Trailer
---
2. Vampyr
System/Platform: PC, PS4, XONE
Genre: Action/RPG
Release Date: TBD 2017
DontNod, the developer behind story driven adventure game Life Is Strange, is hard at work in bringing their vision of a Victorian era vampire thriller to life. Set in the grimy, cobblestone streets of 1918 London, players take on the role of a physician by the name of Jonathan Reid. As one might expect, he is not your run of the mill doctor, as he himself is suffering from his own Vampiric affliction.
Allowing players to navigate the game's story under their own moral judgment, DontNod hopes to have players questioning their sense of justice. Naturally, as a vampire, Reid must feed. Picking your victims and when you carry out your attacks to further your goals is a key element. Doing this while upgrading his weapons and abilities is also crucial. Reid is a newly made vampire, and must stave off a group of vampire hunters as he seeks a way to cure himself. We're looking forward to learning more about the game at E3.
Vampyr - The Darkness Within Trailer
---
3. Call of Duty WWII
System/Platform: PC, PS4, XONE
Genre: First-person Shooter
Release Date: Nov. 3rd, 2017
The Call of Duty franchise is one of the longest running non-sports game franchises in existence, at over 12 releases in the main line series. Returning to its WW2 roots in its latest outing, Sledgehammer Games hopes to continue the series' success. Ever since Call of Duty 4: Modern Warfare, the COD games have taken a more modern approach. The latest games have even gone beyond that with futuristic weaponry and tools coming into play. After the single-player reveal and trailer earlier this year, we're anxious to see what lies in store from the return to WW2.
Official Call of Duty®: WWII Reveal Trailer
---
4. Agents of Mayhem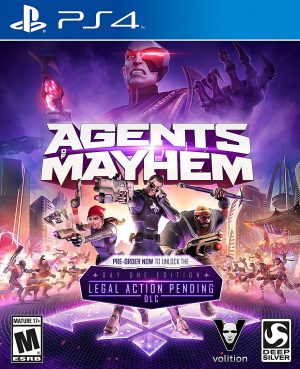 System/Platform: PC, PS4, XONE
Genre: Action, Superhero
Release Date: Aug. 15th, 2017
Volition, the developer who brought both the Red Faction and Saints Row series to life, are now setting their sights on letting everyone live outtheir superhero fantasies. In the same vein as games like Crackdown and Saints Row IV, Agents of Mayhem lets players explore an open world that's desperately in need of an overpowered badass. The game features 12 main characters for the duration of the game's story campaign. Each with their own powers and abilities, with more unlockable as players progress. Throughout their journey, they'll discover their backstories and how each became an agent of the MAYHEM organization.
Fans of the Saints Row series already know how Volition takes care to replace boring game conventions with mechanics suited for fun seekers. After all, Saints Row III was a game best associated with gigantic purple dildo based weaponry. Taking everything they've learned from their breakaway sequel, Saints Row IV, seems to have allowed them to put their best foot forward in creating a unique IP in Agents of Mayhem. We're looking forward to seeing more from this game before it finally launches on August 15th.
Agents Of Mayhem - Bad Vs. Evil Trailer
---
5. Lawbreakers
System/Platform: PC, PS4
Genre: FPS, Multiplayer
Release Date: TBD 2017
Cliff Bleszinski, formerly known as "Cliffy B.", brings us a new online shooter, this time with an anti-gravity twist. Previously associated with Epic Games, the studio behind the Unreal Tournament series on PC, Cliff brought his talents to the much celebrated Gears of War trilogy on Xbox 360. With Lawbreakers however, he's looking to go in a new direction than the third-person, cover-based shooter. Describing his vision as a more "old-school" take on recent character-based online shooters like Overwatch, it looks to be more appealing to fans of more action oriented team based shooters. As a focused, multiplayer only title, the price point has been set at $29.99 and is launching later this year exclusively on Steam for PC as well as PS4.
LawBreakers PS4 Reveal Trailer
---
6. Star Wars: Battlefront II
System/Platform: PC, PS4, XONE
Genre: Action, Shooter
Release Date: Nov. 17th, 2017
The Battlefront series from LucasArts was a cult favorite amongst multiplayer favoring Star Wars fans. After a long hiatus, Disney's acquisition of the franchise allowed for a partnership with EA to grow. Now the sole publisher of Star Wars licensed titles, EA was quick to put Battlefield developer DICE to work on reviving the Battlefront franchise. After a mixed reception to the first release in 2015, the sequel hopes to build upon the successes they achieved in the initial offering.
First of all, the game looks stunning. DICE's Battlefield games, running on the studio's proprietary Frosbite Engine, have pushed the boundaries of realism, all while catering to upwards of 32 players online. More than just slapping a Star Wars skin on Battlefront, the new sequel looks to continue with even more of what fans love from the series. A lengthy story-based campaign mode is also being added, which was absent from the first game. From the trailer, we see characters from all three trilogies' timelines interacting with each other in ways we've never seen before. Our hopes are high for what's in store for this game at E3.
Star Wars Battlefront II: Full Length Reveal Trailer
---
Honey's Final Thoughts:
There's so many good games releasing this year, and may of them are launch on the PC. Also, for the tech enthusiast, E3 is a great time for manufacturers to highlight new hardware and accessories. With Sony taking the charge of introducing the home console market to VR technology with Playstation VR, the PC hardware is steadily growing to meet the increase in overall demand. We're excited to see just what else lies in wait at the PC Gaming Show at E3 2017.
---