Introduction
The initial comment is most likely going to be something like "why didn't you just wait till the end of the season?" and the reason is the following: endings can really change how you feel about an anime. Remember Mayoiga from last year? It was okay till about episode 9 or 10 and then went downhill very quickly after that. There are a litany of anime like that that make us feel the same way. So it's best to see what we liked and then how we feel again when shows have ended. There are a lot of good shows, but really we can only claim a few so don't be too upset if your favorites do not land on here.
Note: Shows currently in their 2nd cours have not been included on purpose. Mostly because why aren't you watching Re:Creators & Boku no Hero Academia??? You are an anime fan, right? Then you need to be watching the above two shows.
---
1. Kakegurui
Just in case you are one of the very very few individuals who has not heard about it, Kakegurui tells the story of Yumeko Jabami who has just transferred into Hyakkaou Private Academy. There, your status is determined not by grades, popularity, or athleticism. Rather, it is determined by how well you can gamble. This leads to students not going into debt over 10-20 bucks, but rather into the millions of yen in debt. The stakes are high, and losing is even higher. Yumeko is about to enter into a whole new world.
This really does not need saying as Kakegurui is the anime of the season. Fight me. It's so so so good. The story is good. It's interesting. It makes you think and it can keep you on the edge of your seat while watching it. There is something about a smart girl taking on the entire school and bringing them to their knees that is normally interesting. However make her twisted and the student council equal parts vicious, ruthless, and terrifying, and you have something that is really interesting. While I cannot call Yumeko evil, she certainly seems to be representing it in another form. Watching Kakegurui is almost like watching two of your own enemies go at it: you grab popcorn and you watch with interest because you really cannot wait to see who is the winner.
2. Princess Principal
England has been split into a kingdom and a commonwealth separated by a wall following an incident. There, on one side, is an academy known as Queen's Mayfair. There, girls learn and attend classes on a variety of subjects. Secretly though five students are not students; they are spies. Using the high school life as a front, Princess, Ange, Chise, Beatrice, and Dorothy move in the shadows and accomplish various missions while dealing with their nemesis, the Duke of Normandy. (More WWII references in case you did not get the first hint.)
This anime is like right there as AOTS #2. I thought it was going to be moetrash, but this anime has blown every expectation out of the water. From characters with dark and disturbing backstories, to them being three dimensional characters, to an actually interesting plot, Princess Principal is well on its way to becoming one of the top anime of the season. The biggest feather in its cap though, is the fact that this was not adapted from a manga or a light novel. This comes from a mobile game. Which means that Studios 3Hz & Access went from having next to nothing other than in-game text, and made this masterpiece. The OP is good, the steampunk is well done, and the story is, above all else, way better than the mess that was Joker Game. Sure, it is not believable like the setup for Joker Game was, but anime is supposed to be fiction and not believable. That is what makes it good. If you have not started this anime, then I strongly urge you to watch it now and get in on it.
3. Fate/Apocrypha
Fate/Apocrypha is about the Fate series, but set in an alternate timeline. This time, after the third war, a family hid the holy grail after finding it. Bypassing the fourth war all together, the ceremony for it has now been conducted around the time of the fifth war. Summoning servants, the Yggdmillennia family has declared that it no longer wants to be part of the Mage's Association. However the Mage's Association does not want that. They summon seven servants to combat against those of the Yggdmillennia family. This, the greatest of all holy grail wars now breaks out.
To be honest, I was a bit on the fence with this show at first, but as soon as we learned about Sieg, I was on board. Something to change up how the war works is very interesting. Though, to be honest, at this point, I do not know who I am supporting. Do I want the black or the red faction to win? I am not sure. On one hand, you have a family wanting independence, but going about it in a terrible manner. Then you have the Mage's Associating trying to keep the peace, but resorting to violence. There are a lot of characters this time around and I am surprised we have not seen anyone die yet other than you know who, but that was more sacrifice than death, and we still have a lot to have happen in the latter half of the cours this fall. I predict more kickass fights, more ego getting in the way, and more all-around good storylines. I wonder who is going to win.
---
4. Hajimete no Gal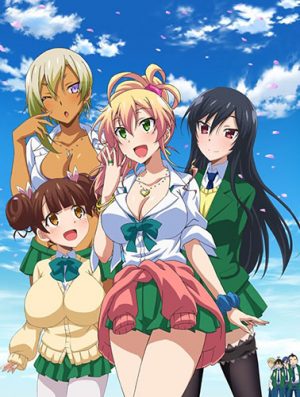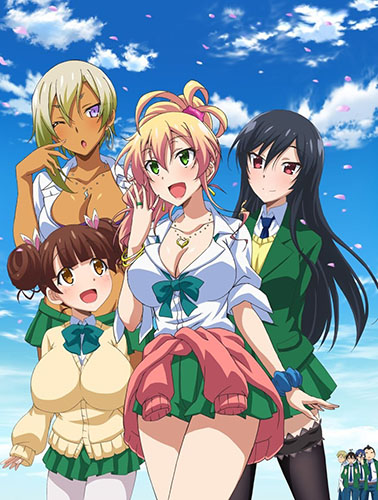 Junichi and his friends are the only ones who seem to be single at school. Everywhere they turn, there are couples. To change at least one of their life circumstances, Junichi's friends send a love letter to the class gal, Yame, in Junichi's place. Gal's are supposedly easy so they hope this might just change things for Junichi. Yame agrees to go out with Junichi but he's a virgin and ill-prepared for what it means to be in a relationship.
Hajimete no Gal is a definite contender for one of the best anime of the Summer 2017 anime season. What with its ridiculously ecchi nature that reminds us of Prison School, Hajimete no Gal feels more like a parody ecchi anime than one that you should "take seriously". While in no way is the plot special in anyway, Hajimete no Gal really does its best to deliver a lot of comedy with a set of rather sweet and moe gal characters. The characters are also very likeable if you can get over the amount of fan service, but the fan service is more for comedic nature than actual fan service. Overall, Hajimete no Gal is cute and quirky, but all of that is what we love about Hajimete no Gal.
5. Aho Girl
Yoshiko is a complete idiot. She tries her best yet gets all zeroes on her tests. She thinks she's the heroine of a shoujo life. She cannot even fathom difficult concepts. Yet, Yoshiko is enjoying her life one day at a time with her dog, Dog, and her childhood friend, A-kun.
Aho Girl is the new it comedy show of the season alongside many other comedy anime like Keppeki Danshi! Aoyama-kun and Hajimete no Gal, but Aho Girl stands above the rest with its stupid cast and silly situations. Yoshiko really takes things over the top with her outlandish stupidity and goofy hijinks. That in contrast with A-kun's seriousness and you have yourself the perfect comedy anime. With all of it's craziness, Aho Girl is a top comedy anime for the Summer 2017 season! You just have to look forward to its short yet delightful 10 minute episodes.
6. Made in Abyss
The Abyss showed up all of a sudden and since its appearance, mankind has been curious about it. There are ancient relics and strange creatures deep within the chasms of The Abyss. Divers have volunteered to explore the depths of The Abyss and only those who go deep enough are deemed heroes. They are known as the White Whistles. Made in Abyss follows the daughter of Lyza the Annihilator, a lost White Whistle, named Riko. She came across a strange, almost human-like robot which she has named Regu. With his abilities and a White Whistle that she finds, Riko is determined to go into the depths of The Abyss to find out the truth about her mother.
Made in Abyss has been a surprising anime this season. It popped on and nearly fell off our radar with its childish appearance and rather boring concept at the beginning. A child who finds a robot friend? Boring. Yet with it's dim contrast, it was quite evident that Made in Abyss was supposed to appear ominous compared to its initial impression. This has been quite evident throughout the season as we see Divers being consumed by bird-like creatures so that we can only see their carnal remains and rather terrifying circumstances for Riku and Regu. At first everything seems too easy as Regu makes traveling from one layer to the next extremely simple, but with that, you can see the effects it has on Riko. The season isn't over yet and the last episode was shocking to say the least. We can only wonder what will happen with the rest!
Final Thoughts
That brings us to the end of this article. We made it so close to the end of the season because finales and/or the final episodes of shows can often influence our opinions of series. It is really important to think about how much you love a show now and how much you will love it after the final episode. A lot of times, you feel content with an ending, but it can also warp how you feel about that show at the end. Thank you for reading this article and let us know if there are any shows that you are loving from summer but are nervous about how they may end!
---