Urasekai Picnic

Genre:
Adventure, Fantasy, Mystery, Sci-Fi, Shoujo Ai
---
---
Studios:
Liden Films × Felix Film
Official Images / Key Visuals
Synopsis
One night while Sorawo Kamikoshi is exploring an abandoned house, she discovers a door that leads to the Otherside. After stepping through the door, she sees a creature called the "Kunekune" and winds up in a near-death situation. As she lies there contemplating her death, she is saved by a girl named Toriko Nishina. Toriko, wanting to check out more of the Otherside, enlists Sorawo and together they explore the mysterious and dangerous world where the Kunekune and other creatures from urban legends exist.
Characters & Voice Actors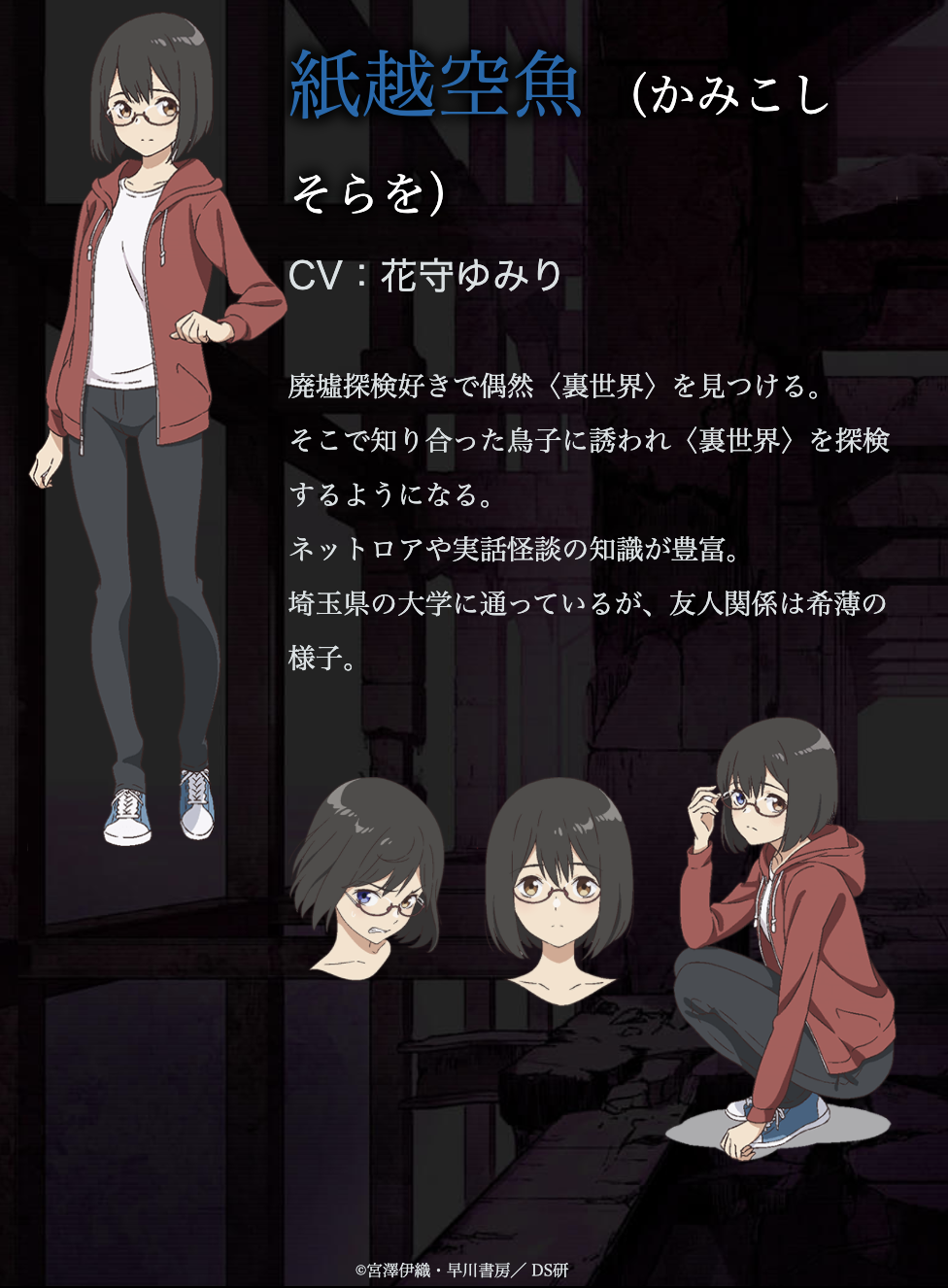 Sorawo Kamikoshi:
Miyuri Hanamori
A university student who is into Internet lore and urban legends. She has a knack for exploring abandoned buildings and stumbles upon a door to the "Otherside." Toriko invites her to explore the Otherside and the two of them venture into the unknown for research, profit, and to find a missing person. Sorawo lost her mother in an accident at a young age. After that, her grandmother and father joined a religious cult, sending their family into disarray. In order to escape being converted by her family, she leaves home and spends much of her time exploring abandoned buildings.
Toriko Nishina:
Ai Kayano
A girl who is searching the Otherside for Satsuki, someone close to her that went missing. Her parents are soldiers in the Canadian Special Forces Unit JTF-2.
Kozakura:
Rina Hidaka
Satsuki's friend from university and a researcher of the Otherside. She has concerns over the dangers of searching for Satsuki in the Otherside and constantly warns Toriko and Sorawo. She often gets mistaken for an elementary schooler because of how petite and young she looks. Kozakura is Sorawo and Toriko's go-to customer when it comes to selling things they bring back from the Otherside, and also acts as their advisor. She gets her funds from the Dark Science Research Encouragement Association, which both she and Satsuki belong to.
Akari Seto:
Miyu Tomita
A first-year student at Sorawo's university.
Satsuki Uruma:
A girl that was exploring the Otherside at the same time as Kozakura. She went missing three months ago. She was a visiting researcher from Dark Science Research.
Yoishiro Migiwa:
The director of the Dark Science Research Bureau. Although not a researcher himself, he idolized Castaneda in his youth, which led to him traveling to Central America and getting a Mayan tattoo on his arm.
Natsuki Ichikawa:
Akari's best friend, who she's known since she was little. Instead of pursuing college after graduating from high school, she decides to work at her family's service garage.
Other Title
Otherside Picnic
Theme Songs

Opening Song: by CHiCO with HoneyWorks
Ending Song: by Miki Sato

Adaptation

"Urasekai Picnic (Otherside Picnic)"


Main Staff

Original Creator: Iori Miyazawa
Director: Takuya Sato
Series Composition: Takuya Sato
Character Design: Ayumi Nishihata
Original Illustrator: shirakaba
Music: Takeshi Watanabe
(Credit Honey's Anime when you use our description.)
---