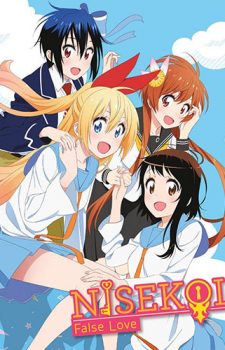 Nisekoi was a series that had audiences rooting for several different girls, and sometimes a number of them all at once! Ichijou Raku and Kirisaki Chitose were a modern anime Romeo and Juliet who seemingly hated each other's guts. Along the way we met Onodera, Tsugumi, and Marika who all had just as much appeal as Chitose herself, and some would say more so! If you loved the tension of romance for Nisekoi, you'll definitely love these series as well.
Liked Nisekoi? Watch Domestic na Kanojo (Domestic Girlfriend)!
Episodes: 9+
Aired: January 2019 - Currently Airing
Thrust into living under the same roof with two love interests, Natsuo is tormented by being at the center of a love triangle which has also been newly carved into his family tree! His father announces he's going to remarry and that he'll be getting a new mother and two sisters. Shockingly, they happen to be his high school teacher Hina, and her younger sister Rui, a girl with which he slept with previously. There's more than meets the eye to these two beauties, and Natsuo might not be able to handle one of them let alone both.
Major Similarities Between Nisekoi and Domestic na Kanojo (Domestic Girlfriend)
1. All the Girls Have Their Charm
Hina and Rui might be sisters but they're both very different girls with their own unique personality traits. Natsuo is in love with Hina since the beginning, but his closeness with Rui while Hina rejects him is winning him over. Throughout the series, other girls begin to approach Natsuo as well, making it very unclear who the best girl is, very much like Nisekoi.
2. A Constant School Setting
Raku and Natsuo are both students who have to see their love interests constantly at school. In Natsuo's case, they aren't just his fellow classmates but he also has an unrequited love for his teacher as well. Fans familiar with Nisekoi's best wingman Maiko Shuu will remember his conflict with a forbidden love and find it very similar to Natsuo's situation.
---
Liked Nisekoi? Watch Gotoubun no Hanayome (The Quintessential Quintuplets)!
Episodes: 12
Aired: January 2019 - Currently Airing
Uesugi Fuutarou is the smartest guy in his whole school, but unfortunately, his family might also be the poorest. While he's savoring another bland yet inexpensive lunch, he bumps into a beautiful girl who claims his coveted, out of the way seat in the cafeteria. The two do not get along and both hope to never cross paths again. Unfortunately, Fuutarou has just been hired by the Nakano family to become a tutor for, you guessed it, the angry beauty from lunch. Here's another twist, she has four identical sisters and not all of them are very fond of him either.
Major Similarities Between Nisekoi and Gotoubun no Hanayome (The Quintessential Quintuplets)
1. Love Interests That Don't Get Along
As we all know from Nisekoi, Raku didn't get along with Chitose or her bodyguard Tsugumi at all initially. The same is true for Fuutarou and the Nakano sisters at first. Ichikia and Yotsuba are relatively friendly with him upon meeting, but the other three are a mix of cool and outright harsh to him, doing anything they can to get him out of their lives.
2. Quantity AND Quality
One of the nice things about the characters in Nisekoi was that there was a clear difference in their personalities and reasons for wanting to be with Raku. For the Nakano sisters, even though they look identical, it's very easy to tell them apart from their behavior and actions. One could argue that it's even more difficult to determine the best girl from among the Nakano sisters than the Nisekoi cast!
Final Thoughts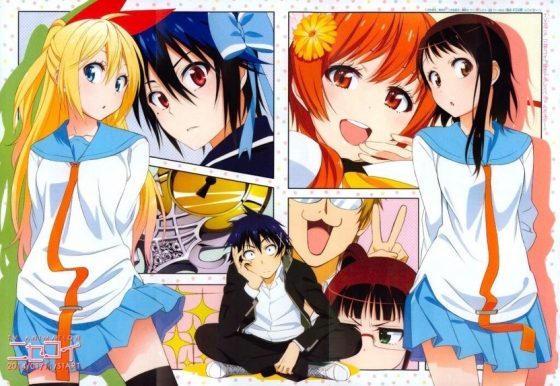 These two shows have multiple romances blooming under the most unlikely of circumstances just like Nisekoi. We can all enjoy a little harem every now and then when it's this unpredictable! Are you watching either of these shows? Let us know in the comments!
---