World Trigger 3rd Season

Genre:
Action, Sci-Fi, Supernatural, School, Shounen
---
Airing Date:
October 9, 2021
---
---
Official Images / Key Visuals
Synopsis
3rd season of "World Trigger".
After fighting a fierce B-rank battle, Team Mikumo is in the running to go on the Expeditionary Force, each for their own reasons, inlcuding Hughes the newly recruited neighbor's hidden ones. Meanwhile, the secrets of the Tamakoma branch's past and the birth of Boarder are revealed.
Characters & Voice Actors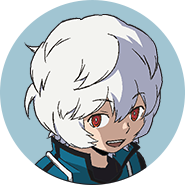 Yuma Kuga:
Tomo Muranaka
A mysterious boy from another world. Although physically small, he is experienced in combat, and his battle skills are extremely powerful. He has an honest personality and isn't very familiar with Japanese customs. He has a special ability (Side Effect) that allows him to see through lies.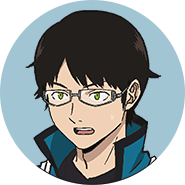 Osamu Mikumo:
Yuki Kaji
15 years old. He is a member of Border, an organization created to resist the Neighbors. He joined Border with a certain objective in mind. He has a strong sense of justice and faithfully performs his duties, but his combat and trion abilities are low. According to Yuma, he is very good at taking care of others.
Chika Amatori:
Nao Tamura
13 years old. A childhood friend of Osamu's. She seems timid at first, but she has a strong personality. The Neighbors constantly target her due to her powerful trion. Her brother and best friend were kidnapped by Neighbors.
Yuichi Jin:
Yuichi Nakamura
An S-rank member of Border. 19 years old. He has a carefree personality, but his combat abilities are top-notch. Although he has an overconfident side and describes himself as a "Talented Elite," he is also a dependable older brother figure and is trusted by others. He has the ability to predict the future.
Hyuse:
Nobunaga Shimazaki
Hyuse is one of the Neighbor. He attacked Mikado City in large-scale attacking and was confronted with Jin. Then he was discarded by Hyrein and left in this world. Currently, he is under Tamakoma Branch's control as a hostage of Border. After that, he joined Yuma's team on the condition that Tamakoma sent him to his mother country.
Yotaro Rindou:
Megumi Urawa
A five-year-old who is a resident of Border's Tamakoma Branch. He's Border's secret weapon—their sleeping lion. He's always with Raijinmaru. He has a special Side Effect ability that allows him to communicate with animals.
Shiori Usami:
Eri Nakao
An Operator for Border's Tamakoma Branch who concurrently serves Takakoma First and Second. She analyzes the Neighbors' technology and supports the team in whatever way she can, both in and out of combat.
Tatsuhito Ikoma:
Katsuyuki Konishi
Captain of the B-rank Ikoma Unit. According to Jin, he's the best Kogetsu Whirlwind user in Border. Of all the Attacker Triggers, his Kogetsu Whirlwind, called Ikoma Whirlwind, has the longest range, extending his attack by up to 40 meters. His teammates call him "Iko-san" and the nickname caught on.
Satoshi Mizukami:
Kaito Takeda
A Shooter in the Ikoma Unit who also takes on the role of a military officer and gives orders to teammates that are being lazy. Unlike Ninomiya and the other Shooters, his combination attacks with Ikoma are very powerful. He often has humorous exchanges with Ikoma as if they were a comedy duo.
Koji Oki:
Masamu Ono
A mobile Sniper in the Ikoma Unit who uses the Grasshopper Trigger. Since he uses Grasshopper, he can reach the maximum number of Sniper points possible faster than other snipers, and if it comes to close-range combat, he can slip away from any opponent, even an Attacker.
Kai Minamisawa:
Shun Horie
A member of the Ikoma Unit. He has a tendency to rush into battle and often has blinders on—focusing too much on chasing the opponents right in front of him and forgetting to pay attention to everything else. He has a cheerful nature which leads him to be very carefree about everything. This frustrates Maori, the unit's Operator, who is always reprimanding him about something.
Maori Hosoi:
Naomi Ozora
An Operator in the Ikoma Unit. She is known among her teammates as "Mario." She has a strong-minded personality and takes over the strategy room meetings whenever her teammates get off topic (which happens frequently). She repeatedly gives Kai warnings because he always does whatever he wants in rank battles.
Other Title
World Trigger Season 3
Theme Songs

Opening Song: "Time Factor" by Kami wa Saikoro wo Furanai
Ending Song: "Ungai Shoukei" by FantasticYouth

Adaptation

"World Trigger" (Manga)


Main Staff

Original Creator: Daisuke Ashihara
Director: Morio Hatano
Series Composition: Hiroyuki Yoshino
Character Design: Toshihisa Kaiya
Animation Director: Toshihisa Kaiya
Music: Kenji Kawai
(Credit Honey's Anime when you use our description.)
---