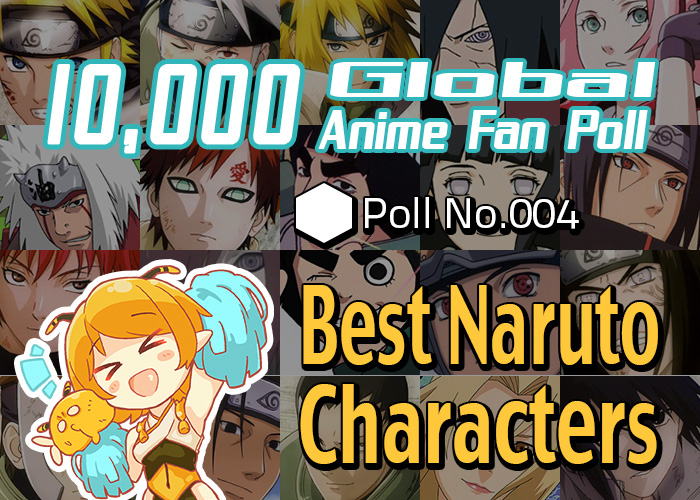 What?! I thought Naruto was going to take #1 for sure!
Haha! But it's better this way. It would be boring if the main character won!
True... At least the lovely Hinata was the highest rated girl character~
Oh, you're so easy to please, Bee-kun.
Anyway, let's let the readers get to the results already!
---
Top20 - Top11
---
20. Yamato
He's so loyal and the kouhai of Kakashi! Yamato is strong as well!
He has the same power as Senju an is the only one who has his power. It's the ultime one to stop Madara!
Loyal to Tsunade and Kakashi in ways you can't imagine. I wish I had a person like him as a friend.
18. [Tied] Obito Uchiha
Obito has quite dark past. I liked him as Tobi he was really a funny guy but HE IS THE MAIN REASON FOR NARUTO SERIES.Because of himn1. Nine tails was released and narutos parents were killedn2. Manipulated pain and made one heck of a villiann3. Formed akatsuki which is also one badass villliann4. Helped Itachi in destroying all uchihasnHE is the mastermind thouh he was like naruto I can actually sympathesize with himfor being manipulated by madara
despite him being the villain of the series.. obito is a very good person.. i love and respect him.
Obito was the ultimate character in the series who fooled everyone! Even himself if you think about it. Lol The guy is also really a sweetheart who was wronged in the most dispicable way.
18. [Tied] Rock Lee
He always pushed forward, even when he was disabled by Gaara. Even though he looks... Unique, he always figured out a way to keep going. Bushy Brow lives on!!
His determination and will power, i mean he is so cool!
His personality is hilarious but also serious
17. Neji Hyuuga
A genius and a good leader of the Hyuuga clan. Despite his cocky attitude and revenge for the Hyuuga clan. He finally had a changed of heart and correct his mistakes.All thanks to Naruto. The reason why I like him is he has an awesome Byakugan power.
His Byakugan is awesome and it is my favorite Kekkei Genkai, and his sence for leadership is just great.
Neiji brought an interesting philosophical spect into Naruto, and provided some great emotional moments, especially during the Chunin exams.
16. Sasori of The Red Sand
Because of his physical appearance, he seems very cool with his red hair and his life story is interesting and very sad.And he also is cool with his psycho attitude and his awesome puppets.
I like the idea of turning a politician into a puppet; the way he did to the Third Kazekage
Epic and wicked. He's cool, man.
14. [Tied] Senju Hashirama
Will of Fire and Wood Release.
He is not all uptight and is smart and powerful
He's like with Naruto that's why! 🙂
14. [Tied] Pain
Pain/nagato though he was initially manipulated into believing the false by obito, he still is awesome character. HE HAS SENSE OF SUPERIORITY you feellike a lion is standing before you. Not only he is philanthropist, he is genius and powerful. And his English dubbed voice is badass
His and Sasori life story are the most sad and deserve to be mentioned.His rinnegan is pretty cool and his thinking is good and also fighting skills when he fights Jiraya and Naruto.
Despite him being the villain in the series. When he had a change of heart in the series during his encounter with Naruto. He sacrificed himself to bring back the ninja's back to life that has been killed from his jutsu. Wow! Now, you don't get to see a villain do all those stuffs.
13. Tsunade
Legendary kunoichi are rare and Lady Tsunade is one of them. Known for her super strength, her short temper and her legendary prowess in medical ninjutsu, she is someone you do not want to mess with. She is strong and beautiful, someone every girl can look up to.
She got sass. Powerful and amazing.
Tsunade owns her past like a boss, pushing foes down with finesse and having the conviction to push forward regardless of all the hardship and pain it brought never losing faith in those around her she holds dear or herself. You can't ask for a woman more awesome than that.
12. Guy Might
Guy-sensei is funny, goofy, and dorky, but he proves himself an able fighter, being archrival of Kakshi, and kicks some pretty serious butt when we get to see him go all out. Seventh gate RELEASE!
Damn awesome after 8th inner gate openingnalmost OP
The closest one to make Madara suffer almost at the cost of his own life.
11. Madara Uchiha
He is badass villian, not only powerful but he is quite a schemer despite making a face with question mark on it. I dont need to tell how powerful he is. HE IS GOD OF WAR!
The strongest villain in the series,amazing background, hottest dude after Itachi.
Because the guys is so strong he can take on an army! Literally! Not one person can fight him head on and survive!
---
Top10 - Top6
---
10. Jiraiya
Comments
The way he treats Naruto, the bond between them, always staying by naruto's side and being the only guardian naruto had.
The best moment in Naruto are always with him. He made me cry and laugh to tears.
OF COURSE, ERO-SENNIN WOULD BE HERE. HE MAY BE PERVERTED BUT HE'S REALLY COOL AND FUNNY. LOVE HIM SO MUCH.
9. Shikamaru Nara
Comments
He's the best strategist and he sounds cool! Not to mention he's good at shogi!
He does not seem over powered and I like the way he analysis everything
Brains. It's all about his smart tactical brain.
8. Sakura Haruno
Comments
she is not a typical kind of a girl though she is a bit stubborn that makes her different from the others, caring and loving and a really great mom to sarada
She's pretty. Became the strongest female ninja after trying so hard. Though disappointed in choosing Sasuke over Naruto.
She may be very hardheaded and bossy but she's also a hard worker.
7. Minato Namikaze
Comments
A great father and an even better hokage.Hands down the greatest kage in the series(not strength wise).
His fearlessness and hope in Naruto is quite admirable.
He is the hottest Hokage to ever Hokage and he's a total goof. But in all seriousness, he's a great teacher and leader.
6. Sasuke Uchiha
Comments
Sasuke is easily the most awesome character in Naruto. Despite being powerful, Sasuke has flaws like everyone else,flaws which I can relate too. He also has issues with an older sibling and the two don't get along very well, something I can also relate to.
Despite the pain he endured, he never lost his resolve and pushed to the end. Despite his actions, you can't fault him because he had the conviction to face life head on and never look back, doing it with purpose.
A dark character who learns from his mistakes and rectifies them at each stage in the anime. Second best character development(after naruto obviously).How his friendship with naruto takes leaps is great to watch.
---
Top5 - Top1
---
5. Hinata Hyuuga
Comments
She doesn't give up. She might be swallowed by her fear and disappointment but she's always ready to stand up and face everything with her strong will!
Simply because I shipped NaruHina and I'm glad it's canon. Not all that a shy girl can even changed and be a bad ass girl to protect everyone around her especially Naruto
I just want to bury my face in her long black luscious hair...
HINATA AND NARUTO IS PERFECT TOGETHER. I LOVE HOW SHE SEES NARUTO'S GOOD POINTS DESPITE WHAT EVERYONE SAYS ABOUT HIM. SHE ALWAYS STOOD UP FOR HIM. P.S. SHE'S REALLY CUTE WHEN SHE FAINTS BECAUSE OF NARUTO HIHI
Hinata tried to save naruto when pain was killing naruto and naruto was her love and that never changed even when she knew naruto didn't love her back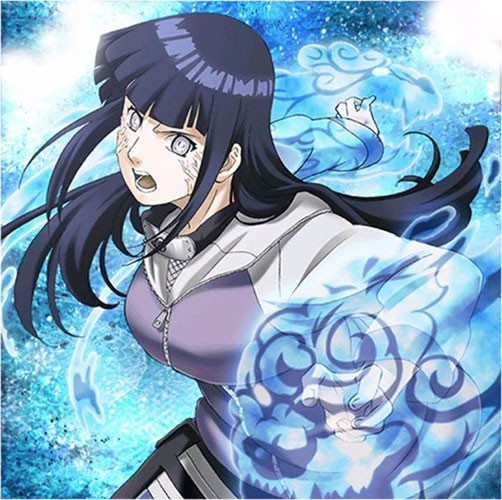 4. Kakashi Hatake
Comments
Kakashi is the epitome of what makes a true shinobi. Words fail to describe his incredible skll and power, yet he is also a humble teacher, mentor to many great shinobi, such as Naruto Uzumaki, and Sasuke Uchiha.
Kakashi is the best because he is an incredibly well developed character in the series. He is a very caring person and he is incredibly strong. He has a very deep background and he is easy to relate with.
Kakashi is easily the best teacher you could have. He has a sense of humor, he is cunning and easily has the best analytical skills even without his sharingan. Kakashi is understanding, he will always help you whenever he can, all while giving you advice on the best course of action. You can always trust and despite being one of the most accomplished shinobi in the Hidden Leaf vilage, he is never arrogant, he is always modest and he always treats everyone as equals despite being higher in rank than them.
He's an absolutely hilarious character. I love listening to him when he tries to explain something to Naruto! I've always wanted to know what's under his mask!
KAKASHI-SENSEI IS LOVE. I SERIOUSLY LOVE MYSTERIOUS TYPES. LIKE- WHY THE HELL IS HE HIDING THAT HANDSOME FACE!? HE'S DAMN COOL.
3. Naruto Uzumaki
Comments
He is the best because he believes that his friends are the most precious thing in his live... That's how he becomes stronger after wanting to protect his precious thing...
His personality stupid but never gives up, more like a savior of his village, a hokage off course and the best about him is can turn enemy to a friend.
You see Naruto's journey from the helpless naive brat in the beginning to the inspiring strong willed man he is in the end. He never gave up on Sasuke;that's his Ninja Way. Enough said.
Naruto is easily the strongest character, atleast by the end of the story. He gains the Truth seeking balls, capable of wiping people from existence, besides the fact he can control the nine-tails at will, and has amazing chakra abilities.
Aside from being the protagonist of the anime, Naruto is the best character for me because he is an epitome of an iconic representation of being a friend, a human. He has an unequalized power of justice. He has the power to change everyone for the good. He's like a metaphor of perfection. That's why I chose him as the best character.
2. Itachi Uchiha
Comments
Itachi is Severus Snape of Naruto show. He is a genius and handsome, caring and on top of that he firstly sacrifices everything for his brother and saves his village in shadows assuming the title of traitor/villian.
Sacrificed everything for his village and brother and strength wise incomparable.nAccording to me he experienced the saddest but most fulfilled death in the series.
Because he is so loyal to Konoha. He gave up almost everything just to protect it and he still held his head high.
The perfect epitome of the iceberg principle. In spite of all the trauma he endured, he put others before himself and that shined through even after all was said and done. He was loyal to the end. That was his Ninja Way. One of, if not the, saddest back story in the entire Naruto universe.
Itachi Uchiha is a wise and powerful shinobi who sacrifices everything for his village. Itachi wishes to preserve peace above all else. Itachi is always calm, he always has a plan and he is just so awesome in every way.
1. Gaara
Comments
He always was misunderstood and had a tailed beast in him, just like Naruto. Both Naruto and Gaara had similar pasts, and the red hair, symbol on his forehead, and mysterious eyes just make him better.
His psycho attitude in little Naruto is scary and also his life story is very interesting and sad just like Sasori,and then his change to a better man is realy great.How he controls the sand and stays colm in fights is very cool.
I LOVE GAARA. HE'S A GREAT KAZEKAGE AND A GOOD FRIEND. DESPITE EVERYTHING HE'S BEEN THROUGH, HE DECIDES TO PROTECT THE VILLAGE WHO ONCE LOATHED HIM
Gaara is mysterious, he has been through a lot. He has suffered a lot on his own and that makes me like him more as a character and after his change he decides to help change others the way Naruto helped him change
Gaara is a character I think all Naruto fans enjoyed seeing develop and grow. From the scared little jinchuriki with no regard for others lives, to an overprotective, badass leader, Gaara certainly had an arc like few others.
Others
---
Deidara
Because art is an explosion
Onoki
If he were a lot younger and not under the influence of Madara/Kabuto at the time, he would definitely defeat all who come against him!
Killer Bee
He's a rapping god
Asuma Sarutobi
The son of the Third Hokage, a wonderful sensei, and lover to Kurenai. His death was the saddest!
And Other Selections from Those Who Don't Read Well. Lol
---
Whis (Dbz battle of gods)
Stronger
Zoro (One Piece)
The best sword fighter ever!
Kuroko Tetsu (Kuroko no Basket)
Amazing basketball player.
---
Overall, a pretty great fan poll if not a bit controversial!
I couldn't help but laugh at the nominations from other anime!
Some people don't read!
Well, on a brighter note... What are we doing for our December fan poll? Something that fits with Christmas would be good...
How about focusing on Christmas couples?
Ah! That's a great idea! We'll do Best Anime Couples for our December fan poll! Look forward to it!

---