También puedes leer este artículo en:Español
Who says we need to wait until Valentine's Day to watch romantic movies? It's always a good time to get dreamy and romantic. We've all been in love and we've all had our own beautiful love stories, regardless of whether they had a sad or a happy ending. Everyone can empathize with a nice breath-taking romantic movie and sometimes that's exactly what we need to feel better when we're a bit down.
Of course, romantic movies are also great to enjoy with your significant other. There's hardly anything better than cuddling with the person you love while watching a lovely romantic story in your warm and cozy bed. That's why this time we bring you an updated list of the most beautiful and moving anime romance movies! You can also check our previous list just below this one.
Now, let's get started with our Top 5 romantic anime movies and spread the love! <3
5. Tamako Love Story

Episodes: 1
Aired: April 26, 2014
Tamako Love Story tells us about a cheerful and clueless girl named Tamako Kitashirakawa. She's so peculiar, immersed in her own world of dreams, and fun that her only ambition is pulling off an impressive performance at the Usagiyama Marching Festival. However, most of her friends and classmates are more worried about their future plans and getting into fancy universities. Among such, we find Mochizou Ooji who intends to study at a big university in Tokyo. His problem is that he has a big crush on Tamako and he needs to confess his feelings before he leaves town.
If you've watched Tamako Market already you'll know just how sweet and heartwarming this story can get. Let us tell you: the movie is even better. The plot is quite simple but very powerful. Emotions are delicately developed throughout the film and you'll find some underlying insights about life. If you haven't watched the anime, you don't really need to. Tamako Love Story is a solid enough production to stand by its own. The characters' personalities and emotions are so successfully conveyed that you'll be able to feel their love, hope and sorrow as they were your own. Pretty much everything we expect from a good romantic movie and more.
---
4. Kokoro ga Sakebitagatterunda / The Anthem of the Heart

Episodes: 1
Aired: September 19, 2015
Kokoro ga Sakebitagatterunda is a brilliant story about overcoming obstacles, getting over the past and expressing your deepest feelings. It starts with Jun Naruse, a little girl who is fascinated by a wonderful castle up the hill (which is in fact just a hotel that looks like a fancy castle) and one day she sees her father coming out of that castle with a woman. Jun gets excited, thinking that her father is a prince, so she goes home to tell her mother what she saw. Obviously, her mother doesn't take it well and their whole family tears apart. Jun takes the blame for this and a magical egg prince appears (yes, an egg) to seal her ability to speak so that she won't cause any more harm.
As you see, Kokoro ga Sakebitagatterunda is from the very beginning quite tragic and dramatic. Don't despair though, when a story begins this sad, things can only get better. Jun and a few more students are chosen against their will to organize and participate in the school musical, an experience that will change their lives forever. These kids will get to know love and friendship as they are forced to work together and express their feelings through singing. Kokoro ga Sakebitagatterunda is certainly a wonderful, touching love story.
---
3. Zutto Mae kara Suki deshita: Kokuhaku Jikkou Iinkai / I want to let you know that I love you

Episodes: 1
Aired: April 23, 2016
Of course, if you're looking for a light-hearted high school romance movie, then you should try watching Zutto Mae kara Suki deshita. This is the typical story of a group of high school students who are all secretly love struck and wish to confess their feelings to the ones they love. In order to do so, these kids spend their whole days gathering courage, thinking on the best way to confess what they feel or even practicing how to say "I love you". Will they be able to get past practice and finally dare to express their feelings?
Zutto Mae kara is a very romantic movie everyone can feel identified with. Pretty much every single one of us has been madly in love during high school. We've all had that special someone we spent hours looking at but rarely dared to speak to. This is what this movie is all about. It's about the most innocent and pure face of love; the type of love that makes you feel butterflies in your tummy and that nothing else on earth matters. Zutto Mae kara is absolutely lovely and a perfect choice if you're not really in the mood for sad and heart-breaking stories. This one will only leave you with a smile on your face and tears of joy.
---
2. Kotonoha no Niwa / The Garden of Words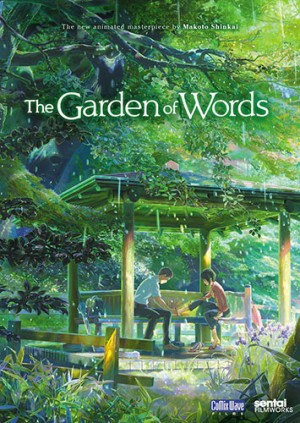 Episodes: 1
Aired: May 31, 2013
Kotonoha no Niwa is one of Makoto Shinkai's greatest works ever. That is of course no minor detail. If you haven't heard about Makoto Shinkai yet, chances are you've probably watched or at least heard about some of his wonderful and unforgettable movies, one of the most popular of them being Byousoku 5 Centimeter (5 Centimeters per Second) listed on our previous selection of romantic movies. Shinkai isn't called "the next Miyazaki" for no reason. He excels at making the most brilliant, wonderful and heartbreaking love stories, and Kotonoha no Niwa is definitely not an exception.
Kotonoha no Niwa tells the story of 15 year old Takao Akizuki, a nice and innocent kid with a big ambition; becoming a shoemaker (okay, not that big really, though he does take it very seriously). Takao is very responsible but he has one guilty pleasure. He skips school on every rainy morning to go to a beautiful Japanese garden and sketch shoe designs. There, Takao meets Yukari Yukino, a beautiful and mysterious grown up woman with whom he has pleasant and comforting talks each time they meet.
This is truly a movie to fall in love with. The art is impressive, the melancholic vibe is overwhelming and the human emotions are developed so realistically that you will find it hard not to shed a few tears. The story is not so much about a forbidden love between a high school kid and a grown up woman, but rather about two lonely human souls in distress who find great comfort in the company of each other. Of course, the romantic atmosphere and feelings are still there, so if you're looking for a really moving romantic movie, Kotonoha no Niwa is always an excellent choice.
---
1. Kimi no Na wa / Your Name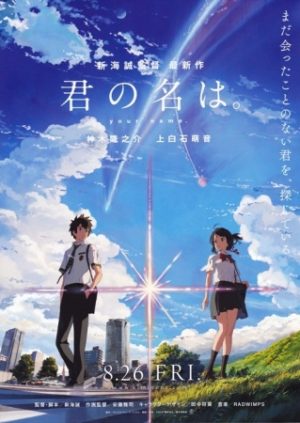 Episodes: 1
Aired: August 26, 2016
And finally we have Kimi no Na wa, Makoto Shinkai's latest work and probably his greatest to date. The entire anime community is shocked by this production and after only a few weeks after its release, Kimi no Na wa has become one of the top anime movies of all times. It's no exaggeration, just Google it if you have any doubt. This film is an instant classic and definitely a must-watch whether you're a fan of romantic movies or not.
Kimi no Na wa tells the story of two high school kids with very different lives who are connected through their dreams and by the appearance of a comet that can only be seen each 1200 years. Mitsuha is a girl who lives on a small rural town and dreams of a fancier and more exciting life in the big city. Taki on the other hand, lives in Tokyo and works part-time as a waiter. Everything gets a bit messy when they realize that, in their dreams they switch bodies and live each other's life, although they can't quite remember much once they wake up in their respective bodies.
Taki and Mitsuha share a very magical and intimate experience that makes them really close despite the distance. Eventually, these two kids attempt to meet, but their meeting can be more difficult to realize than they expect. If you're into romantic stories and emotional journeys then join these two adorable lovers as they try to find each other and learn about the spiritual connection between them. Just a little warning, you'll cry your eyes out with this movie.
---
Conclusion
Well, that's it for our list of lovey dovey anime. We hope you can enjoy these awesome and charming movies, whether on your own or next to your significant other. Just in case you're some kind of romance addict who's never satisfied, you can also check some beautiful titles such as Hotarubi no Mori e, Hal or the ones included on our previous list which you can see right below here. Also, we're all eagerly awaiting for Orange: Mirai movie to be released next November. You definitely have to watch that movie and the anime if you want to fall in love and cry like baby.
Now it's your time to tell us what you think of these titles. If you've already seen them, how much did you like them? Is there any other movie that you prefer above these? Share your thoughts with us on the comment section! ˆ-ˆ
---
---
This time I want to tell you about a few movies you may not have heard about that are both great to watch for him and her (even couples!).
From the pure romantic films to romance being a back story, these are movies fit to watch at night, with or without an SO! There may be some minor spoilers if you don't want to know anything about the films, you may just want to skim over the titles!
1. 5 Centimeters Per Second
(Japanese: Byousoku 5 Centimeter)

What list of movies for him and her would be complete without at least acknowledging this fantastic masterpiece from Makoto Shinkai? Not a single one. While it does not have the romantic ending you would normally expect from a film about romance itself, it does show what happens all too often to young love.
The story follows Takaki Tohno and Akari Shinohara, two young friends and classmates that have a budding romance. They end up being torn apart when Akari is transferred to a different school because of her family moving. Even though she's no longer close, Takaki still loves her.
Without spoiling anything, just know that throughout their lives they become farther and farther apart, not just in location. Their hearts gradually let the other go, giving this film one of the most tear-jerking endings I've seen come from anime. It's an excellent film to watch and say to your significant other, "See honey, that'll never happen to us. I'll always be by your side." But that may be just like cheating for brownie points!
2. The Girl Who Leapt Through Time (Japanese: Toki wo Kakeru Shoujo)

Who, at one point in their life or another, hasn't dreamt about going back in time and changing something? Anything at all? Well I did, and I can say that most of the population of the world has as well! This is a film about a girl who gains the ability to travel through time, and the consequences of doing so.
Makoto Konno decides the selfish route is best at first, using the ability to travel back in time and change these little things to make her life easier. Eventually she comes to the realization that little things can add up to some major changes!
With romance being a bit on the backburner in this hour and a half film (it is still present however) and the story focusing more on the lesson to be learned than the romance at hand. The entirety of the lesson is to look forward to the future instead of being afraid of it and is beautifully and masterfully displayed throughout the film like a badge of honor. Because of the story alone, although the animation is quite spectacular itself, it is well worth spending an hour and a half with your SO.
3. Millennium Actress
(Japanese: Sennen Joyuu)

Satoshi Kon delivers again with another reality bending masterpiece. It begins in modern day Japan and quickly flows back to 1930's all the way through the 1980's through the story of an actress named Chiyoko Fujiwara. Being a critically acclaimed film, you should expect nothing less than to be pulled into the folds of the story!
The entire story revolves around the life story of Chiyoko, as told by herself to filmmaker Gen'ya Tachibana during an interview. The story shifts as her story continues, from Feudal Japan, to World War 2 and up to a futuristic Moon Base, you're dragged along the entire time on the edge of your seat.
The film is heavy on romance, and shows it in a fantastic way. I don't want to ruin anything else about this film, so I'll just tell you that it's absolutely and undeniably one of the best films to watch together with a boyfriend or girlfriend!
4. Eden of the East the Movie I: The King of Eden
(Japanese: Higashi no Eden Movie I: The King of Eden)

This is an amazing film set to pick up where the first season of the anime left off, Akira Takizawa has gone missing and the other members of Eden are searching for him. While the movie does come from an anime, it is entirely possible to watch the film without seeing the show first (though you'll want to see it all from the beginning by the end of the film).
Saki Morimi is in search of the Air King, also known as Akira, who may be somewhere in New York City. The remaining Selecao are coming to either want him on their side, or out of their way entirely. One thing to note, they all have phones that have the ability to seemingly grant any wish (without magic mind you, nothing too fancy).
If you're in the mood for something a little less romance based that still has a full story feel to it, this one is for you. It's a massive conspiracy thriller full of development and… well I'll just let you see it for yourselves!
5. Origin: Spirits of the Past
(Japanese: Giniro no Kami no Agito)

This is a fantastic film from Umanosuke Iida with absolutely stunning visuals and a completely new twist on the popular topic, the environment and humanity. While it is set somewhat in the future, there is a lack of technology and an almost steampunk-esque feel to the whole thing.
In the story of man versus plant, Agito is a boy who loves to explore the new wilderness of the world the plants have created. Finding Tula in an abandoned area, a girl from the past who was locked away in an experimental coffin and may very well be the key to rebuilding society.
With a very small undertone of romance, this isn't really a tear-jerking movie but rather one exploring the machine vs. world argument in a completely new light. The visuals are gorgeous and very well rendered, giving it almost a feel that any fantasy would. If you're looking for a movie to watch together that doesn't have to be a "chick flick," this is definitely one to put on the list!
---
That does it for our couples list of movies to see! If you have any suggestions feel free to leave them in the comments section down below, and let us know what you think of these! Have a happy New Year folks!
by Nathaniel Loomis
---