INTRODUCTION
Ah, love is in the air. Typically most people think of amazing romance stories coming from anime and manga. Titles such as Your Lie in April or Say I Love You are titles many fans of the romance genre consider the best of the best. However, we here at Honey's Anime wish to tell you that the manhwa scene has some incredible romance stories as well. Thus why to make sure you folks have some variety in your life we are presenting you with our Top 10 Romance Manhwa.
Everything from semi-taboo romances, classic high school love and romance from seemingly odd encounters line our top 10 romance manhwa list. We here at Honey's Anime truly made sure to find a lot of romance tales that will make your heart sing and soar like the protagonists within their stories. We really had to hold back some tears while reading some of these as well as the tales within can sometimes get truly deep. Regardless though of your preference in a romance manhwa, we made sure to include a variety so you'll find that perfect read. Alright, now let's begin our trek into some romance manhwa, shall we?
10. H20

Manhwaga: Hwang, Sook Ji
Genre: Romance, Shoujo, Slice of Life
Volumes: 7
Published Date: 2005
For several strangers, their lives are filled with harsh moments. Menga is constantly bullied for just trying to be a good vice rep. Na Hong Soo is the known troublemaker and is constantly having issues with others. Hanako is robbed the first day she arrives on Korean soil and Eechan, well Eechan is just popular so he doesn't have much of a problem. These four don't know each other now, but fate has a different idea for them.
What's really cool about our first pick for our romance list is that it's a cool romance manhwa that is truly special. Instead of being focused on one romance plot, H20 by the manhwaga Hwang, Sook Ji focuses on several. What always worries us about multiple character plots is that occasionally one story feels weaker than another. However, Hwang Sook Ji must have worried about that as well and made sure to give all the characters equal opportunity in this story. H20 looks incredible and the story will be sure to appeal a wide array of readers. Definitely a fitting start for our great romance manhwa list.
---
9. 100% Perfect Girl

Manhwaga: Wann
Genre: Drama, Romance, Shoujo, Psychological
Volumes: 11
Published Date: Aug, 2006- Nov, 2009
People claim long distance relationships are the hardest romances to make work. Well for Jay Jin and J. Max this will be the legacy of their romance. J. Max happens to a foreigner with some business in South Korea. Meanwhile, Jay Jin is your typical artist who is willing to prove to the world she has the talent to make it big. One meeting in a hotel lobby will begin these two romance plot but with so many barriers between them can they make it work? Well you'll have to read 100% Perfect Girl to find out.
Romance stories sometimes have one or two small boundaries for the characters to deal with in their stories. In 100% Perfect Girl made by the manhwaga Wann, these boundaries are international level. Jay and J. Max's troubles however make for one epic read and you'll be praising this romance manhwa the minute you start page 1 of volume 1. As they say love can defeat all opposition, well is that really true for these two? We won't spoil it, you'll just have to read 100% Perfect Girl.
---
8. Shall we Have Dinner Tonight?

Manhwaga: Park, See-In
Genre: Comedy, Drama, Romance, Slice of Life
Volumes: 3
Published Date: Nov, 2013- Nov, 2014
They say that broken hearts mend with time. Well for Do-hee Woo and Hae-Gyung Kim their past relationships may be what ends up bringing them together. Each day, both of these people go to the same restaurant to eat alone—Suddenly they find themselves drawn to one another and a friendship is forged. Soon as the days pass, both Do-hee and Hae-Gyung are about to realize that from the friendship something else is beginning to blossom. Can these two broken souls have their hearts mended?
Shall we Have Dinner Tonight written by the manhwaga Park See-In is one of those stories that we can empathize with and probably most who have suffered a broken heart in the past can as well. That's what makes this romance manhwa perfect fit for our Top 10 Romance Manhwa list. Don't fret though, if you're afraid Shall we Have Dinner Tonight will just be a sad romance tale—thankfully Park See-In makes sure to include plenty of comedic moments that don't feel forced and are genuinely laugh out loud worthy. While it may only be three volumes long, this is one of those romance manhwa that by the end will stay with you for a few days—even weeks like it did with us. Go right now and try Shall we Have Dinner Tonight—then drop a comment telling us thank you for recommending it to you. Yes, we're that confident you'll love this story.
---
7. The Bride of the Water God

Manhwaga: Yoon, Mi-Kyung
Genre: Drama, Fantasy, Romance, Shoujo
Volumes: 24
Published Date: Oct, 2007- 2014
Soah's small village is facing a grave drought that is ruining their lives. This is all due to the village's Water God being angry with the villagers. In a last ditch effort to prevent any more damage, the villagers marry off Soah to the Water God, sacrificing her. The Water God saves Soah and brings her to his kingdom. Now with a new future ahead for Soah, can these two find romance despite one being a god and the other a regular human girl?
The Bride of the Water God by manhwaga Yoon Mi-Kyung is an exciting story of romance found in the strangest way possible. Besides the gorgeous art—which feels legendary in its own right—this romance story presented between the Water God and Soah is truly cute. What we think will really impress the audience while reading The Bride of the Water God is that as the story sounds unreal, the romance concepts are not too farfetched. In many ways you can almost say that it's very realistic as these are two people that come two radically different worlds, a true issue with some romances in the real world. We here at Honey's Anime give a resounding round of applause to The Bride of the Water God and you'll be joining us once you dive into its narrative.
---
6. Unbalance x2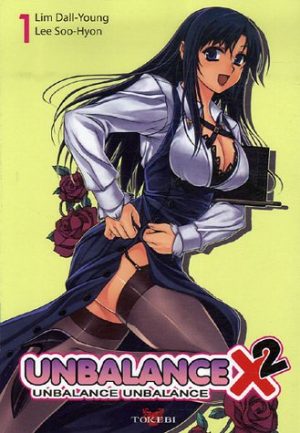 Manhwaga: Lim, Dal Young- Lee, Soo Hyun
Genre: Drama, Ecchi, Romance, School
Volumes: 10
Published Date: May, 2005- Nov, 2011
Myung Jin-Ho returns a wallet dropped by a beautiful woman named Nah, Hae-Young. However, Nah realizes that Myung just so happened to take 7000 won to use for a book. While Nah doesn't do anything to the idiotic Myung, she does require he eventually pay her back. Then the next day Myung goes to class to see that the beautiful Nah is apparently his new teacher! This odd romance between student and teacher already has started on an interesting note.
This taboo student and teacher romance story is helmed by legendary Lim, Dal Young so you know what to expect—ecchi and plenty of fan service. However, while those are two very relevant themes in Unbalance x2—the romance plot really hooked us from the gate. You almost find yourself rooting for these two oddly paired people to fall for one another and you'll understand as you read its amazing tale. Besides Lim Dal Young's awesome story—illustrator Lee Soo Hyun really impresses with some beautiful and all too ecchi art. The concept of love in this taboo like story is odd, but trust us folks Unbalance x2 is a story you'll enjoy from beginning to end.
---
5. You're So Cool

Manhwaga: Lee, Young Hui
Genre: Comedy, Romance, School, Shoujo
Volumes: 6
Published Date: 2002-2007
Nan-Woo is like many other girls from her school; They all dream about Seung-Ha who is known as the best looking guy and the literal prince of the school. Nan-Woo thinks that her dream guy is impossible to obtain. However, one day it seems as if her wish is granted and Seung-Ha ends up interested in Nan-Woo. Unfortunately, Nan-Woo's dream man isn't that great. Actually he's kind of a mean dude…
We completely understand Nan-Woo's pain. There have been times where our dream romances fell apart thanks to similar circumstances. That why we really love manhwaga's, Lee Young Hui's, manhwa You're So Cool. Besides boasting some cute art and a very lifelike story—You're So Cool does have its core a strong romance story. You're So Cool is seriously worth being on our romance manhwa list and we're sure no one will argue once they try it out for themselves.
---
4. Something About Us

Manhwaga: Lee, Yunji
Genre: Romance, School, Slice of Life
Volumes: N/A
Published Date: Oct, 2014- Oct, 2016
Love doesn't always hit couple in a normal way. Sometimes even the oddest couples can sometimes get hit by the love bug. That is indeed true for Han Woojin and Doh Gayoung who to everyone are far from what you would consider a couple or even friends. However, even these two can't escape when cupid's arrow hits. Well, Han and Doh will find out what happens when they begin the descent into a funny and odd romance story.
Han and Doh are, in many ways, the classic couple even though they claim that isn't the truth. In Something About Us, these two face comedic banter and plenty of random life events. Manhwaga Lee Yunji really hit all the right notes in this romance manhwa and we give it a full recommendation. Seriously romance stories like this are always amazing, we need more manhwa like Something About Us.
---
3. Orange Marmalade

Manhwaga: SeokWoo
Genre: Comedy, Drama, Romance, School, Shoujo, Vampire, Slice of Life
Volumes: 8
Published Date: Feb, 2011- Dec, 2013
Ma Ri Baek just wants a normal life at school. However, that won't be such an easy task to accomplish seeing as how Ma is a vampire. In the world of Orange Marmalade vampires have been discovered among the human race. Instead of being killed or hunted, humans just want the vampires to live a quiet underground like existence. Yet, Ma doesn't wish for this fate as she enters into a school life. Then one day Ma runs into a young man named Jae Min Jung and her vampire like senses activate…
Romance is weird isn't it? We can't control who we fall for and that is certainly true for Jae and Ma in Orange Marmalade by manhwaga SeokWoo. With beautiful art and a truly fun romance plot, Orange Marmalade is a definite romance manhwa to read if you love the genre. Besides romance, Orange Marmalade has plenty of comedy so you'll be laughing at the odd reactions of Ma as she deals with Jae who unlike her is normal. Really folks you need to try out Orange Marmalade, SeokWoo created easily one of the cutest romance stories ever and it needs more praise.
---
2. Nineteen, Twenty-One

Manhwaga: Kim, Hye-Jin- Yohan
Genre: Romance, Shoujo, Slice of Life
Volumes: 2
Published Date: Aug, 2010- Dec, 2010
Time is a precious commodity. Once a moment passes that moment is gone forever and unfortunately for Yun-lee she lost many moments. When she was nineteen years old Yun was involved in an accident and lost two years of her life. Now struggling to regain those lost moments, one day Yun sees a young man near the cats she always feeds. Apparently this man named Dong-hwi, Ju knows of her predicament and has what she desires—those lost two years…
In this very unique and heartwarming manhwa, readers will learn what it means to truly appreciate every moment they have. Duo Kim, Hye-Jin and Yohan do an incredible job of making you want to read this short 2 volume manhwa. Amazing art and a truly beautiful romance tale, we here at Honey's Anime really loved pouring our time into Nineteen, Twenty-One. Unlike the time lost by Yun, you won't have any time wasted pouring your time into this romance manhwa. Hopefully this one day sees an anime adaptation, we feel it could be a really amazing short series to be honest.
---
1. Can't See Can't Hear But Love (See, Hear, Love)

Manhwaga: Go, Yeong-Hun
Genre: Comedy, Drama, Romance, Slice of Life, Seinen
Volumes: 6
Published Date: Oct, 2010- Aug, 2011
Get ready for this very touching and dramatic romance story thanks to the manhwaga Go Yeong-Hun. In Can't See Can't Hear But Love we follow the story of the young artist, Min Geun Soo. Min is finally beginning to show some progress as a comic book artist but tragedy hits when Min's eyesight begins to fail. Unable to deal with his harsh reality, Min decides to end his life. Luckily a fan of Min's work comes to save him and she just so happens to be deaf. What awaits these two as they venture into the world each bearing a significant handicap that will make their lives a true challenge indeed?
From the very beginning volume to the sixth, Can't See Can't Hear But Love took us on a journey of true romance. The concept of what it means to live is truly explored in this manhwa all while having a seriously fantastic plot. Min and Sori Jhun's romance is both tragic but beautiful as they deal with their disabilities together. This is all bought together in a great package thanks to amazing art and a truly gripping narrative from Go Yeong-Hun. We saved what we feel to believe is truly the best romance manhwa out there for last for our Top 10 Romance Manhwa recommendation list.
---
Final Thoughts
Well thus our romance list of manhwa comes to a climax. However, that's the beauty of romance, when one story ends another can begin. We're sure that as time passes there will be hundreds more that we could add to this great romance list. Or maybe we here at Honey's Anime missed a good title, well that is where you amazing folks come in. Let us know in the comments down below if you have a good romance manhwa that you felt could have been on this list. As always we're far from done creating lists for your enjoyment so don't forget to check back regularly for even better lists and articles.
---