Romance anime has truly stolen the hearts of anime viewers these last few decades. The 2010s really proved the romance genre was far from getting stale and a multitude of creators/studios created a plethora of amazing series. From tear-jerkers to more mature romance plots, the romance genre seems to never stop producing season to season. We here at Honey's Anime have decided to look back at our favorite romance series that released in the 2010s. Welcome folks to our Top 10 Best Romance Anime of the 2010s list! Time to make hearts melt and tears flow with small cascades!
10. Kimi no Na wa. (Your Name.)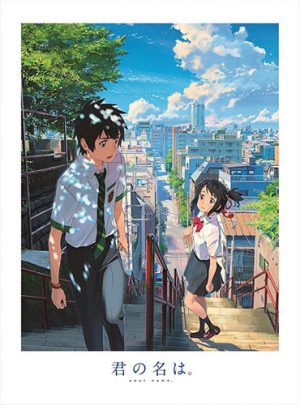 Episodes: Movie
Aired: August, 2016
Taki Tachibana and Mitsuha Miyamizu live in two different worlds entirely. However, fate has decided their path in life needs to collide. Both teens wake up one normal morning but learn their souls have swapped bodies! Now these two strangers will need to attempt to live normal lives as their souls swap randomly back and forth. Yet, is this strange situation meant to be something more than mere coincidence?
Kimi no Na wa. took the world by storm and for good reason. This supernatural romance drama filled the theaters multiple times over and won numerous awards due to the beautiful artwork, amazing story, and terrific soundtrack/voice work. Watching the lead characters Taki Tachibana and Mitsuha Miyamizu swap bodies and endure a relationship that goes across time was truly mesmerizing and stood as one of the best romance films to air in 2016. Kimi no Na wa. might not be an anime series like most on our list but it deserves a spot on our Top 10 Best Romance Anime of the 2010s for truly bringing anime further than ever before!
---
9. Kaichou wa Maid-sama! (Maid Sama)

Episodes: 26
Aired: April, 2010 - September, 2010
Shoujo and romance are two concepts that go together like rice and beans or peanut butter/jelly. That's why you knew our Top 10 Best Romance Anime of the 2010s list would have to include a shoujo focused anime and in this case what better show then Kaichou wa Maid-sama! This famous series based on the manga done by Hiro Fujiwara was—and still is—loved by fans of the genre as it tells of an almost "too good to be true" tale of a girl meeting a truly handsome dude in an unlikely situation. Misaki Ayuzawa is a student by day but for her unfortunately poor family she works as a maid after school and the most popular guy in school—Takumi Usui—ends up learning of her secret. From this random encounter, the two end up blossoming into a strange couple that screams shoujo in every way possible. Kaichou wa Maid-sama! won't be for everyone but fans of the genre, you're missing out if you skip over this quirky romance anime.
---
8. Tsuki ga Kirei

Episodes: 12
Aired: April, 2017 - June, 2017
A chance meeting will lead two jr high students towards something incredible. Young love is about to begin between Azumi Kotarou and Akane Mizuno but will it be a simple young love? Love is something even adults struggle with. How can these two youngins make a relationship when they still are challenged by school and the various issues within it!?
School might be a place where we go to learn and develop ourselves as young men/women but our hearts don't wait for romance. However, if we learned anything from series like Tsuki ga Kirei, romance and school can lead to some truly testing times. Tsuki ga Kirei shows romance fans that youthful love isn't as pleasant as it sounds. Watching two young lovers—in this case, Azumi Kotarou and Akane Mizuno—endure immaturity and love blending together is both endearing and eye-opening. Needless to say, Tsuki ga Kirei might be an anime series but the romance within proves love can be shown in any medium.
---
7. Ore Monogatari!! (My Love Story!!)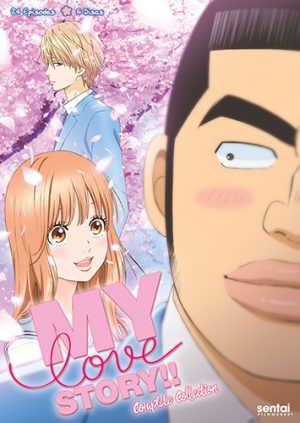 Episodes: 24
Aired: April, 2015 - September, 2015
Most of us are self-conscious of our looks and often think we can't get this guy or girl because of our looks. When we here an anime fan saying such nonsense—as we're all beautiful people inside and that shines stronger than our looks—we point them to Ore Monogatari!! When this show launched fans were immediately surprised to see the main man Takeo Gouda not be some handsome looking main protagonist but a tall and big built guy who screamed anything but your usual main character. That's why we were glued to our screens watching as Takeo tried to win the heart of his crush Rinko Yamato and rooted for the big guy with every fiber of our being! Anime often has a message built into it and Ore Monogatari!! is one of those series. Don't ever think your looks are all that matters when it comes to romance/love!
---
6. Plastic Memories

Episodes: 13
Aired: April, 2015 - June, 2015
Plastic Memories took the concept of "what if a human could love a robot" and ran wild with it. Our tale follows newly hired Tsukasa Mizugaki whose job is to reclaim Giftias—human-like robots—that have passed their life-span date. Joined by a fellow Giftias named Isla, the two find the job anything but simple when people begin to fall in love with their robotic companions and must lose them before they go crazy and lose control. What makes this romance series even more endearing is that Isla and Tsukasa begin to fall in love but their love is on an even stricter timer meaning they must enjoy their precious time as it flows alarmingly fast. Plastic Memories was—and still is—an incredible romance anime from the year 2015 and shows love can be found in even the strangest circumstances.
---
5. Kimi ni Todoke (Kimi ni Todoke: From Me to You)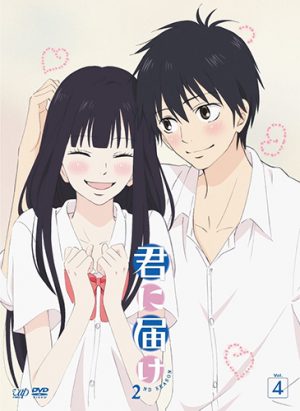 Episodes: 25
Aired: October, 2009 - March, 2010
Fellow shy otaku out there, here's a great romance series for you to watch. Kimi ni Todoke follows Kuronuma Sawako—who just so happens to look like the girl from The Ring—as she endures being ostracized by her classmates for her shyness and odd personality. Popular boy Shouta Kazehaya—did we mention this was a shoujo—ends up falling for Sawako and this blossoming romance allows Sawako to begin slowly removing the shyness that surrounds her. As shy folks ourselves here at Honey's Anime, we understand it can be tough to go out there and become an extrovert overnight. However, when we feel ourselves falling to our shy natures we look towards Sawako and realize taking risks and putting yourself out there can sometimes lead to great results.
---
4. Toradora!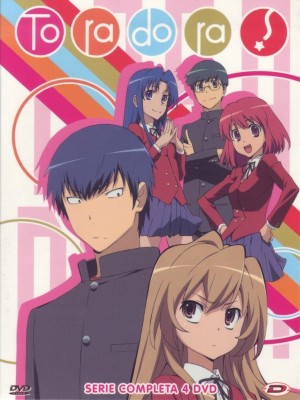 Episodes: 25
Aired: October, 2008 - March, 2009
What do you get when you mix comedy, romance, drama and school life together? You obviously get Toradora! and this romance series needs very little mention for anime viewers out there. Toradora! follows young Ryuuji Takasu who ends up teaming up with a girl named Taiga Aisaka as they chase their love interest together! As the two try their best to help one another a love forms between them and a struggle for the heart commences. Toradora! has probably been on numerous lists of ours here at Honey's Anime and it deserves the recognition as it truly is an incredible anime from start to finish. You'll find yourself binging this twenty five episode show the minute you start it and to be honest…we'd expect no less from those who fall in love with this incredible anime!
---
3. Shigatsu wa Kimi no Uso (Your Lie in April)

Episodes: 22
Aired: October, 2014 - March, 2015
Have you been wishing to find a romance anime that made you cry pools of tears all while filling your ear drums with great music both classic and modern? Then Shigatsu wa Kimi no Uso is the anime you need in your life. Young pianist Kousei Arima has lost his ability to hear music due to a traumatic life experience and it takes the energetic violinist Kaori Miyazono to revive his love for fine music and the piano. What starts as a partnership ends up becoming a relationship that is filled with love and drama in equal measures. Needless to say there's a rather huge twist in Shigatsu wa Kimi no Uso we won't spoil but when it happens…have your towels ready folks. Tissues won't be enough for this incredibly heart grabbing romance series.
---
2. Ookami to Koushinryou (Spice and Wolf)

Episodes: 13
Aired: January, 2008 - March, 2008
Lawrence Kraft has dreams that far surpass others around him. Taking on the role of a traveling merchant, Lawrence ends up at a town where a strange wolf-themed ceremony is being held. The town pays homage to a being known as Holo and it just so happens that Lawrence meets this God-like wolf during the celebration. Holo and Lawrence end up as traveling companions but will their relationship go further despite their differences?
Ookami to Koushinryou isn't a series we need to discuss if you are a die-hard romance light novel reader. However, romance anime fans tend to know all about Ookami to Koushinryou as it is considered one of the best fantasy romance series ever made by studio Imagin. Holo and Kraft Lawrence have forever been enshrined in the best anime couples hall of fame and it was because of this series great attention to detail and endearing narrative. We all pray season three of Ookami to Koushinryou eventually releases but until then it gives us who love the series—and those who might have missed out on it—the chance to rewatch from the beginning again for the thousandth time.
---
1. Clannad

Episodes: 23
Aired: October, 2007 - March, 2008
Once a basketball hopeful, Tomoya Okazaki has since found his life heading towards the path of delinquency. One day, Tomoya heads to school and meets a young girl unfamiliar to him. The girl introduces herself as Nagisa Furukawa and due to an illness, Nagisa has missed a bit of school. This chance encounter will lead Tomoya and Nagisa towards a strange path as their fates intertwine. Love can be a beautiful thing but love is also a challenge and sometimes...challenges can be rough for those involved.
Anime romance fans shouldn't be surprised what took our top spot on our list. That's right readers, at number one on our Top 10 Best Romance Anime of the 2010s list we look at Clannad by studio Kyoto Animation. Back in 2004 developer Key created Clannad and it was a hit among visual novel fans. That's why it obviously was destined to become a hit anime series and when we say hit…we mean hit. Clannad has stood the test of time to still be considered one of the titans of romance anime and the various sequels and movie only showed how much fans were enamored by this series. Clannad needs little introduction folks. If you want a truly deep romance story with a tinge of supernatural spliced in then look no further.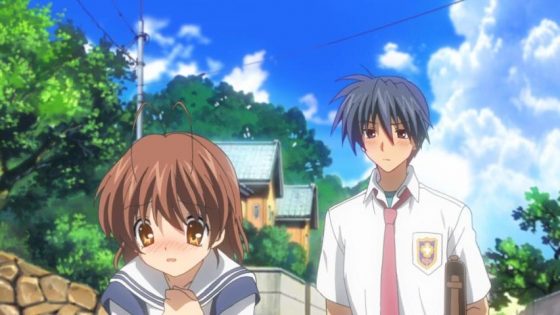 ---
Final Thoughts
We have reached the year 2020 and anime has shown no sign of ending anytime soon thankfully. That means the romance genre going forth will also probably not stop producing some amazing works. Are you excited for any new romance series coming out soon? Comment below to share with us and to share with other readers! If you liked this article be sure to keep stuck to us here at Honey's Anime for even more top ten lists just like this one!
---