Summer 2021 is slowly coming to a close and Fall 2021 is ready to pull us in for a ride with a lot of new anime. But what do you do in the time in between? Binge on some great anime, of course! We're here to recommend five unique anime from the Summer 2021 lineup available on Funimation that you shouldn't miss out on, whether subbed or dubbed! (hey, we've been there too once upon a time, there are no judgments here).
5. Tantei wa Mou, Shindeiru. (The Detective Is Already Dead)

Kimihiko Kimizuka is a trouble magnet who more often than not finds himself entangled among various crimes. One day, he is forced into a plane by a group of kidnappers and the plane is also hijacked at the same time. That's when he meets the silver-haired mystery girl who goes by the codename Siesta who saves the day. Siesta soon enlists Kimihiko to be her sidekick and thus starts their long adventure of many ups and downs together. But three years later, Siesta dies and Kimihiko tries to leave her memories behind and move on but what happens when the past keeps catching up to you?
The Detective Is Already Dead has a rather unique start where we know from the very beginning that Siesta is going to die. However, it still manages to retain its mystery element and keeps you hooked wanting to know more. While there are some flaws with the animation of this show, it still manages to keep its fans engaged thoroughly with its plot and that's all we want!
---
4. Vanitas no Carte (The Case Study of Vanitas)

The Case Study of Vanitas follows the story of a vampire who was born under a blue moon, a sign of ill omen. Scorned by the vampires born under a red moon, the vampire named Vanitas is sent away in the cold to fend for himself. Angry at his clan for shunning him, Vanitas creates a grimoire known as the "Book of Vanitas" that he will use to bring retribution against all the vampires born under the red moon. Fast forward to 19th Century Paris, Noe Archiviste is in search of the "Book of Vanitas". But when the airship he's traveling in is raided by the eccentric doctor who calls himself Vanitas, Noe has to make a choice on whether to be lured by his interest in the "Book of Vanitas" even if it will bring him great harm as a vampire born under the red moon.
The Case Study of Vanitas is a great anime set in the gothic age of the 19th Century that manages to charm its watchers. While the anime starts rather typically, it subverts all the typical expectations that are commonly associated with such a predictable plot. All the characters are extremely well-written and really intriguing from the first episode and we cannot get enough of the wonderful cast. We won't spoil too much, but this is one anime that you should check out!
---
3. Re-Main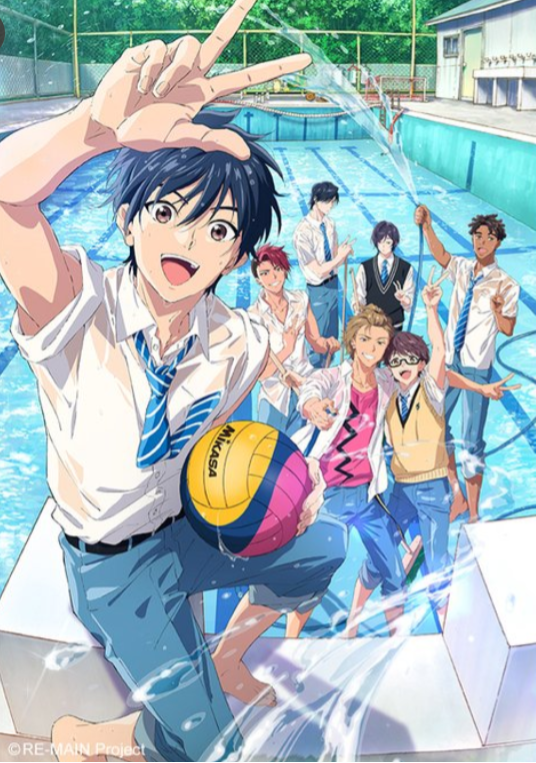 Minato Kiyomizu wakes up in a hospital and realizes that he has been in a coma for 203 days. Having lost all his memories of middle school, one memory remains: his excellence at water polo. However, he becomes embarrassingly aware that he doesn't remember everything about water polo to go back to his former glory. Giving up, he vows to have a high school life without water polo...only it pulls him in more and more. While Minato has to start from the basics to go back to his time in the spotlight, he's excited to be playing his beloved sport again with some amazing new friends!
Re-Main is possibly one of the hidden gems of this season. Designed by MAPPA, the animation and the plot are on par with each other and every episode simply takes your breath away. While the plot seems rather mediocre at first glance, there's something really amazing that the anime does to highlight itself in the best way possible. This is one anime that you should not miss!
---
2. Genjitsu Shugi Yuusha no Oukoku Sankenki (How A Realist Hero Rebuilt The Kingdom)

After the death of his grandfather, Kazuya Souma is left all alone with no one to call family. One day, he is mysteriously transported to the kingdom of Elfrieden in another world to be a "hero". Kazuya soon realizes that he was summoned as a sacrifice for war but unable to accept his fate, he decides to lend his intellect to Elfrieden to change the economy of the kingdom, not through war but through administrative reforms. With his intelligence bringing him much success, Kazuya finds himself with the crown and a betrothal to the princess. Thus, the "realist hero" sets out to assemble a group of talented citizens who will aid him in making Elfrieden great again.
How A Realist Hero Rebuilt The Kingdom is a breath of fresh air for anyone who is disappointed with the cliched tropes that isekai anime uses these days. The best thing about Kazuya is his intellect and this is demonstrated through the various political battles that take place throughout the anime. Not to mention that Kazuya often reminds us of Sora from No Game No Life so definitely give this one a try!
---
1. Uramichi Oniisan (Life Lessons with Uramichi-Oniisan)

Uramichi Oniisan is the story of a depressed and deeply nihilistic man called Uramichi who works as a star in a children's show. Suffice to say, Uramichi deeply loves the kids that come on his show, "Together with Mama" and that's why he can't help but teach them the harsh realities of the world with a smile. Along with Utano Tadano, a singer who simply wants to get married, and Iketeru Daga, a handsome man with really crass humor, no two days are the same on this show as the adults try to balance being cheerful and happy for their audience while battling with their own failures in life.
Uramichi Oniisan is, hands down, the best comedy of this season. Every single episode in this anime is filled with a lot of puns but you don't necessarily have to be Japanese to understand all of them. The anime will keep you laughing with each episode because of its deadpan humor. There is something greatly lovable about the characters that makes you feel attached to them and you can't help but think that they're your friends. Uramichi Oniisan is a comfort anime for us at Honey's Anime so this is one you should not miss if you enjoy comedic slice of life!
---
Final Thoughts
We hope you really enjoyed our recommendations for this season! Let us know which anime you loved greatly this season and whether you agree with our picks in the comments below!
---