The Fall 2021 anime season has been fantastic so far: we've got gorgeous adaptations of much-loved manga like Komi Can't Communicate and Blue Period dominating the airwaves, as well as some dark horse favorites like Ranking of Kings and Sakugan proving that they're worthy of discussion as well. But as far as the anime that are specifically airing on Funimation this season, which are the absolute best of the best? Let's check out the five best anime airing on Funimation this Fall 2021!
5. Senpai ga Uzai Kouhai no Hanashi (My Senpai is Annoying)

With how depressing the world has been lately, we wouldn't blame you for a second if all you wanted to watch this season was a wholesome romcom about two dorks who are too awkward and/or dense to admit their love for each other. Luckily, My Senpai is Annoying is here to serve! Set in a professional work environment (instead of a high school!), the series follows short and cutesy Futaba as she tries to get people to take her seriously as an adult... and her senpai Takeda, a mountain of a man who constantly throws good-natured teasing her way just to get on her nerves.
We love the dynamic between these two; Futaba's tsundere act towards Takeda contrasts beautifully with her apologetic nature that she uses with almost everyone else, and Takeda is such a himbo that he doesn't realize this means Futaba has a crush on him. Someone needs to just spell it out for them so we can see them actually get together!
---
4. Muteking the Dancing Hero

Don't let that low MAL score fool you—if you have any love for retro '80s anime and tokusatsu productions, you should be watching Muteking the Dancing Hero. It's a loose adaptation/remake of the 1980 series Muteking the Dashing Warrior (about a masked hero who saves the world from space aliens with the power of octopi and roller skates), but this time it features a heavily stylized vaporwave aesthetic and Muteking's enemy is essentially Evil Steve Jobs.
Even though it's a bit on the kiddy side—the art style is somewhat simplistic and many of the early episodes follow a very similar formula—this anime is still an absolute delight. Plus, it has one of the most diverse casts we've ever seen! The people of Neo San Francisco come in every shape, size, and color (including black characters with accurate hair textures and facial structures), and there's even a trans woman who's treated as an admirable and beautiful mentor instead of as a punchline. Hooray for positive representation!
---
3. Kyuuketsuki Sugu Shinu (The Vampire Dies in No Time)

How about an "odd couple" comedy about a vampire and a vampire hunter who are forced to live in the same crummy apartment? Yeah, it seems a little basic, but what if I told you that the vampire turns to dust at the slightest sign of stress, the hunter spends more time writing trashy memoirs than actually fighting monsters, and their third roommate is an adorable armadillo named John who really deserves better than putting up with these goons every day? Now that's a solid sitcom premise.
What makes the screwball plot even better is that the vampires they fight range from traditional fanged humanoids to fever dream monsters to... possessed vegetables. When combined with the vitriolic friendship between the two leads (expertly portrayed by Jun Fukuyama and Makoto Furukawa), these hilarious circumstances make for a very entertaining satire of the vampire genre.
---
2. Mushoku Tensei: Isekai Ittara Honki Dasu Part 2 (Mushoku Tensei: Jobless Reincarnation)

The second cour of renowned isekai Mushoku Tensei is finally here, and it continues to prove that it's one of the most polished series that the isekai genre has ever produced. Everything, from the stunning animation to the pitch-perfect voice acting to the carefully crafted story, comes together to form an anime that just about any fantasy fan will love. It's easy to tell that Studio Bind and everyone else involved is just as passionate about Mushoku Tensei as the fans are. It's certainly not for everyone—Rudeus' perverted nature can be difficult to get past, but if you can accept him as inherently flawed, then somehow you end up rooting for him anyway. It's amazing!
---
1. Ousama Ranking (Ranking of Kings)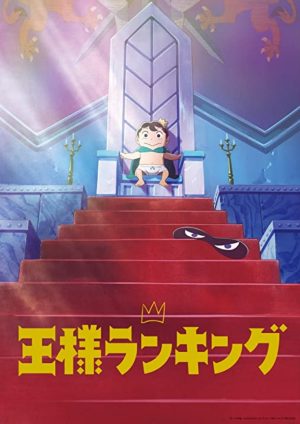 As we mentioned in the opening, Ranking of Kings received almost no buzz at all before the season started. But once we saw the first few episodes, we knew that this underdog tale of a deaf prince desperately trying to prove himself to everyone who doubted him would be one of the best anime of the season—and possibly even of the entire year. The art style is reminiscent of a children's picture book, but the story itself is actually very emotionally mature; main characters Bojji and Kage endure so much abuse from people who should have their best interests at heart, and yet even if they cry their hearts out at the pain, they still get back up and push forward on their journey. We can't wait to see more of this intricately detailed world and the fascinating people who inhabit it!
---
Final Thoughts

We also love Mieruko-chan, The World's Finest Assassin Gets Reincarnated in Another World as an Aristocrat, Irina: The Vampire Cosmonaut, and Demon Slayer: Mugen Train (which was only omitted from the list because it was already a movie). But are there any other anime on Funimation that you can't get enough of this season? Let us know in the comments, and thanks so much for reading!
---