También puedes leer este artículo en:Español
This Summer's anime season 2017 has been full of great anime but it's clear to many who are watching this season that the genre that stands above the rest is Comedy. From Keppeki Danshi! Aoyama-kun to Hajimete no Gal, there's a comedy anime for everyone. However, if you are truly watching this season, you know it's Aho Girl that takes comedy to a whole new level.
Yes, Aho Girl is one of the funniest anime of the season with its ridiculous humor, contrasting characters, and randomness. For a 10 minute anime, it really does not disappoint. If you are interested in more anime like Aho Girl to help give some laughs when you really need it, Honey's Anime has got you covered. Today, we are presenting you 6 anime like Aho Girl for people just looking for a laugh.
Similar Anime to Aho Girl
1. Gintama

Episodes: 201
Vired: April 2006 - March 2010
The way of the samurai is nearly gone due to the takeover by the Amanto. Sakata Gintoki has managed to cling to the ways of the samurai despite it all. To do odd jobs to continue living, Gintoki has tagged up with a megane idol otaku, Shimura Shinpachi, and the glutton, Kagura. Somehow, these three will have to figure out how to make a living while having run ins with the Amanto, various terrorists, and even Kyoto's own Shinsengumi.
When it comes to stupid humor, you really cannot go wrong with Gintama. There's so much ridiculousness that you cannot help but compare the jokes to the ones in Aho Girl. Both make fun of your common anime situations and have a good mix of characters who get it or don't. If you want something that's longer with a lot of comedic relief but a good contrast of nonsensical and sensical characters, Gintama is a great anime like Aho Girl to consider.
Gintama Trailer
---
2. Seitokai Yakuindomo

Episodes: 13
Aired: July 2010 – September 2010
Ousai Academy was once an all-girls school, but now Tsuda Takatoshi is joining the ranks as one of the first male students. He's immediately brought into the student council as the vice president by the class president herself, Amakusa Shino. While you may assume that an all-girls school would be all frills and angels, Takatoshi is about to learn that girls are cruder than he thought.
People always think girls are more mature, sensible, or sometimes more intelligent (emotional or school smart), but like Aho Girl, Seitokai Yakuindomo breaks that mold. Yoshiko breaks through that mold that states girls have to be a certain way and Ousai Academy is full of girls who just don't fall into that mold at all. They curse. They talk about strange bodily fluids. There's talk about masturbation, sex, and every sort of thing you can think a girl won't talk about. You will find yourself wondering how exactly women are stereotyped into certain behaviors.
Seitokai Yakuindomo Trailer
---
3. Gekkan Shoujo Nozaki-kun (Monthly Girl's Nozaki-kun)

Episodes: 12
Aired: Jul. 2014 – Sep. 2014
Sakura Chiyo was just trying to confess to her high school crush, Nozaki Umetarou, but somehow, he confused her with being a fan. Nozaki is, in fact, a popular shoujo mangaka! And thus begins Chiyo's new life working under Nozaki to help him write shoujo manga and learning what it is that inspires Nozaki's work.
When it comes down to comedy, Gekkan Shoujo Nozaki-kun is one of the first on the list and there's a reason why since it was named top comedy anime of 2014. While it doesn't have all of the stupid comedy that Aho Girl has, Gekkan Shoujo Nozaki-kun has its fair share of funny moments that make you wonder how stupid the characters can be. Unlike Aho Girl, the colorful cast of Gekkan Shoujo Nozaki-kun have a good amount of sense, however, it's those moments that nonsensical thoughts take over that really put Gekkan Shoujo Nozaki-kun over the top as a comedy anime like Aho Girl.
Gekkan Shoujo Nozaki-kun Trailer
---
Any Anime Like Aho Girl ?
4. Minami-ke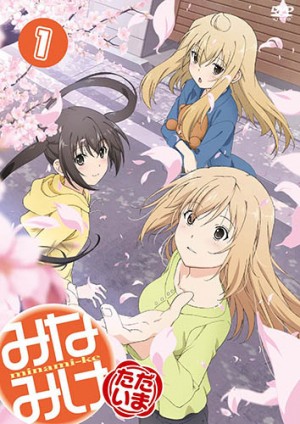 Episodes: 13
Aired: October 2007 – December 2007
Minami-ke is about the lives of the Minami sisters, Chiaki, Kana, and Haruka. The Minami sisters love each other and it shows, but isn't that the point of a family? Plus, they get to live life every day with each other and the cast of colorful characters that surround them. Watch Minami-ke, and it's 3 sequels, to see the goofiness that is the everyday life of the Minami sisters.
If you want another Yoshiko, you've got it in Kana. She's your regular goofball and her little sister Chiaki, mocks her. Kana has all of Yoshiko's goofiness and when you think of a character like Yoshiko, you know you're thinking of Kana! That being said, Minami-ke, overall, has a lot of humor that Aho Girl has with great contrast of characters in a simple slice of life setting. While not a lot happens, it's quite clear in Minami-ke that it's the characters that really make this anime as funny as it is. The same can be said for Aho Girl, so if you're looking for an anime like Aho Girl, look no further than Minami-ke.
Minami-ke Trailer
---
5. Sakamoto Desu Ga? (Haven't You Heard I'm Sakamoto?)

Episodes: 13
Aired: Apr. 2016 - Jul 2016
He is the guy at school worth talking about. He's the guy every girl likes. He's the guy all the guys envy. He is Sakamoto. Haven't you heard of him? Sakamoto Desu Ga? is the anime about Sakamoto, the coolest guy in school that everyone is talking about.
There were big expectations for Sakamoto Desu Ga? and this anime like Aho Girl did not disappoint. The plot centers around Sakamoto, the same way Aho Girl centers around Yoshiko, but Sakamoto is cool while Yoshiko is regarded as a nuisance of an idiot by pretty much everyone else. Both of these school comedy anime will be sure to make you crack up as they have ridiculous situations that revolve around their main characters. You know you'll just love Sakamoto after watching Sakamoto Desu Ga?
Sakamoto Desu Ga? PV
---
6. Himouto! Umaru-chan

Episodes: 12
Aired: July 2015 - September 2015
Who is perfect in every conceivable facet? That would be Doma Umaru, who has the cutest face and is great at everything she does. Umaru is the girl that the school admires. however, the Umaru that her brother, Taihei, sees is much different than the one everyone else sees. At home, Umaru is a chibi who likes to play with her hamsters, play video games, watch anime, and eat junk food. Is there anything else worth her time?
When it comes to useless girls, Yoshiko takes the cake. Then there's Umaru who is seemingly perfect but is utterly useless when she's at home. She's wasteful. She creates trouble for her brother Taihei. If you love the back and forth with Yoshiko and Akuru, you'll love the back and forth that goes on between Taihei and Umaru. Umaru is a great main character and you know you'll love her, although you will never want her as your imouto. For some slice of life fun, silliness, and a funny main character just like Aho Girl, you should check out Himouto! Umaru-chan.
Himouto! Umaru-chan Trailer
---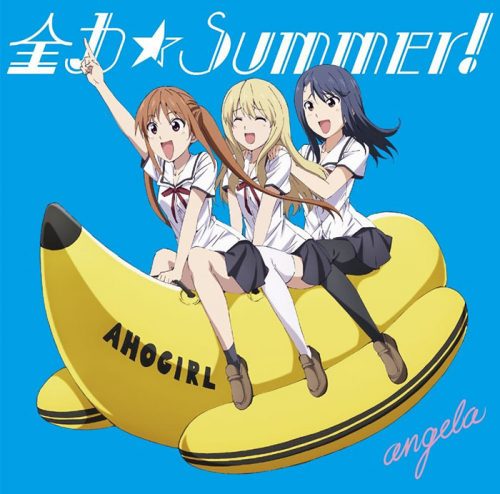 Final Thoughts
Come one, come all! If you want a funny anime like Aho Girl, Honey's Anime has got you covered. Whether it be stupid funny, have a funny main character or a great contrast in personalities making everything hilarious, these anime like Aho Girl have got you covered. Check these anime like Aho Girl for laughs today!
Now, how many of you are watching Aho Girl and love it? Do you think we missed any anime like Aho Girl? Feel free to share your thoughts in the comments down below!
---