Soccer anime are few and far between, with only a handful dropping in the last ten years, so when Ao Ashi landed on our screens this Spring, we had to try it for our footballing fix. The story follows Ashito Aoi as he joins a renowned academy for a professional team at the behest of coach Tatsuya Fukuda.
An anime about how an underdog unlocks their full potential to become a star player is a common trope in sports anime but so captivating that it makes sense why it's used so often. With that said, we have put together a list of recommendations for sports anime that we think you'll like if you have been enjoying Ao Ashi!
Similar to Ao Ashi
1. Giant Killing

Episodes: 26
Aired: April 2010 - September 2010
The name really gives it away with this one, as Giant Killing follows an anime that showcases just that - the killing of a giant. East Tokyo United is struggling to compete in Japan's top league, barely avoiding relegation and losing five games on the bounce. Enter former player and untested coach Takeshi Tatsumi at the recommendation of the general manager. Tatsumi has some success coaching in England but returns to his old club to lead with his expertise in giant-killing.
Takeshi Tatsuya is a lot like Ashito Aoi, getting into his position through recommendations and observations but also being a young and inexperienced prospect that the main team pins their hopes on for the coming season. Nevertheless, Giant Killing shows us that upsetting the odds is possible with a fresh perspective on tactics and methods, and we just hope Ao Ashi leads the same way for Ashito's future.
---
2. Kaze ga Tsuyoku Fuiteiru (Run with the Wind)

Episodes: 23
Aired: October 2018 - March 2019
When one thinks of sports anime, long-distance running is probably the last sport that comes to mind. Instead, most anime opt for high-octane team sports like volleyball or soccer. However, like most sports anime, Run with the WInd uses running as a vessel to foster excellent interpersonal relationships and stories, not getting too bogged down in the details of the sport. Centred around a University's relay team entering the Hakone Ekiden marathon and the relationship between Haiji Kiyose and Kakeru Kurahara as they try to put a team together at the last minute.
An underdog story like Ao Ashi, Run with the Wind follows a skilled member of their sport as they try to train with newcomers and veterans alike, but with less team orientation due to the nature of the sport. This doesn't take away from the relationships and bonds built between the characters, though, with Kiyose and Kurahara using their experience much like Ashito's A-Team members in Tokyo do to improve the try-out members.
Kaze ga Tsuyoku Fuiteiru Official Trailer:
---
3. Days (TV) (Days)

Episodes: 24
Aired: July 2016 - December 2016
Soccer anime is few and far between, but Days TV dropped in 2016 and scratched an itch for anime soccer fans all around. Tsukushi Tsukamoto is new to the world of soccer after meeting the talented individual Jin Kazama and becoming enamoured with the sport. Despite his lack of talent, Tsukushi joins the soccer team and starts his journey with the talented team at Seiseki High School.
Much like Ao Ashi, Days TV follows high school soccer in a much more realistic fashion than most sports anime, as no one has insane superhuman abilities. However, unlike Ao Ashi, our main character in Days TV isn't remarkably talented as Tsukushi barely gets a shoo-in for the Seiseki team, whilst Aoio gets into the A Team at his academy before the end of the first season.
Days (TV) Official Trailer:
---
Any Anime Like Ao Ashi ?
4. Hajime no Ippo (Fighting Spirit)

Episodes: 75
Aired: October 2000 - March 2002
Ippo Makunouchi is a small guy who gets bullied daily as he helps his mum run her fishing boat rental business. Saved by boxer Mamoru Takamura during a violent incident after school and taken back to the Kamogawa Boxing Gym, Ippo begins training after impressing coach Genji Kamogawa with his powerful punches against Ichirou Miyata, his current rival.
Hajime no Ippo is the ultimate underdog story in the anime world, and there are a lot of similarities with the story of Ao Ahsi. However, the most significant story similarity is the former star in the sport being the coach that takes on our scrappy underdog protagonist, with Genji taking on Ippo and Tatsuya taking on Ashito.
---
5. Diamond no Ace (Ace of Diamond)

Episodes: 75
Aired: October 2013 - March 2015
Losing his final match in middle school with a wayward pitch, Eijun Sawamura is devastated and vows to take his high school team to the Nationals. However, Having been scouted, he is invited to a top Tokyo high school leaving behind his old teammates. Now struggling in a team of talented people, Eijun fights his way to become the team's ace.
Ashito and Eijun have such a similar story we had to include Ace of Diamond in this list. Both struggled with their middle school teams, being scouted in their final matches for a big Tokyo team, and fighting against the odds to reach their full potential in star-studded surroundings. Everyone loves a scrappy underdog, and Ace of Diamond scratches that itch with its long run of 75 episodes.
Diamond no Ace Official Trailer:
---
6. Ahiru no Sora (Sora the Duck)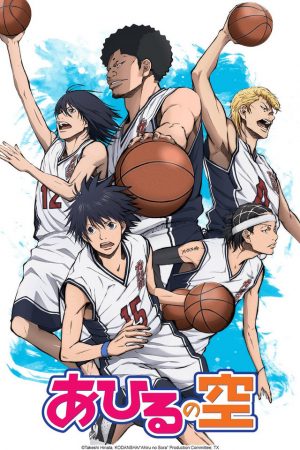 Episodes: 50
Aired: October 2019 - September 2020
Sora Kurumatani is a basketball player but lacks the most critical attribute to be a star - height. Despite his physical disadvantage, Sora has trained to make up for it by landing incredible shots, figuring out how to pass with precise accuracy, and dribbling at a low height to get past defenders. Joining his high school's team, he realises the club is used as a hangout for delinquents, but there is some potential that his passion unlocks, spurring the team on to compete properly.
Sora and Ashito are both small in stature, trained to overcome their difficulties, and have the incredible ability to inspire their teammates to achieve their potential. The underdog story translates across all sports and Ahiru no Sora shows that whether it's basketball or soccer, we can all support a scrappy fight to the top.
Ahiru no Sora Official Trailer:
---
Final Thoughts
Ao Ashi has reignited our love for sports anime, especially a scrappy underdog story where our main character tackles the odds and reaches their full potential to kick ass all the way to the top. So what have you thought of Ao Ashi this season? Are there any other anime you would recommend for fans of the anime? Let us know in the comments!
---