There is almost an anime for every form of sport, with 2022 adding to that list as we have seen series about futsal, horse racing, and even competitive litter picking! Whether you want to watch an anime to get you in the mood for your favourite sporting event, like the FIFA World Cup this year, or are exploring new sports through your favourite media, we have set up a nice list for the best of this year in sports anime!
5. Ryman's Club (Salaryman's Club)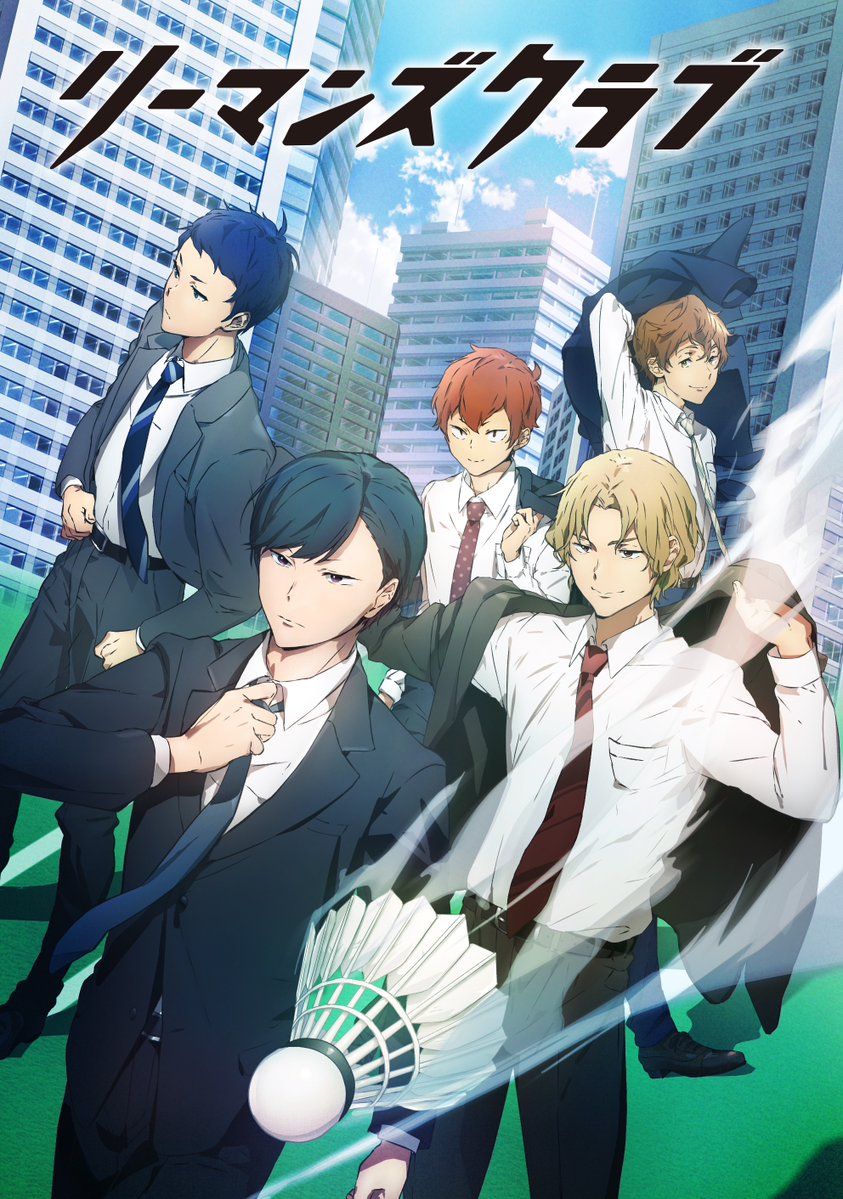 Original sports anime are few and far between with studios usually playing it safe and adapting a well-known manga or light novel that has an already established audience. Salaryman's Club looks into the world of corporate sports, following Mikoto Shiratori as he fails to live up to his potential as a badminton player for the Mitsuhosi Bank, being let go and recruited by the Sunlight Beverage corporate team where has to train at night and work by day for their sales team. The anime looks at the bonds between players in doubles badminton, whilst juggling corporate life on top of their sports career.
---
4. Yowamushi Pedal: Limit Break

Yowamushi Pedal first dropped in the Fall of 2013 with Limit Break being the fifth installment for the story of the Souhoku High Bicycle Racing Club, as we again follow Sakamichi Onoda as he continues to aim for glory with his club mates. Competing in the Inter-High competition across multiple days of racing, Souhoku came up against stiff opposition in the form of Hakone Academy and Kyoto Fushimi High. It is a joy to watch the boys at it again, using all different tactics and strategies to race faster than ever before.
---
3. Birdie Wing: Golf Girls' Story

Golf is a world-famous sport, with the women's game growing in popularity over the years. Unsurprisingly there had to be a golf anime at some point, and Birdie Wing is just that following the rivalry between underground gambler/player Evangeline, "Eve", and the straight-laced Aoi Amawashi, developed from Eve's loss to Aoi in a clean game. Watching two geniuses in their field compete despite such different upbringings around the sport is fascinating, and we can not wait to see more of this duo's battle.
---
2. Blue Lock

Taking the traditional team building seen in sports anime like Kuroko no Basket or Haikyuu!!, Blue Lock changes up the standard formula by pitting individuals against each other whilst being in an 11-a-side team on the pitch. 300 strikers chosen for the Blue Lock experiment participate in matches against other teams entirely made of strikers, trying to showcase their individual talents to become Japan's next top striker in time to win a World Cup. The format is extremely exciting, and with the World Cup in 2022 seeing Japan beating former world champions Spain and Germany whilst wearing the blue kit designed by the manga's author, it's clear Blue Lock has reignited Japan's love for soccer.
---
1. Ao Ashi

Continuing the love of soccer we have Ao Ashi at the top of our list as this anime just gets soccer anime right, following the young Ashito Aoi as he goes from a countryside star to a small fish in the big city. A good underdog story helps a sports anime feel alive as we watch our protagonist battle against the odds to prove their skill, and Aoi's ability to read the game and pick out a pass develops further as he comes up against greater opposition. Sometimes following the formula just works, and Ao Ashi really does the basics well with a creative cast, a good grounding in soccer, and a likeable protagonist.
---
Final Thoughts
Sports anime have been changing things up recently to feel fresh with the likes of Blue Lock trying a different take on the genre, but Ao Ashi shows that if you follow the expected quality behind the concept, it is really hard to beat. What sports anime have you enjoyed in 2022? Did we miss any of your favourites? Let us know in the comments!
---