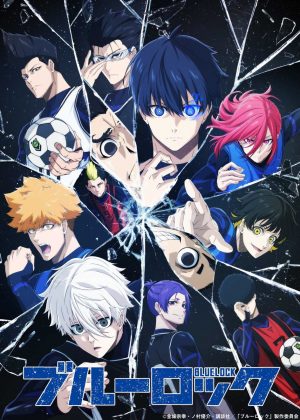 Blue Lock has taken the sport of soccer and done something quite different. Rather than be about a team trying to win it all and nab the World Cup, 300 strikers are chosen to participate in a game of sorts. If they can prove they are the best of the best, they will be given the shot of a lifetime, to represent the Japanese National Team as a player. If they lose though, they will be banned from ever reaching such a level and will always be playing at a low level.
Blue Lock might not be your traditional soccer anime but we can't deny that is what makes it exciting! Many sports anime are predictable and tend to not surprise us sadly but there are a few series, namely the ones we're about to mention below, that keep the feeling of the sport alive and well. Equally, Blue Lock has a very "death game" vibe so we have one anime recommendation on the list that might seem strange but will make sense when we explain it. If it isn't already obvious, today we're naming the 6 Anime Like Blue Lock. Let's see what other shows can match the uniqueness found in this soccer show!
Similar Anime to Blue Lock
1. Haikyuu!!

Episodes: 25
Aired: April 2014 – September 2014
Shouyou Hinata might not have the height for volleyball but he has the drive. Discovering his love for the sport after watching a star player, Hinata wants to be a regular player but his skill and height have prevented his dreams from taking shape, sadly. Now in the school of his favorite player, Hinata is still going to try to shoot for his volleyball dreams despite playing on the same team as one of the players that decimated his former team and don't seem the most team-orientated. Jumping onto the court, Hinata has a lot against him but will prove that anything is possible when you just take the shot!
Often we forget how scary it is to play on a sports team. There is this fear of playing well and a desire to be the best despite others wishing to do the same. Like Blue Lock, Haikyuu!! looks at playing with those who you might not consider the best teammates but not letting that ruin your game and stop your advancement. Equally, both anime are exciting despite one being about soccer and the other about volleyball, which the latter is rarely seen in anime. Haikyuu!! is ending soon so now is the perfect time to catch up and watch the entire series while you wait for more Blue Lock episodes to drop on Crunchyroll!
Haikyuu!! Official Trailer
---
2. Kuroko no Basket (Kuroko's Basketball)

Episodes: 25
Aired: April 2012 – September 2012
One middle school team—Teikou Middle School—ruled the basketball courts, winning them three years of fame and earning them the title of the Generation of Miracles. Unfortunately, because Teikou played so well, they began to be hated by fans and players alike which led the team to disband once they entered High School. Meanwhile, Seirin High School has just brought on two very different players, Taiga Kagami and Tetsuya Kuroko, in hopes of chasing a win. However, among these two is a player known as the so-called sixth man of the Generation of Miracles, and with his appearance, the game of basketball for Seirin will change forever!
Are you loving the seemingly impossible moves and abilities found in Blue Lock? Of course, you are! It's a sports anime and that is what we love about sports anime sometimes! While it might be all about basketball, Kuroko's Basketball is the perfect recommendation for those loving Blue Lock but who maybe don't want to watch another soccer series. With several seasons and a movie, Kuroko's Basketball is pretty popular in the anime world for a reason, so why not find out for yourself by checking it out on Netflix?
---
3. Ao Ashi

Episodes: 24
Aired: April 2022 – September 2022
Soccer is a team sport and while there will always be players who shine stronger than others, true players need to understand that they must rely on others and be team driven to really succeed. Unfortunately, hot-head Ashito Aoi knows he's an incredible player but lets his attitude run wild which leads to his removal from an important game after he becomes violent towards another player. His team loses the tournament and Aoi finds himself losing hope for his soccer career. However, Tatsuya Fukuda, coach for a Tokyo team, gives Aoi a chance to redeem himself. Now, Aoi must change his attitude and work for a new team if he ever wishes to truly shine among the star soccer players!
Blue Lock examines what it means to be the best in your mind but occasionally needs to rely on others in your team. Ao Ashi is similar in that regard but with a more normal soccer setup. Star player Aoi is very different from Blue Lock's main protagonist Yoichi Isagi but both players will need to learn how to play on an unfamiliar team and rely on their skills and abilities to guide them toward their future. Ao Ashi was a solid 2022 sports anime that didn't get much attention but if you're a sports fan, you're missing out if you sleep on this fun soccer anime!
Ao Ashi Official Trailer
---
Any Anime Like Blue Lock ?
4. Captain Tsubasa (2018)

Episodes: 52
Aired: April 2018 – April 2019
11-year old Tsubasa Oozora loves soccer. Throughout his entire life, he only wishes to prove he can play the sport and one day, stand with the best of the best! He has the talent but isn't in the best place to really prove himself. Moving to Nankatsu City, Tsubasa must now prove himself to be capable of playing with the better-known soccer team! Can Tsubasa become the best or will his dreams forever stay as just that…dreams?
Captain Tsubasa is probably one of the most well-known soccer anime as it was originally released in the early 1980s. Redone with more modern animation, Captain Tsubasa looks better than ever and has been condensed into a more palatable 52-episode series rather than the 128 from the 80s version along with multiple movies. While the original will always hold a special place in our hearts here at Honey's Anime, if you need a soccer anime like Blue Lock but don't feel like watching older animation, then we recommend to you the 2018 adaptation of Captain Tsubasa!
---
5. Days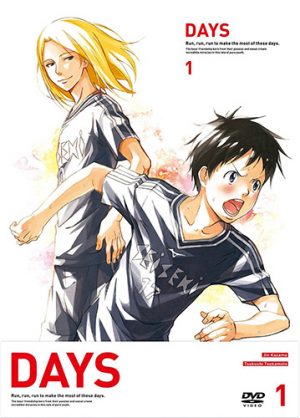 Episodes: 24
Aired: July 2016 – December 2016
Young Tsukushi Tsukamoto is pretty average. Lacking any skills in school and any talents, Tsukushi feels he is destined for normality in life. That all changes when he ends up meeting an upcoming soccer player named Jin Kazama. Despite his lack of skills, Jin sees potential in Tsukushi and together they join the Seiseki soccer team. Can these two become the next stars of soccer and show that talent sometimes has to be forged?
Days is a shorter soccer/sports series than many of the series we listed above but we can't deny it just hits that soccer feeling so well. Rather than being about over-the-top players or supernatural abilities, Days feels a bit more akin to watching a normal soccer game and that is pretty enjoyable. Those who don't want a crazy anime sports show to watch will love Days as much as we did!
---
6. Danganronpa: Kibou no Gakuen to Zetsubou no Koukousei The Animation (Danganronpa: The Animation)

Episodes: 13
Aired: July 2013 – September 2013
Famous Hope's Peak Academy is known for only taking in elite students which is why Makoto Naegi is surprised by the letter he receives. Labeled as the Ultimate Lucky Student, Makoto is just happy to be considered for such a prestigious school. Unfortunately, Makoto's reality is shattered when he, along with various other Ultimate students, are trapped in Hope's Peak by a strange bear named Monokuma. They are all given two options: To live together forever trapped in the school or be given freedom if a person commits a murder and isn't discovered. Who will survive such a deadly game where anyone can be lying, even your closest allies…
Yes…Danganronpa: The Animation, based on the hit video game franchise, is definitely not a sports anime. That being said, we can't deny the concepts and themes found in Danganronpa: The Animation are quite similar to Blue Lock. Trust, deceit, talent, and survival are found in both series and we get to see what people are willing to do to survive and keep their dreams alive. Blue Lock is constantly filled with surprises and twists that test the players and the same can be seen in Danganronpa! So maybe you want a break from sports anime for a second but love the idea of Blue Lock. Then you're going to want to check out Danganronpa; The Animation!
Danganronpa: The Animation Official Trailer
---
Final Thoughts
Blue Lock might not revolutionize the sports genre but it does show how creative anime can make sports. That's what we love about the series above! All of the anime above are different and offer interesting takes on what teamwork means and how sports—minus the non-sports series on here—can always be seen in different ways. Sports anime will always be the underdog genre but luckily we always root for the underdogs!
Have we mentioned all the anime similar to Blue Lock? Comment below to let us know if we missed a series! For even more anime recommendation lists, keep stuck to our striking hive here at Honey's Anime!
---