También puedes leer este artículo en:Español
Throughout the course of our lives, there come a time where we've imagined ruling a kingdom. Having the power to lead a team of skilled soldiers to victory, while being respected by the people of our town. We fight for freedom and strive to achieve peace for the nation we belong to, while fending off threats that try to overthrow the throne. Arslan Senki is about a young boy with dreams to turn his once corrupt nation into a flourishing powerhouse, ensuring that the corrupt are put down while the courageous continue to shine on. Let us continue on with that journey by introducing six anime like Arslan Senki that share that same purpose; to save the world from evil and bring union to a broken state. If you'd like to see the original six anime that we chose, please feel free to scroll down below.
Similar Anime to Arslan Senki
1. Seven Deadly Sins

Episodes: 24
Aired: October 5, 2014 - March 29, 2015
Meliodas and his team of knights have been accused of betraying the righteous empire, while the real culprit runs rampant causing more havoc. To reestablish the trust and love of the kingdom, Meliodas must reunite with his squad in order to unmask who the true culprit is, and to put an end to the evil schemes this unknown character is about to release onto the world. Many of the knights have either been exiled or sealed away, so with the help of Elizabeth along with Hawk to lead the way, the mission to put an end to this uncertain terror begins.
The similarities that both of these anime share is that a kingdom has been overthrown, and it's now up to a team of respected warriors to team up to restore balance to the nation. Arslan in the beginning is somewhat reluctant to challenge the powers that be, but throughout the series he builds enough confidence to lead his own army. The same can be said about Meliodas and his trusted team of allies, as he felt that he couldn't receive any trust from his people, but over time regained his confidence to win them back. Corruption and betrayal follow the lives of both characters as they're constantly challenged with new affairs, and must use their tact and strategy to take down the opposition that threatens them.
Seven Deadly Sins Trailer
---
2. Magi: The Labyrinth of Magic

Episodes: 25
Aired: October 7, 2012 - March 31, 2013
Magi: The Labyrinth of Magic looks at the life of very curious and adventurous Aladdin who seeks out to discover more about the Djinns that rule over the Labyrinths. Along with his mentor Ugo and local merchant Alibaba, they all set out to explore the dungeons that wait for them. This epic adventure follows the pack as they make their way throughout many dungeons to seek out more behind the work of rare magicians, while coming to terms with their own fates as the world evolves around them. The second season of Magi is also out, but we suggest tuning in the original to have a better idea of how the story progresses.
Magi and his team must come together to face an ongoing conflict pertaining to war, and the fate of the Kou Empire. Both shows deal with very serious political issues, the presence of slavery, and the responsibility of being ruler. While Arslan puts more emphasis on a very serious narrative relating to corruption, Magi places more importance on the value of building relationships and wild adventures. Where they both come together however, is that the two are young princes who want nothing more than to see these political controversies ironed out, and making sure every nation involved is treated fairly.
---
3. Akatsuki no Yona (Yona of the Dawn)

Episodes: 24
Aired: October 7, 2014 - March 24, 2015
Akatsuki no Yona tells the beautiful and powerful story of red-haired princess Yona, on her quest to seek out truth as to why she was thrown out of her own kingdom. Coming from a life of luxury and being well taken care of, Yona is then thrown into the midst of battle and she must fend for herself against the new king of Kouka, while seeking aid from new friends on her way. She tells us the story of coming-of-age, as she confronts the realities of life while working hard to ensuring she restores Kouka to its former glory.
Arslan and Yona are two very young individuals who have their lives taken from them, and the kingdom falls into ruin. The society they once knew has now been destroyed by exhibitions of disloyalty, mass murders, and an insane new ruler with no compassion for the people. These two must come up with strategies in order to overthrow the new face of government, while ensuring the safety of the townspeople as well as their own team. Arslan and Yona encounter an individual that soon becomes a mentor to them, paying close attention to their intentions and moral choices. Hak is to Yona as Daryun is to Arslan, and they all must put their heads together to create a new path and end the exploitation of the enemy.
Akatsuki no Yona Trailer
---
Any Anime Like Arslan Senki?
4. Kingdom

Episodes: 38
Aired: June 4, 2012 - February 25, 2013
Kingdom is an incredible anime that looks at China's Warring States period, and the many ordeals that went down during that era. In the kingdom of Qin, Xin Li, a war-orphaned slave, trains intensely with fellow slave and best friend, Piao, who shares his proud dream of one day becoming a Great General of the Heavens. However, the two are suddenly forced to go separate ways when Piao is recruited to work in the royal palace by a retainer of the King. Kingdom follows Xin as he takes his first steps into the great blood-stained pages of China's history. He must carve his own path to glory on his long quest to become a Great General of the historic Seven Warring States.
China's Warring States period was a time where corruption and breach of trust were very common, and the nation needed someone to bring an end to it all. Xin sees all that is happening all around him, and must ensure that this doesn't continue on for much longer. Xin must now place his life on the life, along with the lives of his nation to ensure that communities are reformed, and relationships rekindled in a constant battle for power and supremacy. We watch as a young prince soon transforms into a well respected king, as he is constantly put through many tests to his morals, skills, and leadership to the people.
Kingdom Trailer
---
5. Juuni Kokuki (Twelve Kingdoms)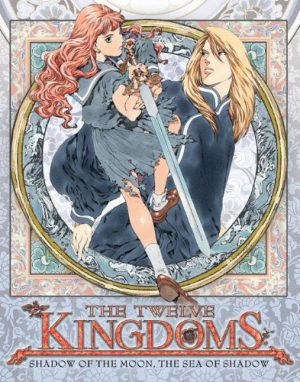 Episodes: 45
Aired: April 9, 2002 - August 30, 2003
Nakajima Youko is your average somewhat timid high school student. One day, a strange man named Keiki appears before her, swearing allegiance. Before she could properly register what was happening, demon-like creatures attack Youko and her friends, after which they are pulled into a different world. A world unlike what she has ever known. Separated from Keiki, Youko and her friends must do whatever they can if they wish to survive in this new world.
Arslan told a powerful story of a young man with a strong ambition to save his nation from dismay, and unify a world that had been separated by mistrust along with dark intentions. Youko shares the same story where she must now come to terms with all that is taking place, and assemble a strong team that can assist her in bringing reform back to the broken nation. Both Arslan and Youku start off with a very naive and timid approach to their objective, but soon mature and grow wiser through the struggle of a nation trying to restore itself through war. Through their determination and strong ambition, they find loyal supporters who fight alongside them to make the world a better place.
---
6. Chaos Dragon: Sekiryuu Seneki

Episodes: 12
Aired: July 2, 2015 - September 17, 2015
In the world of Chaos Dragon: Sekiryuu Seneki, two countries, Donatia and Kouran, are embroiled in a war of supremacy that is tearing the world around them apart. The small island Nil Kamui has suffered dearly from the war, with lands subjugated in the name of each kingdom and stolen away from the people. Matters only worsen as their deity, the Red Dragon, has gone mad, rampaging about Nil Kamui burning villages and killing people mercilessly. Ibuki, a descendant of Nil Kamui's royal family, resides at an orphanage and refuses to take on the role of king. Doing anything to avoid conflict, Ibuki desires a peaceful resolution, however the chaotic world will not allow for such pacifism when it is being torn apart by war. Despite his reluctance, Ibuki is drawn deep into this conflict.
War and a battle for supremacy are common in both anime, where there's a constant struggle between political factions at every moment. The two main characters must come to terms with their new responsibility and ensure that every decision they make brings peace back to the land. Arslan bands together with his loyal army to fight for the nation of Pars, while Ibuki must lay down the law for the Revolutionary Army (Nil Kamui) against other invading countries. Both tell a powerful story of an agenda that must be fulfilled, and it's up to a young ambitious individual to take the reigns and lead a nation to victory. Both strive for peace while the enemy will do whatever it takes to see that doesn't happen, and so constant battles ensue without warning.
Chaos Dragon: Sekiryuu Seneki Trailer
---
Closing Statement
Living in a time of war and corruption is incredibly hard, especially if you're the one chosen to clean it all up. To bring peace to a corrupt nation, one must have the mental fortitude to overcome persecution, question the status quo, and stand up for what you believe in even if the rest of the world doesn't. This sheer act of bravery is why we felt Arslan Senki is one of the better anime of last season, and if you want to know more about Arslan's journey, be sure to catch the second season which is currently airing. If you have any other anime that you feel should make the list, be sure to let us know in the comments section down below! And also follow us on twitter for the latest article updates and tweets!
As always for all of your sweet anime needs, keep it locked here on Honey's Anime.
---
---
Arslan Senki was already adapted in two animation films and four following OAVs. A new animation of Arslan Senki, based on the manga illustrated by Hiromu Arakawa, is currently being aired and we can already say it's full of promises.
The story follows Arslan, the crown prince of the kingdom of Pars. Under the reign of king Andragoras, the kingdom is currently in war and Arslan will have to enter the fight in his 14 years old. This series can seem the same as another heroic fantasy, but you shouldn't miss it!
Below is a list of anime you should check while waiting for the next episode of Arslan Senki!
Similar Anime to Arslan Senki / Similar Anime to Arslan Legend
1. Ginga Eiyuu Densetsu (Legend of the Galactic Heroes)

Episodes: 110
Aired: Jan 1988 – Mar 1997
For 150 years, a space war has confronting two great interstellar states: the Galactic Empire and the Free Planets Alliance.
In the ranks of the Galactic Empire, Reinhard von Müsel is an army genius, with ambition is to save his sister from the Kaiser. On the side of the Free Planets Alliance we find another genius, Yang Wen Li, who originally entered the army for his tuition fees.
The story follows the long conflict between these two great states and the rivalry between the two main characters. The political and strategic aspects are really interesting, especially because of the appearance and point of views of very different characters. Moreover, the original novel which inspired the anime was written by, Yoshiki Tanaka, the same author as Arslan Senki's novel. So you can find the same atmosphere between the two series.
---
2. Juuni Kokuki (The Twelve Kingdoms)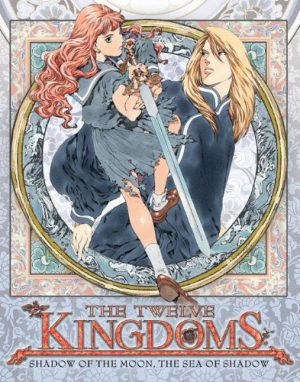 Episodes: 45
Aired: Apr 2002 – Aug 2003
Nakajima Youko is an ordinary high school student. One day, a mysterious man appears in front of her and swears her allegiance. Right after her meeting with this strange man, Youko is being attacked by a strange creature and, with her friends, she's been transported into a parallel world.
This world is separated in twelve kingdoms with each governed by a king or a queen and assisted by a sacred creature named Kirin. Lost in this unknown world, Youko and her friends will have to learn how to survive and Youko will also have to follow her destiny.
This anime is pretty similar to Arslaan Senki. First of all, you have the heroic fantasy aspect. Between all kingdoms, there is obviously lots of political and strategic aspects and that's why it is quite catchy. Magic and strange creatures are present, more than in Arslan Senki, but the setting is the same so you should enjoy it!
---
3. Guin Saga

Episodes: 26
Aired: Apr 2009 – Sept 2009
Remus and Rinda are the twin heirs of the kingdom of Parros. The kingdom has been attacked and massacred by the army of Mongaul, the twins escaped and get lost in the forest of Roodwood.
Guin is a mysterious warrior who lost his memories and woke up in the forest of Roodwood, wearing a leopard face mask which cannot be removed. Guin will meet the twins and help them against the army of Mongaul, but even with his strength, the three of them are captured and imprisoned in Stafolos Keep.
Joining with some allies, they succeed in escaping while plunging into the dangerous River Kes. In order to avenge the massacre of their kingdom, Remus and Rinda, with help from Guin, will have to join the Lagon and Sem tribes but they will have to face lots of troubles.
As in Arslan Senki, you find the heir of the kingdom on the run, trying to escape.
The setting is also quite the same, and you can see a lot of conflict between countries. Each character is unique and even the twins are different from each other, which is interesting to watch.
---
Any Animes Like The Heroic Legend of Arslan / Any Animes Like Arslan Senki ?
4. Nanatsu no Taizai (Seven Deadly Sins)

Episodes: 24
Aired: Oct 2014 – Mar 2015
In the kingdom of Liones, the Holy Knights are soldiers with incredible powers who serve the crown. The most powerful group of these Knights, the Seven Deadly Sins, are wrongly accused of the murder of the Great Holy Knight Zaratras. Because of this, they have no choice but to flee from the kingdom and disappear.
Ten years later, the Holy Knights betrayed the kingdom by overthrowing the king. Elizabeth Liones, the youngest daughter of the king, runs away and decides to search for the Seven Deadly Sins in order to save the kingdom. As she enters into the Boar Hat tavern, she finds out the owner is none other than Meliodas, the chief of the Seven Deadly Sins. Together, they will look for the six other Deadly Sins to defeat the Holy Knights and save the king.
First of all, you really need to see this anime if it's not already the case. The story is very interesting and it's worth seeing. Also, the story is pretty much the same as Arslan Senki with a defeated kingdom and the heir on the run. This series is full of magic, and action and you should enjoy it!
Seven Deadly Sins Anime Trailer
---
5. Akatsuki no Yona (Yona of the Dawn)

Episodes: 24
Aired: Oct 2014 – Mar 2015
The story follows Yona, the princess of Kouka's kingdom. She's living in the castle of Hiryuu with her father, the Pacific King II, and protected by her childhood friend and bodyguard, Son Hak.
On her sixteen birthday, a great party is organized for Yona, and all the kingdom reunite for her. Her cousin and secret love, Soo-won, also came specially for her. The following night, Yona decided to go to her father's room to unexpectedly witnesses the murder of King II by Soo-won, trying to take the crown.
Because she saw everything, Soo-won also tries to kill her. Hak comes to save her and they run away from the kingdom in order to survive. To save and protect her kingdom, Yona will search for the four legendary dragons of the prophecy.
This anime is really interesting. The setting is quite the same like Arslan Senki, but this time, you don't really have the goal of taking revenge with the main character. More than having her kingdom back, Yona realizes that her kingdom was really miserable because of the pacific aspect of her father. She will try to help her people instead of taking back her crown.
---
6. Magi: The Labyrinth of Magic

Episodes: 25
Aired: Oct 2012 – Mar 2013
The story takes place 14 years ago, in a world where strange places called Dungeons began to appear randomly. Dungeons are full of gold and richness and people are willing to seize it.
Aladdin is a young boy who travels with his friend, Djinn Ugo. As he stops in a town, he meets Alibaba, who is aiming to take over the Dungeon near the city. The two of them will unite to beat the Dungeon and all its traps. As the Dungeon disappears after their win, Aladdin and Alibaba will travel together around the world making a lot of allies and enemies.
Full of magic and action, the story presents a lot of different characters who will have to follow their fate. In their travel around the world, they will have to face and settle lots of conflicts between countries. As in Arslan Senki, you have the heroic fantasy aspect and also some political aspects between the countries as the story moves forward.
---
This concludes our list of recommendations! There should be a series for everyone in this list, so don't hesitate to check! Do you agree with this list? If you have another anime to recommend, don't hesitate and leave a comment below!
---