También puedes leer este artículo en:Español
Embarking on a new and wondrous adventure can bring us great experiences, along with meeting great allies that can aid along along the way. Many anime display this in great detail and demonstrate the importance of teamwork, togetherness, and overall companionship. In a world where there is chaos looming around every corner, it feels nice to sit down and relax to your favorite anime that will take your imagination far away from it all. We decided that we would update our previous six anime like Nanatsu no Taizai so that way, you could have a brand new experience and also check out some more anime in the meantime. If you'd like to check out the previous article, be sure to scroll down below to see in all its glory.
Nanatsu no Taizai tells the story of Meliodas on his amazing journey to uncovering the secrets to his past, and to discover the real enemy that had destroyed the empire. With the help of his six other friends along with Elizabeth by his side, they all set out on a spectacular adventure filled with ups and downs, but lots of laughter as well. Let us follow along with them and get started on our similar six.
Similar Anime to Nanatsu no Taizai / Similar Anime to Seven Deadly Sins
1. Trinity Seven

Episodes: 12
Aired: October 8, 2014 to December 24, 2014
Trinity Seven is an action packed ecchi comedy that stars Kasuga Arata, a perverted boy who finds himself at the brink of death when a black shadow covers the sun, and his entire town is turned to rubble with every being turned into dust due to the "breakdown phenomenon". After realizing his entire existence was a mere illusion, Arata encounters yet another obstacle in the female form. Lilith Asami confronts him with two direct choices: hand over the book, or die. Arata decides on a more safer option which is to enroll in the top secret magic school known as Royal Biblia Academy. Awaiting him at this academy are seven deadly magic users, the Trinity Seven, who each wield their own unique power and skills. With his new environment in front of him, along with the memories that he now remembers, he must work with these seven females to put a stop to the destruction that lies ahead.
Arata shares a very perverted mind much like Meliodas who always makes his move on Elizabeth at every opportunity that arises. They're both very care free but determined to ensure that they dispel all evil from around them, protecting the world against turmoil. They both have a team of seven deadly members all of which represent the number of sins we have in our lives. While aloof at times, both Arata and Meliodas are extremely devoted to protecting the ones they care about, Meliodas with Elizabeth, and Arata with his childhood friend Kasuga. They fight to the finish and never back down from anyone who stands in their way, with their allies to back them up should any major problems arise.
Trinity Seven Trailer
---
2. Fairy Tail

Episodes: 172
Aired: October 12, 2009 to March 30, 2013
Fairy Tail is a spectacular tale of friendship and adventure that stars Lucy and Natsu as they encounter numerous enemies, while encountering new foes along the way. The two work for the Fairy Tail Guild, which bring together all of the best wizards under one roof. All of her great new friendships become overshadowed however, when evil powers of malicious guilds seek out to bring down the guilds that stand in their way, and the evil Wizard Zeref commanding an army out for blood. Their lives now take an unexpected turn as they must face off against deadly foes, while putting together the puzzle pieces of their past and understand why the Earth has transformed into the state that it's in.
Seven Deadly Sins and Fairy Tail are all about seeking out new adventure, along with searching for that inner clue to help strengthen them along the way. Both anime remind us of the importance of friendships and bonds, and why having them in our lives can help to create better relationships throughout life. These shows are so fantastic that they just grab your attention so quickly, and you're absorbed in everything that happens by the minute. We highly suggest giving Fairy Tail a shot if you really enjoyed Seven Deadly Sins, and be sure to check out the second season of both shows too!
Fairy Tail S4 Trailer
---
3. Akame ga Kill

Episodes: 24
Aired: July 7, 2014 to December 15, 2014
Akame ga Kill tells the epic story of a team of assassins out to stop the threat to mankind. Akame and the Night Raid must uncover the truth behind Prime Minister Honest's plans to bring ruin upon the town and his true intentions behind it all. We follow Tatsumi as he is the newest leader of the squad and so he must go through intense training in order to discover not only what's transpiring within the empire, but to challenge his own morals and values along his new journey as an assassin. This show is full of entertaining battles that take place in various environments and are sure to bring thrill to those who watch. Wherever there's space to unleash your immense power, the Night Raid are sure to use every bit of it at their disposal to save the world.
We chose Akame ga Kill because it focuses on a dedicated team of specialists who set out to put an end to a corrupt organization, that plots to inflict pain and suffering upon the world. It's only up to Akame and the Night Raid to make sure that no one ends up dead at the hands of evil, but also to establish a bond with one another to create a more cohesive team. Similar to Seven Deadly Sins, at first many of the team members had some quarrels which led to a slow start, but once they all put their pasts behind they became an overpowered team seeking only justice for the world. Both anime dealt with a corrupt leader of a kingdom and it's only up to these seven members to crush the nefarious empire and restore balance to the world once and for all.
Akame ga Kill Trailer
---
Any Anime Like Nanatsu no Taizai / Any Anime Like Seven Deadly Sins?
4. Soul Eater

Episodes: 51
Aired: April 7, 2008 to March 30, 2009
Soul Eater made its debut back in spring of 2008 and received a lot praise for its great sense of humor, and well constructed action scenes. The story follows the chosen students, Maka, Soul, Black Star, and Death the Kid along with their demon weapons as they take on various missions to collect souls, and protect the city from the threats of the world. Each character brings a sense of flavor to the team, with Maka only seeming to care about what's cool, the hot headed and aggressive Black Star, and the obsessive-compulsive behaviors of Death the Kid. Their personalities paired with the demon weapons make for an entertaining experience that we recommend you check out.
So why did we choose Soul Eater as our similar pick? The two anime focus their story around a kingdom that is in dire need of help, and so a team of elite individuals must come together in order to restore balance into the corrupt world they live in. They both feature seven characters all of which inherit different styles, and help to provide a more lively environment for us to bask in. Every action sequence is packed with excitement that almost always keeps you on the edge of your seat at all times. Soul Eater is sure to occupy most of your time when watching, so be sure to let us know what you think after tuning in!
Soul Eater Promo
---
5. Rokka no Yusha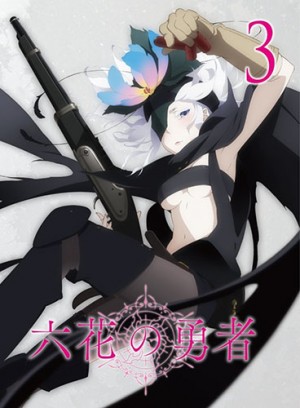 Episodes: 12
Aired: July 5, 2015 to September 20, 2015
Rokka no Yusha is a rollercoaster ride of thrills and adversity as the story follows self proclaimed "Strongest Man in the World", Aldet, and mysterious beauty Nashetania, as they embark upon their journey to battle the Demon God. The two, along with the six other chosen Braves of the Six Flowers decide to meet up to begin their journey when suddenly, an unsuspecting seventh member shows up causing friction among the cast. Now Aldet must utilize his new skills and wit to fight for his life to identify who the true impostor is before its too late.
There are plenty of similarities to touch on, firstly with the more evident. Seven Deadly Sins features a wide variety of characters who all possess a number of abilities, and so too do the cast of Rokka no Yusha. Aldet features some of the same overly confident traits that Meliodas has, while the rest of the team more as a strong support system for everyone else. Every person on the team is extremely powerful in their own way, which makes them a deadly pact to mess with when they're really focused. Both teams have to face corruption within the group at first, but then come to realize that their greatest threat is actually directly in front of them.
---
6. Akatsuki no Yona

Episodes: 24
Aired: October 7, 2014 - March 24, 2015
Akatsuki no Yona tells the beautiful and powerful story of red-haired princess Yona, on her quest to seek out truth as to why she was thrown out of her own kingdom. Coming from a life of luxury and being well taken care of, Yona is then thrown into the midst of battle and she must fend for herself against the new king of Kouka, while seeking aid from new friends on her way. She tells us the story of coming-of-age, as she confronts the realities of life while working hard to ensuring she restores Kouka to its former glory.
Yona shares a similar fate to that of Elizabeth where, the two had been thrown out of their own humble upbringing and must fend for themselves with little to no experience on the battlefield. In comes a wonderful group of people who guide them along the way, Meliodas for Elizabeth, and Hak for Yona. Both of them must somehow come to grips with all that's transpiring around them, while somehow building the strength within to conquer the obstacles ahead. Both have been entrusted with a special weapon that the two are somewhat unfamiliar with at first, but learn to wield them with confidence as each battle progresses and their respective male supporters help to direct them. The more obvious similarity is how there are seven allies that she roams around with much like Elizabeth does in her incredible journey, each with their own unique abilities to take down every unsuspecting enemy.
Akatsuki no Yona PV
---
Closing Statement
Life should always be enjoyed with the company of great friends who share the same values as you do. Only then will life serve you up a nice glass of freedom, and everyone can bask in the wonderful flavors of prosperity. Teamwork and relationships play such a major part in the success of our well being, so making sure to surround yourself with powerful allies is always important. We couldn't get through the entire list of great action anime out there, but if you have any other anime that you feel should make the list, be sure to let us know in the comments section down below! And also follow us on twitter for the latest article updates and tweets!
As always for all of your sweet anime needs, keep it locked here on Honey's Anime.
---
---
What do you think when you hear these seven words; greed, lust, gluttony, sloth, envy, pride and wrath. Well, if you are like me, you will be thinking of the newest anime that features them. So happens that this new anime is named after those words, it's called "Seven Deadly Sins."
The Seven Deadly Sins tells a story of Princess Elizabeth and how she set off on a journey to find the Seven Deadly Sins, a band of outlaws who killed hundreds of the kingdoms knights ten years ago. The seven outlaws with the seven sins branded onto their skin are known as the Seven Deadly Sins.
Elizabeth meets this pint-sized boy running a bar. She doesn't think too much about him at first, but she soon realizes that this boy is Meliodas, the leader of The Seven Deadly Sins, the man who has the sin of wrath tattooed on his arm.
To search for a hero is not new within the anime kingdom. The anime The Seven Deadly Sins is one of the newest in a long line of maidens searching for a hero.
Similar Anime to Nanatsu no Taizai / Similar Anime to The Seven Deadly Sins
1. Dragon Ball

Episodes: 153
Aired: February 1986 – April 1989
Let me start off with an anime that we are all familiar with. Dragon Ball, just like The Seven Deadly Sins, it starts off with a single girl on a hunt. Unlike The Seven Deadly Sins, the girl in Dragon Ball, Bulma, is hunting for the seven Dragon Balls to grant her wish.
Just like in The Seven Deadly Sins, Bulma meets this pint-size boy named Goku. She soon realizes that Goku is no ordinary boy. When Goku takes her back to his house, she finds out that he possesses the 4 star Dragon Ball. Bulma convinces Goku to join her on her adventure to find the remaining Dragon Balls.
Along their journey, Bulma and Goku meet many new people and dangers. Goku becomes more powerful with each fight and soon they must stop the evil of the Red Ribbon Army.
Just like in The Seven Deadly Sins, Goku and Bulma gain new friends along their journey. Sometimes, those friends join them for the journey and sometimes they are never seen again.
Dragon Ball Z: Resurrection 'F' - Official Trailer
---
2. Garo: Honoo no Kokuin (Garo: The Carved Seal of Flames)

Episodes: 21+
Aired: October 2014 - Ongoing
Just like The Seven Deadly Sins, Garo is set in a medieval European era, where the sword rules and magic is still alive. In both anime, the main character has demonic powers that threatens to overtake them from time to time.
Leon Luis was born in a pier of flame and hate as his mother was burned for her crimes of witchery. With her last ounce of power, she wraps her baby in a bubble of protection. His father, Germán Luis, jumps into the fire and rescues his son, then fled the city and his wife.
Seventeen years later, we learn the true mastermind behind the events of Leon's birth and the anime begins.
---
3. Full Metal Panic!

Episodes: 24
Aired: January 2002 – June 2002
For the next anime, we'll look at one set in the modern era, Full Metal Panic!. Just like Meliodas, Sosuke Sagura has to protect a princess. This princess doesn't have a crown nor a kingdom. What she has is a hidden power, the power of a Whispered. Chidori Kaname is the hottest girl on the Jindai High School campus that no one wants as a girlfriend. Sosuke is ordered to protect her from those who want to kidnap her and use her for her powers.
Unlike Meliodas, Sosuke has no clue how to live a normal life. Every day, he causes trouble for Chidori and their classmates. However, Chidori starts to have feelings for this mecha loving maniac.
---
Any Animes Like Nanatsu no Taizai / Any Animes Like The Seven Deadly Sins ?
4. Fullmetal Alchemist

Episodes: 51
Aired: October 2003 – October 2004
You might be asking, "Why is Fullmetal Alchemist on this list?". Well, let me reassure you that Fullmetal Alchemist and The Seven Deadly Sins go hand in hand. They both have a pint-sized male lead character who happens to be blond, Meliodas, the powerful leader of the Seven Deadly Sins, and Edward Elric, the youngest State Alchemist.
They both also have characters based off of the seven deadly sins; greed, lust, gluttony, sloth, envy, pride and wrath.
Fullmetal Alchemist tells the story of Edward (Ed) and his brother Alphonse (Al) as they hunt for the Philosopher's Stone. Years before, the brothers were in an accident that left Ed without an arm and a leg, but that was nothing compared to the complete destruction of Al's body.
Along their journey, they run across the seven deadly sins and the plot they have in motion. Ed will do anything to get Al's body back, but there are some things that Al won't let him do.
---
5. Hunter x Hunter

Episodes: 148
Aired: October 2011 – September 2014
Like The Seven Deadly Sins, Hunter x Hunter takes place in another world, where dragons, monster and legends still live. Gon Freecss, another pint-sized boy with wonderful powers, discovered that his long lost father might actually be alive. Gon's father was a world-renowned Hunter who was licensed to hunt and captured rare beasts. After this revelation, Gon sets out to find his father.
Just like in The Seven Deadly Sins, Gon finds himself making friends and enemies along his journey. Unlike Meliodas, Gon is still a kid and full of wonder. This fantasy anime embodies the dreams of youth that we all share. The action in this anime is not drawn out in long battle scenes, but wrapped up within a few episodes. Not too fast, but not too slow.
---
6. Slayers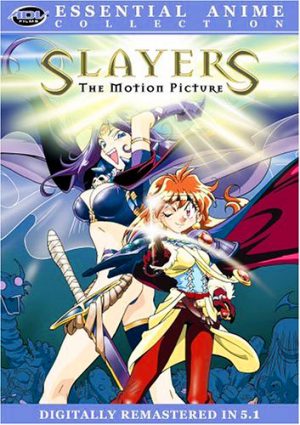 Episodes: 26
Aired: April 1995 – September 1995
The last anime in this list of 6 similar anime to The Seven Deadly Sins is an old anime, Slayers. Its similar to Seven Deadly Sins in two main ways. The first being that it is set in a medieval era and the second similarity is that each anime has a characters searching for a cure for a curse.
In The Seven Deadly Sins, it's the immortal Ban, and in Slayers it's the human rock golem Zelgadis Graywords. As both series progress, we find out that the one who cursed Zelgadis was the evil Red Priest Rezo while Ban was gifted the immortality by someone who held him dear to her heart.
---
Who doesn't like an adventure anime? I know I do. It's always good to take a trip to a new world where the impossible is possible. The Seven Deadly Sins allows its viewers to see a new world where magic is still real, where the dreams of boys are still possible.
I do believe in fairies.
But my alarm is going off, so I can't spend too much more time in this dream world of dragons and monsters. If I could cast a spell, I would put myself in an eternal slumber, so I can stay here and dream a little longer.
---