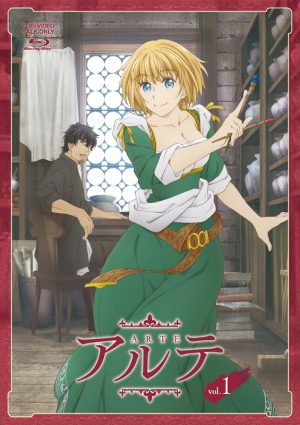 Arte is a much anticipated anime that came out this Spring 2020 season and it takes us to a world where anything is possible. In our own imaginary isekai we are transported to 16th century Florence and we are able to see the world through Arte's eyes. Today we will take a look at anime that allow us to view the world in such an inspiring way and that transcends time.
Arte is a unique and uplifting anime that brings light to our screens once a week. It is well animated and the plot is inspiring. By watching this young heroine pursue her passion, we are able to relate in a way that makes us want to push forward as well. This anime is unique, as it inspires passion, lifts the spirit, and encourages personal development. The following anime have similar characteristics and are beautiful watches in between episodes of Arte.
Similar Anime to Arte
1. Akagami no Shirayuki-hime (Snow White with the Red Hair)

Episodes: 12
Aired: July 2015 – September 2015
After being ordered to become a concubine by the first prince of Tanbarun, Shirayuki flees her homeland in search of a place where she can pursue her passion as an herbalist in peace. She soon comes across a neighboring kingdom's prince, Zen, and chooses to go with him to Clarines. Shirayuki is special because of her unique red hair and draws much attention wherever she goes. Once in Clarines, she uses her skills to advance as an herbalist, eventually earning a spot as an apprentice court herbalist in the castle. As her journey continues, she grows closer with Zen and the two seek to take on the world together on the path that Shirayuki has chosen.
Akagami no Shirayuki-hime is extremely similar to Arte in the fact that both heroines leave their homes to explore their passion. While Shirayuki was forced to leave her home, she was able to advance her craft where she went and gain her own merit. Arte is similar as she has to prove herself through her work and that is where her value comes from. Snow White with the Red Hair does focus more on the romance between Shirayuki and Zen while Arte skirts the issue and the romance fades into the background a bit. Tone-wise and plot-wise, these two anime are very similar and we encourage you to watch this if you enjoyed Arte.
Snow White with the Red Hair Trailer
---
2. Mahoutsukai no Yome (The Ancient Magus' Bride)

Episodes: 24
Aired: October 2017 – March 2018
A tall, mysterious figure shows up to buy 15-year-old Chise Hatori at an auction. Due to her being labeled as a "Sleigh Beggy" or a human with magical powers, she sells at an impressive 5 million pounds. After being taken back to his home, she finds out that the mysterious gentleman is Elias Ainsworth, a famous magus. Ainsworth takes Chise as an apprentice to teach her the ways of magic and helps her realize her own power through a variety of ways from potions and spells to helping dragons find peace. The two grow closer together in their relationship as well, which goes past a simple apprentice-student relationship.
The Ancient Magus' Bride is an incredibly stunning watch. The animation is gorgeous and they leave no detail left uncovered. This anime has many similarities to Arte; most significantly, the relationship between the two. Each anime features an older man who excels at his craft and is willing to share their knowledge. Each relationship also blossoms into a pure love that may be considered forbidden. These reasons make The Ancient Magus' Bride the perfect watch in between episodes of Arte.
The Ancient Magus' Bride Trailer
---
3. Eikoku Koi Monogatari Emma (Emma: A Victorian Romance)

Episodes: 12
Aired: April 2005 – June 2005
In 19th century London, social class is everything. No one knows this better than Emma, a young maid. However, Emma has never been burdened by her place in life and is content with who she is as well as her social status. When William, the eldest son born into a wealthy family, comes by she falls instantly in love. Can the two overcome their class struggles and find a way to be together or is it impossible for such a love to exist?
Emma: A Victorian Romance is a heartwarming anime that has the same feeling as Arte. As in Arte, the love between the master and the student as with Emma and William is considered forbidden. Each couple takes steps to maintain their relationship and endure the tests that their respective time periods challenge them to. If you want to delve deeper into the romance aspect in another historical anime, Emma: A Victorian Romance is the anime for you.
---
Any Anime Like Arte ?
4. Shouwa Genroku Rakugo Shinjuu (Showa Genroku Rakugo Shinju)

Episodes: 13
Aired: January 2016 – April 2016
After former yakuza member Yotarou is released from prison, he seeks a life that is more admirable and less hazardous in Showa era Japan (mid-20th century). He aspires to become a famous performer of Rakugo, a form of Japanese storytelling. He soon meets Konatsu whose late father was a famous Rakugo performer. She is drawn to Yotarou by his performing techniques and the two soon form a deeper romantic relationship that has been bonded by Rakugo. This unique anime will draw you farther into Japanese culture and teach you about unusual aspects of it that have a rich history.
While this romance anime is more modern than others on this list, Showa Genroku Rakugo Shinjuu takes us on a journey with a very similar tone to Arte. The history behind Rakugo is rich and the passion of both Yotarou and Konatsu for Rakugo is similar to that of Arte and Leo for their art. Passion weaves its way through this anime in a way that is very reminiscent of that of Arte. It is the perfect anime to watch if you are looking for an anime that is both unique and captivating.
Showa Genroku Rakugo Shinjuu OP
---
5. Sarusuberi: Miss Hokusai

Episodes: 1
Aired: May 2015
As a celebrated artist, Tetsuzo goes down is history for going far with his art. In his fifties, he has amassed a good-sized family with the eccentric and outspoken O-Ei as his third daughter, O-Ei helps Tetsuzo with his art and is often in trouble because of the power of it. While Tetsuzo is now a household name amongst the great artists, we get an inside look into the woman behind some of his powerful paintings in Sarusuberi: Miss Hokusai.
While Sarusuberi: Miss Hokusai takes place a century after Arte, the passion for art and creativity are there. Both Arte and O-Ei express themselves through their craft but while Arte uses her skills to advance her own career, O-Ei helps her father in his claim to fame. This anime lacks the romance aspect that many others on this list have but focuses on art and history. It is a beautifully animated film that will stay with you for decades.
Sarusuberi: Miss Hokusai Trailer
---
6. Honzuki no Gekokujou: Shisho ni Naru Tame ni wa Shudan wo Erandeiraremasen (Ascendance of a Bookworm)

Episodes: 14
Aired: October 2019 – December 2019
After aspiring librarian Urano Motosu lost her life in a tragic accident, she is reincarnated into five-year-old Myne. Unfortunately, her passion is now a sad afterthought as she has been reincarnated into a world with few books. Myne must find a new way to create books in a world where everything must be hand-copied and books can only be afforded by the nobles. Myne creates her books herself and creates a path for herself to become a librarian where it was previously impossible.
Myne's passion for books is astounding and shows us that if the passion is there, a future can be achieved. Arte is very similar in this aspect because even though she was born a noble, where drawing is frowned upon, she chose to live a less charmed life where she could pursue her passion. The plots in both of these anime are very similar and encourage pursuing one's passion despite all costs and overcoming whatever barriers stand in your way.
Ascendance of a Bookworm Trailer
---
Final Thoughts
Arte is an inspiring anime and whether it is through art or another medium, the anime above help demonstrate these passions. These are arguably some of the most important anime to come out because they push you to do something about your passion outside of the screen and carry over into your real life. Arte also shows us that romance can exist outside of social norms and that the heart does not bind itself based on the opinions and perceived notions of those around you. Important lessons are taught through these anime and they could not provide much more relevance to your everyday life.
We hope that you have enjoyed this article on the 6 anime similar to Arte. As always, if you have any questions or comments please feel free to leave them in the comments section below.
---