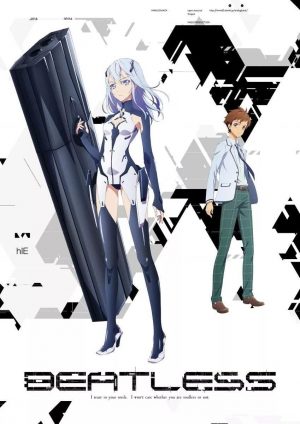 Androids, do they have souls or don't they? Can artificial creation actually lead to an artificial soul becoming real? These are just a few of the questions to ponder while watching studio Diomedea's latest anime Beatless, which we here at Honey's Anime are finding quite interesting. With a world filled with mechanical conceptions and the idea of losing the human elements, Beatless is filled with tons of sci-fi themes that keep the inner sci-fi fans within the viewers to really get hooked to each episode. However, with 24 slated episodes of Beatless set to air, there's going to be plenty of down time during the days leading to a new episode.
That's why we here at Honey's Anime HQ went to work finding shows we could watch while Beatless airs. It didn't take us long to find shows that appealed to us that had similar themes to Beatless. Sci-fi anime with romance, drama and even action were all found during our mission to find similar shows to Beatless and after a little while, we were able to make a nice list of shows to binge while waiting for the latest Beatless episode to drop. Welcome one and all to our list of 6 Anime Like Beatless. Scroll on down to begin the list and get ready for a sci-fi themed anime experience.
Similar Anime to Beatless
1. Guilty Crown

Episodes: 22
Aired: Oct, 2011- Marc, 2012
In 2039, Japan found itself shaken to the core when a large-scale virus breaks out. Dubbed the Apocalypse Virus, many men and women of Japan found themselves covered in a strange crystal-like abrasion and began to die as time went on. Hit hard in the governmental scene, Japan turned to using a group called the GHQ to restore order and maintain peace but were met by cruel regulations. Rising to stand up against GHQ was a group of rebels known as Funeral Parlor and during a mission, a young man named Shuu Ouma ends up in the crossfire. Awakening to a new power, Shuu will find himself thrown headlong into a war to save Japan from two very extreme powers.
Guilty Crown was the first anime we thought of for our list of 6 Anime Like Beatless for numerous reasons. Not only are the ideas of rebellion relevant in both shows but the idea of normal teens getting mixed up in war—namely Shuu from Guilty Crown and Arato Endou from Beatless—also seems to be a central theme. Guilty Crown is very action focused with tons of sci-fi themes like mechs and even new technology that humans have come to rely on. Guilty Crown is a truly awesome show—despite some issues here and there—that will be an anime you'll like if you're digging Beatless. Plus, unlike Beatless, all 22 episodes of Guilty Crown can be watched and binged to your heart's content!
Guilty Crown Promotional Video
---
2. Plastic Memories

Episodes: 13
Aired: Apr, 2015- Jun, 2015
Tsukasa Mizugaki is having a tough time entering college, probably due to the fact he's failed his entrance exams. Thankfully, Tsukasa isn't completely defeated as he gains the right to work for the Sion Artificial Intelligence Corporation—or SAI for short—as a trainee. Tsukasa's job is simple enough, reobtain Giftias—machines with human-like bodies and minds—who have exceeded their degradation date of 81,920 hours. However, as Tsukasa will soon learn working alongside his new Grifita partner—Isla—those who have come to love Giftias won't always enjoy giving them up…
As we mentioned earlier, a common theme in Beatless is what constitutes having a soul. That's a central focus in Plastic Memories as we see the various Giftias harbor within them feelings regular humans have. Just look at Isla for a better example of this. Not only does Isla show feelings, but she shows she has empathy and various other emotions that we obviously have as human beings. That's what makes Plastic Memories so great though. From beginning to end, Plastic Memories keeps you engaged by showing a light and dark side to having beings similar to man and what pains losing someone you begin to love or grow fond of does to man equally. Beatless might not yet mirror Plastic Memories in this theme just yet, but we can bet it will begin to as the series progresses.
Plastic Memories Trailer 2 (Official Trailer)
---
3. Clockwork Planet

Episodes: 12
Aired: Apr, 2017- Jun, 2017
In a far off future, humanity has undergone numerous changes. Not only is the world not just a simple body of land and water anymore—instead it's an amalgamation of gears—but it even has various technological breakthroughs like mechs and AI. Naoto Miura is about to discover one of these amazing pieces of technology, though not in a usual way. Quite literally, a being within a black box slams into his home and appears before Naoto changing his life forever.
We have to wonder here at Honey's Anime if Naoto and Endou are blessed or cursed. They are clearly blessed by having highly advanced androids basically land in their laps but equally are then thrown into battles they had nothing to do with. Regardless of that, Clockwork Planet isn't that hard for us to prove to you folks how similar it is to Beatless. With action, tons of sci-fi ideals and even some ecchi—way more than Beatless so far—Clockwork Planet is an enjoyable 12-episode anime series. Similar to Beatless, don't expect Clockwork Planet to be an amazing series but equally if you're loving Beatless, we think you'll love Clockwork Planet in turn.
Clockwork Planet
---
Any Anime Like Beatless ?
4. Dimension W

Episodes: 12
Aired: Jan, 2016- Mar, 2016
What if man were to discover a new dimension? What would this dimension hold for the human race? These questions were answered when in a far off future humans found a 4th dimension. Titled Dimension W, humanity gained new energy that could be used cleanly and efficiently by using creations called Coils stemming from the discovery of Dimension W. Now in the year 2071, the New Tesla Energy corporation have gained sole rights to energy which has in turn led to people doing illegal activities for coils. Enter Kyouma Mabuchi a "collector" whose sole job is to hunt down these vagrants and ensure the coils stay with their respective owners. Kyouma whose hatred for coils and other new age tech will soon come face to face with an android named Mira who body was fueled with coil tech. An unlikely partnership is about to form and it will lead to some rather interesting moments in Dimension W.
Back in 2016, Dimension W aired and really impressed many with some amazing animation courtesy of studios Orange and Studio 3Hz. Here at Honey's Anime, we also loved Kyouma and the amazing fighting he does quite often during the 12-episode run of Dimension W. Similar to Beatless, Dimension W is chock full of sci-fi ideals that will truly appeal to those who love wondering what the future could look like. Honestly, we won't mind any future that has cute android girls like Mira in them.
Dimension W PV
---
5. Machine-Doll wa Kizutsukanai (Unbreakable Machine-Doll)

Episodes: 12
Aired: Oct, 2013- Dec, 2013
Raishin Akabane has found himself in a rather bad situation. Failing the entrance exam for the prestigious Walpurgis Royal Academy of Machineart, Raishin and his machine doll Yaya must show their strength in another way. If the duo wish to continue studying in this well known school they must defeat one of the top 100 students. Raishin thus challenges Charlotte Belew and her partner Sigmund, but things won't go so easily seeing as how Sigmund gets attacked by an unknown force. Raishin has his work cut out for him if he wishes to keep going to the school and to attend the Evening Party which is filled with others like him seeking to show off their robotic companions. Nevertheless, Raishin and Yaya are ready for the challenge in Machine-Doll wa Kizutsukanai!
Let's do a checklist for Machine-Doll wa Kizutsukanai in comparison to Beatless. Cute robotic girls itching to fight for their masters, check. Tons of action because of cute girls who wish to fight for their masters, also check. Robotic beings with elements like humans, final check. That's why we don't think we need to argue too much for why you should watch Machine-Doll wa Kizutsukanai. Though, prepare for a lot of nosebleeds from Yaya as she is quite often seducing Raishin in Machine-Doll wa Kizutsukanai, which in turn will probably seduce most of those watching.
Unbreakable Machine Doll- Official Trailer-
---
6. Chobits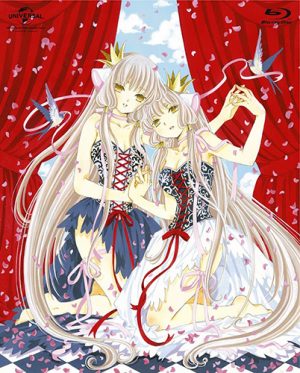 Episodes: 26
Aired: Apr, 2002- Sept, 2002
Can the human race fall in love with things not exactly human? Hideki Motosuwa—who is the definition of good—has moved from the country to the city to enter college and find work. Broke and horrible with technology, Hideki wants one of the newest creations to wow the world—Persocoms—but equally wouldn't know how to afford one or if he could even take care of one. However, by complete accident, Hideki finds a full-sized perscom abandoned in the trash. Taking her home and naming her Chi—seeing as that's the only thing she can say—Hideki is about to understand why Persocoms are both loved and hated in society.
Ending our 6 Anime Like Beatless list, we chose a classic but a truly amazing anime named Chobits. Animated by studio Madhouse and adapted from the original manga made by CLAMP, Chobits shows what shape love can take in a world filled with robotic lifeforms that look, sound and act like humans. Chi and Hideki's relationship in Chobits is easily the best element to Chobits as we see love blossom in a rather dramatic way and one that will keep your heart gripped by emotion. Chobits is a loved anime series and its one we can't recommend more to watch!
Chobits: The Complete Series Trailer (Official Trailer)
---
Final Thoughts
We won't say Beatless is the greatest anime currently airing this 2018 winter season. The scores for Beatless also seem to show we're not alone in our thinking. However, Beatless is not yet fully aired—as of writing this article—meaning it has a long way to go before being complete. We've seen plenty of ok anime get even better and right now Beatless is quite enjoyable and the anime above mirror this by being just as good or even possibly better. Why not comment what shows you want to watch—or have watched—from the list above in our comment section down below? Remember to also not fly too far from our hive here at Honey's Anime as we have plenty more articles like this one coming.
---