También puedes leer este artículo en:Español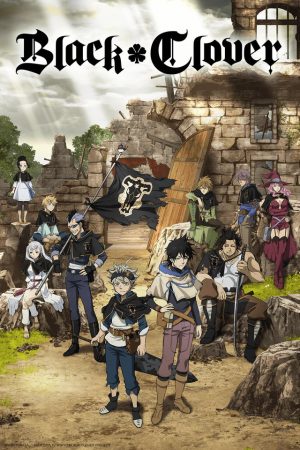 Studio Pierrot's Black Clover was probably the most hyped up anime of the current season since it is based off the highly enjoyable manga by Yuuki Tabata. The shounen series follows the adventures of Asta and Yuno, two orphans who grew up together in the same church. They exist in a world where magic reigns supreme, and it is extremely rare for someone to not have powers. While Yuno shows an affinity for magic, unfortunately, Asta seems to have no abilities whatsoever.
At the age of 15, Yuno and Asta join a slew of other teenagers to receive their Grimoires, which determine how far their magical ability is likely to take them. The value of these books is designated by the design of a clover on the cover, with four being the absolute best. Yuno ends up receiving the four-leaf clover Grimoire, while Asta is left empty-handed.
Black Clover is an action-heavy shounen series which harbors back to an old-school style of anime popularized by One Piece, Bleach, and Dragon Ball Z. The focus is primarily on the brotherly dynamic between Yuno and Asta, with Studio Pierrot throwing in a fair amount of comedy.
For those enjoying Black Clover, here are six similar anime worth watching.
Similar Anime to Black Clover
1. Ao No Exorcist (Blue Exorcist)

Episodes: 37
Aired: Apr 17, 2011 to Mar 25, 2017
In Assiah, humans live with the knowledge that hell is real and demons can spawn at any moment. The only way for the evil creatures to travel into their world is via possession, although finding a suitable host is far from an easy process. Depending on the demon's strength, their vessel would need to be resistant enough to house them. Finding a proper host is near impossible for Satan, the ruler of the demonic world, so he takes matters into his own hands and plants a seed in a human woman.
You think being a teenager is hard? Well, Rin Okumura is also the son of Satan, a fact he did not know for most of his life. After being attacked by demons, Rin decides to become an exorcist and joins the church's academy. To his surprise, his brother Yukio is a teacher at this school, despite being the same age as Rin. Yukio dedicated his life to exorcism, with the hope of becoming strong enough to protect Rin from the forces of darkness.
Ao No Exorcist shares many similarities with Black Clover, with Rin and Asta practically cut from the same cloth. Both protagonists are energetic, shunned by society, and possess hidden power that makes them dangerous to the established order in their respective universes. The action scenes are the primary focus of both anime, with the core relationship centering around two brothers.
Blue Exorcist the Movie Trailer
---
2. Boku no Hero Academia (My Hero Academia)

Episodes: 38
Aired: Apr 3, 2016 to Sep 30, 2017
My Hero Academia set the current standard for shounen anime. After an enjoyable first season, the sequel upped the stakes with well-paced character development and some of the best action sequences of the year. The anime is a must-watch for any fan, not just those who enjoy shows like Black Clover or Blue Exorcist.
Similarly to Studio Pierrot's fall series, My Hero Academia's world is governed by power. People are born with supernatural abilities called quirks, giving rise to an age dominated by superheroes and order. The marketability of one's ability determines how far they can go, and anyone born powerless is destined for disappointment. Izuku Midoriya belongs to this unlucky group, making him an outcast at school.
Due to a fortunate turn of events, Midoriya meets his idol All Might, who picks the powerless kid as his successor. Boku no Hero Academia subverts expectations throughout both seasons, taking a seemingly straightforward school-based shounen series in genuinely shocking directions. Midoriya has the same never-say-die attitude shown by Asta, and he shares an interesting dynamic with his rival Katsuki Bakugou. This is a gorgeous series, one that stands as an example of how to do a modern shounen anime properly.
My Hero Academia Trailer
---
3. Nanatsu no Taizai (The Seven Deadly Sins)

Episodes: 28
Aired: Oct 5, 2014 to Sep 18, 2016
The Seven Deadly Sins used to be legendary warriors and the strongest guardians of Liones, before they rebelled and tried to overthrow their King. Just before completing their plan, the traitors were overwhelmed by the heroic Holy Knights and banished out of the realm. Despite not being seen for over a decade, the Seven Deadly Sins remain subjects of rumors foreshadowing their potential return. Princess Elizabeth, the third daughter of the current King of Liones, heads out into the great unknown to discover whether these warriors are still a thing.
Suddenly, the Holy Knights copy a page from the Seven Deadly Sins' playbook and successfully usurp Liones' King. Due to the suppression of the Seven Deadly Sins, there was nobody strong enough to repel their attack on the kingdom's ruler. Just managing to escape, Elizabeth believes that Meliodas, the leader of the exiled Sins, is the only person who can save the nation.
Nanatsu no Taizai is fast-paced and over-the-top, boasting a similar animation style to Black Clover. A-1 Pictures handled the series, so the action sequences are second to none. Meliodas is considerably more laid-back than Asta, but they are both motivated by a desire to protect those who are important to them. Nanatsu no Taizai's entire cast is extremely lovable, with the writers instilling a sense of camaraderie between the Seven Deadly Sins.
The Seven Deadly Sins Trailer
---
Any Anime Like Black Clover ?
4. Naruto

Episodes: 720
Aired: Oct 3, 2002 to Mar 23, 2017
From the big three anime – One Piece, Bleach, and Naruto – the ninja series shares the most similarities with Black Clover. This should not really come as much of a surprise since Studio Pierrot handled Naruto and Naruto: Shippuuden. In most ways, Black Clover is the studio's attempt to recreate the magic of their most popular series. This is particularly apparent in the story's pacing, as both series allow ample time for the characters to goof off, with a heavy employment of flashbacks to develop their backstories.
At this point, Naruto barely needs any introduction, but we might-as-well mention a thing or two about the anime. Naruto is a social outcast, who aspires to reach the status of Hokage in his village. This is similar to the Wizard King status in Black Clover, with Naruto and Asta originally ridiculed for their unwillingness to accept their own shortcomings. Both protagonists are hyperactive, kind of dumb, and never know when to give up.
Sasuke Uchiha serves as Naruto's Yuno -including their similar character designs-, who is a perfect shinobi and Naruto's direct opposite. Both anime split their time between action and over-the-top comedy, although Naruto probably does a better job with the latter.
Naruto Official Trailer
---
5. Soul Eater

Episodes: 51
Aired: Apr 7, 2008 to Mar 30, 2009
Soul Eater is another school-based shounen, although this one happens to boasts some of the best animation seen within the industry. Bones should be commended for the risks taken with this anime, as there are very few series that can compare to the sheer mayhem on display. Death Weapon Meister Academy is run by the Lord of Death and exists to teach students how to wield scythes to use against the many evils threatening to ruin their world. These weapons are not just pieces of metal, as they exhibit a unique personality and decide who can fight alongside them. This leads to many buddy-cop type partnerships, were the scythe and student are practically polar opposites.
Comedy is the name of the game, with each episode delivering multiple hilarious sequences. The diverse and memorable cast is unlikely to hold many surprises for viewers accustomed to the shounen genre, but their rapport is infectious. The battles should also not be underestimated, as Bones delivers a handful of truly electric action sequences which are colorful and unique.
Black Clover and Soul Eater envision a universe where normal everyday people are bestowed with magic, making the supernatural an almost mundane occurrence. The latter is considerably faster paced, but they share similar larger-than-life characters and a dedication to light-hearted comedy.
Soul Eater Trailer
---
6. Quanzhi Fashi (QUANZHIFASHI)

Episodes: Ongoing
Aired: Sep 2, 2016 -
Probably the least known anime included in this list, Quanzhi Fashi is a fantasy-action series developed by Shanghai Foch Film Culture Investment. Yes, this comes from a Chinese and not Japanese studio, but it holds a fair amount of similarities to Black Clover. Fan Mo wakes up in a familiar but strange world, where people aspire to become magicians. The protagonist is introduced as powerless, like Asta, although he possesses an inner strength which helps him stand out among the citizens of this world.
Quanzhi Fashi also has a school setting, with many monsters wandering the wilderness just outside the main cities. Magic is divided into unique elements, and magicians tend to show an affinity for one particular type. The first season, which is just 12 episodes, covers a three-year time span; creating an engaging pace that never stops to take a breath.
Quanzhi Fashi has gone unnoticed for the most part, although it did earn a currently ongoing second season. If searching for something similar to Black Clover, this action-heavy series should scratch that itch. Both series share a similar type of world, bringing together magic and the mundane.
---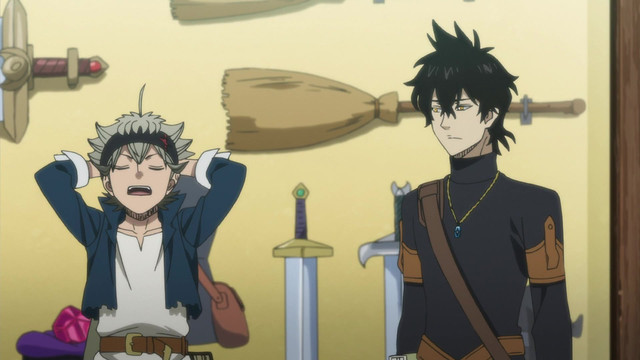 Final Thoughts
Whether Black Clover has the potential to develop into a standout shounen anime is yet to be seen, but there are multiple series capable of offering a similar experience. The above six shows deliver well-animated battle sequences, contrasting main characters, and an overabundance of humor. All involve the supernatural, with magic often playing a part.
Is there any other anime that you would recommend for fans of Black Clover? If yes, please leave us a comment below with your recommendations.
---