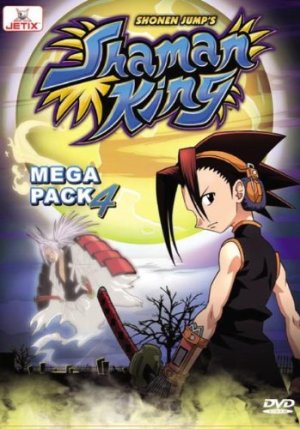 Anyone that is a fan of shounen anime should be familiar with, if not a fan of, Shaman King. With its unique approach to fighting, comedy, and friendship, it's no wonder why Shaman King ranks among the most popular anime in its genre. Even the final ending to the story is one not many people would expect to happen.
If you're a real hardcore fan of Shaman King, then you've probably read Hiroyuki Takei's sequel, Shaman King Flowers. This has yet to be made into an anime. However, until that happens, here are 6 anime similar to Shaman King to tie you over.
Similar Anime to Shaman King
1. Soul Eater

Episodes: 51
Aired: April 2008 – March 2009
Soul Eater is about a group of kids who attend the Death Weapon Meister Academy, which is run by Shinigami, or Death. The students are either Weapons, humans who are able to transform themselves into traditional weapons, or Meisters, humans who fight using the Weapons in order to collect souls. The ultimate goal is to collect 99 human souls and 1 witch soul so that the Weapon can be granted the title of "Death Scythe", a weapon used by Death himself.
The story focuses on 7 students in particular as they not only try to collect and absorb the necessary souls to become stronger, but also protect Death City from some powerful enemies. It also focuses on each of the relationships between the 3 Meisters (Maka, Black Star, and Death the Kid), and the 4 weapons (Soul, Tsubaki, Liz, and Patty).
This series is similar to Shaman King in the sense that both use similar fighting styles. In Shaman King, the shaman's ghost ally can merge with the weapon being used, whereas in Soul Eater, a human actually transform into the weapon itself. As a result, both the wielder and the wielded have to communicate effectively in order to win the fight, and as both series progress, the characters learn how to overcome their personal obstacles in order to defeat their opponents.
Soul Eater - Official Opening 1 - Resonance
---
2. Yu Yu Hakusho (Yu Yu Hakusho: Ghost Files)

Episodes: 112
Aired: October 1992 – January 1995
Very few series could begin with the main character dying immediately, yet Yu Yu Hakusho would be one that would put a whole new twist on this idea. When 14 year old delinquent Yusuke Urameshi unexpectedly sacrifices his life to save the life of a child, he is given several tests to pass in order to come back to life. With the help of the few people that care about him back on Earth, Yusuke is able to succeed, and in turn is granted the title of Spirit Detective.
As the series progresses, Yusuke works on cases assigned to him, which mainly consist of either protecting the Earth from powerful demons or going out of his way to eliminate demons elsewhere. Yusuke also makes new friends and learns powerful new techniques as the demons he goes to fight get more and more powerful.
If you liked Shaman King because you were interested in the spirit aspect of it, Yu Yu Hakusho is perfect. Both series start off very similar, as the main character interacts with a lot of different ghosts and tries to help resolve their problems. In addition, the main character's friends have similar personalities as well; Kuwabara tends to act pretty similar to Wooden Sword Ryu, and Hiei tends to interact with Yusuke the same way Ren does with Yoh. This tends to lead to some very similar comedic moments as well as serious ones.
Yu Yu Hakusho Opening 1 Blu Ray (HD 1080p)
---
3. The Law of Ueki

Episodes: 51
Aired: April 2005 – March 2006
Kousuke Ueki was just a normal kid going to Hinokuni Junior High School until he was selected by his home room teacher to compete in a tournament where the winner would essentially become God. You know, the usual. Given the power to transform trash into trees, Kousuke has to figure out a way to win with his ability, where the winning student will get to choose any talent they wish and be the best in the world at that talent.
The similarities between Yoh Asakura and Kousuke Ueki are remarkable. Both are genuinely kind souls that try to help other people out as much as they can. Both also tend to be very calm and not really be concerned about what might happen to them. Kousuke is even friends with a girl that tends to be really strict with him at times and takes it upon herself to act as his manager (sound familiar?). Finally, the entire purpose of the series is very much like Shaman King; many kids fighting to be the best, with only one student earning the right to be given the Blank Zai.
The Law of Ueki Opening 1 HD with lyrics
---
Any Animes Like Shaman King ?
4. MAR

Episodes: 102
Aired: April 2005 – March 2007
Ginta Toramizu is a 14 year old boy who constantly dreams about a fictional world called MAR Heaven. His desire reaches a point where nothing in the real world matters to him, and he only desires to be able to visit the world in his dreams. One day, in the middle of class, his dream finally comes true; Ginta finds himself not only summoned to this world, but is gifted with extreme strength and stamina, and doesn't need his glasses to see anymore.
As Ginta explores this new world, he soon realizes that as beautiful as it is, MAR Heaven is in trouble. The Chess Pieces, an organization that tried and failed to take over MAR Heaven years ago, have returned, and are once again led by Phantom, an extremely powerful warrior. It's up to Ginta and his new friends to stop Phantom and the Chess Pieces from taking over MAR Heaven.
The Chess Pieces decide that a tournament will determine the fate of MAR Heaven, just like how the Shaman King fight will determine the fate of the world. Furthermore, the style of fighting used in MAR is very much similar to Shaman King's in the sense that some of the weapons used are special Guardians that fight alongside the wielder in battle. Ginta's special weapon also has a soul actually inside of it, even though Babbo and Ginta's relationship is very different from Yoh and Amidamaru's. However, both sets of partners end up learning each other's strengths and work together to take on their respective foes.
Mar - Marchen Awakens Romance - theme song opening
---
5. JoJo's Bizarre Adventure (JoJo no Kimyō na Bōken)

Episodes: 26
Aired: Aired: October 2012 - April 2013
JoJo's Bizarre Adventure is bizarre to say the least. The story focuses on the Joestar family, where each member finds that they not only have a unique power from the others, but are also destined in some way to defeat supernatural forces. The story is unique in the sense that it is split into several parts, with each part focusing on only one member of the Joestar family as they proceed with their adventure.
JoJo's Bizarre Adventure does have spirits and fighting, but it's similarity to Shaman King goes deeper than this. One of the unique aspects of Shaman King is its representation of cultures from all around the world, as shamans from all across the globe come to participate in a tournament to decide the Shaman King. JoJo's Bizarre Adventure also takes place in multiple countries, so we are exposed to these different cultures as well. If you were a fan of how the characters visited America as well as the characters from outside Japan, then you'll be a fan of the characters each Joestar family member meets during their adventures.
Jojo's Bizarre adventure 2012 [official] opening 2 [HD]
---
6. Zatch Bell (Konjiki no Gash Bell!!)

Episodes: 150
Aired: April 2003 – March 2006
Kiyo Takamine is a 14 year old genius, which makes him a target for being teased and harassed by the other students. As a result, Kiyo tends to be apathetic to most people and skips school on a regular basis. However, everything changes when he a young boy named Zatch shows up on his doorstep with a strange book saying that Kiyo's father had sent him to live with Kiyo. As Kiyo tries to make sense of this and interpret the strange book, he reads out loud a spell that causes Zatch to fire a lightning bolt from his mouth.
Kiyo and Zatch eventually learn that Zatch is actually from the Momodo world, where 100 Momodo children every 1000 years are sent to Earth to fight with human allies to become the Momodo King. The object of each fight is to burn the book of the other Momodo. The last Momodo left with their book unburned will rule be the Momodo King.
Zatch Bell has the strongest similarity to Shaman King in terms of the rules for the fighting. Not only is the fight held twice as long as every Shaman King fight, but the winner gets to be the King. Not to mention that one of the rules for losing for both tournaments is if the key item being used is destroyed. More importantly, however, Shaman King and Zatch Bell share the importance of friendship. Both Kiyo and Yoh begin the series as loners who don't have any friends because of their huge burden.
However, a chance encounter with someone ends up leading them to their very first friendship, and that new friend in turn helps lead to more friendships being formed. If you liked how Yoh made friends with the other shamans in the shaman fight, then you will also be a fan of how Kiyo makes friends with other people participating to help their Momodo ally become, the Momodo King.
Zatch Bell Intro
---
Closing
Shaman King definitely has its share of the certain themes people enjoy seeing when they watch shounen anime. The 6 anime mentioned above have similarities with some of the key reasons why people really enjoyed Shaman King, and I guarantee you will enjoy at least 1 of them. Let us know in the comments below if you feel like there was an anime we should have included in this list!
---