It is said that there is a monster that lies deep in the forest in a certain tower. The monster that everyone is talking about is a beautiful lady named Cardia who can kill anyone with a single touch. To keep her promise to her father, she lives alone in a tower to avoid harming people with her ability. However, royal soldiers capture her and intend to bring her to their majesty. Just when she is about to be brought to the palace, a gentleman named Arsène Lupin comes to her rescue.
Code Realize came out as a game before it was adapted into an anime. What makes Code Realize special for both gamers and viewers is that the main heroine is like no other. Cardia begins as a naive and emotionless character and develops into a woman that can be admired by anyone. If you enjoy a character that somewhat resembles Cardia and her story, then here are some recommendations that you may enjoy!
Similar Anime to Code Realize: Guardian of Rebirth
1. Akatsuki no Yona (Yona of the Dawn)

Episodes: 24
Aired: Oct. 2014 - Mar. 2015
Yona is the princess of the Kouka empire who lives in luxury with no worries at all. However, her life changes on her 16th birthday when she discovers the death of her father at the hands of her friend and crush, Soo-won. Yona is feeling confused and shocked at what took place when Hak comes to her rescue and escapes the palace with her. After recovering and accepting the truth about what happened to her father, Yona goes on a journey to find the four dragon warriors that can aid her to better the Kouka empire.
While the overall plot of Akatsuki no Yona and Code Realize differ from one another, the heroines in each story mirror each other. Like Cardia, who starts off as a weak character that turns into a strong one; Yona is first introduced to us as someone naive and dependent on the people around her who in time develops into a woman who knows how to fight and fend for herself. Yona is also surrounded by handsome and capable men that help her and support her in dire times.
Like Lupin, Hak falls in love with Yona but knows his limitations and knows how to prioritize important matters over love. Both shows take place in the olden times with an added twist that makes the setting look and feel more unique. If you enjoy an adventure anime that features a heroine that develops as a character beautifully, then make no mistake that you will surely enjoy and love Akatsuki no Yona
---
2. Tsubasa Chronicle (Tsubasa RESERVoir CHRoNiCLE)

Episodes: 26
Aired: Apr. 2005 - Oct. 2005
Although Syaoran is a simple archeologist and Sakura is the princess of the Clow Kingdom, they have been friends for the longest time. Finding the courage to confess her feelings to Syaoran, Sakura decides that the next time she sees Syaoran, she will tell him everything. However, Sakura is lured into some mysterious ruins where her wings disappear. In order to save Sakura, Syaoran meets with the dimensional witch. With him is a powerful magician, Fai, and a skillful swordsman, Kurogane.
If you dig a wonderful and vibrant adventure anime that is somewhat the same as Code Realize, then Tsubasa Chronicles is a good choice. Since the memories of Sakura are scattered across different dimensions, she first appears to be emotionless and in a doll-like state. However, like Cardia, who slowly regains her memories and her personality as the show progresses, Sakura breaks out of her blank personality with each memory that is returned to her.
Not only that, both heroines possess something that others will do anything to fight for. For Cardia, it's her heart or the Horologium. For Sakura, it's her feathers. Also, even though the gorgeous men that surround Sakura may not be as many as Cardia's, they are exceptional and quite protective of her. Viewers will also love the various colorful worlds that Tsubasa Chronicles introduces.
---
3. Hakuouki (Hakuoki ~Demon of the Fleeting Blossom~)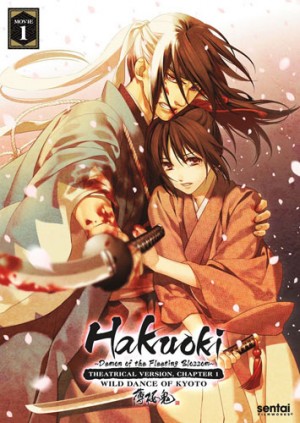 Episodes: 12
Aired: Apr. 2010 - Jun. 1010
Chizuru Yukimura is the daughter of a renowned doctor who decided to go to Kyoto for work purposes. But it has been quite some time since she last heard from her father. Worried that something bad must have happened to his father, Chizuru disguises herself as a man and travels to Kyoto in search of her father. But on the night she first arrived at Kyoto, she encounters the Shinsengumi.
While Code Realize's cast is inspired by famous characters in various books and some well-known people in the olden times, Hakuouki is based on the Shinsengumi, a special police force that protects the Shogunate. Much like Cardia, Chizuru is pulled into a world quite unknown to her because of her father. As she tries to find her father and find some unanswered questions, she assists the Shinsengumi in their journey.
With the story going deeper and deeper with each passing episode, viewers will begin to realize that there is more to Chizuru than meets the eye. The show is also action oriented and focuses more on the plot rather than its romance aspect. If you're a fan of other otome games, then Hakuouki is something that you will want to put in your watch list!
---
Any Anime Like Code Realize: Guardian of Rebirth ?
4. Dance with Devils

Episodes: 12
Aired: Oct. 2015 - Dec. 2015
After the first day of school, Ritsuka Tachibana goes home only to find out that her mother has been kidnapped. She is pulled into the world of devils and vampires who want to have the grimoire for themselves and they know that Ritsuka is the key to obtaining that power. In the midst of the confusion, Ritsuka's brother, Lindo, goes home to save Ritsuka.
If singing and dancing is your thing, then Dance with Devils is something you will enjoy watching. Ritsuka resembles Cardia in the sense that both girls are being sought after and that there is something more to them that they aren't aware of. Ritsuka is also kind-hearted and quite a determined girl, like our amazing heroine in Code Realize. While it is not as plot-heavy as Code Realize, Dance with Devils is truly entertaining, especially so if you love the romance and fanservice!
---
5. Arcana Famiglia (La storia della Arcana Famiglia)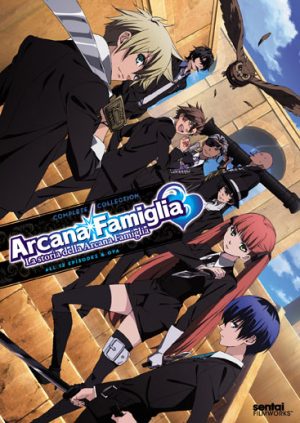 Episodes: 12
Aired: Jul. 2012 - Sept. 2012
The Arcana Famiglia is an organization that governs and protects the island of Regalo. In it are people who possess a power corresponding to their Arcana. On his birthday, Felicità's father, Mundo, announces that he will retire as the famiglia's leader. He creates a tournament called Arcana Duello where the winner will take Felicità as their wife and can have the title as the next leader of the famiglia. Not accepting the decision that her father just made, Felicità joins the tournament together with Nova and Libertà by her side.
Another heroine that can stand on her own and knows what she truly wants is Felicità. Although men around her try to win her favor, Felicità is quite a determined girl who definitely knows how to kick ass; reminding us of Cardia's fierce personality and boldness in rough times. The show also has its action-oriented moments that viewers may enjoy. Some male characters from Arcana Famiglia will remind you of some of the men in Code Realize since others do have the same personality with an added twist to make them a bit different. Unlike Code Realize, Arcana Famiglia is more on the slice-of-life genre, which shows different interactions between characters. Although it has its own dark moments, it's a bit lighthearted compared to Code Realize.
---
6. Norn9: Norn+Nonet (Norn9)

Episodes: 12
Aired: Jan. 2016 - Mar. 2016
Koharu remembers that a certain traveler told her that when she turned 17, a ship would come for her and that she would never be lonely again. Just as the traveler said, a ship called Norn came by to take her away. Inside the ship, she meets other people like her who have an ability of their own. While all seems well inside the ship, they realize that one of them may have bad intentions towards their mission.
The three heroines of Norn9 can reassemble Cardia in many ways. Like Koharu, for example; as she is called a monster because of her dangerous ability. Mikoto, on the other hand, is strong-willed and quite a fighter like Cardia. Meanwhile, Nanami is cold and emotionless, which mirrors Cardia during the first episodes of the anime. The setting of Norn9 is quite amazing itself because it combines some historical and futuristic elements. There are also action scenes from time to time and it's more focused on highlighting the relationship between characters. Like Code Realize, the mystery behind Norn9 will be lifted as the show progresses.
---
Final Thoughts
And that's it for our recommendations! We do hope you find something that suits your taste! Since most of our recommendations are also otome games that were adapted into an anime, maybe you can play them instead to get the complete experience from their stories. With that said, these shows are good in their own way, so give them a chance and tell us what you intend to watch in the comment section below. If you have any other anime that is similar to Code Realize, feel free to also write it down. As always, remember to stay tuned to Honey's Anime and we do hope to see you again in the next article!
---