También puedes leer este artículo en:Español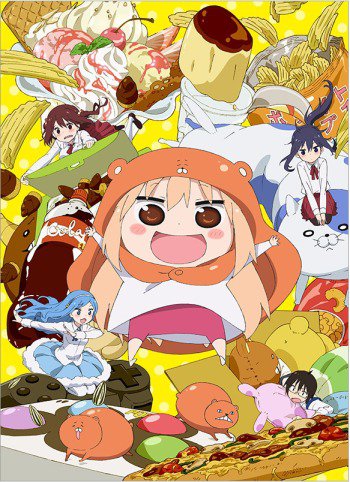 Are you enjoying the anime this season? Have you seen Himouto! Umaru-chan? Man, "Pain-in-the-ass" comes to mind while watching the anime, but it is a great mix of comedy, school life, and slice of life! It is fun to watch Umaru tackle living a double life while her older brother copes with having to live with her other face. Oh, the woes of being an older brother.
This anime is just taking off, but in the meantime, don't you want to check out some other great anime with the same idea? Check out this list to find some similar anime!
Similar Anime to Similar Anime to Himouto! Umaru-chan / Similar Anime to My Two-Faced Little Sister
1. Kareshi Kanojo no Jijou (Kare Kano/His or Her Circumstances)

Episodes: 26
Aired: October 1998 – March 1999
Miyazawa Yukino is the envy of all the students. She is made out of sugar, spice and everything nice making her the perfect mix of beauty, intelligence, modesty, and heart, yet what is she like at home? Truly, when the door is closed, Yukino is a lazy homebody! When Yukino lets her guard down, her secret is discovered by her rival: the new student Arima Soichiro who plans on blackmailing her to help him out!
OK, yes I know this anime is old, but this anime matches up to Himouto! Umaru-chan like nobody's business. Yukino and Umaru are both homebodies who just like to relax while wearing their pajamas, but when in public, they act like the perfect students. Now, Himouto! Umaru-chan is more lighthearted with a focus on comedy. If you are into more of a mature feel—think josei—Kare Kano may suit you really well as you watch the characters mature over the course of the series.
Kare Kano Opening HQ
---
2. Mikakunin de Shinkoukei (Engaged to the Unidentified)

Episodes: 12
Aired: January 2014 – March 2014
Yonomori Kobeni has just turned 16, but she is told that she is arranged to marry a boy named Mitsumine Hakuya, someone that she is told she has met before. Without any memory of who he is, Kobeni starts to get to know Hakuya and his little sister per her grandfather's wishes, and learns there is more to him than just his looks.
Kobeni's older sister, Benio, lives a double life as the perfect student at school, but at home, she is truly a pervert with an intense sister complex and lolicon! Much like Umaru, she pretends to be perfect so much so that no one even really sees Kobeni for who she really is, but at home, she is someone else entirely. Benio even relies on Kobeni to do the cooking at home!
If you are a fan of sister complexes, two-faced characters, and slice of life, this may be a great anime to add to your list.
TV Anime 2nd PV
---
3. Watashi ga Motenai no wa Dou Kangaetemo Omaera ga Warui! (Watamote)

Episodes: 12
Aired: July 2013 – September 2013
After spending her life as a shut-in, Kuroki Tomoko is determined to change everything in high school and get a real boyfriend instead of a virtual one! Unfortunately, after the first few months, nothing has changed and she stops to look at herself to see what she's doing wrong. You won't imagine what she sees.
While there is no double life involved, Tomoko is pretty much that pain-in-the-ass sister who either annoys her brother or really creeps him out. Tomoko, like Umaru, just does as she pleases and relies on her brother more for her own needs or desires. She would also rather force the chores on her brother! Tomoko also has an obsession over video games, manga, and other otaku interests. Despite having entirely different plots, the main characters are pretty much the same at home!
This anime has a very different feel with some sexual content, but it will have you laughing and entertained the whole time. This anime is a combination of classic comedy and awkward comedy—really awkward—that will keep you chuckling to yourself. Seriously, you will not know what you want to happen in this anime, but you'll enjoy whatever happens next!
WateMote Official Trailer
---
Any Animes Like My Two-Faced Little Sister / Any Animes Like Himouto! Umaru-chan ?
4. Ore no Imouto ga Konnani Kawaii Wake ga Nai (My Little Sister Can't be This Cute)

Episodes: 12
Aired: October 2010 – December 2010
Kousaka Kyousuke has not gotten along with his little sister in years, but when he finds an eroge game hidden in a DVD case for a magical girl anime in his foyer, everything will change. He asks his family about magical girl anime in the hopes of finding the pranker, but his parents were less than pleased with the topic.
Kyousuke's little sister Kirino brings him to her room and shows him her vast collection of moe anime and lolicon bishoujo games. His relationship with his sister takes a serious turn.
Kirino has a great secret that she hides which is her collection of games and anime. Umaru also keeps her anime and video games a secret, although the genres are very different! Both main characters are great students who hide the fact that they are otaku with their brothers only knowing about the secret. This is great for those seeking double lives, sibling complexes, and otaku fun!
OREIMO Trailer
---
5. No Game No Life

Episodes: 12
Aired: April 2014 – June 2014
Sora and Shiro are a brother-sister pairing that spend all of their time indoors playing games and developing their reputations as NEET. They have no interest outside of games, so one day, a boy who calls himself "God" brings them into a different world where everything is decided by playing games. Now, they fight for humanity and will try to save the human empire in this new world because they have faith in humanity!
Shiro is a cute little sister with a serious dependence on her older brother. Actually, if her brother is too far away from her, Shiro breaks down completely, but she is can be happy being an otaku with Sora by her side. Umaru may not break apart, but she relies heavily on her brother, too, and without him, she would not be able to live her life as a closet otaku. I guess you could say her happiness is thanks to her big brother.
This is a great comedy that will keep you entertained for the entire season. So enjoy a big brother complex in this anime about two otaku who try to save humanity!
[PV] TV anime "No Game No Life" PV Vol.1
---
6. Kaichou wa Maid-sama

Episodes: 26
Aired: April 2010 – September 2010
Ayuzawa Misaki goes to a school that was once an all boys' school. It is now co-ed and she finds herself as the first female student council president! She takes it upon herself to defend all of the girls from the dangerous male students and requires strict discipline of the male students!
Despite this, Misaki works at a maid café due to her family's circumstances. She is able to hide this until one day, the most popular student with the best grades, Usui Takumi, discovers her secret and she has to spend time with him to keep it a secret!
Misaki is not an otaku, but she has her own secrets to keep. Misaki leads a double life, like Umaru, and she must act completely different from her usual self when she is a maid, but unfortunately for Misaki, her life is just a little more public than Umaru's is!
Now, this anime is very cute and lighthearted, but it still has some funny moments. If you are looking for an anime about secrets and school life, this may be just right up your alley.
Kaichou wa Maid-sama Opening [HD]
---
Himouto! Umaru-chan is still airing right now so I'm not sure what we can expect, but there is a lot of room for growth. I can't wait to find out how this anime develops over the next few months. If you're anticipating the next episode every week, you can enjoy the anime on this list. Don't forget that the OVA is going to come out in October of this year, so there's still so much to see.
So this is my list of 6 similar anime to Himouto! Umaru-chan. Do you have any other suggestions?
---