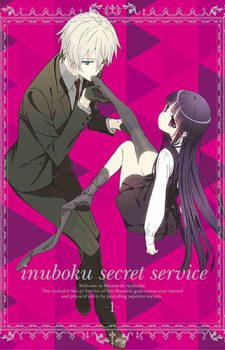 While action and sci-fi anime are great to watch, sometimes we all need a break from such high tense anime. Especially with the fall 2017 season having shows like Inuyashiki and Juuni Taisen, there needs to be some down time to get into the lighter side of anime. Back in 2012, there was an anime called Inu x Boku SS which fused comedy and supernatural themes and was a great means of unwinding after an action-packed anime romp. Luckily, 2017 also has some great anime to unwind with in the form of Blend S and Himouto! Umaru-chan R that you need to be watching.
If you're still on the fence about watching cute anime like the two mentioned above, well let us here at Honey's Anime convince you why these shows are great and oh so similar to Inu x Boku SS. Below, we will go into comparing each show—meaning Himouto! Umaru-chan R and Blend S—with Inu x Boku SS to say why you might like them. By the end of this article, we hope to give you folks a slew of laughs and cute feels in equal measures. That's why without further ado, we welcome you to our Adorable Comedy Fall 2017 article. Liked Inu x Boku SS? Watch This!
About Inu x Boku SS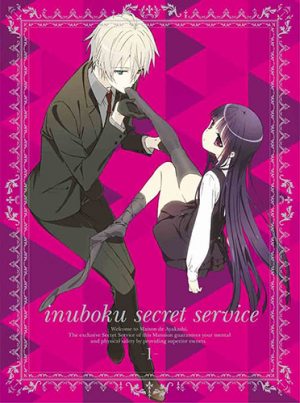 Episodes: 12
Aired: Jan, 2012- Mar, 2012
Ririchiyo Shirakiin has always been blessed with a high-class lifestyle that many would envy. Money and status, Ririchiyo should be quite happy and content with her current life, but instead, she has grown tired of this well to do life. Thankfully, a friend offers Ririchiyo a chance at a new life living at a place called Maison de Ayakashi which seems like a fancy new place that will allow her a new lease on life. Though little does she know that in these halls lies not so normal people as most of the residents are half-human and half-youkai. Can Ririchiyo live among such a strange group of people?
Liked Inu x Boku SS? Watch Blend S!
Episodes: 12
Aired: Oct, 2017- Present
Finding a job has been tough for high school student Maika Sakuranomiya. While Maika might seem happy and bubbly when moving around, her smile and look typically make her seem cruel and anything but kind. One day by sheer luck, a café owner named Dino sees Maika's scary look and decides to hire her for a job at his café. The catch, though, is that this café is anything but normal for its employees as everyone must adhere to their designated persona. Thus, Maika must serve customers acting like a sadistic tsundere if she wishes to keep her new job.
Three Major Similarities Between Inu x Boku SS and Blend S
1. Don't judge a book by its cover
What surprises us about anime is how you can see a cover of a show and think: oh this is how it's going to play out? Well, if you do that with either Inu x Boku SS or Blend S, you'll probably find yourself truly surprised. Both shows might look overly cute and or dramatic, especially with Inu x Boku SS's theme. Yet, neither show is what it seems. Blend S uses cute girls as a front for comedy that is silly and quite outlandish at times. That's why if you worried Blend S will just be a cute girl anime—which we've heard plenty of anime fans say—you'll be missing out on a truly comedic show on par with Inu x Boku SS.
2. Unique take on comedy
Inu X Boku SS and Blend S aren't your typical comedy anime. The main draw about both shows is that they use humor in clever and fun ways. Take, for example, Blend S which uses classic tropes of female and male—such as tsundere and older sister archtypes—and runs wild with it. The various girls like Maika and Miu Amano dish out their humor to the audience because they embody some of the more ridiculous themes found in anime. The same applies with Inu x Boku SS, which took demons—youkai in Japanese—and made them less scary and more comedic. That's why if you loved the unique twist of humor found in Inu x Boku SS, you'll most certainly love Blend S.
3. Cute but odd girls
Let's face it, folks, while the cast of girls from both Blend S and Inu x Boku SS may look adorable and oh so cute, their traits aren't always portrayed that way in their respected shows. Going with the main girls of both series—Maika from Blend S and Ririchiyo from Inu x Boku SS—these two ladies might seem your cliché anime girls with cute features but they way they act in their shows is scarily different. Maika embodies a sadistic tsundere when she's in the café and treats customers like she's going to hurt them, and then you have Ririchiyo who is kind of stuck up and a loud mouth despite being so small and huggable. Needless to say, these are just a few examples of the main girls of both shows but that element of them makes both shows quite enjoyable and very fun to watch.
---
Liked Inu x Boku SS? Watch Himouto! Umaru-chan R!
Episodes: 12
Aired: Oct, 2017- Present
Umaru, Taihei and the rest of the gang are back in season 2 titled Himouto! Umaru-chan R. Once more, watch as the loveable and super popular Umaru tests Taihei's—her brother—patience when she goes from the sweet and idolized student at school to the gamer and anime fan she embodies at home. This season, we see various new romances occur and even gain some new information on the various characters we met in season 1 like Tachibana Sylphinford and Motoba Kirie. A new season means new comedy so get ready, folks. Umaru isn't done torturing her brother with her whims and desires!
Three Major Similarities Between Inu x Boku SS and Himouto! Umaru-chan R
1. Extremely random comedy
Inu x Boku SS and Himouto! Umaru-chan R don't hit you with just your everyday comedy. No, both shows love to execute random comedy that at times comes out of nowhere. For example, Himouto! Umaru-chan R episode 1 has Umaru facing off against her friend Sylphynford in a soccer match and one moment their friend Ebina gets hit with the soccer ball against her rather large oppai. When this occurs, the scene ends with two soccer announcers wondering what happened to cause the soccer ball to veer course as it did. Meanwhile, Inu x Boku SS has the same theme of extremely random comedy thanks to the various residents of the apartment that interact with Ririchiyo. Due to their youkai nature, these characters tend to act unnatural which leads to some truly genuine comedy.
2. Rom-Coms
While Himouto! Umaru-chan R might be touted as a comedy anime, like Inu x Boku SS it has a romance element. Taihei's boss Kanau knew him and Takeshi—Taihei's coworker and friend—back in high school. Here, Kanau fell in love with Taihei but usually is too afraid to just come out and admit her feelings. The same can be said of Ebina who, at times, sees Taihei as a brotherly figure but also as an attractive guy thanks to his mature nature. Inu x Boku SS might be a bit more open about its romance—literally almost every character gets into a romance—then Himouto! Umaru-chan R but that's why we feel if you loved the rom com aspects of Inu x Boku SS you might like Himouto! Umaru-chan R.
3. Just a little bit of drama
Now, maybe you're afraid of watching Himouto! Umaru-chan R because you think it won't have the same level of drama found in a show like Inu x Boku SS. Well, we're happy to announce Himouto! Umaru-chan R does actually have some real-life drama. In this newest season, we learn more about Ebina and her brother who mysteriously vanished from her life and we learn Sylphinford's past relationship with Alex, which is her brother who also left to pursue a Japanese lifestyle. Ultimately, these are just a few examples of the drama you can find in Himouto! Umaru-chan R and that should make those who loved the infusion of comedy and drama within Inu x Boku SS quite happy. We can only hope that Ebina gets back with her brother like Ririchiyo got back with Soshi. Only time will tell though…
Final Thoughts
With that our Adorable Comedy Fall 2017 article comes to a close. Hopefully, we convinced some of you out there to watch two truly great shows. We know there are plenty of other comedy anime out this fall 2017 and we'll leave you to talk about them in the comments below. What comedy shows are you enjoying this season and why? Let us know and for more articles like this one, keep stuck to our hive here at Honey's Anime!
---