Slice of life anime is quite a vast genre. 2019's Honzuki no Gekokujou brings together isekai and slice of life in this adorable anime featuring magic and an absolutely lovable bookworm protagonist! In an era where there seems to be a new isekai title every season, Honzuki no Gekokujou can be enjoyed for its uniqueness. There is a lot to like about this title, which is why we're bringing you 6 other shows just like it! 6 anime like Honzuki no Gekokujou – let's go!
Similar Anime to Honzuki no Gekokujou: Shishio ni Naru Tame ni wa Shudan wo Erandeiraremasen / Similar Anime to Ascendance of a Bookworm
1.Hataage! Kemono Michi (Kemono Michi: Rise Up)

Episodes: 12
Aired: October 2019 – Ongoing
Shibata Genzou is a pro-wrestler who really loves animals. He wrestles as his alter-ego, "Animal Mask", where he embodies the persona of a tiger. During the world title-deciding match against his arch-rival, the Macadamian Ogre, Genzou is suddenly transported to a fantasy world by a princess. Her kingdom is being overrun by animalistic monsters and she requests his assistance in terminating them, but given his love for animals, he storms out of the castle and into the world! He decides to start his career as a beast hunter in order to capture and befriend animals everywhere. He is joined by the wolf-girl Shigure, dragon-girl Hanako and the vampire Carmilla Vanstein in his dangerous quest to become a pet shop owner.
Honzuki no Gekokujou and Hataage! Kemono Michi both have a hero that is very unique compared to the isekai protagonist were used too. Some of the quirky similarities include the mystery surrounding the main characters' being transported to their new worlds - both Maine and Genzou seem less interested in how they got there and more into becoming something different in their respective universes. Both protagonists also have things that they like to the point of obsession - Genzou loves animals and Maine loves books!
Hataage! Kemono Michi PV
---
2.Isekai Shokudou (Restaurant to Another World)

Episodes: 12
Aired: April 2017 – September 2017
Isekai Shokudou is about a restaurant on a quiet alley in Tokyo where its patrons consider the food out of this world. Nekoya's customers will wait an entire week just to sit down and have a taste of the enigmatic chef's cooking. An unexplained phenomenon linking the front door of the restaurant in Tokyo to a magical realm connects Nekoya with a clientele you won't even see in Akihabara on a Saturday night. The chef is simply referred to as Master; in this tiny culinary paradise he wields his ladle like a wand creating dishes for dragons, elves, mages, and adventurers. Isekai Shokudou gives us a peek at this master at work and how his food lets even mythological enemies set their differences aside - if only for the length of a meal. Western Restaurant Nekoya is a popular eatery located on a street corner in Tokyo. The establishment serves both traditional Japanese and Western cuisine and seems like your normal restaurant. It is thought to be closed on Saturdays, but what is happening behind the scenes is that the doors open to a different kind of clientele – the inhabitants of other worlds. From dragons to mages and elves, Nekoya has its fair share of otherworldly customers all eagerly waiting to be served by Master, the enigmatic but enthusiastic chef.
As made obvious in the title, Isekai Shokudou is an Isekai title, which gives us the first similarity to Honzuki no Gekokujou. The other major similarity lies in the fact that both titles have slice of life elements, focusing on the mundane aspects of the characters' lives. The focus on Maine in her new environment parallels Master's everyday experiences cooking meals for the otherworldly. While Honzuki no Gekokujou has a character sent to another world, Isekai Shokudou has the otherworldly coming to our world. A dissimilar element between Honzuki no Gekokujou and Isekai Shokudou are in Isekai Shokudou the events occur within the confines of a restaurant.
Restaurant to Another World Trailer
---
3.Bartender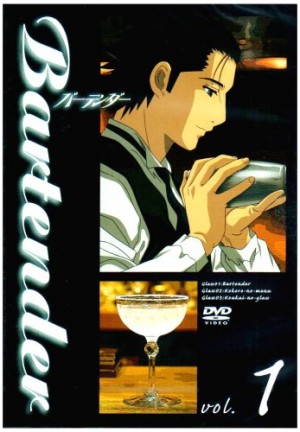 Episodes: 11
Aired: October 2006 – December 2006
Eden Hall is a bar tucked away in the backstreets of Ginza. It is run by Sasakura Ryuu, a prolific bartender said to be the mixer of some of the most incredible cocktails one has ever had. The thing about Eden Hall is that it isn't a place that the average person can find and the average clientele includes customers of various backgrounds with their own stories. Regardless of their situation, Ryuu knows just the perfect cocktail for each troubled person who finds their way into the bar.
Bartender is quite different from the other shows on this list for various reasons. The key thing that it does similarly to Honzuki no Gekokujou lies in the fact that it has heavy slice of life elements and focuses on the characters' love for one particular thing. Bartender's emphasis on the enjoyment of alcohol of various types can be likened to Maine's obsession with literature of different kinds.
---
Any Anime Like Ascendance of a Bookworm / Any Anime Like Honzuki no Gekokujou: Shishio ni Naru Tame ni wa Shudan wo Erandeiraremasen ?
4.Choujin Koukousei-tachi wa Isekai demo Yoyuu de Ikinuku you desu! (CHOYUYU! High School Prodigies Have It Easy Even in Another World!)

Episodes: 12
Aired: October 2019 – Ongoing
We think that being a prodigy means having it easy; you're smart, talented, and you excel in whatever you do. But would that talent help you succeed in a world where the modern conveniences and societal rules you've built your life on don't exist? A group of seven of these modern-day prodigies soon find out that answer when Seven Japanese high schoolers are well-known all over the world for being exceptionally talented. One fateful day, they survive a plane crash only to find themselves in the medieval fantasy world of Freyjagard. The , where society they find themselves in is split into the byuma, who have animal features; and the hyuma, who possess the potential to manipulate magic. After they're rescued by Winona and her adopted daughter Riruru, the seven geniuses decide to use their skills to return the favor to the people of Elm Village as thanks for their hospitality and for saving their lives as they search for a way back home. However, it seems like there is more brewing underfoot than the group is aware of as an ancient legend about seven heroes coming from another world to defeat an evil dragon. The group decide to change their new world, but slowly and steadily.
Honzuki no Gekokujou and CHOYUYU's greatest similarity lies in the fact that both sets of main characters find themselves abruptly placed in an alternate reality and they are forced to learn more about the world around them. Both shows also have a thing with geniuses – the high school prodigies are perhaps a highly exaggerated version of the intelligence and grit shown by Maine in Honzuki no Gekokujou.
Choujin Koukousei-tachi wa Isekai demo Yoyuu de Ikinuku you desu! PV 2
---
5.Outbreak Company

Episodes: 12
Aired: October 2013 – December 2013
A hidden doorway discovered by the Japanese government leads to another world and the adventure of a lifetime for a shut-in otaku named Kanou Shinich. In a bid to woo the people of the Eldant Empire into peaceful and dependent relations, the Japanese government decides to expose them to the most addictive aspects of Japanese culture they can think of: anime, manga, and games. Kanou Shinich, the product of otaku inbreeding, is chosen to be the government's representative to the court of Princess Petralka. The job of otaku evangelist is a dream job, and not just because it comes with a cute half-elf maid, but because it gives him a chance at using the medium he loves to change a world.
Kanou Shinichi is a shut-in Otaku with a lot of knowledge regarding anime, manga, and games. He applies for a job to change his life; however, he is quickly whisked away to the Eldant Empire, a fantasy world complete with elves and dragons! His job in this strange land is to spread Japanese otaku culture far and wide, effectively becoming an otaku missionary. With the support of the Japanese government, Princess Petralka of the Eldant Empire and the half-elf maid Myucel, Shinichi brings the way of the otaku to the fantasy world.
The world of Honzuki no Gekokujou has very high levels of inequality in society, and as a result, Maine is unable to find books as easily as she would in our world. Maine's adjustments as a girl raised in modern Japan to the medieval world where she now lives are akin to Shinichi's culture shock of living in a new world as an otaku ambassador of culture to the fantasy world in which he now finds himself.
Outbreak Company Trailer:
---
6.Akagami no Shirayuki-hime (Snow White with the Red Hair)

Episodes: 12
Aired: July 2015 – September 2015
Shirauyuki (Snow White) livesis a young girl living in Tanbarun working as an apothecary at and her herbal shop. The young woman renown for her apple-red hair catches the eye of the frivolous When Prince Raji of Tanbarun. She decides to sneak away before the prince has the chance to make her his concubine. Shirauyuki quickly finds out how dangerous the road can be when she is set upon by a band of brigands. The misfortune that befalls her gives birth to her fairytale fate. notices her, he tries to force her to be his concubine, which she vehemently refuses. She is quickly rescued by She cuts her long red hair and runs away into the forest, where Zen Wistalia, the second prince of the nearby land of Clarines. The prince falls in love at first sight, wants to do whatever he can to keep her near him and gives her a job as a court herbalist. A sweet romance between a prince and a red-haired beauty soon begins to blossom like the flowers in the herbalist's gardens. , saves her. Grateful, Shirayuki looks to become the court herbalist as a way to express her gratitude to Zen, leaving behind her old life in Tanbarun for the greener pastures of life in Clarines.
Shirayuki-hime and Honzuki no Gekokujou's biggest similarity lies in their studious protagonists. Maine carries her love for books over from her previous life, while Shirayuki's dedication to becoming a skilled herbalist never wavers. Maine also seeks to bring reading to the world and make it as common as it was in the world she left, which is similar to Shirayuki bringing her exceptional apothecarial knowledge to a new land.
Akagami no Shirayuki-hime PV 2
---
Final Thoughts
Fans of isekai and who have a love of books will find those two interests brought together in the form of Honzuki no Gekokujou. With its bright colors and pockets of adorableness sprinkled throughout, it is a very pleasant slice of life. The story of Maine's new life isn't all fun and games as there are challenges that she has to overcome in her new life, like the frailty of her body, illness and people around her not understanding her love for books. Are there other shows you think are like Honzuki no Gekokujou? Drop a comment below and tell us all about them!
---