También puedes leer este artículo en:Español
This season boasts a whole bunch of great anime. From terrifying little girls to adorable supernatural ones, you can find any genre your heart desires. But the cutest anime from this winter lineup is undoubtedly Little Witch Academia. Luckily for us, this anime is scheduled to get a full 25 episodes.
This series is based off the hit short movie from 2013, and the anime expands on the lives of a group of young witches. Atsuko Kagari is just a normal girl, but after seeing the famous witch, Shiny Chariot, perform as a young child, she decides that she also wants to become a witch. As a teenager, she heads off to her own school of witchcraft where she faces the challenges of being the only human in her class. But when the magic staff of Shiny Chariot reveals itself to her in a time of need, Atsuko realizes her own power.
Little Witch Academia has stolen the hearts of many, and in an attempt to ward off the long week of waiting, we have created a list of suitable replacements for you to wait with. This list includes anime that focus on the magic aspects of Little Witch Academia as well as some that emphasize the silly situations that are found throughout the anime.
Similar Anime to Little Witch Academia
1.Kiki Delivery's Service

Episodes: 1
Aired: Jul 29, 1989
When you think of witch anime, this Ghibli movie is always the first to come to mind. This is a classic coming of age anime story that warms the hearts of all. When young Kiki turns 13, tradition dictates that she must leave home for a year and further her training as a witch. We get to see her travel to a lively ocean town and try to settle into her new life. She faces the normal challenges of being the odd person out and trying to fit in.
The adorable characters and relatability of this movie is what makes it a classic to this day. We can all see ourselves a little in the struggles that Kiki faces throughout the movie. This kind of situation is also seen in Little Witch Academia, as Astuko tries to fit in with her witch peers, despite being only human.
Kiki's Delivery's Service PV
---
2. Boku no Hero Academia (My Hero Academia)

Episodes: 13
Aired: Apr 3, 2016 to Jun 26, 2016
In the world of this anime, super-human powers, also known as "quirks", are normal thing; but they aren't always super. You could have elastic-arms or just be able to change green beans into corn. People who want to use their "quirk" and become heroes must attend a Hero Academy, the most prestigious one being UA High. This anime follows the life of a normal boy who wishes more than anything to become a legendary hero and help people. When his personal hero, All Might, shares the secret of his supernatural power, Izuku Midoriya's life is changed forever.
This story's plot is shockingly similar to Little Witch Academia. Both main characters are only normal humans but wish for supernatural gifts and abilities, similar to their peers. Both have a role-model that they look up to for guidance. And both attend a specialized school to improve their abilities, which follows the usual school tropes and themes; rival, friend group, silly situations. The only major difference between the two anime is that one focuses on magic and the other one on superheroes.
My Hero Academia PV
---
3. Zero no Tsukaima (The Familiar of Zero)

Episodes:13
Aired: Jul 3, 2006 to Sep 25, 2006
Just like in Little Witch Academia, the main character of The Familiar of Zero is surrounded by other magicians and witches, but she herself is kind of a magic dud. When met with the opportunity to prove herself as a witch, it is a bit of an explosion. She is asked to summon a familiar, or animal servant, but instead of getting the usual bird or rabbit, the high school boy Saito Hiraga appears. Now he is deemed to be her servant and doing her bidding just like a normal familiar would.
This is an ecchi anime, which of course means there are a lot of ridiculous situations, and mixed with magic, this is a pretty good replacement for Little Witch Academia. We get to see the main character come into her own and develop her magical powers. As well as getting some displays of magic, we get some romance throughout the anime.
Zero no Tsukaima PV
---
Any Anime Little Witch Academia ?
4. Mahou Sensei Negima! (Negima!)

Episodes: 26
Aired: Jan 6, 2005 to Jun 30, 2005
Despite being a harem anime, this is also very fulfilling for all of your witchy, magical needs. Negi Springfield is an elementary school kid who is studying to become a Master Wizard. One of the final obstacles he must face before becoming a master magician is the bizarre task of becoming a high school teacher to a class of eccentric girls. This anime is full of ecchi, antics, romance, and of course, magic. The students of his new class help him to defeat the evil witches and wizards that come to challenge him.
While the tone of this anime is quite different, with the whole harem situation, the overall themes are the same as Little Witch Academia. We get to see a lot of magical skills as well as a school environment.
Negima! Trailer
---
5. Flying Witch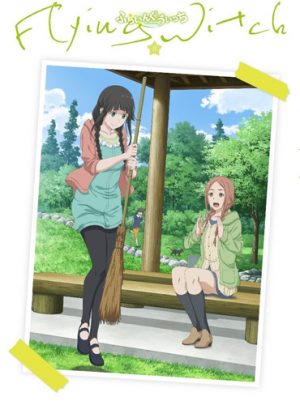 Episodes: 12
Aired: Apr 10, 2016 to Jun 26, 2016
This a very easy-going, gentle anime that follows the witch-in-training, Makoto Kowata. She moves to a sleepy city in rural Japan to go to school and complete her magic training, the only hiccup being that the family she is staying with doesn't know she is a witch. This is a slice-of-life style anime with an amusing cast of characters that would put anyone in a good mood.
While this anime doesn't have the school/academy theme going for it, it does have the colorful cast of characters and a young girl exploring her powers and learning how to be a witch. If you are looking for a more mellow and laid back version of Little Witch Academia, Flying Witch is your best bet.
Flying Witch PV
---
6. Nichijou (Nichijou - My Ordinary Life)

Episodes: 26
Aired: Apr 3, 2011 to Sep 25, 2011
Explore the everyday, normal lives of a group of high school girls as they go through the standard obstacles of life. This anime ranges from adorable to completely bizarre, so be prepared to be entirely confused occasionally. These high school girls' normal lives might not be as normal as yours is.
If while watching Little Witch Academia you really loved the crazy antics of Atsuko and her friends, then this is definitely something you need to check out. Watching this anime will remind you of the classic Azumanga Daioh. These girls are sometimes able to fall into the most incredibly weird and pointless situations or conversations.
Nichijou Official Trailer
---
Final Thoughts
All of these anime are great substitutes for Little Witch Academia, we hope that you check a couple of them out and tell us what you think. Were we on point for My Hero Academia? Or is the superhero aspect a bit too distracting? Let us know. But hopefully this list can help stave off a couple boring afternoons when you just need something cute and silly to watch.
---