One of this season's wacky comedies, Mairimashita! Iruma-kun is a fun series following the titular Iruma-kun, a young boy who is a total pushover and simply can't say no to any request, who somehow finds himself in the underworld as the adopted grandson of a powerful demon named Sullivan after his deadbeat parents sell his soul. As it turns out, life isn't really all that bad in the underworld as Sullivan loves to dote on Iruma and even ends up sending him to school with the one caveat being that his demonic teachers and classmates might be interested in eating him if they discover his humanity. With some luck, newfound friendships, and a hefty amount of divine intervention from Sullivan, Iruma's madcap demonic adventures begin!
For those looking for more shows like Mairimashita! Iruma-kun we've come up with 6 other series worth checking out. We're basing our picks on similarities in style and specifically picked anime that also played with the showing demons and other supernatural beings in a comedic light. Without further ado, let's give the devil his due and get on with it already!
Similar Anime to Mairimashita! Iruma-kun / Similar Anime to Welcome to Demon School! Iruma-kun
1. Hataraku Maou-sama! (The Devil is a Part-Timer!)

Episodes: 13
Aired: April 2013 – June 2013
The great and mighty demon king Satan has been waging a long war against the other kingdoms of Ente Isla in his quest to conquer the entire continent. While initially successful, he now finds his armies failing as a group of heroes push their way into his castle. Faced with defeat, Satan narrowly escapes with his loyal general Alsiel by opening a dimensional portal into… modern-day Japan! With their powers severely diminished, Satan and Alsiel, now known as Sadao Maou and Shirou Ashiya, have to quickly adapt to life on Earth and that means finding jobs, an apartment, and hopefully a way to get back to Ente and reclaim their former glory. Lacking in practical skills, Sadao finds work at the amusingly named fast-food restaurant MgRonald's and hopes to climb the corporate ladder to eventually rule over Earth (maybe).
The Devil is a Part-Timer is likely what many will first think of it terms of similar anime to Mairimashita! Iruma-kun since at a base level it's the reverse situation of a demon adapting to the normal world and both feature comically unconventional takes on devils. Needless to say, the concept of Satan, albeit a more Dragon Quest-esque fantasy take on him, working as a fast-food fry cook is immediately compelling and hilarious. Both series also have a strong supporting cast with a particular similarity between Alsiel/Shirou and Asmodeus Alice. Overall, The Devil is a Part-Timer! is simply a fantastic comedy worth checking out in general and a great companion for fans of Mairimashita! Iruma-kun with its devilish antics.
The Devil is a Part-Timer! Trailer
---
2. Zero no Tsukaima (The Familiar of Zero)

Episodes: 13
Aired: July 2006 –September 2006
An obnoxiously-named, and generally obnoxious, rubbish wizard-in-training Louise Françoise Le Blanc de La Vallière is also known as Zero by many of her classmates at the prestigious Tristain Academy of Magic due to her frequent failings at casting magic. On the day of the summoning ritual where the mages first meet their familiars, Zero's spell results in a gigantic explosion which seems like yet another mistake but eventually reveals that she did, in fact, summon something, that something being regular Tokyo dude Saito Hiraga. Saito unwillingly becomes her familiar despite his seeming mundanity and gets bossed around by Zero who makes him do her chores and other stuff. While their relationship starts off rough, Zero soon shows tsundere tendencies and hints drop that Saito himself might have more powers of his own.
While not specifically riffing off of the whole demon trope, Zero no Tsukaima shares a lot in common with Mairimashita! Iruma-kun like having a normal boy being isekai'd into a magical school setting and even a similar joke about having a person as a familiar with how Iruma accidentally summons his professor Naberius Kalego as his. Zero no Tsukaima has more of a romance and harem aspect and a bit of a different sense of humor and feel overall but is still a good recommendation for Iruma-kun watchers and a fun series in its own right that fans of comedic fantasy should try out!
Zero no Tsukaima PV
---
3. Jitsu wa Watashi wa (Actually, I am...)

Episodes: 13
Aired: July 2015 – September 2015
High schooler Asahi Kuromine, aka Anazaru, accidentally discovers that his crush Youko Shiragami is a vampire after trying to confess to her after school which, according to her father's rules, means that she'll have to transfer out to keep the secret. Obviously, Asahi doesn't want this so he promises not to tell. Unfortunately, Asahi is an open book when it comes to his emotions which practically makes it impossible for him to ever lie. Things get further complicated as it seems that more and more people in the school might be more than they're letting on. Will Asashi be able to handle the pressure to keep the secret and impress Youko? Well, actually…
Without spoiling too much, Jitsu wa Watashi wa, like Mairimashita! Iruma-kun, deals with a relatively normal guy struggling to keep a secret while being in a school surrounded by bizarre supernatural beings, this time with vampires (among other things) but in an otherwise ordinary setting. Protagonists Asahi and Iruma feel fairly similar to each other with their shy, somewhat awkward personalities and willingness to help others as well as the general concept as outlined before. Overall, we think Iruma-kun watchers might get a lot of enjoyment out of Jitsu wa Watashi wa, especially if they also like romantic comedies.
Actually, I am... Trailer
---
Any Anime Like Mairimashita! Iruma-kun / Any Anime Like Welcome to Demon School! Iruma-kun ?
4. Beelzebub

Episodes: 60
Aired: January 2011 – March 2012
The top badass at Ishiyama High, a school full of rebellious delinquents of all sorts, Tatsumi Oga is known as the best fighter around as well as one of the most cruel and arrogant. These features ultimately end up in him being selected as the person to raise the son of a demon lord, the deceptively cute baby Kaiser de Emperana Beelzebub IV, or "Baby Beel" for short, who forms a bond with Oga immediately after crawling out of a body split in two. Thus Oga and his gang, along with Beel's demon maid Hildegard, reluctantly raise the little devil in a hostile environment full of other demons and punks looking for a fight, but it's also funny!
Beelzebub's delinquents-meets-demons style and setting is a charming combination that helps it stand out but also connects it to Mairimashita! Iruma-kun with its comedic slant that might be a little surprising given the circumstances. This show has a lot of heart and is less of a pure comedy than Iruma-kun with plenty of action and some actual creepy moments, but is still a unique and genuinely funny anime that we recommend checking out.
---
5. Machikado Mazoku (The Demon Girl Next Door)

Episodes: 12
Aired: July 2019 – September 2019
High school freshman Yuko Yoshida wakes up to find she has sprouted a pair of small curly horns from her head along with a pointed tail after waking up from a strange dream involving an ancient ancestor. Utterly perplexed, her mom reveals that her family is actually descendant from a dark clan of demons who have been cursed to live in poverty by magical girls and that Yuko must find and defeat one to restore their powers and status. Conveniently, Yuko's pink-haired neighbor and classmate Momo Chiyoda is a magical girl but also an extremely powerful one. Yuko's feeble abilities are so sucky, in fact, that Momo actually agrees to help train her so she can put up more of a fight.
Compared to Mairimashita! Iruma-kun, Machikado Mazoku rams headfirst into the moe category but is still a comedy at its core with charming characters and funny situations that fans of Iruma-kun will likely love. In particular, Yuko being completely underpowered in her demonic abilities and the way the supernatural aspects are handled in humorous ways like Yuko's ancestor Lilith basically being confined to a goofy stone statue Yuko has to carry around (and often misplaces) and the curse of her clan being specifically related to how much money they have are really entertaining. Yuko and Momo's relationship and their ultra-cute designs are another highlight. Altogether, a strong recommendation for comedies that poke fun at the idea of demons and, in this case, also magical girls.
Machikado Mazoku PV
---
6. Kyo Kara Maoh! (King From Now On!)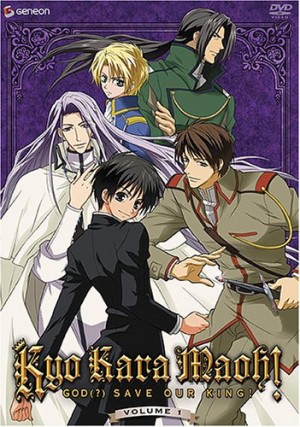 Episodes: 78
Aired: April 2004 – February 2006
Another average boy finding himself in a fantasy world, Kyo Kara Maoh! follows teenager Yuri Shibuya who gets teleported to the faraway land of demons, called Mazoku, after getting a toilet swirly of all things by bullies when trying to defend his friend Ken Murata. Seeing his black hair and eyes, the people in the new world think Yuri must be an heir to the throne and bring him to the capital to be crowned. However, Yuri's peaceful nature and ignorance of Mazoku culture make him a divisive character with many skeptics so he must prove his worth in the new land by winning duels and gathering allies using his newfound powers.
Out of all the recommendations here, Kyo Kara Maoh! is probably the most tenuous in its similarity with Mairimashita! Iruma-kun because it's only partially a comedy and has more unique world-building that makes it more of a classic fantasy adventure with a few dark and serious bits than a parody one, not to mention a more shoujo style overall that includes a bevy of bishounen and boarderline shounen-ai elements. All that being said, Kyo Kara Maoh! is a demon-focused isekai with the potential to be really hilarious and appealing to a certain crowd. That's why we think Mairimashita! Iruma-kun fans might want to give a chance if it sounds interesting.
Kyo Kara Maoh! PV
---
Final Thoughts
There you have it! They say the devil's in the details so we hope you enjoyed these peeks into some other shows you might want to check out if you've been enjoying Mairimashita! Iruma-kun. As always, please let us know what you think in the comments section below and be sure to stick around Honey's for more of all things awesome, anime and otherwise! Until next time, think deeply about what it means to be a devil in anime. See ya~!
---