Odd Taxi (ODDTAXI) is the kind of anime that is difficult to categorize. A passion project written by Kazuya Konomoto, ODDTAXI tells the story of grumpy walrus taxi driver Odokawa, and the riveting mystery surrounding him, set in a Tokyo populated by anthropomorphic animals. Full of mystery, clever social commentary, comedy, all with a darker, more adult, tone, ODDTAXI feels like a story out of a Quentin Tarantino movie. We witness dealings with the underworld, mafia, the dark side of idol culture, and even contemporary social issues such as social media addiction and online dating scams.
We picked the following six anime series because they present the dark side of urban life, have headstrong MCs and a large cast, share weird and humorous dialogues, are heavy on mystery, and entwine their several storylines in really smart ways. Social commentary is central in most of them, and some are even big city life stories with animal characters. Let's take a look!
Similar Anime to Odd Taxi / Similar Anime to ODDTAXI
1. Mousou Dairinin (Paranoia Agent)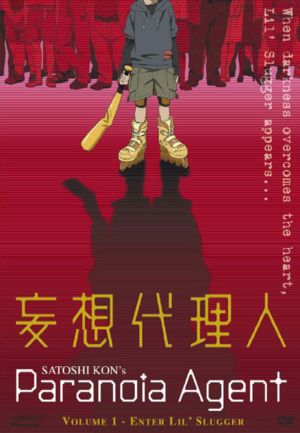 Episodes: 13
Aired: February 2004 – May 2004
Musashino City is under a reign of terror due to Shounen Bat (Lil' Slugger), a boy rumored to go around on his golden rollerblades and beat people up with a baseball bat. The rumors go out of hand after the first attack against character designer Tsukiko Sagi, who tells the police that an elementary school boy hit her with a bat. From then on, the rumors spread, among old and young, and the victims of the mysterious perpetrator grow in number. Detectives Keiichi Ikari and Mitsuhiro Maniwa investigate the case, however, the plot thickens, as reality and illusion blend, and paranoia spreads.
Mousou Dairinin (Paranoia Agent) is a classic mystery, urban, psychological, and detective anime that is a must for all otaku out there. Created by the one and only Satoshi Kon of Paprika and Perfect Blue, Paranoia Agent shares the urban mystery vibe of ODDTAXI, focusing on a different character in each episode. The detectives investigate the people attacked by Shounen Bat and they are discovering the clues that connect all these people. We see an early critique on the internet from the 2000s, online harassment, and violence in video games, which reminds us of ODDTAXI's social commentary on the impact of social media in our current lives. There is also the mystery surrounding Odokawa and his condition, which relates to designer Tsukiko's mental health issues - can we trust Odokawa's perception? ODDTAXI builds on Paranoia Agent's legacy as it plays with our perception and expectations in similar ways.
Paranoia Agent OP
---
2. BEASTARS (Beastars)

Episodes: 12
Aired: October 2019 - December 2019
Beastars tells the story of a society of anthropomorphic animals, where carnivores and herbivores can coexist. Carnivores suppress their natural urge to hunt and eat meat, and while things seem to be normal, in reality, there are unaddressed societal tensions pushed under the rag. Legoshi, a wolf, is suspected of killing his friend, an alpaca called Trem. Legoshi acts timid and withdrawn to hide his natural urges until he meets and falls for Haru, a white rabbit, who is trying to live true to herself, despite being judged by her peers for her promiscuity.
Beastars has a large cast composed only of anthropomorphic animals, like ODDTAXI. With a dark tone and adult themes, Beastars reminds us of ODDTAXI not only for obvious reasons such as the animal character design but mainly because of the social commentary about prejudice and preconceptions, the main focus of the show. Beastars does an excellent job of presenting us with all different sides, letting the viewer draw their own conclusions. You might be skeptical due to the 3D animation, but this shouldn't keep you from watching this unique psychological drama anime series.
BEASTARS PV
---
3. Durarara!!

Episodes: 24
Aired: January 2010 - June 2010
Mikado Ryuugamine arrives in Tokyo to live the big city life but he is not prepared for what he is going to experience: Gang members, questionable dealings, even an urban legend about the Black Rider, who some claim is running headless on his motorbike in the dark alleys of Tokyo. On his first night there, Mikado comes across the infamous Black Rider and since then he finds himself involved in the mysteries of the district, along with his new group of friends.
Durarara!! is a memorable anime full of witty dialogue, an interesting set of characters, and a mysterious plotline. The stories come together, little by little, in a similar fashion to ODDTAXI. An urban mystery, Durarara!! like ODDTAXI shows us the seedy side of Tokyo at night. The lengthy dialogue reminds us of Odokawa's fast-paced retorts and constant radio buzz in the background. Durarara!! might include a supernatural element and is more action-focused, but it creates a similar atmosphere to ODDTAXI and we think you will enjoy watching it.
Durarara!! Official Trailer
---
Any Anime Like ODDTAXI / Any Anime Like Odd Taxi?
4. Africa no Salaryman (Africa Salaryman)

Episodes: 12
Aired: October 2019 - December 2019
Meet Lion, Lizard, and Toucan, three anthropomorphic animals and co-workers in a big Tokyo company. Lion is kind and strives to do his job right, but Toucan routinely gets him in trouble. It's not all fun and games in the concrete jungle, as Lion has to deal with all sorts of adult life problems, like completing a project, dealing with difficult coworkers, and getting used to the brutal Japanese office life full of deadlines and overtime.
Africa Salaryman is for those who wish ODDTAXI had more gags and comedic moments, love urban-setting anime with anthropomorphic animals, and prefer slice-of-life than mystery-heavy anime. The outrageous situations Lion finds himself in will remind you of Odokawa's friend, Kakihana, and Odokawa's customers, who are all just a little… bizarre.
Africa Salaryman Trailer
---
5. Ikebukuro West Gate Park

Episodes: 12
Aired: October 2020 - December 2020
Makoto Majima lives in Ikebukuro, home of Tokyo's most dangerous gangs. A born mediator, Makoto can communicate with the opposing sides and bring, even for a short time, serenity and safety in his neighborhood. It definitely helps that Makoto is friends with King, the strong leader of G Boys, a local gang. The plot follows Makoto's efforts in bringing balance in Ikebukuro no matter what.
Ikebukuro isn't the crime-ridden neighborhood we know of in real life, however, anime often depict it in a certain light. IWGP is a Tokyo night drama, similar to ODDTAXI, where separate stories come together, and several mysteries are uncovered. Darker in tone, IWGP has a more episodic approach, with different arcs spanning a few episodes. If you enjoy mystery and drama anime and need your share of good-looking guys instead of animal MCs, then IWGP should be your next watch after ODDTAXI!
Ikebukuro West Gate Park Trailer
---
6. Higashi no Eden (Eden of The East)

Episodes: 11
Aired: April 2009 - June 2009
Eden of The East came out over a decade ago but it's still fresh and quirky as we remember. On November 22 2010 Japan was attacked by missiles, however, there were no casualties. Since then, that day is commemorated as "Careless Monday". Saki Morimi gets helped by amnesiac Akira Takizawa when traveling abroad to the US. Saki is intrigued by the mysterious man, however little does she know that she is entering dangerous territory, involving a plot to save the world.
Eden of The East has separate compelling storylines that entwine, much like ODDTAXI. The mystery surrounding the main character and his amnesia remind us of Odokawa's unspecified condition that causes him to easily recognize any person he meets in a crowd (could it be that he is the only one seeing people in animal form??!). The art style is soft and cute, which does not reflect the series' themes. Similarly, ODDTAXI looks cute due to the animal characters and soft, storybook-like art style, but the plot is definitely not a sweet slice-of-life, involving several violent scenes as the story progresses.
Eden of The East Trailer
---
Final Thoughts
If you enjoy ODDTAXI as much as we do, you should check out these six titles the Honey's Anime team has picked out for you. Urban mysteries, some set in Tokyo, dealings with the underworld, bizarre humor, tight-lipped MCs, and several plotlines coming together, these anime will keep you company after the end of ODDTAXI and Spring anime season 2021. It's not easy picking recommendations for such a unique title like ODDTAXI but we guarantee there is something for every Odokawa fan on our list!
Have you watched any of our recommendations? Any new finds? And which caught your interest? Let us know in the comments below and thanks for reading!
---