In anime, MCs who are reincarnated tend to come in numerous shapes and forms. We've seen humans turn into slimes, businessmen turn into magical young girls, and some reborn into worlds with powerful cellphones. However, rarely do characters become super overpowered demon kings like Anos Voldigoad from Maou Gakuin no Futekigousha: Shijou Saikyou no Maou no Shiso, Tensei shite Shison-tachi no Gakkou e (The Misfit of Demon King Academy). Anos and his exploits as he explores his new situation have given us a seriously amazing anime series but, while we wait weekly for another episode to air, we search the anime landscape for similar shows to binge in the meantime.
Luckily for you beautiful readers out there, we here at the slightly overpowered hive of Honey's Anime have 6 Anime Like The Misfit of Demon King Academy that we wish to share with you all! Like our misfit demon king, these several anime series also feature some odd characters who just so happen to have some truly overpowered qualities. For those seeking protagonists who seemingly can't be beat, these anime will no doubt fill you with joy. Now without further wait, let's dive into a truly demon—and overpowered humans who should be demons—heavy anime recommendation list that should please all of Anos' fans!
Similar Anime to Maou Gakuin no Futekigousha (The Misfit of Demon King Academy)
1. Isekai Maou to Shoukan Shoujo no Dorei Majutsu (How Not to Summon a Demon Lord)

Episodes: 12
Aired: July 2018 – September 2018
Demon King Diablo is a name most players of Cross Reverie know. Thanks to Diablo's extremely high level and his high tier loot, none face him without quaking in their boots. While Diablo might be an entity to fear, Takuma Sakamoto—the man behind the gamepad—is far from fearsome. Quiet and to himself, Takuma is the pure definition of a shut-in, but that all changes in one fell swoop. Due to a powerful summon skill, Takuma has been summoned to a world like Cross Reverie with the body and image of his character Diablo! Can our shut-in become this world's powerful new force or will he just be known as the man with two sexy slave girls by his side?
Anos and Takuma can't be more different seeing as how the former is more charming and the latter is quite…awkward but that doesn't mean these two warriors are any less powerful. How Not to Summon a Demon Lord is very similar to The Misfit of Demon King Academy but with a bit more of an ecchi focus—thanks in large part to Rem Galeu and Shera L. Greenwood—but both anime are extremely satisfying to watch and filled with demon themed action! How Not to Summon a Demon Lord is a series we highly recommend to Maou Gakuin fans and we know those two lovely lady protagonists will keep your eyes glued to the screen.
How NOT To Summon a Demon Lord Trailer
---
2. Maou-sama, Retry! (Demon Lord, Retry!)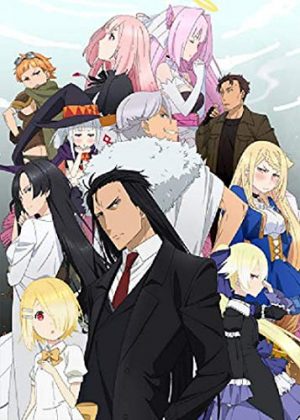 Episodes: 12
Aired: July 2019 – September 2019
The popular MMORPG Infinity Game has lasted 15 years but finally must shut down its servers. Akira Oono now must watch his creation finally fade away as he watches the time tick down before the game goes dark. When midnight strikes, Akira realizes something very odd has taken place. Our Akira has been transported inside Infinity Game and is now in the body of the game's demon lord Hakuto Kunai! Why has Akira been summoned to this game world and what destruction can he cause now being one of the game's strongest characters!? Find out in Demon Lord, Retry!
Okay, Anos and Hakuto might be quite different in age and looks—Anos did recently get reborn in a younger body after all—but their power levels are quite similar. Hakuto is a beast in Demon Lord, Retry! as he unleashes tons of magical attacks that seem to obliterate anything he faces! Demon Lord, Retry!showed otaku out there that a main character doesn't always have to look handsome or young but can be middle-aged and still beat down any threat while rocking a nice suit and tie! We do wonder, though, who would be considered the ultimate Demon Lord, Hakuto or Anos.
Demon Lord, Retry Trailer
---
3. Densetsu no Yuusha no Densetsu (The Legend of the Legendary Heroes)

Episodes: 24
Aired: July 2010 – December 2010
Ryner Lute can come across as a lazy and overly laid back man but behind his calm demeanor lies a hard background. Born with powerful—but cursed—eyes known as Alpha Stigma, Ryner was once a royal magician who fought in a deadly war that cost the lives of many of his friends/allies. With a desire to change the landscape to one of peace, Ryner aligns himself with his friend—and king—Sion Astal as they scour the land in search of powerful artifacts. Ryner will journey alongside Ferris Eris as both discover a past long forgotten and the origins of Ryner's mythical eyes.
Stepping away from demons for a moment, The Legend of the Legendary Heroes is a truly gripping action/adventure anime from studio Zexcs that doesn't get enough praise. Ryner is a truly awesome protagonist who, like Anos, has a unique personality that might rub people the wrong way. We absolutely loved the animation for The Legend of the Legendary Heroes—even now in 2020—and equally loved the cast of characters for their unique characteristics. Our only gripe with this anime is that it ends on quite a cliffhanger and seeing as how its been ten years, we probably will never get a proper ending. Despite that, we still love Ryner and his adventures in The Legend of the Legendary Heroes and feel those who love the fantasy elements of The Misfit of Demon King Academy will love the series as well!
Legend of the Legendary Heroes Trailer
---
Any Anime Like Maou Gakuin no Futekigousha (The Misfit of Demon King Academy)?
4. Mahouka Koukou no Rettousei (The Irregular at Magic High School)

Episodes: 26
Aired: April 2014 – September 2014
Long ago, magic seemed like something only found in fantasy books and old folktales. However, as time advanced, humans learned that magic could be created using technological devices and skills. Those who wish to hone their magic and eventually become accredited magicians go to First High School where they are put into one of two categories, Blooms or Weeds. Tatsuya and his sister Miyuki Shiba are two new students who ironically are put into different classes—Tatsuya into the Weeds category and Miyuki in the Blooms—but that doesn't mean much when you possess latent technological prowess like Tatsuya. Despite lacking magical ability, Tatsuya is a prodigy at crafting powerful weapons and thus, will show First High School what an irregular can really do!
Despite his insane power and skill, Anos is considered a misfit at his demon school and, ironically, our Tatsuya is dubbed an irregular due to his lack of magical ability. The Irregular at Magic High School is very similar to Maou Gakuin as both series feature MCs who are not only extremely talented but also pretty darn powerful. The second season of The Irregular at Magic High School is airing Fall 2020 so now is the opportune time to catch up and witness the epic tale of Tatsuya and his cute—but clingy—sister Miyuki!
The Irregular at Magic High School Trailer
---
5. Hagure Yuusha no Aesthetica (Aesthetica of a Rogue Hero)

Episodes: 12
Aired: July 2012 – September 2012
Samon Syndrome gave humans a strange ability decades ago. Those who used this gift were allowed to transverse between various worlds and could even retain abilities learned in said world! Akatsuki Ousawa—titled the rogue hero—grew bored of his world and decided to live on Earth but didn't come alone. Akatsuki brought with him the daughter of the demon king—Miu—and now has decided to join a prestigious school known as Babel to train with those who wish to use their otherworldly powers in a more refined place. Too bad these students are about to learn that our rogue hero is anything but refined…
Here at Honey's Anime we've noticed a very cliché theme. If you happen to be an overpowered demon or hero, you're going to get some nice looking ladies! All jokes aside, Aesthetica of a Rogue Hero is a fun action series chock full of oppai, fan service, and—of course—overpowered warriors duking it out! Like The Misfit of Demon King Academy, Aesthetica of a Rogue Hero gives our main man Akatsuki a ton of special abilities and attacks that put him a league of his own. Even though Akatsuki might be a pervert—well let's be honest and say he's a pervert—don't cross him as you'll quickly find yourself on the receiving end of his assorted destructive skills!
Aesthetica of a Rogue Hero Trailer
---
6. Ichiban Ushiro no Daimaou (Demon King Daimao)

Episodes: 12
Aired: April 2010 – June 2010
Akuto Sai is on his way to the well-known magic school—Constant Magic Academy—with dreams of becoming a hero and saving the world. As Akuto arrives, he quickly finds his dreams dashed when a prophecy foretells of his apparent rise not as a hero but as a Demon King! Despite praying that he can prove to his now fear-ridden peers that he isn't going to become the next demon king, Akuto soon begins to show an affinity for demon-like abilities and powers. Can our young dreamer prove that a demon king isn't to be feared but loved?
We conclude our list of 6 Anime Like The Misfit of Demon King Academy with an oldie but a goodie, Demon King Daimao! This series was one of the earlier examples of a demon king rising up to not be a feared character but one that wished to change the world for the better. Like Anos, Akuto isn't cruel—despite what others think—and tries his best to help others with his extreme demon abilities. Demon King Daimao is sure to surprise Maou Gakuin fans and we can't wait for you guys/girls to fall in love with Akuto and the wide assortment of waifu in this fun ecchi/action anime series!
---
Final Thoughts
The Misfit of Demon King Academy has so far been a real treat from the summer 2020 anime season and we can only hope it continues to deliver! That's why, if you agree with our love for Maou Gakuin, you're going to find the list above filled with some truly amazing shows filled with similar themes and concepts! Are you watching The Misfit of Demon King Academy or have you seen—or plan on viewing—the series we mentioned above? Comment below to let us know! For even more anime recommendations, be sure to stick to our amazing hive here at Honey's Anime!
---