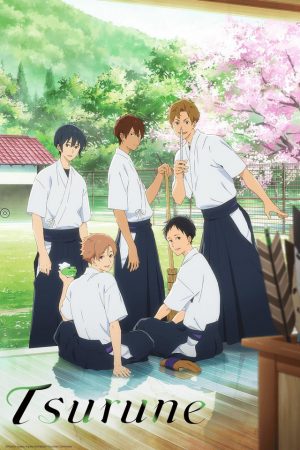 There aren't a lot of anime out there like Tsurune: Kazemai Koukou Kyuudou. You'd think that based on its premise and build-up, it would be heavy into pretty boys and the interpersonal, suggestive relationships they have. Yet it's a surprisingly subdued show, more about the actual personal drama that drives people to archery. It's a show that doesn't really target a specific demographic, and that's incredibly rare in this day and age.
So it would be understandable if you wanted more anime like Tsurune and were frustrated by the lack thereof. Never fear! There's actually quite a bit out there to choose from, as it actually falls into one of the less talked about sub-genres of anime: slice-of-life sports series. These tend to roughly follow the basic plot structure of sports battle shounen, but are less focused on the spectacle of the sport and are more concerned with a realistic analysis of it and the struggles of its players. We've gathered up 6 of these that we think you just might love.
Similar Anime to Tsurune: Kazemai Koukou Kyuudou
1. Kaze ga Tsuyoku Fuiteiru (Run Like the Wind)

Episodes: 7+
Aired: Ongoing
Kurahara Kakeru used to have it all. He was an elite track star at his old high school, used to have his basic necessities covered by his parents, etc. However, things have gotten rougher in college, where he's come into some financial trouble. Of course, some of that is his fault, irresponsibly betting all his money on mahjong. But his problems don't last forever, as he meets Kiyose Haiji. As it so happens, Haiji is looking for someone to fill up a room at his dorm, and the price is just right to boot. There's just one catch, though: the dorm is only for members of the Kansei University track team, so if Kakeru wants in, he'll need to get back into running!
You could say Kaze ga Tsuyoku Fuiteiru is kind of a sister series to Tsurune. They're both sports anime with a heavy dose of realistic atmosphere. Both also enhance their realism with extremely fluid animation and a penchant for background details. Both are even airing right now! The only major difference beyond the sport is that Kaze ga Tsuyoku Fuiteiru takes place in college as opposed to Tsurune's high school story. Kaze ga Fuiteiru is a great pick if you're digging Tsurune and could use another anime in your queue this season.
Kaze ga Tsuyoku Fuiteiru PV:
---
2. Cheer Danshi!! (Cheer Boys!!)

Episodes: 12
Aired: July 2016 - September 2016
A once-talented prodigy of judo, Bandou Haruki decided to give it up due to a single shoulder injury. Of course, this injury was just an excuse for Haruki to finally get out of his family's dojo without causing a fuss. He actually hated judo and wanted out ASAP. However, before Haruki can relax too much, his best friend Hashimoto Kazuma immediately approaches him with a different idea: male cheerleading. Of course, this is just insane, as there is no such thing as all-male cheerleading teams in Japan. In spite of this, Kazuma wants to give it a shot, and both he and Haruki set out to find other likeminded men at their university to join their revolutionary new team!
Did you know Cheer Danshii was inspired by a true story? Waseda University was actually the very first school to host an all-men cheerleading team back in 2004, which was only 12 years ago at the time of Cheer Danshi's creation. Even now, cheerleading is still dominated by women, but the Shockers of Waseda University helped a great deal in breaking the gender mold. Cheer Danshi was created to honor that legacy, though don't go in expecting a 1-to-1 story. It takes several creative liberties with the original story, but overall the message is clear: don't be afraid of what you want to do. So if you're looking for another inspirational sports anime like Tsurune, give Cheer Danshi a shot!
Cheer Danshi!! PV:
---
3. Chihayafuru

Episodes: 25
Aired: October 2011 - March 2012
Ayase Chihaya had two close friends in elementary school. There was the popular boy Mashima Taichi and the bookish Wataya Arata. All three grew up playing karuta, a card-snatching game based on classic Japanese poetry. However, when Arata was forced to move, the three of them grew distant. Out of all of them, only Chihaya still plays karuta and hasn't given up her dream of creating a team in high school that could take nationals at Omi Jingu. She manages to drag Taichi into her scheme, who ended up at the same high school, but they'll still need 3 more players in their club if they want a full team!
Chihayafuru is best described as the best josei anime disguised as a shounen battle series disguised as a shoujo. The setup is pure shoujo; a cute everygirl who's caught up in a love triangle with two handsome boys that are both vying for her attention. As you watch it, though, you end up discovering that the plot structure is ripped right out of Slam Dunk or Hajime no Ippo, with Chihaya being your scrappy misfit hero seeking the impossible by creating a team capable of taking nationals within just three years. But then, in between those matches, you get some wonderful reflection on its characters. All of this adds up to one of the finest slice-of-life sports anime out there, so it's a perfect follow-up to Tsurune if that's what you're looking for.
---
Any Anime Like Tsurune: Kazemai Koukou Kyuudou ?
4. 3-Gatsu no Lion (March Comes in Like a Lion)

Episodes: 22
Aired: October 2016 - March 2018
Poor Kiriyama Rei. He is, for all intents and purposes, completely alone in the world. His family died in a car crash when he was young, he's completely estranged from his surrogate family, and he doesn't even have any friends at school to boot. All he's got in the world is shogi. But, hey, that's not all bad, as Rei is so good he managed to become a professional in high school; one of the youngest to ever exist, in fact! That being said, he suffers from a crippling loneliness that he has no idea how to deal with. One night, after getting thrashed by a homewrecker, a girls' club hostess named Kawamoto Akari takes him in and insists that he start spending time with her and her two younger sisters.
Let's get off sports for a moment. A lot of Tsurune's appeal comes from its more human story of coping with loss and struggling to find a direction in life afterward. That is essentially 3-Gatsu no Lion in a nutshell. Rei's character arc is ultimately to find a social circle to accept him for who he without having to sacrifice who he is at his core. Shogi actually plays second fiddle to Rei's character arc and is only used as a dramatic tool to reflect his mental state. It's a wonderfully inspirational story about a high schooler coming into his own, so check it out if you want a more complete story while waiting for Tsurune to finish up.
3-Gatsu no Lion Trailer:
---
5. Nana Maru San Batsu (Fastest Finger First)

Episodes: 12
Aired: July 2017 - September 2017
Koshiyama Shiki didn't have many aspirations upon entering high school. All he really wanted to do was keep to himself and read his history books and classical literature. However, a chance meeting with his school's idol, Fukami Mari, has led Koshiyama into the world of Quiz Bowl. Now, Koshiyama only has one desire: to become better at quiz bowl and help lead his team to victory!
One of the most striking aspects of Nana Maru San Batsu is its adherence to depicting Quiz Bowl as accurately as possible. That is to say, it's a collection of nerds who get together on weekends and get way too into stumping each other with random trivia. It doesn't have that same aura of reality that Tsurune has, but what Nana Maru San Batsu lacks in atmosphere it makes up for in heart. You can't help but love all the small details, like how the last match in the series takes place in a chapel associated with a Catholic girls' school and that's all they could manage to scrape together.
Nana Maru San Batsu PV:
---
6. Baby Steps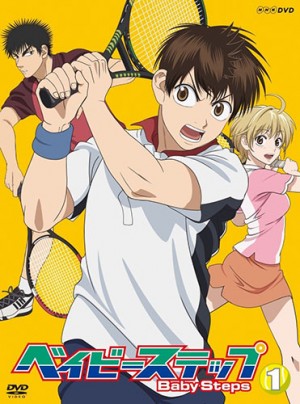 Episodes: 25
Aired: April 2014 - September 2014
Eiichiro Maruo has always lived a boring life but, honestly? He's never really minded it. After all, there's something comforting about having a life entirely set in stone. However, one day, Maruo decides to check out a free trial at a local tennis club to get some more physical activity in his life. There, he runs into his charming classmate Takasaki Natsu, and he decides to join the club permanently. Slowly, Maruo discovers a passion burning inside him he's never felt before and tennis gradually becomes more and more a part of his life.
Much like its main character, Baby Steps is an incredibly unassuming series at first. The art style is absolutely nothing to write home about. There aren't any ridiculous, implausible shots made like in something like Prince of Tennis. It's just a very down-to-earth anime about a guy learning how to play tennis and growing from that. Yet, it's that very same lowkey tone that sucks you into the story. You want Maruo to win so badly because, much like him, you want to escape your own humdrum life. It's the perfect balance of realism and sports shounen, and absolutely worth your time if that's what drew you to Tsurune.
Baby Steps PV:
---
Final Thoughts
These 6 anime we feel are fairly strong recommendations if you're just dying for some more Tsurune. They all strike that ever-important balance between humanity and sports glory that's so essential to these kinds of shows, and that is precisely what makes Tsurune so special.
But, hey, maybe we're off-base here. Maybe you're into Tsurune for other reasons? Got some different anime in mind? Well, don't let us hold you back. Let us know in the comments below!
---