También puedes leer este artículo en:Español
We are only several episodes into one of the biggest new BL obsessions, Yuri!! On Ice, and still we want more!
When Yuri Katsuki loses quickly into one of his last competitive figure skating seasons, he thinks there is no hope for him to continue with the sport. But when a video of him perfectly copying a routine done by star skater Victor Nikiforov, everything changes for him. Victor Nikiforov sees the video and decides that he wants to be Yuri's coach for the next season and create figure skating routines just for him. The relationship between Yuri and Victor is a complicated one, as Yuri adores Victor and his skating, but also wants to surpass him.
Yuri!!! on Ice, is a show full of BL shenanigans and innuendos, but also a lot of heart. We get to see Yuri as a desperately earnest character who is struggling to achieve his dream. Yuri is the most realistic version of this "fight for your dream" character types we have seen in a long time, so it is so easy to cheer him on. He is also an extremely relatable character with all of the simple quirks that the writers throw in, such as not being able to lose weight easily and being the overly sung hero of his town.
Because of our love of Yuri!!! on Ice and the hilarious yet sincere relationship between Victor and Yuri, we have realized that one season of this show is not enough. We must find replacements in advance because soon it will be gone much too quickly. For this, we focused on sports anime with BL undertones and main characters fighting to achieve a dream.
Similar Anime to Yuri!!! on Ice
6. Starmyu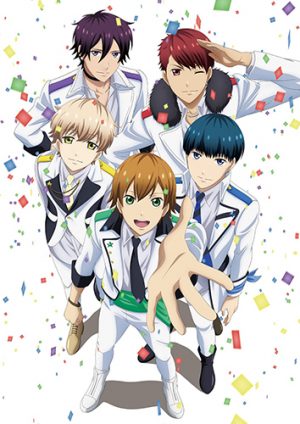 Episodes: 12
Aired: Oct 6, 2015 to Dec 22, 2015
If you are enjoying the extravagance and the alluring dance moves in Yuri!!! on Ice, then look no further than the dancing found in Starmyu. This group of high school musical boys, create idol dance performances that even Victor could learn a thing or two from. This group has reached celebrity status within the school and there is a harsh competition to become a new member of the school's musical class.
We come into the anime from the perspective of the new boy in school who is inspired by the draw of performing on stage. During the auditions for the "Star Frame Class" musical department of his school, he realizes achieving his dream of becoming a member might not be as easy as he thought. Similar to Yuri!!! on Ice, we have a main character who is trying to make it into the big leagues. Despite his lack of skills, his passion shines through to the other members of the group. If you enjoy watching Yuri fight for his dream, then you will enjoy watching all of the prospective members of the Star Frame Class strive toward their goals.
---
5. Prince of Stride: Alternative

Episodes: 12
Aired: Jan 5, 2016 to Mar 22, 2016
Talk about extreme sports, Prince of Stride is the ultimate parkour dream! This is a colorful and intense anime about an extreme sport called "Stride". The players run in teams of 6 in a relay race through many natural obstacles including, parks, buildings, and bridges. Yagami and Fujiwara are the two characters struggling the most at the beginning of this show. They are unable to perform good relay connections, or "Relations", during the matches, which is a wonderful innuendo that the audience can grab hold of.
Prince of Stride is full of beautiful men working hard, and what could be better than that. Each of the characters has their own personal obstacles to overcome, whether they be past problems or family issues. Throughout the anime we get to see these characters grow and form bonds together. The BL nature of this show can be seen most in the competitive spirit of the team members, as they seem to never stop challenging each other.
---
4. Haikyuu!!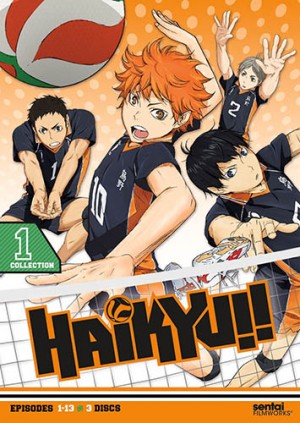 Episodes: 25
Aired: Apr 6, 2014 to Sep 21, 2014
A love for volleyball brings a high school team together to go against some of the strongest opponents in their division. When the short Hinata and the setter-genius Kageyama join Karasuno High School's volleyball team, two former rivals must learn how to play together. It takes a long time to build up trust between the two, but once these two players are in sync, Karasuno's Volleyball team becomes unstoppable.
The relationship between all the members of the team are open for BL interpretation. Between the captain and the legendary libero, and of course between our couple who loves to hate each other, Hinata and Kageyama. People from all over the world have created pairs from the interactions and subtleties that you can see in the anime. All of the characters are working to make their team the best, but all of them can fall into slumps. It takes encouragement from all of the other members to cheer them on and continue fighting.
---
Any Anime Like Yuri!!! on Ice ?
3. Cheer Danshi!! (Cheer Boys!!)

Episodes: 12
Aired: Jul 5, 2016 to Sep 27, 2016
Cheer Boys follows a team of boys as they struggle to create an all men's cheerleading club at their university. Kazuma Hashimoto and Haruki Bando were inspired to create this team after leaving their school's judo club. After recruiting several members, the boys realize that cheerleading is not nearly as easy as they thought. Episode 4 of this series is when you will fall in love with this band of misfits. This cheerleading group brings all kinds of people together and you get to see how such a varied group can become a strong united front.
Similar to Yuri!!! on Ice, Cheer Boys!! creates a story around a not so typical sport for men. Cheerleading is often seen as a women's sport, so the juxtaposition of seeing it with men in the leading role is really fun. People's perception of this stereotype is also one of the challenges that the club must fight while training. This is such a lovable group of kids though, who are all trying something new and challenging for the first time. There are some BL implications between the two main characters similar to Yuri!!! on Ice, but they are both struggling together, rather than trying to surpass the other. This show has a lot of squeal worthy moments, especially when all their hard work pays off and you can watch the final routine.
---
2. Days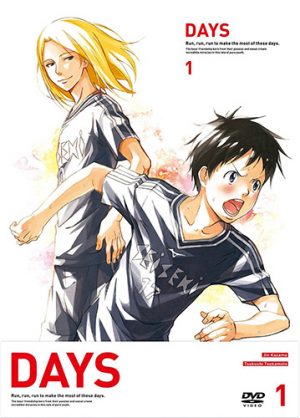 Episodes: 24
Aired: Jul 2, 2016 to present
This is an adorable show about one high school student finding his love for soccer. After being introduced to the sport by the handsome Jin, Tsukushi is determined to become a member of his high school's team, despite having no experience. His goal at first is to at least be able to run, and with that we can see how strong his spirit is. Despite Jin being the star first-year player, Tsukushi is the one who is able to inspire the other students and encourage them to work their hardest.
Throughout the anime we get to see Jin's care for Tsukushi. The Boys Love theme in this anime is very strong between these two characters, as Jin is moved by Tsukushi's determination and cares for him when he is injured. This show has an overwhelming amount of fighting spirit shown by the main character, Tsukushi. If you love watching Yuri's determination, then you will also love Tsukushi's no-quit attitude, especially with the dreamy Jin there cheering him on.
---
1.Free!

Episodes: 12
Aired: Jul 4, 2013 to Sep 26, 2013
Free! Is the original sports BL fantasy. Ever since the broadcast of the trial commercial by Kyoto Animation, the anime community could not help but fantasize about these toned young men and their love for swimming (and each other). When Haruka joins his high school swimming team, we learn about his troublesome relationship with his childhood friend, Rin. Rin and Haruka used to swim together as children, but after winning an important tournament, Rin moved away. After meeting again in high school, Haruka realizes that his childhood friend is completely changed. Rin is now obsessed with beating Haruka and becoming number one.
The relationship between Rin and Haruka, while having a different tone, is very similar to the relationship between Victor and Yuri. Both of these couples have a passion for the sport they are in, and are fighting to better themselves. While Rin is taking a competitive path against the main character, Victor plays a much more supportive role. But the intensity level between both couples are very similar. Free! is full of innuendo and adorable mishaps between all of the boys in the swim teams.
---
Final Thoughts
While nothing can come close to the heartwarming feeling you get while watching Yuri!!! on Ice, we have come up with the next best things. What do you think of our choices? Were we spot on, or did we miss some major BL characters that remind you of Victor and Yuri? We hope you can find some squeal-worthy moments in these adorable sports anime.
---