Ever since she played her first video game - Fairies Story, Aoba Suzukaze was inspired to become a character design. Now, she joins the very company that produced her favorite game. What's more, Aoba was to participate in the production of the very series that she loved. This manga shows her life in the game company Eagle Jump as she interacts with her fellow co-workers and the process of creating a video game. Bad days are inevitable so watch just how she gets over it together in this fun, slice of life manga of working in a game company!
New Game is a slice of life manga that showcases the life that a company worker face every day. From the stresses of work to just simply hanging out during lunch! There is no deep storyline nor is there any plot progression, just simple comedy and reflects the working life. If you enjoy simple comedy and 4-koma, New Game is a manga that is definitely worth reading. So for today, we will count 6 similar manga like New Game! These manga all share the simple joys of everyday life with moments of moe! Let's go!
Similar Manga to New Game!
1. Working!!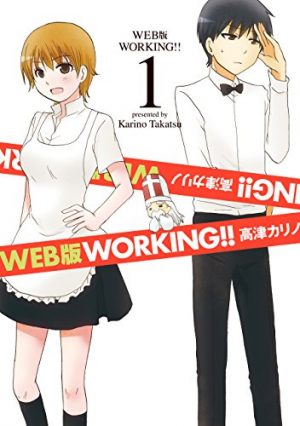 Authors: Takatsu, Karino
Genres: Comedy, Slice of Life
Volumes: 13
Published: 2004 – 2014
Souta Takanashi was stopped one day by a high school girl. Being unable to resist small and cute things, he decides to join restaurant Wagnaria as a waiter. However, Wagnaria houses numerous interesting characters. From the katana wielding floor manager, Yachiyo Todoroki to the delinquent looking head chef Jun Satou, the odd character profiles of Wagnaria is daunting, to say the least. This eccentric cast of characters will show you just how tiring it is to work in such a setting but at the same time, enjoyable. With that, welcome to Wagnaria and we hope you will have a pleasant dining experience.
4-komas are renowned to be the best format for gag comic and both just happen to be 4-komas. Working!! shares similar aspects to New Game. Both revolve around work life and turning mundane interactions with co-workers into something special and fun. The environment is more dynamic with its interesting cast of weird and odd characters, allowing for more unexpected situations to occur that will only leave the readers laughing. Similarly, the main character is always portrayed as 'the only normal one'. Watching them struggle and trying to understand what is going on around them only adds to the humor and enjoyment of the manga. If anything, we feel that Working!! shares the most traits with New Game! making almost akin to each other!
---
2. Momoke Restaurant

Authors: Yamada
Genres: Comedy, Slice of Life
Volumes: 1
Published: 2012
Mamiya Chihiro is a poor high schooler. So poor that he even has to pay for his tuition fees by himself. Chihiro is desperately in need of a job. While walking down a street one day, he noted that someone was following him. When Chihiro turned around, he was shocked to find an oddly dressed character with animal-like ears. This mysterious figure was inviting him to work for him to which he denied. It wasn't long before he realized that the figure was actually a yokai. Combine that with his lifelong ability to see the supernatural, it was no wonder that this person took such an interest in him. After persuading him to at least take a look at his workplace, it wasn't long before the deal was sealed and Chihiro started his work at the restaurant.
Momoke Restaurant is a manga about daily life events more so than an actual story. It just depicts what happens every day at this queer restaurant. In fact, you don't even need to know the previous chapter to understand what is going on. All you need is to simply read it since the whole series is made up of a mixture of events that happened that day. What makes this manga so lovable is it's vibrant cast of odd characters (since well, they are not humans after all...). It happens to be short series too, consisting of a few chapters which are perfect for a commute home read!
---
3. Shiawase Kissa 3 Chome

Authors: Matsuzuki, Kou
Genres: Comedy, Romance, Slice of Life
Volumes: 15
Published: 2004 - 2009
Due to her short stature and immature looks, Uru is often mistaken for an elementary school student. While waiting for her mother to remarry, Uru decides to take up a job at a cafe where she meets 2 of the most unsociable guys ever. Her colleagues are often the cause of her frustration and dilemma. To make matters worse, Uru is not the best waitress around. She is often clumsy and careless which makes her appear like a klutz. How will her time in Happy Cafe be used and will she eventually get used to working there?
Shiawase Kissa 3 Chome is a manga that borders the genre of romance. For example, if you're somewhat tired of slice of life manga and wish for just a little bit more spice in your manga, then we highly recommend this series. Unlike traditional romance manga, the plot does not develop too deeply. This allows the slice of life aspect to be retained in this series. Essentially it is like New Game! but with a tinge of romance to allow for more interesting events to unfold. So if you're thinking of trying something new, do give this series a try!
---
Any Manga Like New Game! ?
4. Servant x Service

Authors: Takatsu, Karino
Genres: Slice of Life, Comedy
Volumes: 4
Published: 2007 - 2014
Lucy was born with an extremely long name making her the equivalent of a modern-day Jugemu. At the time of her birth, her parents could not decide on a name so they decided to use every recommendation that was given to them resulting in Lucy's perplexing long name. In order to get revenge on the civil servant that approved of such a name, she too joins the civil sector in order to find him and give her a piece of her mind. However, she will soon find out that this industry is not so forgiving. From listening to the ramblings of the elderly to queer characters, the list is endless! Alongside her equally weird co-workers, Lucy finds out that her long name is the least of her worries.
From the very same mangaka that brought you Working!! is a brand new series filled with more lively characters. Servant x Service is a depiction of the daily lives of office workers in Japan but with more humor (since civil jobs are boring after all). How does it do that? By introducing characters that can only be described as out of this world crazy. If the cast of New Game! has not satisfied your fill of queer characters, be prepared to take it up a notch as Servant x Service will deliver to you an oddness that is of the next level! Entertaining, light-hearted and yet somehow relatable. These will probably be the words to describe both series.
---
5. Floor ni Maou ga imasu

Authors: Hato
Genres: Comedy, Slice of Life, Ecchi
Volumes: ???
Published: 2014 - Present
After being attacked by the Clan of Light, powerful Demon Lord, Amon Patricia finds herself driven away from her home and into the realm of our world. Having little to no choice, she tries to blend in. Her first objective would be to secure a job which lands her on the doorstep of Humming Dining restaurant. After observing their cooking, she became smitten by the cooking of the place. Instead of focusing on the customers, the head chef must now satisfy the appetite of the Demon Lord while at the same time instruct her on the ethics of being a model employee.
Although bordering on the fantasy genre, this series still has its slice of life moments. Although there are many more fantasy elements to it, the environment and premise of the story is more or less the same as New Game! We have a new employee who is clueless most of the time as she tries to blend in. Although the both of them may be a little bit of an airhead, they do love their place of work. It does help that both main characters look like a middle schooler so you can expect your daily dosage of moe from both series!
---
6. Sentirental Girl

Authors: Ninatsu, Nao
Genres: Comedy, Romance, School
Volumes: 3
Published: 2014 - 2015
Hana Hanasaki was trapped between two walls one day. It wasn't until the passing Rokkaku-kun came along and freed her from her predicament. The story continues at the DVD shop known as LATNER where the duo found out that they will be working with each other from then on. It wasn't easy as Hana has a tendency to hit whoever was near to her once a sexual comment was passed. This does not bode well for Rokkaku as there is an adult section in the very DVD shop that they both worked...
Sentirental Girl is yet another manga series the revolves around working part-time. Within the series are a lot of moments that are just downright silly. Mix in a little perversion and you get a series that is packed full of fun of inappropriate moments! This series also branches of the slice of life routine by including a small segment of romance which helps adds to a bit of story progression. Nevertheless, it is perfectly fine to start reading from any chapter as you will never feel lost from the numerous random events that occur in this series!
---
Conclusion
So that is our take on 6 manga that are similar to New Game! For diehard manga fans, Slice of life manga usually provides us with a break after reading an intensive story. A good slice of life manga allows us to loosen up, giving us the opportunity to fully indulge in the simplicity of storytelling. Does New Game! makes you feel this way? If you read any of the manga above, do tell us how you feel about them! Do you have another recommendation to add? Leave it in the comments section below! Until next time!
---