También puedes leer este artículo en: Español
Moe is a source of much debate in the anime community: there are those who can't stand it, and there are those of us who use it as a source of energy, like food or air. If you're reading this, and are one of the latter (I would guess you are), then you'll know how it feels to not get your daily dose of cute-girls-doing-cute-things.
But fear not, as we've prepared a list of 10 of the best moe anime to ensure that you never run into such a problem. Though I do hope you're hungry, because I think we've got enough slice-of-life to make a whole cake.
10. Yuru Yuri (YuruYuri: Happy Go Lily)

Episodes: 12
Aired: July 5th 2011 – September 20th 2011
Let's start off at number 10 with Yuru Yuri, a slice-of-life, comedy starring Akari Akaza as our average yet lovable protagonist. It's her first year of middle school and Akari is overjoyed to be reunited with her childhood friends Yui Funami and Kyouko Toshinou, who are both a year older. The three of them, along with Yui's excitable fangirl Chinatsu Yoshikawa, spend their days in the Amusement Club doing…well nothing in particular.
Yuru Yuri takes the "cute girls doing cute things" theme and runs with it, containing an almost overwhelming number of characters, from the ditzy one with her head in the clouds, to the smart and studious student council president. The rounded, colorful art style gives the show a warm, light hearted feel and the characters a cheery energy, ensuring the whole experience makes your day just a little bit better.
Yuru Yuri Official Trailer
---
9. Acchi Kocchi (Place to Place)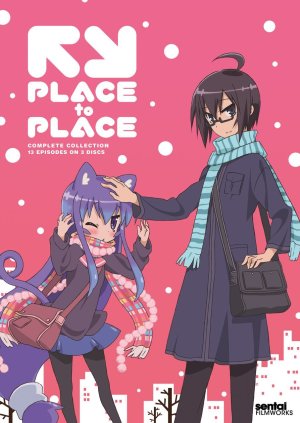 Episodes: 12
Aired: April 6th 2012 – June 29th 2012
Have you ever known two people who would be just perfect together, if only they would realize it? Well Tsumiki Miniwa has finally come to the realization that Io Otonashi might be more than just her best friend, and their classmates have no qualms teasing her about it.
Not only is Tsumiki a cute, petite loli, but she even has the unique and rather unusual habit of sprouting adorable cat ears. Her character alone is enough to justify giving Acchi Kocchi a place on this list, but with a cast of but more delightful girls and a cutesy art style, Acchi Kocchi is the perfect show to warm your heart in the coming winter months.
Acchi Kocchi OP
---
8. Himouto! Umaru-chan

Episodes: 12
Aired: July 9th 2015 – September 24th 2015
At school, Umaru Doma is perfect. In grades, looks and personality, she sits above all as the undisputed high school princess. But little do the other students know that behind closed doors, the Umaru they all know undergoes a dramatic transformation, from princess to one of the laziest, messiest otakus Japan has ever seen.
Another slice-of-life comedy series, Himouto! Umaru-chan sees us following Umaru enjoying her carefree life of games, anime and cola, whilst her brother Taihei tries to cope with having such a slob of a sister. Spending most of her time in an adorable chibi form, there's something very satisfying about watching Umaru lazily totter about the apartment. If you're not a fan of chibi moe, you might prefer Umaru's three quirky friends, all of whom are quite brilliantly voiced.
Himouto! Umaru-chan Official Trailer
---
7. Suzumiya Haruhi no Yuuutsu (The Melancholy of Haruhi Suzumiya)

Episodes: 14
Aired: April 3rd 2006 – July 3rd 2006
Kyon has all but resigned himself to leading a dull and unexciting high school life; that is until Haruhi Suzumiya enters the picture. Driven by a fascination in the supernatural, Haruhi is quick to form the SOS Brigade, a club dedicated to investigating the oddities that inhabit our world. Of course, Kyon is roped into this, along with ditzy air-head Mikuru Asahina, cool and collected Yuki Nagato and the always-smiling Itsuki Koizumi.
Haruhi Suzumiya is a great example of a show that, despite being fairly serious and plot-driven, still manages to contain a good slice of moe for us to enjoy. The wonderfully exaggerated characters are the basis for this, like the adorably shy Mikuru, who manages to take ditzy to a whole new level. This is a series where you can go for the moe, and stay for the plot.
Suzumiya Haruhi no Yuuutsu OP
---
6. Love Live! School Idol Project

Episodes: 13
Aired: January 6th 2013 – March 31st 2013
Due to low student numbers, Otonokizaka High School announces that it will be closing in three years' time. Part of the recent surge in idol themed anime, Love Live centers around Honoka Kousaka and the eight other members of their band Muse, as they strive to become school idols and save their school from closure.
With nine members, Muse covers a wide range of character archetypes, each with their own moe charm points. One of the biggest draws of the series, and reasons for its massive popularity in Japan (think karaoke), is the quality J-pop songs throughout the series and maybe more importantly, the delightful dance performances.
Love Live! School Idol Project Official Trailer
---
5. Non Non Biyori

Episodes: 12
Aired: October 8th 2013 – December 24th 2013
Schools in the countryside tend to be pretty small, and the school in the village of Asahigaoka is no exception, with a grand total of four students. When fifth-grader Hotaru Ichijou's family moves from Tokyo to the little village, she's not quite sure what to expect. Thankfully the other girls at school are more than happy to show her how how you can still have fun so far away from urban civilization.
Non Non Biyori manages to take the most mundane daily experiences, and make them cute, fun and amusing to watch. With the cast's ages ranging from 1st grade to 8th grade, the character interactions range from humorous, to flat out bizarre, as first-grader Renge contemplates the similarities between a salted watermelon and life. Add to that the beautiful scenic artwork shown throughout the series and a novel, light-hearted soundtrack, Non Non Biyori is a perfect example of slice-of-life done right.
Non Non Biyori Official Trailer
---
4. Gochuumon wa Usagi Desu ka? (Is the Order a Rabbit?)

Episodes: 12
Aired: April 10th 2014 – June 26th 2015
After a recent move, Kokoa Hoto now spends her days as a waitress at the Rabbit House Café, along with petite and cool Chino and headstrong Rize. Add to the gang, traditional Japanese-type Chiyo and bashful Sharo, and you have the perfect set-up for heaps ton of cute, silly fun.
If someone asked for an example of moe character design, I would point them to Gochuumon. With their bright, round, shinning eyes, ultra-cute outfits and air of innocence, the cast of Gochuumon are undoubtedly some of the most moe beings that have ever graced our screens. What's more, with the second season currently airing, now is the perfect opportunity to pay the girls at Rabbit House a visit.
Gochuumon wa Usagi Desu ka? Official Trailer
---
3. Clannad

Episodes: 23
Aired: October 5th 2007 – March 28th 2008
Okazaki Tomoya spends his time wasting his high school days away with best friend Sunohara. But after meeting Nagisa Furukawa on the way to school one morning, he finds himself increasingly drawn to her, and the two end up becoming friends. When they decide to restart the drama club together, along with four other girls, Tomoya realizes that life can be much more interesting than he thought.
When looking for moe it can be very easy to go straight to the slice-of-life and comedy genres, and easy to forget moe can be found anywhere. Clannad progresses from those slice-of-life, comedy routes, into an emotional rollercoaster filled with drama and tears, and manages to retain the lovable, bright eyed girls that we love to watch throughout.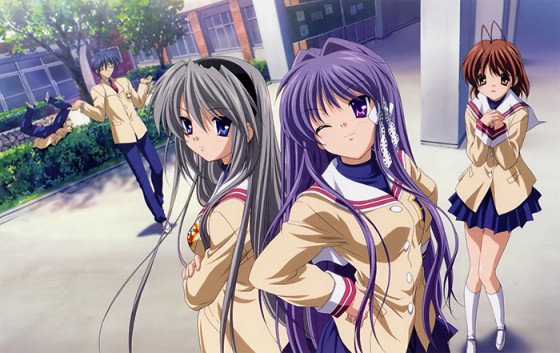 Clannad Official OP
---
2. Lucky Star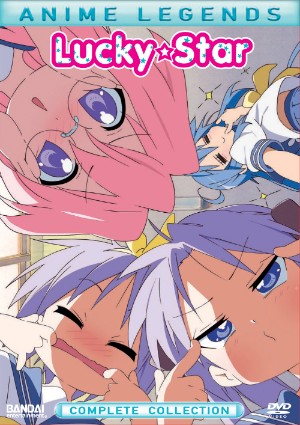 Episodes: 24
Aired: April 8th 2007 – September 17th 2007
Sometimes the simple things in life are the best. Studying with your friends, playing games together, tricking them into accompanying you to Comiket. These are just some of the things Izumi Konata and her classmates get up to on a daily basis, that is, if you can get her away from her computer.
Very much written with an otaku audience in mind, everything about Lucky Star screams moe, from the cute character designs to the quirky conversations and antics. Even ignoring the moe factors, the series is well worth watching for its comedy alone, with the cute girls very much being the icing on the cake.
Lucky Star OP
---
1. K-On!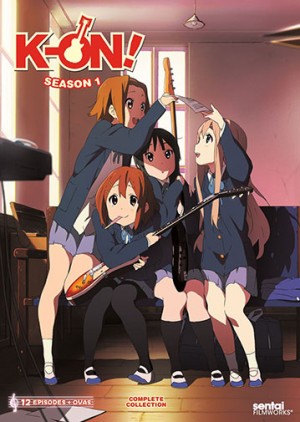 Episodes: 13
Aired: April 3rd 2009 – June 26th 2009
Choosing a club to join can be a hard, potentially life-changing decision for a high school freshman, and Yui Hirasawa's case is no different. Hoping to put her past experience with castanets to good use, she decides to check out the Light Music Club, only to find herself lured with tea and cake into being their fourth member, and lead guitarist. K-On! follows the daily lives of the four members of Sakuragaoka Girl's High School's Light Music Club as they study together, perform together and drink copious amounts of tea.
Kyoto Animation's works have come up a lot in this list. With Clannad, Lucky Star, and Haruhi, moe is very much their territory, and K-On is perhaps their moe masterpiece. One of the most impressive things KyoAni does, through detailed animation and high production quality, is make characters feel real and believable, which in the case of K-On skyrockets the moe factor of the girls. There isn't too much to comment on with K-On, it has a simple premise and character designs, but rather it's the way that everything is pulled off that will make it put a smile on your face and keep it there.
K-On! OP
---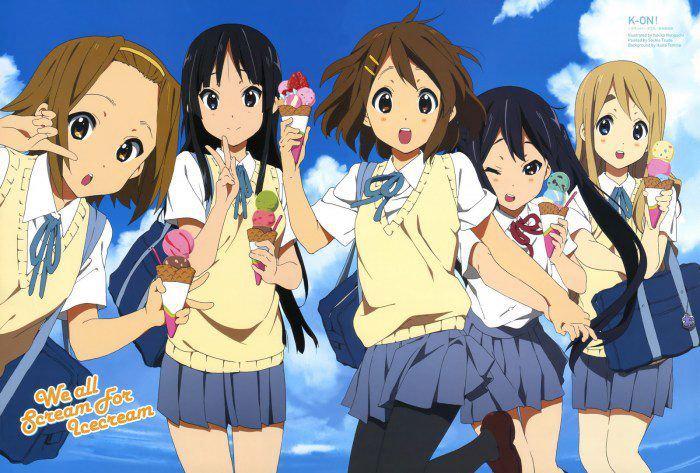 It can be difficult to decide when an anime itself can be considered moe. With cute character designs being a modern anime staple, and constant use of fanservice, there are so many shows about that could have had a place on this list.
On top of that every fan has their individual preferences. But whether you like the cute, ditzy girls, the cool and collected ones or the bashful, tsundere types, hopefully there's a series on this list that you can enjoy.
---