También puedes leer este artículo en:Español
Moe anime, the medium that divides many of us otaku. Some otaku are super into the world of moe and can't get enough of all things cute, adorable, and just super kawaii. Others are a little more into the action-heavy genres where kawaii isn't even applicable in any form. If you're part of the former category and need moe anime like you need oxygen, we here at Honey's Anime have you covered. A few years ago, we created a Top 10 Moe Anime list which we are updating today with some more moe anime just waiting to be watched. Just be ready to go "aww" and "Oh my gosh!" a lot while watching these series!
1. Gochuumon wa Usagi Desu ka? Bloom (Is the Order a Rabbit? Bloom)

Episodes: 12
Aired: October 2020 – Currently Airing
2020 hasn't been the kindest year to us but thankfully moe anime like Is the Order a Rabbit? Bloom saves our otaku hearts. Is the Order a Rabbit? Bloom acts as the third season and once more, we witness some truly cute adventures from our main cast like Cocoa Hoto and her fellow friends. We can only assume this season will be chock full of more moe as our girls venture out further into the world exploring new situations and making even more friends with their lovably strange charms. Is the Order a Rabbit? Bloom is made for otaku who eat, breathe, and live all things moe.
---
2. Nyanko Days

Episodes: 12
Aired: January 2017 – March 2017
Do you love all things cats and catgirls but want your catgirls less ecchi focused and more on causing your heart to melt? Then Nyanko Days is the anime you need in your life. Watching these adorable tiny catgirls dance, play, and act like cats/humans is easily one of the most adorable things in the world! Watching Nyanko Days makes us wish our cats could dance and sing…but then again they might be even harder to take care of so that would be a bit of a problem. All jokes aside, check out Nyanko Days for a truly moe anime that will make you smile non-stop!
---
3. Kuma Miko (Kumamiko: Girl Meets Bear)

Episodes: 12
Aired: April 2016 – June 2016
Bears can be truly scary in the real world, but as anime fans know, they are just super cuddly inside various anime. Kumamiko: Girl Meets Bear is basically the title of the show, a young girl meets a bear who seems to understand human language/actions and the two live together despite their difference. Yes, it might seem like a weird idea but the beauty of moe knows no strangeness. Kumamiko: Girl Meets Bear just tugs at your heartstrings and makes you wish you had a giant bear to hang out with too…one that won't eat you or try to hurt you, that is.
---
4. Bananya

Episodes: 13
Aired: July 2016 – September 2016
There are a lot of combinations that work in the anime world such as action and horror—like Attack on Titan—or sci-fi and romance seen in Waiting in the Summer. Yet, when you think of bananas and cats you would probably shrug your head in utter confusion. Thankfully, despite how weird Bananya is that doesn't stop it from being moe to the extreme. Bananya is all about cats who for some reason live inside banana peels and their various actions are just attention-grabbing. Watch as Bananya and his friends jump around while meowing and being silly in the world of Bananya.
---
5. Shoujo Shuumatsu Ryokou (Girls' Last Tour)

Episodes: 12
Aired: October 2017 – December 2017
War and moe seem like two completely different ends of a spectrum but Girls' Last Tour might be the means to correct this thought process. Girls' Last Tour has several cute looking soldiers enduring a truly desolate war-torn landscape but their actions and attitude let them rise above this darkness. Girls' Last Tour is more about trying to make the best out of a dark situation and these girls use their inner silly souls to do just that. If you're someone who detests moe but wants to give it a try then we recommend Girls' Last Tour.
---
Final Thoughts
Time for some honorable mentions that almost made our list but just fell a bit short, though these shows are definitely moe. Nichijou and Sleepy Princess in the Demon Castle are just a few that came close to being on our list. With so many moe anime, though we are bound to have overlooked a series or two.
Which moe anime should have been added to our list and why do you feel it defines the theme of moe? Comment below to let us know and for all your recommendation lists be sure to keep stuck to our moe hive here at Honey's Anime!
---
---
Let's say you had a tough day at work, or you came home after a tiresome day in class. You get to the TV or your PC with the urge of something to calm and distract you, wishing for an anime full of happy thoughts and the promise of good laughs. No, a comedy anime is not enough, so you start looking for a slice of life show... with lots of cute little girls doing cute little things.
Take it or leave it, moe anime is the perfect answer for those in need of kawaii girls who can make us forget about the world. And yes, it's also the perfect answer for those in need of a waifu or two! Here at Honey's, we love moe anime and that's why we present you a list of 10 anime you should be watching right now. Let's not waste any more time and start with the recommendations!
10. Slow Start

Episodes: 12
Aired: January 2018 - March 2018
Hana Ichinose is a shy girl starting high school, but something in her is not "normal": Hana is older than her classmates as she was sick during last year admission tests. Ashamed and overwhelmed by the situation, Hana moved to another town and studied day and night, but now her social skills are a bit too rusty. Will Hana be able to make new friends without anyone discovering her big secret?
If you think Hana is cute, then wait to see her new friends! While Eiko acts as the big sister of the group, not every heart can handle petite Kanmuri's sweetness and Tama-chan's genki attitude. This is a fun story with some subtle shoujo-ai innuendos here and there, perfect for those looking for a group of schoolgirls enjoying their youth.
---
9. Aikatsu Friends!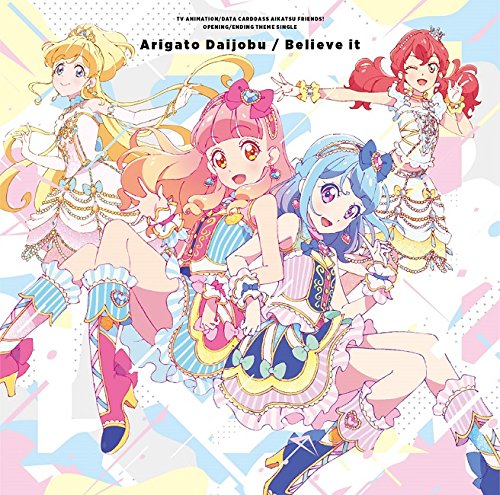 Episodes: Unknown
Aired: April 2018 - ongoing
Aine Yuuki is a beautiful and easy going teen working at the Penguin Café, and Mio Minato is one of the Star Harmony Academy's most promising idols. What do they have in common? Not much, really, but they become best friends after crossing their paths... and friendship can lead them to the top spots at the idol scene.
Aikatsu Friends! is an anime based on a trading cards game, so here you'll find a lot of moe girls wearing gorgeous dresses and outfits. Using some elements of magic to represent the TCG part, it also has a mahou shoujo feeling when it comes to the girls getting ready to perform. Catchy music and lots of cute things await! Will Aine and Mio be able to reach Diamond Friends status?
---
8. Sora yori mo Tooi Basho

Episodes: 12
Aired: January 2018 - March 2018
Sora yori mo Tooi Basho has a lot of moe elements, but at the same time, it follows a story with a much more mature tone. Mari Tamaki is a shy girl who tries to show the world (and herself) that she can take charge of her life and embark on an unforgettable adventure... although she always ends up shying away. While at the train station, a girl runs past her and drops an envelope with a million yen, so what will Mari do now? Find the girl and return the money, of course!
The money belongs to Shirase, a girl almost in her same situation. Her mother was part of an Antarctic research expedition until she got lost a few years ago, so Shirase has been working part-time and saving money with only one thing in mind: finding her mother or, at least, discovering the place she loved the most. So, are you up to an all-girls trip to Antarctica? Be sure to bring warm clothing! Although these moe girls will surely warm your heart.
---
7. Mitsuboshi Colors

Episodes: 12
Aired: January 2018 - March 2018
Maybe you like colorful anime with moe design, but you feel like watching something more rebellious. Thank god we have the Colors! Yui, Kotoha, and Sacchan are the Colors, a group of girls determined to help the people of Ueno Park and surrounding areas by maintaining the peace, although they often forget the helping part and just make mischief and get into trouble.
The Colors may seem adorable on the outside, but these 3 girls are like a kawaii triforce inspired by Bart Simpson. Sacchan is always talking about poop, Kotoha has a fascination for video games and violence, and Yui gets carried away by her friends' craziness. If you want to follow the adventures of three moe girls with a lot of imagination, then Mitsuboshi Colors has you covered.
---
6. Comic Girls

Episodes: 12
Aired: April 2018 - June 2018
Two rookies end up living together in an all-female dormitory for manga artists, now tutored by other girls with a little more experience. For Kaoruko, this is the perfect opportunity to make friends and draw ideas for her 4-koma slice of life series, while Koyume takes this as a chance to practice her male characters while learning from the pros. However, Ruki and Tsubasa may be the perfect senpais for them, but for the totally wrong reasons.
The daily life of some manga creators living together may sound boring, but Comic Girls shows us exactly the opposite, coming out as a solid anime for moe lovers. In fact, it has the perfect amount of comedy and slice of life, with manga-related topics to move the plot forward... and don't forget the shoujo-ai and ecchi moments! Friendship and work can be complementary, and Comic Girls is one of the best anime in that area.
---
5. Anne Happy

Episodes: 12
Aired: April 2016 - June 2016
How about an all-female school with a special class for unfortunate girls? We're sure you wouldn't be happy either if you end up in a class like that, and that's why all these students have one common goal: to become happy! Weird, huh? Well, the only things weirder than this plot are Anne Happy's main characters, all of them with some sort of curse upon their shoulders.
Although they are beautiful and kawaii enough, Anne seems to have general bad luck, Ruri suffers from lovesickness and Botan has the most precarious health you can imagine. Thanks to its beautiful color palette and a pretty good use of comedy, Anne Happy deals with somewhat tragic stories while transforming it into something heartwarming and fun to watch. If you want something more than an anime with moe girls being perfect, try this!
---
4. Kemono Friends

Episodes: 12
Aired: January 2017 - March 2017
Serval is a Friend, one of the girls with animal traits living in Japari Park. When a girl mysteriously appears in the middle of the park and without memories of how or why she got there, Serval names her Kaban (which means "backpack" in English) and offers herself to help, without imagining the incredible adventure they are about to start.
If you like moe anime with kemonomimi, then Kemono Friends will seem to you like a gift from the gods. There are even penguin idols! The only "negative" aspect is that it uses CG animation and not everyone seems to like that, but if you can manage that you'll find some surprising secrets here and there. All in all, Kemono Friends was the most popular show when it aired, and it has a cute cast of animal-girls to back it up.
---
3. New Game!

Episodes: 12
Aired: July 2016 - September 2016
Aoba Suzukaze just graduated and now is on her first day as a character designer for Eagle Jump, the company that designed her favorite video game. One thing is to secure your dream job, and another is your dream job being also your first job! Will Aoba live up to what they expect from her? Well, let us say that this company environment is not what Aoba imagined either… and that's not bad at all.
New Game! is a great anime for moe lovers who also have a thing for video games. Did we mention that Eagle Jump only hire cute women? Aoba and her coworkers show us the other side of the video game industry, supporting each other through all the stages of creating a game but also having some fun outside the office. Aww, you can't really blame Miss Hazuki for sharing our love for moe girls and hiring them!
---
2. Blend S

Episodes: 12
Aired: October 2017 - December 2017
Maika Sakuranomiya is a cute teenager looking for a part-time job. Being as charming as she is, it shouldn't be too hard for her to find a decent job... but employers seem unable to ignore the fact that, every time Maika tries to smile or be nice, her look resembles that of a monster in the worst of the nightmares. Poor Maika can't help it!
Fortunately, an Italian guy falls in love with her and offers Maika a job so he can see her often. Now she is the new waitress at Stile, a maid café where every girl plays a role, Maika being the sadistic one! Watching this girl trying to be cute and failing is hilarious, but the moe factor in Blend S is sky high. If Maika is not enough for you, there are also Kaho the tsundere, Mafuyu the petite imouto and even Hideri, a cross-dressing boy. Being mean has never been this fun!
---
1. Yuru Camp

Episodes: 12
Aired: January 2018 - March 2018
Who would say that an anime with a plot as simple as a group of girls wanting to camp would be so successful and entertaining? It all started with Nadeshiko, a lost girl that spends the night camping with Rin, an expert camper who likes to be alone and is not that happy about the situation. After that night, Nadeshiko joins the outdoor activities club at her school, hoping to learn more about camping and maybe making some new friends to camp with.
Do you need a strong plot or just an excuse to enjoy moe girls doing their thing? Most of Yuru Camp's episodes are spent with the preparations for the girls' final trip so you won't find much action here, but some of the funny moments here are pure gold. What makes this anime interesting is the chemistry between the girls, and the fact that they're all your typical moe girls but, at the same time, they feel so natural and real.
Beautiful art, spectacular landscapes and views, the perfect laid back pacing, and that certain "something" that only a few anime have! Yuru Camp is the perfect anime to watch when you want to escape from routine, and you can do it while enjoying cute girls and their moe life.
---
Final Thoughts
Anime shows based on moe girls are increasingly successful, to the point that this updated version of the article presents you with 6 anime that debuted this year, and one of them is still ongoing. Have you already watched them all? If that's the case, you can always recommend us something else.
We have high school girls going through typical adolescence problems, we have young ladies experimenting with adulthood and taking new challenges at work, we have aspiring idols, and we also have some other girls just enjoying themselves without worrying too much about anything. With all these options, who is your favorite moe girl and why? Let us know in the comments!
---
---
---
Moe is a source of much debate in the anime community: there are those who can't stand it, and there are those of us who use it as a source of energy, like food or air. If you're reading this, and are one of the latter (I would guess you are), then you'll know how it feels to not get your daily dose of cute-girls-doing-cute-things.
But fear not, as we've prepared a list of 10 of the best moe anime to ensure that you never run into such a problem. Though I do hope you're hungry, because I think we've got enough slice-of-life to make a whole cake.
10. Yuru Yuri (YuruYuri: Happy Go Lily)

Episodes: 12
Aired: July 5th 2011 – September 20th 2011
Let's start off at number 10 with Yuru Yuri, a slice-of-life, comedy starring Akari Akaza as our average yet lovable protagonist. It's her first year of middle school and Akari is overjoyed to be reunited with her childhood friends Yui Funami and Kyouko Toshinou, who are both a year older. The three of them, along with Yui's excitable fangirl Chinatsu Yoshikawa, spend their days in the Amusement Club doing…well nothing in particular.
Yuru Yuri takes the "cute girls doing cute things" theme and runs with it, containing an almost overwhelming number of characters, from the ditzy one with her head in the clouds, to the smart and studious student council president. The rounded, colorful art style gives the show a warm, light hearted feel and the characters a cheery energy, ensuring the whole experience makes your day just a little bit better.
---
9. Acchi Kocchi (Place to Place)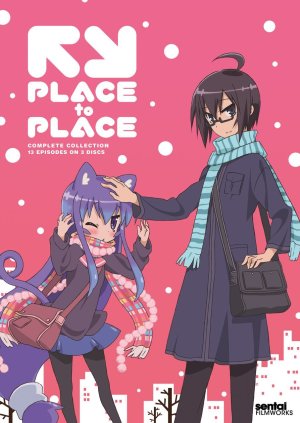 Episodes: 12
Aired: April 6th 2012 – June 29th 2012
Have you ever known two people who would be just perfect together, if only they would realize it? Well Tsumiki Miniwa has finally come to the realization that Io Otonashi might be more than just her best friend, and their classmates have no qualms teasing her about it.
Not only is Tsumiki a cute, petite loli, but she even has the unique and rather unusual habit of sprouting adorable cat ears. Her character alone is enough to justify giving Acchi Kocchi a place on this list, but with a cast of but more delightful girls and a cutesy art style, Acchi Kocchi is the perfect show to warm your heart in the coming winter months.
---
8. Himouto! Umaru-chan

Episodes: 12
Aired: July 9th 2015 – September 24th 2015
At school, Umaru Doma is perfect. In grades, looks and personality, she sits above all as the undisputed high school princess. But little do the other students know that behind closed doors, the Umaru they all know undergoes a dramatic transformation, from princess to one of the laziest, messiest otakus Japan has ever seen.
Another slice-of-life comedy series, Himouto! Umaru-chan sees us following Umaru enjoying her carefree life of games, anime and cola, whilst her brother Taihei tries to cope with having such a slob of a sister. Spending most of her time in an adorable chibi form, there's something very satisfying about watching Umaru lazily totter about the apartment. If you're not a fan of chibi moe, you might prefer Umaru's three quirky friends, all of whom are quite brilliantly voiced.
---
7. Suzumiya Haruhi no Yuuutsu (The Melancholy of Haruhi Suzumiya)

Episodes: 14
Aired: April 3rd 2006 – July 3rd 2006
Kyon has all but resigned himself to leading a dull and unexciting high school life; that is until Haruhi Suzumiya enters the picture. Driven by a fascination in the supernatural, Haruhi is quick to form the SOS Brigade, a club dedicated to investigating the oddities that inhabit our world. Of course, Kyon is roped into this, along with ditzy air-head Mikuru Asahina, cool and collected Yuki Nagato and the always-smiling Itsuki Koizumi.
Haruhi Suzumiya is a great example of a show that, despite being fairly serious and plot-driven, still manages to contain a good slice of moe for us to enjoy. The wonderfully exaggerated characters are the basis for this, like the adorably shy Mikuru, who manages to take ditzy to a whole new level. This is a series where you can go for the moe, and stay for the plot.
---
6. Love Live! School Idol Project

Episodes: 13
Aired: January 6th 2013 – March 31st 2013
Due to low student numbers, Otonokizaka High School announces that it will be closing in three years' time. Part of the recent surge in idol themed anime, Love Live centers around Honoka Kousaka and the eight other members of their band Muse, as they strive to become school idols and save their school from closure.
With nine members, Muse covers a wide range of character archetypes, each with their own moe charm points. One of the biggest draws of the series, and reasons for its massive popularity in Japan (think karaoke), is the quality J-pop songs throughout the series and maybe more importantly, the delightful dance performances.
---
5. Non Non Biyori

Episodes: 12
Aired: October 8th 2013 – December 24th 2013
Schools in the countryside tend to be pretty small, and the school in the village of Asahigaoka is no exception, with a grand total of four students. When fifth-grader Hotaru Ichijou's family moves from Tokyo to the little village, she's not quite sure what to expect. Thankfully the other girls at school are more than happy to show her how how you can still have fun so far away from urban civilization.
Non Non Biyori manages to take the most mundane daily experiences, and make them cute, fun and amusing to watch. With the cast's ages ranging from 1st grade to 8th grade, the character interactions range from humorous, to flat out bizarre, as first-grader Renge contemplates the similarities between a salted watermelon and life. Add to that the beautiful scenic artwork shown throughout the series and a novel, light-hearted soundtrack, Non Non Biyori is a perfect example of slice-of-life done right.
---
4. Gochuumon wa Usagi Desu ka? (Is the Order a Rabbit?)

Episodes: 12
Aired: April 10th 2014 – June 26th 2015
After a recent move, Kokoa Hoto now spends her days as a waitress at the Rabbit House Café, along with petite and cool Chino and headstrong Rize. Add to the gang, traditional Japanese-type Chiyo and bashful Sharo, and you have the perfect set-up for heaps ton of cute, silly fun.
If someone asked for an example of moe character design, I would point them to Gochuumon. With their bright, round, shinning eyes, ultra-cute outfits and air of innocence, the cast of Gochuumon are undoubtedly some of the most moe beings that have ever graced our screens. What's more, with the second season currently airing, now is the perfect opportunity to pay the girls at Rabbit House a visit.
---
3. Clannad

Episodes: 23
Aired: October 5th 2007 – March 28th 2008
Okazaki Tomoya spends his time wasting his high school days away with best friend Sunohara. But after meeting Nagisa Furukawa on the way to school one morning, he finds himself increasingly drawn to her, and the two end up becoming friends. When they decide to restart the drama club together, along with four other girls, Tomoya realizes that life can be much more interesting than he thought.
When looking for moe it can be very easy to go straight to the slice-of-life and comedy genres, and easy to forget moe can be found anywhere. Clannad progresses from those slice-of-life, comedy routes, into an emotional rollercoaster filled with drama and tears, and manages to retain the lovable, bright eyed girls that we love to watch throughout.
---
2. Lucky Star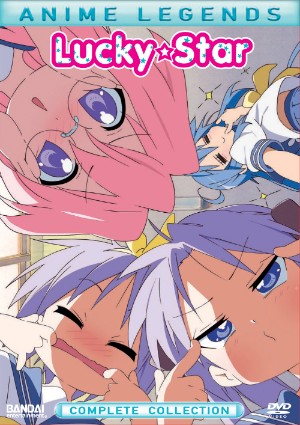 Episodes: 24
Aired: April 8th 2007 – September 17th 2007
Sometimes the simple things in life are the best. Studying with your friends, playing games together, tricking them into accompanying you to Comiket. These are just some of the things Izumi Konata and her classmates get up to on a daily basis, that is, if you can get her away from her computer.
Very much written with an otaku audience in mind, everything about Lucky Star screams moe, from the cute character designs to the quirky conversations and antics. Even ignoring the moe factors, the series is well worth watching for its comedy alone, with the cute girls very much being the icing on the cake.
---
1. K-On!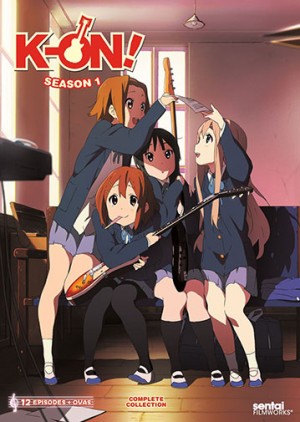 Episodes: 13
Aired: April 3rd 2009 – June 26th 2009
Choosing a club to join can be a hard, potentially life-changing decision for a high school freshman, and Yui Hirasawa's case is no different. Hoping to put her past experience with castanets to good use, she decides to check out the Light Music Club, only to find herself lured with tea and cake into being their fourth member, and lead guitarist. K-On! follows the daily lives of the four members of Sakuragaoka Girl's High School's Light Music Club as they study together, perform together and drink copious amounts of tea.
Kyoto Animation's works have come up a lot in this list. With Clannad, Lucky Star, and Haruhi, moe is very much their territory, and K-On is perhaps their moe masterpiece. One of the most impressive things KyoAni does, through detailed animation and high production quality, is make characters feel real and believable, which in the case of K-On skyrockets the moe factor of the girls. There isn't too much to comment on with K-On, it has a simple premise and character designs, but rather it's the way that everything is pulled off that will make it put a smile on your face and keep it there.
---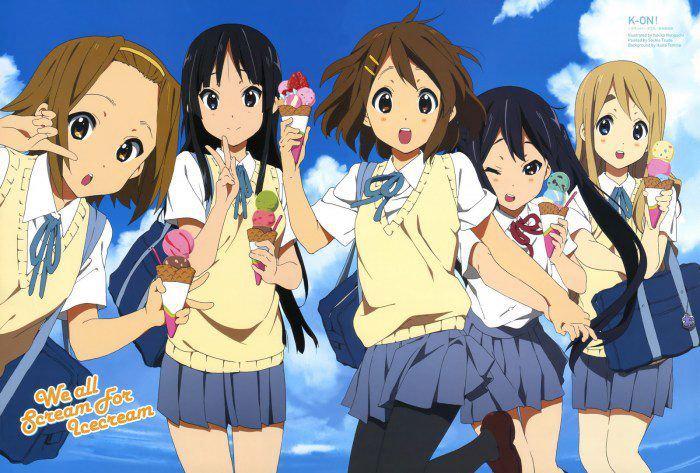 Final Thoughts
It can be difficult to decide when an anime itself can be considered moe. With cute character designs being a modern anime staple, and constant use of fanservice, there are so many shows about that could have had a place on this list.
On top of that every fan has their individual preferences. But whether you like the cute, ditzy girls, the cool and collected ones or the bashful, tsundere types, hopefully there's a series on this list that you can enjoy.
---