Teens, vampires, romance and action are always a good way to make a successful manga series. Just look at Vampire Knight, for example. Released in 2004 by mangaka Hino Matsuri, Vampire Knight would release for 19 volumes over the course of 9 years. Vampire Knight even had an anime adaption which just showed it was being noticed in the manga world. Now if you're like us here at Honey's Anime, you have probably already finished Vampire Knight and are now in dire need for similar manga like it. Well that's why we are here at Honey's Anime HQ. Welcome to our 6 Manga Like Vampire Knight list where we will recommend some good series for you if you liked Vampire Knight as much as we did.
Now you might be wondering is there really manga similar to Vampire Knight out there? Well the short answer is yes, there are plenty of manga to choose from that adhere to similar themes seen in Vampire Knight. Want stories with a focus on action rather than just romance or vice versa? We have that on this list and we know we'll find something perfect for you in this 6 Manga Like Vampire Knight list. Now without any further delay let us begin our list and get you ready for some manga you might have never heard of just like Vampire Knight!
Similar Manga to Vampire Knight
1. Vampire Juujikai (The Record of a Fallen Vampire)

Authors: Shirodaira, Kyou- Kimura, Yuri
Genres: Magic, Shounen, Vampire, Supernatural
Volumes: 9
Published: Aug, 2003- Feb, 2007
Once long ago, humanity was assaulted by a powerful being known as the vampire queen. Despite putting up their best efforts, humanity couldn't match the sheer power of the vampire queen and began to lose hope. However, in one last ditch effort humanity sealed away the vampire queen temporarily till they could find a power rivaling hers. Meanwhile, the vampire king left his kingdom filled with his half-human and half-vampire followers—known as dhampirs—behind to search for his beloved queen. In fear that the king will find the seal and save the queen, humans and dhampirs team up together to stop the vampire king and keep the world safe from possible destruction.
If you loved the action elements of Vampire Knight, we recommend Vampire Juujikai as a good alternative read. We absolutely loved the gorgeous art Kimura Yuri and the impressive storytelling by mangaka Shirodaira Kyou. At 9 volumes, Vampire Juujikai might be a quicker read than Vampire Knight but that doesn't mean you're going to get less to enjoy. Vampire Juujikai is a truly incredible manga that we know you'll appreciate if you loved Vampire Knight. Now go pick up Vampire Juujikai and give it a try!
---
2. Blood Parade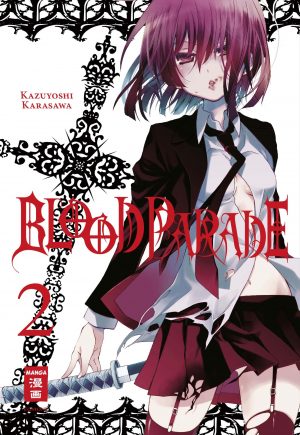 Authors: Karasawa, Kazuyoshi
Genres: Action, Shounen, Vampire, Supernatural
Volumes: 2
Published: Aug, 2011- Jul, 2012
Gil is a young man trying to join the Twelve Apostles so he can fight with them against the vampire race plaguing the world. However, Gil isn't done with his tests yet and has one left to hopefully join their ranks. Gil's final test is to travel to a nearby area and kill a vampire target known as Aran. Assigned to Gil to join him on his mission is a girl named Luna who must aid the young apostle in training. However, why has Luna been assigned to Gil and can Gil accomplish his mission so he can save the world alongside the Twelve Apostles?
Another recommendation we have for those who love Vampire Knight comes in the form of Blood Parade by mangaka Karasawa Kazuyoshi. Blood Parade is only 2 volumes in length but we truly enjoyed the short story as it presented an interesting world with some truly cool vampire themes. Equally, we loved the action scenes in Blood Parade which reminded us heavily of the moments found in Vampire Knight. If you don't want another 19-volume read like Vampire Knight and need something shorter, we recommend Blood Parade. Now let's hope maybe we get an OVA of Blood Parade some day as we'd love to see it animated.
---
3. Vampire Doll: Guilt-na-Zan

Authors: Kari, Erika
Genres: Comedy, Horror, Vampire, Josei
Volumes: 6
Published: Mar, 2002- Sept, 2008
Vampire Guilt-Na-Zan was sealed away more than a hundred years ago and placed within a cross. Now in present time, Kyouji has undone his ancestor's seals on Guilt reviving him but in a rather strange way. Guilt is now trapped in a doll's body and finds he is only able to become full sized when he sucks the blood of Kyouji's sister Tonae. What lies in wait for Guilt when Kyouji is a pervert with some rather strange fetishes? Find out in this comedic vampire story called Vampire Doll: Guilt-na-Zan!
If you need a break from vampire action and want some comedy with a tinge of horror then we have a manga for you. From mangaka Kari Erika comes Vampire Doll: Guilt-na-Zan! Despite some rather strange elements for a vampire manga, Vampire Doll: Guilt-na-Zan still has some bloodsucking creatures of the night all within in a rather unique josei manga series. Get ready to wonder what Kyouji and Guilt will do next in Vampire Doll: Guilt-na-Zan!
---
Any Manga Like Vampire Knight ?
4. Bloody Cross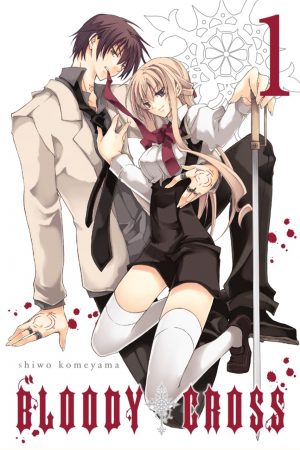 Authors: Komeyama, Shiwo
Genres: Action, Shounen, Vampire, Supernatural
Volumes: 12
Published: Feb, 2009- Jul, 2015
Bloody Cross follows the tale of Tsukimiya and Hinata both of which are half angels. Those who are labeled as half angels are known as cursed beings due to their impure bloodlines. Both Tsukimiya and Hinata are on a quest in search of a book called God's Book of Prophecy. If they can accomplish this task, they might be able to remove the curse they have. Unfortunately, this mission won't be easy seeing as how Tsukimiya and Hinata both want the book which makes their already troubled alliance even more problematic…
Don't you love team up manga where two partners must work together despite their rocky relationship? We do too here at Honey's Anime and that is what makes Bloody Cross so appealing to us. We loved the weird relationship Hinata and Tsukimiya have and also love the action scenes when they do work together as a team. Mangaka Komeyama Shiwo did an incredible job with the action, art and narrative seen in Bloody Cross' 12 volume run. Honestly, we are surprised no anime was ever made of Bloody Cross as we think it would make for an amazing series but for now we're okay with just reading it in manga form. We full recommend checking out Bloody Cross if you liked Vampire Knight.
---
5. Junketsu + Kareshi

Authors: Shouoto, Aya
Genres: Mystery, Drama, Fantasy, Romance, School, Shoujo, Vampire, Harem, Supernatural
Volumes: 10
Published: Jul, 2010- Sept, 2014
Life was pretty good for Kana Takachiho. Not only did she excel at sports but Kana was doing well in life overall. Unfortunately, Kana got hurt in a strange manner losing her classmates' respect and the scholarship she needed for school. Kana still has one thing though in the form of Aki her friend since they were kids and her boyfriend, sort of. Aki though isn't exactly normal as he proves to Kana by sucking her blood during their first date! Aki is actually a vampire and his goal in life is to save his twin from a strange slumber by finding stigmas. What lies in store for Kana now seeing as how she's Aki's slave?
Imagine finding out that your love/friend was a vampire? Seriously, that would shock us just as much as it shocked Kana in Junketsu + Kareshi. This very fun multi genre series kept us hooked from start to finish here at Honey's Anime HQ and we think those who loved the various genres seen in Vampire Knight will like them in Junketsu + Kareshi. Plus, if you're looking for a shoujo themed vampire manga then you'll like Junketsu + Kareshi even more! At 10 volumes, Junketsu + Kareshi will keep you busy for a bit and make you hopefully forget about Vampire Knight for a little while at least.
---
6. Hana to Akuma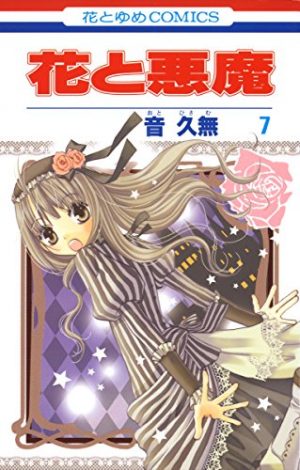 Authors: Oto, Hisamu
Genres: Comedy, Demons, Mystery, Drama, Fantasy, Historical, Romance, Shoujo, Supernatural
Volumes: 10
Published: Oct, 2007- Nov, 2010
Vivi Akuma has grown bored of his 200-year demon life and has left the comforts of the demon realm for the human world. Upon arriving in the human world, Vivi finds a baby who seems to have been abandoned and decides to take her for himself. Naming her Hana, Vivi raises her up and lives together like normal humans. However, can a demon and a normal girl truly live together? Find out in Hana to Akuma where a truly interesting tale is about to unfold.
Ending our 6 Manga Like Vampire Knight list, we look at Hana to Akuma which might not be about vampires but still will be perfect for those who love Vampire Knight. We truly were mystified at how great Hana to Akuma is at telling an emotional tale that keeps you glued to your manga pages while you watch Vivi and Hana's lives unfold volume after volume. We won't spoil Hana to Akuma but we will say this shoujo demo story will truly make your heart melt and that is because mangaka Oto Hisamu did a terrific job with this 10-volume series. We can't recommend Hana to Akuma enough folks and you'll be glad you read it when you do.
---
Final Thoughts
Vampire Knight is an incredible manga but like all good things, it was destined to end eventually. Though, that was the point of our list today folks. We wanted to show you that there are alternatives to choose from if you need something like Vampire Knight but equally want some slight variations here and there. Have any of the manga above sparked your interest? Let us know in the comment section below and for other manga related articles and recommendations be sure to keep stuck to our hive here at Honey's Anime.
---