También puedes leer este artículo en:Español
Welcome to another entry into Updated Recommendations, where we take a look at an old list of recommendations for our favorite shows, and give fans, even more, shows to consider for their viewing pleasure. For a look at the original article, feel free to scroll down past the updated recommendations.
For those who don't know, Vampire Knight is an anime series adapted from a popular shojo manga, and as its name would imply, revolves around vampires. The story centers around a high school human girl named Yuki, whose earliest memory is being attacked by a vampire on a dark winter's night. She is rescued by a young man named Kaname Kuran, a pureblood vampire who attends night classes at a school for humans and vampires called Cross Academy. Yuki is adopted by the Academy's headmaster and becomes a guardian of the secrets of the vampire race. Along with her friend Zero, Yuki is responsible for safely transitioning the day classes to the night classes, which can be surprisingly difficult when the nighttime student body is mostly comprised of gorgeous bishi vampires.
Vampire Knight blends elements of drama and mystery, as well as romance and the supernatural. It relies heavily on reverse harem tropes. One thing that separates it from others is its moody, dark atmosphere, and the fact that the stakes of the story are literally life and death. Here's an updated list of 6 anime like Vampire Knight.
Similar Anime to Vampire Knight
1. Ouran Koukou Host Club (Ouran High School Host Club)

Episodes: 26
Aired: April 2006 – September 2006
While we usually try not to double-down on previously recommended shows, sometimes they're so good that they're worth mentioning twice. If it's popularity ranking on most anime sites is any indication, then most readers should already know about this show, so this is for the uninitiated who are still missing out.
The story takes place at the titular prestigious high school, Ouran Academy, and follows Haruhi Fujioka, a scholarship student who becomes a de-facto indentured member of the school's strangest extracurricular activity after an expensive, vase-shattering accident. This show works on a lot of levels, and really rewards multiple viewings. From the endearing opening theme "Sakura Kiss," to its bizarre but always earnest cast of host club members, the over-the-top freeze frames that candidly and hilariously break the fourth wall by summarizing the goings-on of the characters, the episodes clip by at a fast pace from start to finish.
Under its saccharinely slick art style and popping color palette, the show addresses a lot of important social issues, such as gender identity and sexuality, privilege versus economic awareness, and what it means to truly embrace one's self-identity, all wrapped up in a reverse harem package. It's as close to essential viewing for fans of the genre as a show can get.
Ouran Highschool Host Club Official Trailer
---
2. Dance with Devils

Episodes: 12
Aired: October 2015 – December 2015
Ritsuka Tachibana has an ordinary-seeming life typical of high school students, until she is randomly called into an inquiry by the student council under the pretense of having broken school rules. All isn't quite what it seems, as the questions have little to do with the rules of the school, and upon returning home to find her house broken into and her family injured, Ritsuka realizes she's been pulled into something much bigger than a simple demerit on her record. She is, in fact, caught in a war between devils and vampires at her school, both of whom think she is the key to discovering a powerful, lost grimoire capable of giving either side the advantage they need to come out ahead in the conflict.
Dance with Devils has plenty for fans of Vampire Knight. With its supernatural premise, it's reverse harem of beautiful bishounen on either side of the conflict, and even nods to idol culture, the fact that it has a dark, atmospheric story with plenty of twists is just icing on the cake. It's worth noting that it does have rather mature content, and may not be suitable for younger viewers, or those who are a bit squeamish about blood.
Dance with Devils - Broadcast Dub Preview
---
3. Amnesia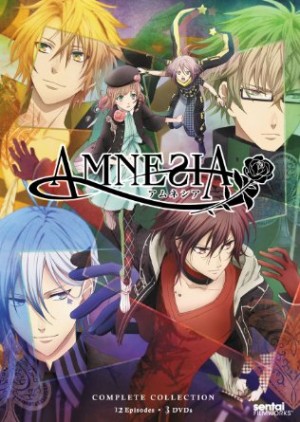 Episodes: 12
Aired: January 2013 – March 2013
Based off of a popular otome game of the same name, Amnesia focuses on a young girl who wakes up in the back room of a café she apparently works at after startling dreams, who has no memories of her life up until that point. All she has is a cell phone with some contacts in it, and two of her friends, Shin and Toma, are called to get her home safely. After she arrives, she encounters Orion, an otherworldly boy that only she can see and hear, who explains that her amnesia is the direct result of his manifestation in her world. Feeling guilty, he vows to help her recover her memories, which is easier said than done, as she reacquaints herself with the handsome men that orbit her life.
Amnesia combines expected elements from a visual novel, with a healthy dose of fantasy and mystery, combined with reverse-harem romance. While each episode often focuses on the individual men in her life, the dimension-transcending plot offers enough surprises to keep even the most seasoned veterans of the genre guessing as the main character picks up the pieces of her past.
---
Any Anime Like Vampire Knight?
4. Saiunkoku Monogatari (The Story of Saiunkoku)

Episodes: 39
Aired: April 2006 – February 2007
Saiunkoku Monogatari is set in the fictional, titular empire of Saiunkoku, which is divided into eight provinces, each named after a different color. It centers around the life of Kou Shurei, a young girl born into a noble house that has fallen on hard times. Her father has a prestigious position at the Imperial Palace library, but makes so little money he struggles to make ends meet. Shurei teaches at temple and works odds jobs to help earn whatever additional income she can, to keep their family afloat. Although she's happy to help out the family, she dreams of taking the imperial examination in order to take a governmental post, which women are forbidden to do.
Her fortunes seem to take an upturn when the Emperor's advisor approaches her with a proposition; a position as the Emperor's consort for half a year, to rein in his untoward behavior and ignite his interest in politics. As she spends time at the Emperor's side, she becomes embroiled in politics, and her passion for government reignites.
Saiunkoku Monogatari blends elements of historical fantasy with comedy drama. The Emperor and other court officials create an interesting, reverse harem power dynamic unlike other shows. The show has surprising heart, and deals with the difficulty women face in trying to create change, paralleled by Shurei's commitment to her country and the court.
---
5. Hakuoki (Hakuoki ~Demon of the Fleeting Blossom~)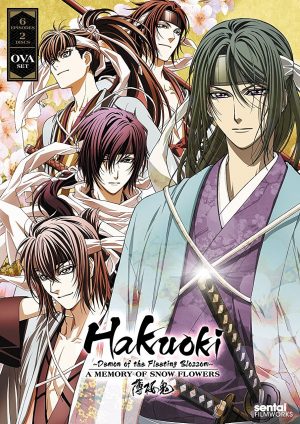 Episodes: 12
Aired: April 2010 – June 2010
In search of her missing father, Chizuru Yukimura takes a trip to Kyoto to search for news of his whereabouts. On the way, she is set upon by men who are torn apart by seemingly mindless killing machines, Rasetsu. In turn, they are defeated by Hajime Saito, a skilled member of a band of brave swordsmen that keep order in the city, the Shinsengumi.
After Chizuru is taken back to the Shinsengumi headquarters, she learns the mysterious truth surrounding her father. A famous practitioner of western medicine, he was commissioned by the Bakufu to create the "Water of Life," an elixir that bestows those who drink it with superhuman physical attributes, usually at the cost of their sanity. She agrees to assist the Shinsengumi in their efforts to contain the Rasetsu, as their path leads them into increasing danger.
This particular reverse harem anime is based off of a popular series of otome games. The historical-fantasy setting is the perfect arena for this particular style of dramatic action, and although vampires are traded for samurai, the beautiful members of the Shinsengumi still go up against a supernatural foe with mysterious origins. With plenty of follow-ups, this series is sure to keep fans of the genre busy for a long time.
Hakuoki Trailer
---
6. Akatsuki no Yona (Yona of the Dawn)

Episodes: 24
Aired: October 2014 – March 2015
King Il is the pacifist ruler of Kouka, a fantastical country where he is beloved by the citizenry. Because of the kingdom's peace, his only daughter, Yona, lives a carefree life, happily whiling away her days at Hiryu castle under the watchful eye of her companion and bodyguard, Son Hak.
However, such an idyllic life was bound to come to an end. Her childhood sweetheart, Soo-won, visits the King under false pretenses, and commits the ultimate betrayal when he murders King Il in front of Yona, and grabs power for himself. Yona and Hak flee to Hak's hometown, and begin a quest to reclaim her kingdom by seeking out the power of reincarnated dragons of legend.
Akatsuki no Yona tells a surprisingly poignant story rarely found in the genre. While the show blends elements of drama, action and comedy expertly, it tells the story of one girl's growth into adulthood as she comes to understand the harsh realities of life outside the palace walls, alongside with its cast of breathtaking bishounen warriors. A story fans of the genre would be remiss to miss out on.
Yona of the Dawn - Official Promo Video
---
Final Thoughts
With that, so ends another list of unmissable shows for fans of Vampire Knight. Between these two lists, there's enough anime to keep even the most die-hard fan happily viewing for some time. If there are any recommendations that Vampire Knight fanatics must not miss, sound off in the comments and let us know.
---
---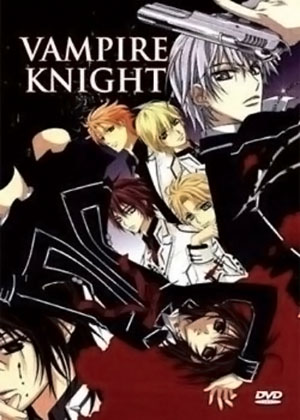 Vampire Knight is a legitimately entertaining anime to see, that basically takes vampires and romanticizes them for the viewer. If you're thinking this may be like Twilight, you're pretty right.
The only difference is that the vampires have been separated from the regular student body and attend night class, vs the normal classes in the day
The anime focuses heavily on the reverse harem nature it brings to screen and definitely will not disappoint any who wish to see the normal girl finding love in all the dark places.
So let's explore some other anime that would also fit the bill!
Similar Anime to Vampire Knight
1. Ouran KouKou Host Club

Episodes: 26
Aired: Apr. 2006 to Sep. 2006
Fujioka Haruhi just got a scholarship to Ouran Academy and decides she should attend, even though unlike the rest of the student body – she's not rich or famous.She doesn't even really care how she looks; what would a commoner care about vanity?
One day she discovers the Host Club – a club for the super elite that attend the school, and she breaks their 8-million yen vase. Now she has no choice but to work for them in any way she can just to pay off her debt.
While Ouran does forego the vampire genre, you'll not find a reverse harem of this quality so easily. It definitely shares the feel of Vampire Knight, with the power elite in Ouran being somewhat… sadistic.
They're all based off of some stereotype or another so, that's what you should expect. If you've got the time, take it from the fans of the show themselves and check it out!
2. Yamato Nadeshiko Shichihenge♥

Episodes: 25
Aired: Oct. 2006 to Mar. 2007
Sunako Nakahara is a horror movie fanatic, and a very odd one at that. Ever since junior high she has been a tad gloomy, thanks to the boy she loved telling her she was ugly. Who wouldn't have their spirit crushed by this?
Ever since that day she's had a great disdain for anything beautiful – and her body rejects it also. Every time she sees something beautiful she gets a nosebleed, making the job of turning her into a lady a very tricky one for Kyohei Takano, Takenaga Oda, Yukinojo Toyama, and Ranmaru Morii.
All they wanted to do was go to school for free!
This anime has a surprising amount of originality to it and is a must see for anyone interested in the reverse harem genre!
There's plenty of comedy (as you could expect from a story that sounds like that!) and the characters a very well thought out for your entertainment. As far as the entertainment factor goes, I would personally give this anime 9 out of 10, for the simple fact of what they were able to create with a low budget.
The animation isn't bad, but it's not great.Honestly though, I think that helps it in a way and really gives it a better feel. Definitely look this one up if you're in the market!
---
3. Diabolik Lovers

Episodes: 12 + 1 + OAD
Aired: Sep. 2013 to Dec. 2013
Komori Yui just transferred to a different school, a night school filled with mostly entertainers and celebrities who just don't have enough time during the day to go to school.
Where she ends up staying, and what she ends up discovering, are both more than a little unnerving. She's being moved into a house full of vampire brothers.
Will she fall prey to their otherworldy desires, or will she be able to hold her own?
This is an anime I decided to give a shot because I saw it had some decent reviews based on the art alone. The episodes are short so that is what originally turned me away in the first place (and the fact that it's an anime version of 50 Shades), but the manipulation is dead on to what a vampire should be like.
While it doesn't give them the full credit I believe they deserve it does do a very good job at the mind games they would play.
If you want a vampire anime that's built more on the abuses a vampire would bring, this is right up you're alley. But if you're not a masochist or a sadist, you probably won't enjoy it all too much.
---
Any Animes Like Vampire Knight ?
4. Uta no☆Prince-sama♪ Maji Love 1000%

Episodes: 13
Aired: Jul. 2013 to Sep. 2013
Haruka decides to chase after her dream of becoming a composer to write a song for her favorite idol and enters Saotome Academy. If she's successful at completing the challenges she'll face in the school, she can join the Shining Agency right after graduation!
The only problem, she's surrounded by some of Japan's best up and coming composers already, will she be able to make it through? Or will she need some help from a prince of music?
If you want your reverse harem a bit less romantic oriented, Uta no ☆ Prince-Sama is right up your taste alley. It manages to take the female lead character and keep her relevant the whole way through, focusing more on her goals and her coming of age than the pure Shoujo harem aspect.
I definitely suggest it if you haven't yet given it a chance.
---
5. Neo Angelique Abyss

Episodes: 13
Aired: Jul. 2008 to Sep. 2008
Angelique is like most other female students, unable to become a Purifier like some of the males.
One day two Purifiers came to her school, and revealed that she has the power to be the only female purifier to have ever existed – a very powerful one at that. They attempt to get her to come with them to become the Queen's Egg, but as she hesitates an attack from Thanatos begins at her school!
As the two Purifiers slowly get whittled down her desire to protect everyone enacts, killing the beast and making up her mind for her.
Neo Angelique is an anime to watch if you want to invest yourself in the heroine finding love in all the male places.
The story is pretty straightforward and predictable at times, but the feel it gives is that of a romance heavy Shoujo. Basically, if you're not in the market for some guy-guy-guy-guy-girl love then you may want to steer clear; if not then this is the perfect anime for you!
---
6. Brothers Conflict

Episodes: 12 + 1 especial
Aired: Jul. 2013 to Sep. 2013
Ema Hinata is a regular girl and the only daughter to her father Rintarou, who just so happens to be marrying Miwa Asahina – a famous apparel maker.
Instead of intruding on her father's brand new marriage by living with them, she decides to go live with her new brothers in a mansion called Sunrise Residence. Will she be able to hold out on her feelings, or will she be able to resist the temptations her 13 brothers send her way?
This is an anime you want to watch if you're heavily invested in the reverse harem scene. The story is specifically made to be the dream of a teenage girl and focuses heavily on romantic relationships between her and her new "brothers."
The art is beautifully done and very fluent in its designs and really makes the anime what it is. It's a guilty pleasure come to screen.
---
That wraps up our list of six different harem-esque anime like Vampire Knight.
If you feel we missed one or have any other suggestions let us know in the comments section down below! You have to help us, help you ☺
by Nathaniel Loomis
---