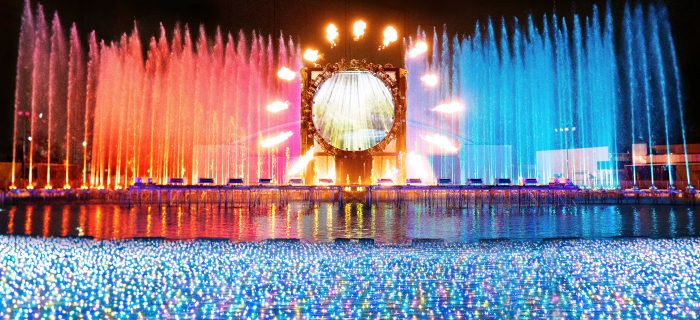 Around the world, a commonly shared Christmas tradition is the use of Christmas lights. Whether it's something small like a family decorating their house, or something much bigger like decorations on a public building, Christmas lights are a beloved part of the season for many. Christmas in Japan is celebrated in its own unique ways, but it also shares many traditions with Western countries. After all, Christmas is not a traditional Japanese holiday, it's one that has been adopted from other countries and grown to become a normal part of the Japanese year. One part of Western Christmas tradition that Japan has really embraced is Christmas lights!
In Japan, Christmas light displays are called "Illuminations." As it's something adopted from other countries, there is no Japanese word for it - they use English instead. Illuminations can be found all around Japan, from the cities to the countryside, starting in November or December and lasting often through February. While some of them have a distinctly Christmas theme, most are just beautiful displays of lights that can be viewed all winter season. Illuminations in Japan often have a theme of some kind, and while the same places host huge illuminations every year, the theme usually changes to draw people back time and time again. Illumination displays are typically big and flashy; they really don't go halfway. Some are free to view in the city, and others are inside places like parks that may require a small admission.
Since many of us are spending our holiday season at home this year, let's take a virtual vacation to some of the best places to view illuminations in the Tokyo area this year! Like many things around the world, a lot of Tokyo's usual illuminations have been cancelled this year, or have switched to being displayed for a shorter time period. But even if you can't see the ones that are still on in person, we hope you can enjoy some beautiful pictures from the safety (and warmth!) of your home.
Tokyo Midtown

Tokyo Midtown's illuminations always have a name and a theme that changes each year, and this year they are called "Winter Moments." The golden lights are meant to set a romantic atmosphere for a date (Christmas is a romantic holiday to spend with your partner in Japan!) but there are features for everyone. One of the main displays is a huge snowglobe that even has falling snow inside and lights that look like an aurora, and there are light-up steps on the ground that change colour when you walk on them. Until Christmas, there is even a huge tree with 25 presents underneath that change colour one at a time each day to count down to Christmas Day. Everything is free, and there is also a paid ice rink if you're looking for a little more fun!
Yomiuri Land

Perhaps the biggest illumination spectacle to see in Tokyo is at Yomiuri Land, and local amusement park. The illuminations here are called "Jewellumination" because they are always themed after jewels and gemstones. This year, the illuminations at Yomiuri Land are specifically themed for the 12 birthstones. Unlike most other illuminations in Tokyo, the Jewelluminations are not white or champagne-coloured lights, but rather rainbow ones to mimic the different gemstones. Yomiuri Land has twelve different areas of illuminations to visit, including lights on all the rides and even a mountain of lights. It costs ¥1500 (around $15USD) to enter for an evening of lights.
Marunouchi

Marunouchi is a district in downtown Tokyo, and its main street, Marunouchi Naka-dori, is famous for illuminations every year. As it's a display of lights along a public street, it's completely free and easy for anyone to enjoy. The stretch of illuminations this year is a little over 1 kilometre, making it a nice walk that isn't too far on a cold winter night. All of the lights in Marunouchi's illuminations are low-energy, making this not only a beautiful place for a walk amongst the Christmas lights but one that is environmentally-friendly, too! The illuminations in Marunouchi are all champaign-coloured lights, which suits the upscale, classy feeling of the neighbourhood.
Yebisu Garden Place

Yebisu Garden Place is another illumination in Tokyo that is a perfect place to spend a date or a classy evening enjoying the lights. It's just a short train ride away from Shibuya, but the vibes feel very different from the chaos and pandemonium of that part of the city. Yebisu Garden Place has over 100,000 lights to see, including one of the largest crystal chandeliers in the world. While the chandelier is the centrepiece, all around the area there are plenty of other golden lights to see as well. It's also completely free, though most years there are a few vendors nearby selling hot drinks if you're feeling cold.
Ashikaga Flower Park

Our last entry for the best illuminations in Tokyo in 2020 is not in the city, but can be easily accessed by train for an overnight trip (or a late night back to Tokyo) that is well worth it. These illuminations are at Ashikaga Flower Park, and are hailed as one of the best three illuminations in all of Japan. There are over 5 million low-energy lights spread across 100,000 square meters of gardens to enjoy. One of the most popular displays is strings of purple lights that mimic the hanging wisteria flowers that Ashikaga Flower Park is so famous for. There are also murals of lights depicting Japan's four seasons, and a mural celebrating the coexistence of people, plants, and animals. The entrance fee is ¥1000 (about $10USD).
---
Final Thoughts
These are just a few of the many beautiful illuminations that light up Japan every winter. Even if you can't make it this year, we hope you've enjoyed going on a virtual vacation with us! And if you're ever planning a trip to Japan, consider coming in the winter when you can enjoy these amazing light displays for yourself. Many people plan to visit Japan in cherry blossom season only, without realising that there is something special to see regardless of what season you come. So if you're willing to brave the cold temperatures, you can enjoy some incredible illuminations wherever you visit in Japan.
Do you enjoy seeing Christmas lights? What are your own family's traditions regarding them? Have you ever seen illuminations in Japan? What did you think of them? Would you like to see them someday? Which ones from your list would you love to see for yourself? We would love to hear your comments!