Slice of Life anime has been a mainstay of the anime industry for decades and has only grown in popularity over the last few years with big hits like Kaguya-sama: Love is War and the Fruits Basket remake coming out in the last two years, to name a few. This season has been no exception, with a slew of fantastic Slice of Life series, and in this article, we'll run down the best!
5. Taishou Otome Otogibanashi (Taisho Maiden Fairytale)

This series has flown under the radar a bit this season, with other big hitters in the Slice of Life genre coming out. Still, Taisho Maiden Fairytale is a heartwarming story for those of us that don't mind a bit of a historical setting for our romantic Slice of Life anime. Tamahiko Shima, our main character, has lost the use of his right hand after a car accident that also takes his mother. Tamahiko now lives in the Chiba mountains, an outcast from his wealthy family and unable to find meaning in his mundane day-to-day life.
Tamahiko gets a surprise as a girl arrives at his house in the middle of a snowy night. Yuzuki Tachibana announces that she is to be his future wife and our love story blossoms from there. Taisho Maiden Fairytale sounds like a mundane anime about the everyday life of an exiled rich kid that gets a bride sold to pay off her family debts. Still, the animation quality is brilliant for an anime that tries to show off the interactions between characters bringing the essence of Slice of Life anime to the fore with a bright colour palette and unique character designs. The dialogue between the characters is sweet enough to give anyone a toothache, and the storyline is sweet enough to match with touching romantic moments between Tamahiko and Yuzuki as their relationship blossoms throughout the anime.
This anime will not be breaking any records in terms of viewership and doesn't do anything groundbreaking for the Slice of Life genre, but Taisho Maiden Fairytale is a heartwarming anime that exemplifies everything that we love about the genre.
---
4. Shin no Nakama ja Nai to Yuusha no Party wo Oidasareta node, Henkyou de Slow Life suru Koto ni Shimashita (Banished from the Hero's Party, I Decided to Live a Quiet Life in the Countryside)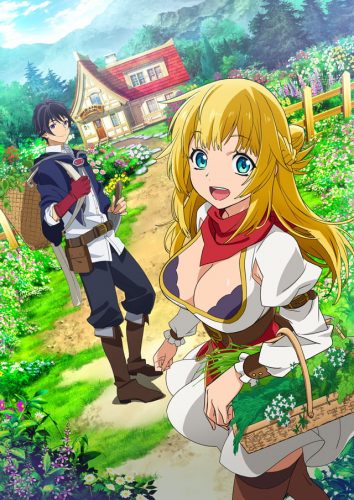 Long light novel titles really go a long way in explaining what an anime is about, and Banished from the Hero's Party is no exception. Gideon, a night in our fantasy setting, is banished from his sister Ruti Ragnason's hero party by the sage Ares Drowa. After changing his name to Red, our protagonist sets up a cosey, peaceful existence in the countryside, starting an apothecary business with ex-party member and princess of Duchy Loggervia, Rit, now his live-in partner. Thus blossoms a lovely Slice of Life relationship between the two.
It's not very often that we get a Slice of Life anime set in a fantasy world, and even more surprising is that Banish from the Hero's Party is not an Isekai! The majority of fantasy anime in the last five years have been Isekai, with our protagonists being whisked off to another world in some way or another, but Banished from the Hero's Party bucks the trend and goes for a traditional fantasy setting, giving this Slice of Life anime a unique setting that we have not seen for a long time reminiscent of Ookami to Koushinryou (Spice and Wolf).
With quality animation from a relatively new studio and a storyline between our two main characters to keep any Slice of Life fan hooked, Banished from the Hero's Party is a must-watch for anime fans of the genre.
---
3. Blue Period

Blue Period is a rather unique Slice of Life anime, telling the story of a delinquent struggling in school who picks up a paintbrush and falls in love with art. Despite not understanding fine arts, technique, or anything complicated, Yatora Yaguchi embarks on a journey to get into the Tokyo University of the Arts, a prestigious college with an acceptance rate of one in two hundred, pitting him against talented competitors.
A highly anticipated manga being adapted into an anime is always sure to make a splash during any season, but Blue Period has dropped at the same time as other big-name manga adaptations hurting its overall performance. This is not to detract from the adaptation, but the speed at which the manga volumes have been translated to the screen have hurt Blue Period's pacing, giving some scenes less of a punch in the anime adaptation due to contextual precursor interactions being cut for time purposes. As a result, studio Seven Arcs have decided to trim the excess from the manga in order to maintain focus on Yatora, which makes sense for an anime like this.
Despite the setbacks faced by Blue Period, the anime has received positive feedback, and we're certainly enjoying this unique spin on the Slice of Life genre, exploring the world of art, which has received little screen time in the anime medium.
---
2. Senpai ga Uzai Kouhai no Hanashi (My Senpai is Annoying)

My Senpai is Annoying takes the Slice of Life genre into the adult world with a romantic setting in the workplace instead of high school. The office setting adds an exciting twist to the usual back and forth between our love interests Futaba Igarashi and Harumi Takeda. Another dynamic specific to our two characters is the size difference between Takeda and Igarashi. Our leading man is a larger-than-life exercise enthusiast that resembles a bear and Igarashi is less than half his size, causing people to confuse the two for father and daughter instead of a two adults.
The character interactions make My Senpai is Annoying a stand-out for the season, the comedy between Igarashi and Takeda makes their romance feel genuine as they aren't afraid to poke fun at each other. Their two best friends in the office, Touko Sakurai and Souta Kazama, also have a relationship that blossoms on the sideline with even more comedy and cute interactions that give any Slice of Life main duo a run for their money.
This anime is heartwarming and keeps the audience on their toes with the dialogue between Igarashi and Takeda. Slice of Life anime this season has been one of the stand-out genres for anime, and My Senpai is Annoying is has helped that be the case.
---
1. Komi-san wa, Comyushou desu. (Komi Can't Communicate)

The big hitter of the season, the most anticipated manga adaptation of the last year, arrived with style! Komi Can't Communicate landed on Netflix with stunning visuals, the character dynamics we have grown to love in the manga, and comedy to keep us all laughing into the winter season. For the uninitiated, Komi Can't Communicate is a story that follows high school student Shouko Komi, who struggles to make friends due to social anxiety despite being the most popular girl in school due to her looks and how she forms a relationship with Hitohito Tadano, her first-ever friend.
Tadano and Komi-san have an interesting dynamic, mainly communicating through body language and writing, giving the moments when they finally speak a lot of punch for the emotional romantics among us. Komi Can't Communicate shines through all the other Slice of Life shows this season due to this emotional impact, but it also brings its story to life through fantastic visuals as the backgrounds pop with detail and the art style switches to a goofy simplistic version for comedic effect.
Komi Can't Communicate might not be a contender for anime of year with bigger shows taking the spotlight, but for fans of the Slice of Life genre, there has not been a show to this standard in a while. We highly recommend it to anyone.
---
Final Thoughts
Slice of Life anime has gained more spotlight in the mainstream in the last few years as more significant titles breakthrough. This season has kept that trend going with amazing shows keeping the genre alive, with the likes of Komi Can't Communicate and Blue Period hitting high animation standards, bringing a relatively tame genre to life with stunning visuals often reserved by studios for big-name shonen adaptations. So what Slice of Life anime are you watching this season? Did we miss anyone's favourite? Let us know in the comments!
---