También puedes leer este artículo en:Español
Fall is coming and with that a whole line-up of new fall season anime is heading our way! Are you ready to see what the new season has in store for us? For this list, we'll be telling you about the exciting new lineup of Drama & Slice of Life anime that are due to air this fall.
Here are the Top 10 new Drama & Slice of Life anime that we are looking forward to seeing this season.
10. 3nen D-gumi Glass no Kamen (3rd Year Class D Glass Mask)

Did you ever watch an anime called 'Glass Mask' back in the day? Based off a popular manga, it has had many anime adaptations over the years, but most notably in 2005. It returns in the form of a new spin-off miniseries featuring your lovable characters in a 3D world. In this re-imagined version, Maya, Ayumi, Chigusa and Yuu are going to a high school in the modern era, where they have to perform as actors and actresses, to warm up the cold hearts of people with their passion and make them forget about their worries.
In the form of a gag comedy focused on satirizing modern society, Maya, Ayumi, Chigusa and Yuu return to save this cold present reality, overseen by the chairman Masumi who actually believes there is no need to change the way things are. Encompassing many new challenges filled with plays, tears, smiles, unwelcomed eyes and unwelcomed favors, what will become of them as they try to bring their warmth to the world? With a new premise and re-imagined world, we can't wait to see what kind of laughs and comedic moments will arise from this new series.
3nen D-gumi Glass no Kamen
---
9. Bernard-jou Iwaku

Based off a manga by Yuki Shikawa. This comedy series follows a lazy girl named Sawako Machida, otherwise known as Miss Bernard, in her endeavor to become a person well versed in literature without actually reading much. Along with her literature-loving friends, they delve into many different books including the Bible, The Tale of the Heike, The Door into summer, The Great Passage, Fermat's Last Theorem, and more masterpieces that Sawako has never read.
Bernard-jou Iwaku. PV
---
8. Gi(a)rlish Number (Girlish Number)

Chitose Karasuma is a university student who wants to make the most of adult life by becoming an idol seiyuu (voice actress), instead of living a boring lifestyle that many people appear to live. She dives straight into the profession after landing a job at a seiyuu agency called 'Number One Produce', which is managed by her older brother, Gojo.
She has an ambition to make an impact in the voice acting industry, but finds herself only able to take on the minor roles. The reality is that the industry is much more competitive than Chitose had originally imagined, as she faces off against the other girls in the agency to get the major roles, including one cunning girl with a Kansai accent. Her competition is fierce as she learns that there's a lot more to succeeding as a Seiyuu than what meets the eye.
Girlish Number PV
---
7. Stella no Mahou (Magic of Stella)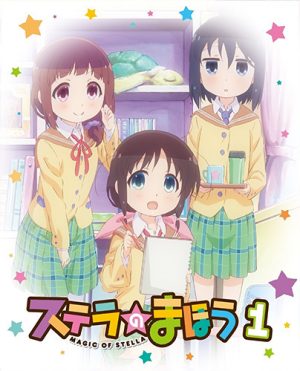 Episodes: 26
Aired: Dec. 2010 – Jun. 2011
A story about a girl named Tamaki Honda who, on her first day of high school, discovers the SNS Club, who makes self-published doujin games. SNS is an acronym for 'Shut-ins with No life in their eyes and Sunlight deficiency' meaning that they spend most of their time indoors and confined to the games they are dedicated to make. With a strong passion for games and a determination to succeed in the industry, Honda and her friends work together to create art, music, and scenarios to accomplish their goals.
Magic of Stella PV
---
6. Udon no Kuni

Souta Tawara, a thirty-year-old web designer working in Tokyo returns to his hometown after his father passes away, in the Kagawa Prefecture, otherwise known as the Land of Udon. Upon his return, he discovers a strange udon-loving boy named Poko at his family's udon shop, Souta finds him fast asleep in a cooking pot. At first, Poko seems like an eccentric little boy with a love for frogs, that is, until he turns into a tanuki! (A Japanese raccoon dog). Poko is actually a tanuki that took on the form of a human.
As time calmly passes, the two start to warm up to each other and Souta decides to quit his job in order to take care of Poko. The story follows the daily lives of the energetic Poko and Souta as they venture through the 'Udon kingdom' together.
Udon no Kuni PV
---
5. Fune wo Amu

Fune no Amu is a story about a man named Mitsuya Majime who works at Genbu Shobou Publishers. Originally part of the sales department, his unique knowledge of works gets him outcasted by his co-workers. However, Majime is welcomed by the dictionary editing department and moves there to become one of the members, tasked with putting together a new dictionary known as the 'Daitokai' (The Great Passage.)
Together with Kouhei Araki, a soon-to-retire veteran editor who recruited him, is an elderly scholar that devoted his life in researching the Japanese language. Along with another man named Masashi Nishioka and a girl he was destined to meet, they embark in the world of words and dictionaries. Facing many issues ahead of them, as a team, their lives become intertwined as they attempt to complete the Daitokai.
Fune wo Amu PV
---
4. Natsume Yuujinchou (Natsume's Book of Friends) 5th Season

Returning for another season after the last one ended back in 2012 is Natsume Yuujinchou, an anime about the tale of Takashi Natsume, a young man with the ability to see youkai, ever since he was little. However, because of his ability, other people had originally shunned him. Takashi inherited a 'Book of Friends' from his grandmother Reiko, which was filled with contracts that she had made to trap youkai. Takashi continues to spend his days trying to return the youkai's names to their original owners, along with his own trusty sidekick youkai, Nyako-sensei.
As Takashi's journey continues, he meets all kinds of new youkai and kind-hearted people that he becomes friends with, friends that he treasures and wants to protect, amongst the other things precious to him.
Natsume Yuujinchou 5th Season PV
---
3. Sangatsu no Lion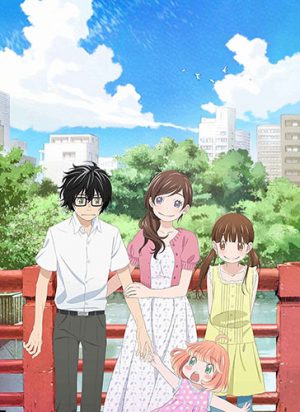 This is the story of Rei Kiriyama, a 17 year-old-boy who lost his parents when he was a child. He begins to live alone in Tokyo away from his adopted family, supported by the money he earns as a professional Shogi player. Though he becomes independent, the loneliness in his heart continues to cause problems that haunt him daily. Rei has problems interacting with fellow high school students and his Shogi career enters a slump as his progression begins to stagnate.
One day, he meets the three Kawamoto sisters: Akari, Hinata, and Momo. They are fond of Rei and accept him into their home as if he were part of their family, and little by little, Rei begins to change. He often visits, interacting with the three sisters and receiving the love and care that he has never experienced whilst with his adopted family.
Sangatsu no Lion PV
---
2. www.WORKING!!

A spin-off to the original world of Working!! This is an anime based on a spin-off web comic that is set in a sister restaurant of Wagnaria, with a whole different group of new characters.
Daisuke Higashida is a first-year high school student at Higashizaka High school. He works a part time job at a family restaurant to help with his family's financial difficulties, after his father's company one day goes bankrupt. Daisuke does not want to work but has no choice as he can no longer afford to take public transport to school and cannot pay for other daily luxuries. At his new job, he discovers that the floor manager is a disastrous cook and the hall staff use money to solve everything. With an already difficult new life, Daisuke tries to make the best of a bad situation and works towards restoring his family's fortune.
www.working!! PV
---
1. Hibike! Euphonium (Sound! Euphonium) 2nd Season

Coming this fall is the long awaited 2nd season of Sound! Euphonium. The first season followed the story of the Kitauji High School Concert Band, which used to have a reputable presence in national competitions. However, ever since the adviser for the club changed, the band has never advanced to the regional tournament nor come close to reaching its former glory.
Sound! Euphonium centers around Kumiko Oumae who, upon joining Kitauji high school, one day goes to observe the high school wind instrument club with her classmates, Hazuki Kato and Sapphire Kawashima. At the club, Kumiko is reunited with a former middle school classmate by the name of Reina Kousaka. Though her two friends, Hazuki and Sapphire, end up joining the club, Kumiko is reluctant to join after an incident between her and Reina during a concert in middle school. But as fate would have it, she eventually joins and so begun their adventure in reviving the once glorious band, hoping one day to reach the national competitions.
Hibike! Euphonium 2 PV
---
Conclusions
There we have it! A list of exciting new and returning anime to watch this season, with a variety of fresh stories. Which ones will you choose to watch? As always, please let us know in the comments below! Which anime are you looking forward to the most? Though this list is just some of the anime due to come out, are there any other ones that you are hyped to watch this fall?
Please be sure to check out the other lists on Honey's anime to keep up-to-date with all the other genres of anime coming out this fall!