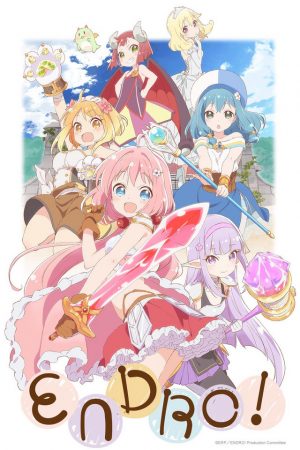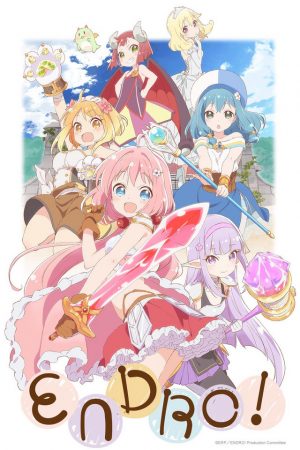 Endro~

Genre:
Slice of Life, Adventure, Fantasy
---
Airing Date:
January 13 2019
---
Official Images / Key Visuals
Synopsis
My name is Yuusha and I'm unemployed ♪.
Naral Island is a large continent where both humans and monsters, as well as magic and weapons exist. There is also the terrifying Demon King who exists. Long, long ago, the first generation of heroes defeated the Demon King who appeared on Naral Island. Since then, the Demon King has come back to life over and over again only to have the heroes appear yet again in resistance. Girls attend an adventurers school where they wait for the reappearance of the Demon King one day.
Yuusha is a bit of an airhead but is a bona fide hero.
Seira is the Elf saint who is a bit too serious and whose troubles never end.
Fai is a bright warrior who loves to eat.
Mei is a very quiet wotaku mage.
Aiming to be the next four-hero party, they don't appear that they will be ready to defeat the Demon King ever.
Three Episode Impression
Endro~! follows along as four girls work together to defeat a demon king and… wait. They've already won the battle? And the end credits are rolling?! Yet it seems that something went wrong with the forbidden magic, sending the demon king back in time to the start of this party's journey – when they were just beginning at adventurer's school...
Yuusha wants to be a hero, but for that, you need a demon king to fight against! Along with motherly elf Seira, rambunctious warrior Fai, and knowledge-hungry Mei, Yuusha and her friends learn to become real adventurers. Endro~! is a fantasy slice-of-life following these girls as they live their lives surrounded by adventure and magic. Of course, they show no sign of being able to defeat a demon king – we would never believe they could do it at all, if not for the beginning of episode one! Endro~! is another of those "cute girls doing cute things" anime, set in a lovely and vibrant fantasy world. The characters each embrace the role of typical fantasy classes, such as the healer, warrior and mage. If you're looking for a series to relax with and maybe laugh a little, we recommend you give this anime a try!
Characters & Voice Actors List
Yuusha

Voice Actor: Hikaru Akao
---
Yuusha is a fluffy, innocent adventurer who is blessed with both good luck and intuition. She is a bit lacking though when it comes to common sense as she can, among other things, sometimes burst into people's houses uninvited and search for items. As soon as she becomes obsessed with something, her focus is lost immediately and she always needs her friends to help her out. She is kind towards everyone and always is thinking about her friends.
Seira

Voice Actor: Shiina Natsukawa
---
Seira is the very serious yet best straight-man character of the party. She's an Elf saint and is good at looking after the others. She is more or less the core of the team. Seira is in possession of the most common knowledge, but she does have her faults such as not being too good at chores or forgetting things. Seria has poor eyesight and even though she is an elf, if she doesn't wear glasses, she cannot use her bow.
Fai

Voice Actor: Ari Ozawa
---
Fai is a fighter who is innocent, bright, and loves both food and her friends. She was raised as a child in a forest, so she has a connection with animals.She's unexpectedly sensible and logical. When her hunger passes it's limits, she goes berserk, attacking her friends. She has a habit of play-biting her friends.
Mei

Voice Actor: Inori Minase
---
Mei is a quiet mage. She tends to be expressionless, but behind that facade, she seriously thinks about dad jokes and how she lacks intelligence. At the same time, she also has a girly, family-oriented side to her as well. She's a wotaku extremely obsessed with Karuta cards, and whenever the topic changes to them, she gets surprisingly heated.
Princess Rouna

Voice Actor: Momo Asakura
---
Princess Rouna is the queen of Rapanesta, the only kingdom on Naral Island. Her favorite book is 'The Tale of Heroes', and so, she is in love with anyone who is a hero. She generally has a relaxed, gentle personality, but when it comes to heroes, she becomes unpredictable.
Maou

Voice Actor: Misaki Kuno
---
Maou is a newcomer teacher who has just taken up teaching at an adventurer school that Yuusha attends. Even though she is mentally prepared, due to looking like a small child, the students think of her as more of a cute mascot.
Theme Songs

Opening Song: Endro~ru by Yuusha Party (Hikaru Akao, Shiina Natsukawa, Ari Ozawa, and Inori Minase)
Ending Song: Wonder Caravan! by Inori Minase

Adaptation

Original


Main Staff

Original Creator: i~a~rupi~
Director: Kaori
Series Composition: Takashi Aoshima
Character Design: Haruko Iizuka
Animation Director: Kenji Oota
Sound Director: Jin Aketagawa
Original Illustrator: Namori
Music: Yoshiaki Fujisawa
(Credit Honey's Anime when you use our description.)
---