También puedes leer este artículo en:Español
It's Autumn already, guys, and guess what that means? It's time for a new season of anime! Nothing better than when the new season starts rolling out just as you're finishing up with the last season.
As the weather cools down, we tend to ready ourselves to bundle up in warmer clothes and stay in for cozy nights, but days are still long at work or at school, so often times, we need to kick back and relax. What better way than with a good comedy anime?
When it comes to comedy, there is no one standard. While there are many anime out there under the category "comedy," not all jokes are created equal.. There's always one out there for you, even if the other 90% aren't! Now, let's take a look at this season's upcoming comedies to find the one right for you.
1. Onsen Yousei Hakone-chan

Episodes: 13
Aired: October 2015 - December 2015
Upon awakening after many years of being dormant, a hot springs fairy discovers that she has the physical appearance of a young girl. Now, she must attempt to regain her powers while helping the local residents.
Onsen Yousei Hakone-chan is based off of an ongoing manga with 2 volumes currently published by Yui Daisuke, who has experience writing ecchi comedies. This particular anime also falls under the genre seinen, which in my opinion, is great because it means the comedy is for more mature audiences without being completely ridiculous in regards to the amount of ecchi in the anime, although you are welcome to argue with me about this fact.
Despite there being a lack of promotional video or trailer for Onsen Yousai Hakone-chan, it does seem to have garnered attention. The anime itself seems to have fairly great animation and character design. It should be quite fun to see a personification of Hakone becoming animated in an anime.
---
2. Osomatsu-san (Mr. Osomatsu)

Episodes: Unknown
Aired: October 2015 - unknown
Osomatsu is the eldest of a set of sextuplets. Before, Osomatsu and his brothers were trouble making boys, but now, they're all grown up! Returning to the cast are all of the brothers and Totoko, the girl of the sextuplets' dreams.
What is really notable about Osomatsu-san are the seiyuu (voice actors) who were hired to play the Osomatsu brothers! You've got Code Geass' Suzaku and Lelouch, Gray from Fairy Tail/Ryuu from Kimi ni Todoke, Kuroko no Basket's Akashi/Noragami's Yato, Sebastian from Kuroshitsuji, Tsubasa' Reservoir Chronicle's Syaoran, and Lucky Star's Miyuki. If that's not an awesome cast, then I'm stumped.
Utilizing the old school style of Japanese animation, Osomatsu-san is returning to television as the sequel of the original anime, Osomatsu-kun. The previous series originally aired in 1966, but was rebooted in 1988. Now, Osomatsu and his 5 brothers are older now, but still, the wacky comedy keeps on going. If you haven't seen the trailer, I'm sure you won't be able to make heads or tails of it. These brothers are just everywhere. It's a refreshing new comedy using old comedy styles. Perfect for creating classics.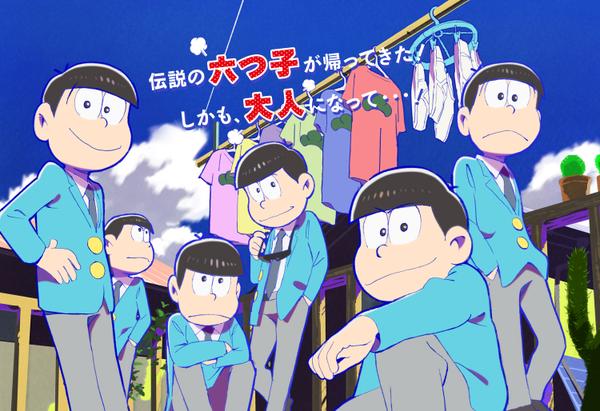 TV Anime "Osomatsu's" 2nd PV
---
3. DD Hokuto no Ken 2 Ichigo Aji+ (DD Fist of the North Star 2 Strawberry Flavor Plus)

Episodes: Unknown
Aired: October 2015 - unknown
DD Hokuto no Ken 2 Ichigo Aji+ is a parody spoofing the series Fist of the North Star. What are they doing in this post apocalyptic world? Well, the Holy Emperor Souther is trying to make friends with Kenshiro.
Based on a popular webcomic, DD Hokuto no Ken 2 Ichigo Aji+ is notable for the Tetsuo Hara art style. You won't know if you're watching the original or the parody! Judging from the trailer, I'm betting there's a lot you can't take seriously anymore. If you're a fan of the original Hokuto no Ken, this might be a refreshing change of pace from the seriousness to see your favorite characters in a different light!
Hokuto no Ken: Ichigo Aji - [Anime] Trailer
---
4. Fushigi na Somera-chan (Magical Somera-chan)

Episodes: 12
Aired: October 2015 - December 2015
Nonomoto Somera has inherited the power of Nonomoto Mahou-ken, a powerful form of kenpo. This is the everyday life of Somera!
Is this another slice of life or magical girl anime? Perhaps, it's going to focus on the martial arts! Well, the main promotional image for this anime features a mecha, so I am sure you will be in for a few surprises no matter what genre you might want to classify Fushigi na Somera-chan under.
Studio Seven is taking care of the animation for Fushigi na Somera-chan, and they just got done with Okusama ga Seitokaichou for the summer season, and previously, Studio Seven worked on Danna ga Nani wo Itteiru ka Wakaranai Ken, so hopefully Fushigi nan Somera-chan is on par!
Also, it may be fun to note that originally, Fushigi na Somera-chan announced as an April Fool's joke, but April Fool's is over and this anime is no joke! Well, maybe it is, but you'll have to watch the 5 minute episodes to find out.
Fushigi na Somera-can - [Anime] Trailer
---
5. Itoshi no Muco (Lovely Muuuuuuuco!)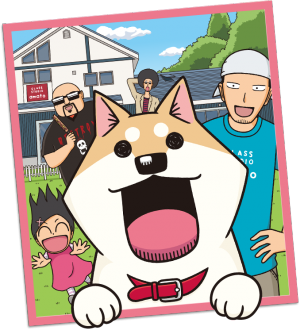 Episodes: ?
Aired: October 2015 - ?
If you have seen Lovely Movie: Itoshi no Muco and the sequel, Itoshi no Muco may pique your interest. This is the story of Muco, a pet dog, and his owner Komatsu, a glass blower.
Itoshi no Muco is about the life and antics of Muco and Komatsu. Itoshi no Muco is another seinen anime that utilizes classic elements of older Japanese comedy anime. It is rated PG so don't expect too much inappropriate humor, but it does look like a funny anime about a not-so-bright Akita and his owner. What type of trouble will Muco get into? What will Komatsu have to deal with next?
[Muko of beloved TV cartoon] PV
---
6. Shingeki! Kyojin Chuugakkou (Attack on Titan: Junior High)

Eren and Mikasa are about to start at Titan Junior High, where students study alongside titans to get a proper education. Humans and titans coexist at Titan Junior high, but Eren holds a grudge against the titans because the colossal titan had eaten his lunch. Now, a thirst for revenge awakens a desire to rid the world of titans in Eren, but it's getting in the way of his making friends!
Alright, I made it sound a little dramatic, but it's hard not to when you're talking about Shingeki no Kyojin. Unless you're talking about Shingeki! Kyojin Chuugakkou! Shingeki! Kyojin Chuugakkou is based on a manga that parodies the original work Shingeki no Kyojin.
While the original wasn't exactly known for its comedy--but who could forget potato girl?--Shingeki! Kyojin Chuugakkou is a junior high comedy about humans and titans coexisting in one school. It looks like a fun anime featuring all the characters we love in a whole new setting. Is it a fight for life or death, or is it a battle for the best grades?
Advance! Giant junior high PV
---
7. Komori-san wa Kotowarenai! (Komori-san Can't Decline!)

Episodes: 12
Aired: October 2015 - unknown
Komori Shuri is your average 14 year old junior high school student. Well, Shuri is constantly doing favors for everyone which has resulted in incredible strength--does that count as normal?
Written by the same mangaka (manga author) as "I Can't Understand What My Husband Is Saying," Komori-san wa Kotowarenai! is a series of shorts following the life of Komori Shuri. Junior high is already hard enough with puberty, studying, and teen angst; Shuri is going to have it a little tough with her incredible strength.
Komori-san wa Kotowarena! Opening [Komari-san Can not Decline]
---
8. Teekyu 6

Episodes: Unknown
Aired: October 2015 - ?
There's nothing like joining a sports team at school to play your favorite sport. Well, that is unless you're the girls of the Kameido High School tennis club. This is the 6th season of Teekyu, an anime about girls who kind of play tennis more or less.
If you loved the series so far, you are going to enjoy yourself with the new season. Sports, school life, and slice of life and great ingredients for this comedy. What type of hijinks will the girls be doing now?
New Trailer for July Anime "Teekyu"
---
This season, there appears to be some great comedy picks out there. There should be a little something for everyone. From parodies, slice of life, to ecchi, you've got your pick of the litter!
I have to say, I'm excited for a few of these series. Comedy is a tough genre to crack into, but these series do have some promise. What are you guys looking forward to? What's your favorite genre under comedies?
---