As probably all of you already know, otome games are those video games intended for a female audience. Aside the main plot, one of the goals of these games is to develop feelings toward one of the male characters, and head toward one of the best endings, trying to avoid the bad ones. In time, these video games gained a huge popularity and had anime adaptions, or English versions, that's why nowadays, otome games are famous around the world, with a strong fandom supporting them.
As Valentine's Day is approaching, we were thinking of mentioning 10 male characters from otome games. Some girls would love to spend Valentine's with one of the hotties from their favorite game; being spoiled by a prince-like boyfriend is one of the best traits of these games, so we will now mention those characters that would be worth spending Valentine's with.
The world of the otome games is huge, we realize it, but we will try to put in this ranking different kind of characters: the sweet cutie pie, the brash bad boy, the quiet prince, and so on, just to make sure to suit everyone's tastes! So please, stick with us until the end, and enjoy your Valentine's date with the perfect boyfriend!
10. Saeyoung Choi, "707", "Seven" from Mystic Messenger (Susanghan Messenger)

System/Platform: iOS, Android
Publisher: Cheritz
Developer: Cheritz
Release Dates: Jul. 8th, 2016
Let's start this ranking out with Seven from Mystic Messenger! This red-haired, golden-eyed hottie is your typical happy-go-lucky personality, hiding a treat. In fact, while he appears to be very outgoing, and a jokester, throughout the game there's the constant feeling that's just a facade. That's why, choosing Seven means to uncover what lies behind the humorous front he puts on.
Because of his job as a hacker, he lives with the constant fear of putting in danger those around him. His true character is serious and with a tendency to pessimism. Once you manage to build a path into his heart, though, he is the sweetest boy: Seven shows affection and gratitude, because he is finally accepted regardless of how he is. Let Seven spoil you rotten on Valentine's, you won't resist his constant attentions!
---
9. Miyabi from Enchanted in the Moonlight (Koyoi, Ayashii Kuchidzuke Wo)

System/Platform: iOS, Android
Publisher: Voltage
Developer: Voltage
Release Dates: Feb. 7th, 2014 (JP) / June 22nd, 2014 (ENG)
What about a Valentine's Day surrounded by spirits and demons of the Japanese folklore? Miyabi from Enchanted in the Moonlight may be the right choice! He is a kitsune, a fox demon, and he lives up to his nature. Miyabi is smart, handsome, snarky, confident, and he comes across as full of himself. Yes, there's a strong possibility he will call you an idiot, or something like that, but don't mind.
He is just a silly fox demon, who actually doesn't think he is worth to be in line as the head of his clan. So guess what? We're talking about another hottie hiding behind a fake smile! The flip side of Miyabi's character is one of a caring person, who can even turn shy in certain situations... if you know what we mean. A date night with him would probably result in Miyabi making fun of you most of the time, but all it takes is to hold his hand to see him blushing!
---
8. Sakuya Nanahoshi from True Love, Sweet Lies (Shinjitsu no Koi wa, Amai Uso Kara)

System/Platform: iOS, Android
Publisher: Voltage
Developer: Voltage
Release Dates: May 7th, 2014 (JP) / Oct. 28th, 2014 (ENG)
If you like cold characters, who look very mysterious, and seem to have little to no interest in women, we are sure you will love Sakuya Nanahoshi. With his black hair and blue eyes, he is probably the hottest in True Love, Sweet Lies! At the age of 28, Sakuya keeps his fear for women, as one of the maids working in his house tried to take advantage of him when he was a child.
So, yes, we're in front of a problem kid, but fear not, there's a way to break through the walls he built. Sakuya is quick-tempered, but not aggressive, and he is a bit asocial. As the story goes on and you get to know him better, you can finally scratch the surface and discover a sweet man, super affectionate and honest toward you. He is absolutely lovely, but in case you get bored on a date with him, don't worry: he has a twin brother, Kiyoharu, who is Sakuya's opposite!
---
7. Soryu Oh from Kissed by the Baddest Bidder (Suite Room de Itazura na Kiss)

System/Platform: iOS, Android
Publisher: Voltage
Developer: Voltage
Release Dates: Oct. 9th, 2013 (JP) / Feb. 10th, 2014 (ENG)
Have you something for the mobsters, by chance? Because Soryu Oh is part of criminal syndicate in Hong Kong! He is yet another black-haired hottie, with gray, cold eyes. Soryu's stern look is what should persuade you to stay away from him, but risk usually intrigues. He is a bit of a misogynous man, hating women because he is sure they're all materialists. Don't you feel like making him change his mind?
Then, brace yourself. As the story progresses, his cold attitude toward you, gradually turns to pure love and devotion. Try calling him "cute", and you'll see a mobster blush like a little kid! Well, as he loves omelets, there's the chance that you'll end up eating eggs on your Valentine's date, but Soryu is a gentleman: he will treat you like a real princess, and spoil you rotten all the time!
---
6. Huedhaut from Star-Crossed Myth (Koishite Shimatta Hoshi no Ouji)

System/Platform: iOS, Android
Publisher: Voltage
Developer: Voltage
Release Dates: Aug. 11th, 2014 (JP) / Feb. 2nd, 2015 (ENG)
What about a wise god as our 6th position? Huedhaut is the God of Aquarius, and a member of the Department of Wishes. With his neck-length dark blue hair, and deep dark blue eyes, he is one of the most beautiful gods, all the more in his true form! Because of some circumstances, he vowed to never fall in love again, but with a little effort you can make him break the vow, that's a given.
Huedhaut is very intelligent and wise. If you like brainiac man, he is the right choice: he loves stating things in an elaborate wordy way, and has a retort in every situation. It's impossible to leave him speechless! Huedhaut is the kind of character who loves to see you flustered, but he is right beside you in time of needs. Don't worry, with him on Valentine's you'll be flooded with love!
---
5. Hades Aidoneus from Kamigami no Asobi: Ludere Deorum

System/Platform: PS Portable
Publisher: Nippon Ichi Software
Developer: Broccoli
Release Dates: Oct. 24th, 2013
Now, let's keep sticking to gods, and switch to a shy personality! Hades Aidoneus is the Greek God of the Underworld. He is a handsome man, with long, wavy dark green hair, and a pale complexion. This cutie pie can come across as cold, but he is actually just very shy and introverted. He has a tendency to believe that he brings misfortune, so he is difficult to approach, as he keeps people away.
Hades is actually very soft; he is probably the sweetest man among these ten in the list. You wouldn't expect to see a man like blushing, or get flustered, yet that's exactly what happens when he has to state his opinion, or when he tells jokes which are lame to the others. A Valentine's date with him wouldn't be the top of the amusement, but if you like romantic dates holding hands and enjoying the silence, Hades is the right choice!
---
4. Sakuya Nijou from Norn9: Var Commons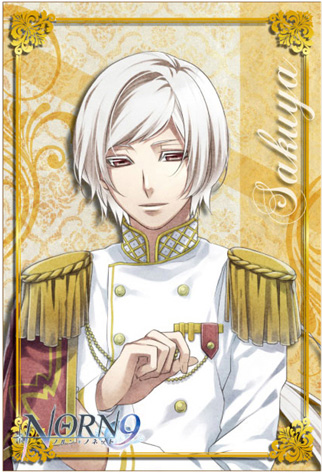 System/Platform: PS Vita
Publisher: Otomate
Developer: Idea Factory (JP) / Aksys Game (EU, NA)
Release Dates: Dec. 11th, 2014 (JP) / Nov. 3rd, 2015 (ENG)
What about a boy who would treat you as a delicate flower as our 4th position? Sakuya Nijou from Norn9: Var Commons is peculiar, starting from his looks. He has long, silver hair, tied in a ponytail. A fair complexion and delicate traits making him a beautiful guy. Sakuya is able to see the future, and since he saw that he will die protecting the girl he loves, he swore to never fall in love.
Well, if you like to be spoiled and be treated like a real princess, Sakuya is the right choice as a Valentine's date! He is kind, gentle, and has gentlemanly manners that will make you fall head over heels. Compliments, pleasantries, and an ear to listen to whatever you would like to complain on is what you have to expect with Sakuya Nijou. Beware, though: he swore to never fall in love, so you will have to struggle more than you expect to break through his walls!
---
3. Ikki from Amnesia

System/Platform: PS Portable, Android
Publisher: Idea Factory
Developer: Idea Factory
Release Dates: Aug. 11th, 2011
Ikki is our 3rd position from Amnesia. This beautiful man has beautiful features: he is tall, with white hair and beautiful light-blue streaks, and deep, blue eyes. His peculiarity is a blue spade tattoo below his left eye. You need to know this: as a child, he wished upon a shooting star that all the girls would fall for him. That became his cross to bear.
So, are you jealous perhaps? Because Ikki has his own fan club full of women fawning over him! Don't worry too much though, because he grew to dislike those attentions, as they didn't allow him to get actually close to anyone. If you manage to scratch the surface of his fake playful side, he is a caring man who will put you at the center of his world! On your Valentine's date with Ikki you may be harassed by one or two of his fans though...
---
2. Ryuzo Hatta from Dreamy Days in West Tokyo (Kichijouji – Koi Iro Days)

System/Platform: iOS, Android
Publisher: Voltage
Developer: Voltage
Release Dates: June 11th, 2013 (JP) / Oct. 10th, 2013 (ENG)
What about a childhood friend type as our 2nd position? From the otome game Dreamy Days in West Tokyo, here we have Ryuzo Hatta, a natural-born leader! Ryuzo has brown hair and eyes, his appearance is very common, but he is a hottie, as well. He is hot-tempered, brash and apparently careless of his surroundings, but he is also very fond of his friends.
Ryuzo Hatta is that kind of character who can come across as a bit tactless, while he is just absent-minded. In fact, the moment he starts to feel something for you, he turns to an over-protective, jealous, older-brother-like boy, who treasures you above everything else. Not only that: his well-known carelessness fades away completely. Actually, if you wish to spend your Valentine's having fun with a playful boy who can become very romantic in time of need, Ryuzo is what you're looking for!
---
1. Souji Okita from Hakuouki: Demon of the Fleeting Blossom (Hakuouki Shinsengumi Kitan)

System/Platform: PS 2, PS 3, PS Portable, Nintendo DS, Nintendo 3DS, iOS, Android
Publisher: Design Factory & Otomate
Developer: Idea Factory, Aksys Games
Release Dates: Sep. 18th, 2008
We end our ranking with the beautiful captain of the first division in the Shinsengumi, Souji Okita! This hot 20-year-old man has reddish brown hair, amazing emerald green eyes, and an everlasting smirking face. While spending time teasing those around him, being rude to everyone who wishes to help him, he is actually a good-natured man, loyal to the Shinsengumi, and a very skilled swordsman.
Step by step, when he finally puts his rudeness away, Okita's true character pops up. He is a very caring man, who would put his life at stake, in order to save you. But since we're talking about a Valentine's date, let's scale it down a bit. A date with him would probably mean receiving a non-stop teasing, it's true; but at the same time, in proportion, a lot of passion, because Souji Okita demonstrates to be passionate whatever he does. Maybe he won't treat you like a real princess, but he will make you feel his special one!
---
Final Thoughts
And with the handsome Souji Okita our ranking comes to an end! But Valentine's Day is yet to come, so why don't you pick one of these characters and enjoy a romance with him? We can safely state that each of these hotties is bound to give you a nice date night, full of sweet moments and laughter! So, don't forget to let us know with whom you'd spend your Valentine's Day in the comments below. See you next time!
---