También puedes leer este artículo en:Español
As we grow older, work becomes a necessity to survive. You need a job to pay your bills, feed yourself, and build up an emergency fund. What's even worse is that the pay may be too low. And unfortunately, you may not even like your job, with that naggy boss or lazy coworkers of yours. Yeah, work can be a real stick in the mud, but that's why there's anime to cheer us up.
Within recent years, anime being set in the workplace has become a huge hit. Slice of life workplace comedies, such as Blend S, feel like a fantasy with the characters working at the perfect job. There are cute girls, laughs, and even a few relatable moments. Blend S even has that extra spice by having its characters be otakus. And not the stereotypical ones! What's even better? Blend S isn't the only one! Let's take a look at other anime that share a resemblance to Blend S.
Similar Anime to Blend S
1. New Game!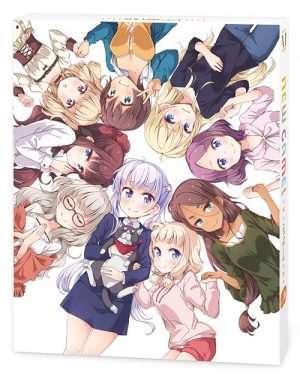 Episodes: 12
Aired: Jul 2016 to Sep 2016
Aoba Suzukaze just graduated high school, and is ready to get to work. With a stroke of luck, she was able to get her dream job as a video game character designer. Even better, Aoba gets to work alongside the person who inspired her to become a character designer, Yagami Ko. While working, Aoba learns more about the development of a video game, and the tolls it can take. But with the help of her newfound friends, Aoba will get by just fine.
New Game has two seasons, which means people cannot get enough of this adorable anime. You learn about video game design in a fun way, with charming characters breaking it down into simpler terms. Like in Blend S, the characters are quirky, geeky, fun, and relatable in their own way. Even more like Blend S, not all of the episodes are set in the workplace. Sometimes, Aoba will hang out with her best friend from high school, or go drinking with her coworkers. The characters will go to otaku events as well, such as cosplay, concerts, anime screenings, and anime conventions. A very light-hearted anime that is sure to make every person smile.
New Game! Trailer
---
2. Wagnaria!! (Working!!)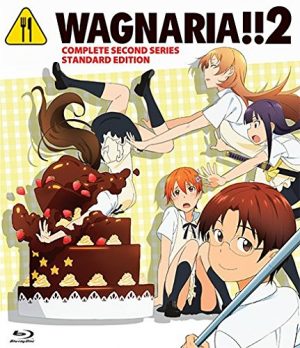 Episodes: 13
Aired: Apr 2010 to Jun 2010
Souta Takanashi works at a very odd restaurant in Hokkaido. The restaurant, Wagnaria, may seem like your everyday family-friendly eatery. But the staff is nuts. The cooks get violent, the manager slacks off, and the servers act awkwardly towards men. How this restaurant is able to stay afloat is a mystery. If you plan to have your next meal at Wagnaria, be prepared for a very boisterous atmosphere.
Some may say that Working was the first to kick off the workplace genre. If that's true, we can see why! Working is filled with all sorts of goofy characters who just can't seem to get along. But somehow, the Wagnaria staff is able to pull it together and run a successful business. In fact, Working has three seasons, plus a spin off. This is an absolute must-watch for all workplace genre lovers. And Working is without a doubt the most similar anime to Blend S.
Wagnaria!! 3 Trailer
---
3. Isekai Shokudou (Restaurant to Another World)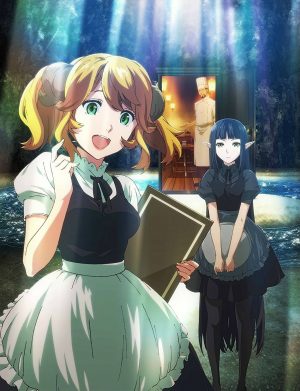 Episodes: 12
Aired: Jul 2017 to Sep 2017
So, you're not in the mood for laughs? No problem. Isekai Shokudou will warm you up with relaxing episodes. Instead of a crew of wacky characters, this cast is from another world! Nekoya is a restaurant in Japan that serves Western cuisine. Every Saturday, the restaurant serves creatures from a fantasy dimension. Stop by to eat some delicious food, enjoy peaceful music, and chat with a mage or an elf.
If you're looking for a slice of life workplace anime to sooth you, then look no further. Isekai Shokudou introduces you to a new mythical creature- uh- customer every week. Like seeing how a humanoid lizard would enjoy food from our world. We're delighted to see the reaction of a customer when they take a bite of a scrumptious-looking meal. Don't watch this series on an empty stomach, because the food porn is strong with this one. The staff at Nekoya provide the most welcoming customer service, that'll make you wish you could experience Nekoya in person.
Isekai Shokudou Trailer
---
Any Anime Like Blend S ?
4. Hanasaku Iroha (Hanasaku Iroha: Blossoms For Tomorrow)

Episodes: 26
Aired: Apr 2011 to Sep 2011
In a single day, Ohana's life changed drastically. Ohana's best friend confesses his love for her, her mother leaves, and Ohana is dropped off in a country town and forced to work at her grandmother's inn. Does it get better? Unfortunately, Ohana's coworkers consist of a bad-mouther, a pervert, a pushover, a super shy girl, and the meanest boss ever. Ohana doesn't have a choice but to stiff upper lip and get to work.
Hanasaku Iroha is a coming of age story. Ohana starts out as a naive girl, who runs away from her problems. Once she's thrown into a job, Ohana quickly learns how the real world works, and grows into adulthood. The employees of the inn each get their own episode, with proper characterization and development. Hanasaku Iroha doesn't glorify the workplace in the slightest. Sometimes business is slow, then suddenly booming. Hanasaku Iroha is realistic, fun, and heartwarming till the very end.
Hanasaku Iroha Trailer
---
5. Soredemo Machi wa Mawatteiru (And Yet The Town Moves)

Episodes: 12
Aired: Oct 2010 to Dec 2010
Everyone loves maid cafes, right? How can you resist being served by cute girls in maid outfits? It's certainly possible when the maids have no clue what their doing. Each maid has their own quirk to them, with one being a grandma and another thinking she's a detective. And barely anyone even attends the cafe. Even weirder is that the three cafe regulars have formed a confusing love triangle. But someway, somehow, life goes on.
No matter what ruined your day, no matter what embarrassing thing happened to you, the beat goes on. That's the overall theme of And Yet The Town Moves. It's a message everyone should take to heart, because it's true, especially when working. At times our personal lives get in the way of our job, and can affect the team heavily. And Yet The Town Moves shows this all in a hilarious fashion. Similar to Blend S, you get multiple funny skits, romance, and an odd maid cafe. If you're a fan of underrated series, then queue And Yet The Town Moves.
---
6. Shirobako

Episodes: 24
Aired: Oct 2014 to Dec 2015
Ever wonder what it's like to create an anime? Shirobako throws you into the crazy world of animation. From CGI models, to production, delays, and voice acting, you get a very in-depth and entertaining series. Aoi Miyamori isn't too sure what she wants to do in life. But she does love anime, so Aoi gets a job as a production assistant at the topsy-turvy Musashino Animation. Things aren't as easy as Aoi hoped, especially with a large team of difficult coworkers.
Straight from the studio that made Hanasaku Iroha comes Shirobako. Like New Game, Shirobako takes place after high school and into the workplace. Some of the characters are working and they still aren't sure if this job is right for them. Others are still struggling to get their dream job. But like Blend S, hilarity ensues with a cast of oddballs struggling to air the next episode in time. Fun fact, some of the characters are modeled after real life animators and directors. Although exaggerated, Shirobako gives us a pretty good picture to the process of making an anime.
Shirobako Trailer
---
Final Thoughts
We love Blend S for showing us the joy of working. The relatable otaku moments with characters makes us feel at home. And of course, we can't go five minutes without pausing the episode to laugh. So, hopefully, the anime above were able to quench your thirst for comedy slice of life workplace anime. Are there any others we missed? Did you add a new series to your "must watch" list? Let us know in the comments. Till next time!
---