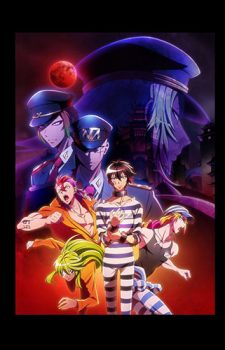 Based on a Stephen King short story, The Shawshank Redemption is rightfully hailed as one of the greatest films of the 1990s. Frank Darabont's drama failed to secure a single Oscar but nevertheless, the Academy still acknowledged The Shawshank Redemption's magnificence by granting it seven nominations. Convicted of a double murder, Andy Dufresne is condemned to consecutive life sentences at the notorious Shawshank State Penitentiary. While the film never confirms whether Andy is truly guilty, the protagonist is portrayed as someone worth admiring! Despite the character's harsh and abusive reality, Andy never stops believing in a brighter future. The Shawshank Redemption is a prison drama that strikes the ideal balance between horror and optimism. Few projects came close to matching the film's brilliance, but the following currently-airing anime share striking similarities with Hollywood's masterpiece!
Like The Shawshank Redemption? Watch Rainbow: Nisha Rokubou no Shichinin (Rainbow)
Episodes: 26
Aired: October 2010 – September 2010
Set in the 1950s, Rainbow: Nisha Rokubou no Shichinin centers around seven young prisoners who end up sharing a cell at the Shounan Special Reform School. Regardless of whatever the facility's name may imply, this "school" is harsher than most prisons. Charged with serious crimes and facing an extended period under the supervision of a sadistic prison guard and a doctor with a taste for maturing boys, the only thing keeping these teenagers going is the hope that a brighter future lies in wait. Will they survive to experience the outside world?
Major Similarities Between The Shawshank Redemption and Rainbow: Nisha Rokubou no Shichinin (Rainbow)
1. The Bonds that Bind
Andy's budding friendship with Red serves as The Shawshank Redemption's heart. Initially, Morgan Freeman's inmate acts as a mentor for the babyfaced Andy; however, as the years fade away, their relationship turns into one defined by mutual trust and respect. Surviving prison is not a task easily achieved on one's own. Rainbow: Nisha Rokubou no Shichinin challenges the bonds established between the seven principal cellmates, with the older Rokurouta Sakuragi acting as a role model for the terrified newcomers. In such a harsh environment, isolation guarantees death, and the people in charge desperately try to extinguish even the slightest source of warmth.
2. Cut From the Same Awful Cloth
Samuel Norton is undoubtedly an intimidating and cruel Warden, but Ishihara makes Shawshank's corrupt supervisor look almost decent! Driven by a deep-seated hatred for Rokurouta and dedicating his miserable life to torturing youngsters who might have had a bright future, Ishihara ranks among the most loathsome modern villains. Please note, we are taking into account more than just anime! Ishihara is a monster. Describing the guard as the "worst" is a gross understatement, but Ishihara always comes across as human. Norton and Rainbow's detestable supervisor are both plausible. Consequently, The Shawshank Redemption and Madhouse's anime both have terrifying villains!
3. Freedom Comes at a Price
Andy never gives up hope of eventually tasting freedom, but The Shawshank Redemption clearly illustrates the challenges faced by ex-cons seeking to reintegrate into society. Rainbow opts for a similar approach, with the prisoners lacking anywhere to call home beyond the hellish school's walls. They have been abandoned by civilization, and there is no guarantee that anything positive awaits them. The convicts dream about reuniting as free men, but such a goal is nearly a fantasy.
---
Liked The Shawshank Redemption? Watch Nanbaka
Episodes: 13
Aired: October 2016 – December 2016
Escape artists are a special type of criminal. One could say they almost want to get caught. Hailed as the world's toughest prison, Nanba jails the worst of the worst. When it comes to Cell 13's occupants, these four prisoners have amassed a perfect track record of escaping from every other cage known to man. Guarded by a determined supervisor and a peculiar Warden, Nanbaka documents the various insane escape plans cooked up by Cell 13's residents!
Major Similarities Between The Shawshank Redemption and Nanbaka
1. A Life Behind Bars
Crammed with quirky characters and extravagant animation, Nanbaka is far more lighthearted than The Shawshank Redemption. The opening episode quickly establishes that Satelight's series is closer to a gag anime than a straight-up drama. Despite the tonal differences, Nanbaka tackles many of the same themes explored by 1994's fantastic film. Perpetually incarcerated for the majority of his time on Earth, Juugo seeks the comfort of a prison cell and fears that he is incapable of adapting to normal everyday life. Nanbaka's prisoners are all haunted by dark pasts that left scars upon their psyches, ultimately leading to Cell 13.
2. A Battle of Willpower
As the supervisor striving to keep Cell 13's likable scoundrels confined in their cage, Hajime Sugoroku is the foremost obstacle standing in the way of the prisoners' freedom. Nanbaka presents its convict-guard dynamic in a more competitive light than The Shawshank Redemption or Rainbow, but this is still a clash of willpower. Hajime is not unrelentingly abhorrent or corrupt, but he will go to any length to ensure Nanba's walls remain unbreached. Andy seeks to escape Shawshank, but Nanbaka's characters view the escape itself as the liberating act. The journey is more important than the destination.
Final Thoughts
The Shawshank Redemption perfectly adapts Stephen King's story into a harrowing but inspirational tale about one man's refusal to accept his fate. Anime set in prisons are not especially common, but Rainbow: Nisha Rokubou no Shichinin and Nanbaka are worth checking out for fans of Tim Robbins' classic!
If you have any thoughts on any other shows that are similar to The Shawshank Redemption, please leave a comment below with your suggestion! In the future, do not forget to check Honey's Anime for more articles offering great recommendations.