También puedes leer este artículo en:Español
Introduction:
Winter is gone, spring is here, and summer is just around the corner. Let's not move too quickly though. The spring anime lineup has quite a few spectacular shows in the bunch that would be a shame to miss out on. Now, everyone already has their feelers out for the second seasons of Boku no Hero Academia and SnK, but there are quite a few other shows, several of which belong to the Sci-Fi Genre.
8. Atom: The Beginning

Episodes: 12
Aired: Apr. 2017 – Jun. 2017
In Atom: The Beginning, we are brought into a Japan that has suffered a major disaster. As reconstruction continues five years later, our heroes are two young researchers who are putting their heart and soul into robotics. Though this sci-fi anime isn't the most hyped up one for this season, it is still a show worth keeping an eye on. This is especially true if you are a fan of the Astro Boy series in any shape or form, as this anime is a brand new interpretation of the events leading up to his birth. It definitely seems like a good chance for parents who loved Astro Boy growing up to get their child into the series.
Atom the Beginning PV:
---
7. ID-0

Episodes: Unknown
Aired: Apr. 2017 - ???
Maya Mikuri was just a student of the Alliance Academy who was training to use an I-Machine, a robot specifically designed to operate in dangerous environments. Then all of a sudden she gets caught up with a crew of pirates and ends up becoming a member. The story and action move fast in this one, and fans of sci-fi anime should definitely keep their eyes on this one. The CG style and space setting work really well together in creating a sci-fi atmosphere that will draw you in. Also, the character relationships have some flair to them and it will be interesting learning more about each person in the crew.
ID-0 PV:
---
6. Sekai no Yami Zukan

Aired: Apr. 2017 - ???
Episodes: Unknown
This sci-fi anime / horror anime / mystery anime is presented in the omnibus short format and deals with a variety of supernatural stories. From aliens to ancient civilizations, the show will cover it all. If you have seen the first episode then you already have a feel for the show's particular quirks. The most noticeable is that this anime is clearly a dedication to the more vintage horror stories of the 60s and 70s. That's not necessarily a bad thing, but some might find the still-portrait style to be a little too antiquated, while others might find themselves capable of guessing the ending to each story. The narration is done pretty well though, and binging it could be a fun way to spend a night once all the episodes are out.
---
5. Natsume Yuujinchou Roku

Episodes: 11
Aired: Apr. 2017 – Jun. 2017
Natsume Yuujinchou Roku is the sixth season of one of the most popular sci-fi anime out there. It focuses on the life of Takashi Natsume as he tries to free the youkai that have been ensnared by his grandmother's Book of Friends. The essential plot schematics seem like they will be sticking to how the narratives have been running since the first season. To some that might be getting a little tiresome, which would explain why this anime is right in the middle of this list. However, if you've enjoyed the earlier seasons, then chances are you will enjoy this new addition. It's a chance to see new characters and feel new emotional impact, as the writers have clearly shown themselves capable of doing this episode after episode, season after season.
Natsume Yuujinchou Roku PV:
---
4. Seikaisuru KADO

Episodes: 12
Aired: Apr. 2017 – Jun. 2017
Kojirou Shindou and his partner are about to take off on a business trip when a large, square structure appears on the runway. This alien structure engulfs the airplane and then comes to a stop. The Prime Minister and the head of various branches of government hold an emergency meeting as they try to figure out exactly what to do about the situation. At the moment, the square doesn't present a danger, but they do need to figure out how to save the passengers of the airplane. Well, apparently they don't need to worry as Shindou emerges from the square with the person who brought this alien structure to Earth, Yaha-kui zaShunina.
Only a little bit behind the top three sci-fi anime, Seikaisuru KADO has a lot of hype going for it, and that is pretty special considering the animation mix of CG with 2D backdrops. Generally, people are more wary towards shows with such an animation style. However, people are clearly interested in the world and politics that Seikaisura KADO will bring forth. It is definitely an anime that is more focused on mental games and diplomacy, which ensures that the CG won't hurt it as much as if it was an action show. Also, these brains over brawns shows have always had a strong following.
Seikaisuru KADO PV:
---
3. Alice to Zouroku

Episodes: 12
Aired: Apr. 2017 – Jun. 2017
Coming in the third spot for most highly anticipated sci-fi anime of this spring season I Alice to Zouroku. This anime focuses on the young girl Sana, who is one of the people who holds the power of "Alice's Dream," which enables her and other to materialize objects from their imagination. Well, because of her power, Sana has been raised in a place called "Wonderland", where she and other children have undergone scientific experiments. The story begins with her escaping this lab and encountering an old man named Zouroku.
We've seen a selection of sci-fi anime with similar premises over the years—Elfen Lied is just one that comes to mind—and each have earned themselves a pretty large fanbase. Such a history of good shows probably plays a small role as to why people are looking forward to this new one. However, there is definitely a lot more than just that at play. It has an extremely playful style that holds a contrast to the serious circumstances that surround a majority of the events. The action sequences and character relationships are two other strengths of this series, if the first episode is to be an accurate representation of what to expect.
Alice to Zouroku PV:
---
2. Re:CREATORS

Episodes: 22
Aired: Apr. 2017 – Sep. 2017
Re:CREATORS brings us into a universe where the line between fiction and reality is threadbare. The stories of one world become the essence of a whole new world. People create and then their creations create and soon enough there is an infinite number of realities. In Re:CREATORS, we are immediately introduced to this concept as Sota is suddenly transported into the world of his current favorite anime.
This anime promises to be one of the best sci-fi anime of this season for many reasons. First off, the animation is gorgeous enough to make the show worth watching even if the story doesn't pan out. However, and this is another reason to watch it, you can tell pretty quickly that the story will reach great heights. The arc of the first episode alone demonstrates capable writing, with strong pacing and character development. Finally, TROYCA is the studios behind the project, and though it is a pretty new studio, it has shown a reliable nature in 2014 and 2015.
Re: CREATORS PV:
---
1. Sakurada Reset

Episodes: 24
Aired: Apr. 2017 – Sep. 2017
Sakurada is a small town in Japan where almost half the population have some sort of unique power, and if someone leaves the town, then that person forgets completely about his/her power. The types of power one can be born with are vast, but the people we're focusing on, Asai Kei and Haruki Misora, have the powers of remembering and resetting time. They are introduced to each other through their mutual friend Misora, who believes that their abilities and personalities will fit together in a rather beautiful manner.
Sakurada Reset is the most anticipated sci-fi anime of this season. This might come as a surprise to some, as the show's tone is a bit more laid back and calm compared to past sci-fi favorites like Steins;Gate. Nonetheless, people clearly saw something to look forward to when checking out the teasers for this new show. Most likely, most picked up on the philosophical undertones and focus on narrative through the animation style as well as slight dialogue. It is clear from the first episode that this is a show that will unravel carefully and slowly, hitting you with some powerful emotional moments. It's definitely the type that can flip expectations on their heads.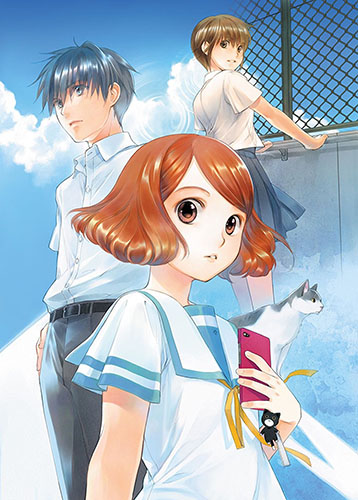 Sakurada Reset PV:
---
Final Thoughts
There you have it. Those are the top eight most talked about sci-fi anime that will be airing this spring season. There is definitely a mix of styles and settings, and so most fans of the genre will be able to find at least one show that fits their particular niche of sci-fi.
---