The Fall anime season is already at its peak, so some of you may want another current airing anime to take up while waiting for those shows in your watch list that gave you some of the most frustrating cliffhangers ever. Well, worry not; as we, from Honey's Anime, are ready to give you recommendations that are airing this season.
If you have come to this article looking for some anime that are similar to Hetalia, then you have come to the right place! Hetalia is filled with satirical jokes and excessive gags about different nations and became a controversial anime in the industry. But for anyone who appreciates this type of comedy, or any type of humor at all, the two anime that we will list here will surely give you some good laughs and farts~ We won't hold you back anymore, so read away!
About Hetalia Axis Powers

Episodes: 52
Aired: Jan. 2009 - Mar. 2010
Hetalia is a very simple show in which different countries are brought to life by being portrayed as humans! Important historical events are retold with a touch of fun, hilarious comedy! Hetalia is originally a webcomic that was written and drawn by Hidekaz Himaruya. It aired its first season in 2009 and has garnered a lot of sequels, a movie, and was even adapted into a game. If someone wants to learn more about history, then this will, without a doubt, suit their taste. History has never been this enjoyable!
Liked Hetalia? Watch Touken Ranbu: Hanamaru!
Episodes: 12
Aired: Oct. 2016 - Currently Airing
Touken Ranbu: Hanamaru is based on the well-known browser video game Touken Ranbu Online that was developed by Nitroplus and was published by DMM. In the year of 2205, "Historical Revisionists" are out to change the course of history. The Saniwa, who has the responsibility of protecting the history, has the power to give life to swords known as Touken Danshi. The Touken Danshi fight alongside the Saniwa while also performing their everyday responsibilities in Honmaru.
3 Major Similarities Between Hetalia and Touken Ranbu: Hanamaru
1. Personification
Probably the most prominent similarity of Hetalia and Touken Ranbu is that these two shows use personifications as characters. In Hetalia, they personify the different countries of the world; while in Touken Ranbu, they embody different famous swords. Because of this, it's easier to understand the show and the characters (if you at least know their backstory) as their personality, mannerisms, and the way they look reflects what they were based on.
Since most of the show is heavily influenced by history, both anime can be educational to viewers in a fun way, that is if you view your history subject as dull and boring. Like in Hetalia, we get to know the different stereotypes of different countries and their past events; while in Touken Ranbu, we get to know the swords, their Masters and also a little bit of Japan's history. Although we can learn something from both shows, it is still better to do a little research on it, as not all which is presented in these anime is historically correct, only most of it.
2. Large Cast of Bishounen Characters
Another notable similarity between Hetalia and Touken Ranbu is the large cast of Bishounen characters. Everyone looks gorgeous and handsome in the show. There are also cute boys and traps in it if that is more your type. Each character design is uniquely different and equally interesting.
Since the characters of both Hetalia and Touken Ranbu rely on personification, their character designs alone speak volumes on who they are. Simply put, Touken Ranbu is truly a feast for the eyes, just like Hetalia. Not to mention that these attractive characters are voiced by some of the best seiyuus in the industry and are animated pretty well. With its huge array of good looking characters, surely you can manage to pick at least one (or more) for the spot of your most favorite husbando.
3. Focuses on the Different Interactions and Relationships
Since neither of the shows have that much of a heavy plot, what truly makes them shine are the characters' interactions and their relationships with one another. Hetalia is known for having comical interactions between characters during significant historical events. Even though it is presented in a comical way, what is so fascinating about each character's relationship is that it is mostly based on history. Like how England is always depressed during America's birthday as it is the date where America declared his independence from England, or the time when Romano was under the custody of Spain because of Austria. Although the interactions in Touken Ranbu are not as ridiculous as in Hetalia, this also applies to Touken Ranbu.
Generally, the sword boys get along pretty well. Interactions between characters consist of either friends or family and each of their relationships is highlighted in each new episode. In Touken Ranbu, swords are considered "siblings" if they have the same sword maker. Like the Awataguchi swords (awt48) or the Samonji swords. We also have swords who are extremely close as they have the same masters or wielders, like Yamatonokami Yasuda and Kashuu Kiyomitsu or Izuminokami Kanesada and his partner Horikawa Kunihiro. Overall all, both shows are simply about "Good looking boys, doing cute things together" and what's not to love about that?
---
Liked Hetalia? Watch Nanbaka!
Episodes: 13
Aired: Oct. 2016 -Dec. 2016
Nanbaka is famous for being the world's most secure prison. Juugo, Uno, Rock and Nico are currently held up in this penitentiary at cell 13. Even with its tight security, these 4 prisoners will not be stopped in their shenanigans. They aim to escape and they want freedom, though it's easier said than done as Hajime Sugoroku and his other trusty guards are also on full alert to stop the 4 silly prisoners in their crazy rampage.
3 Major Similarities Between Hetalia and Nanbaka
1. Hilarious & All Over the Place
Hetalia and Nanbaka are identical when it comes to the ridiculousness of the shows. Despite the two shows having a grim setting, the overall atmosphere is colorful and sparkly (literally, especially in Nanbaka's case). While Hetalia uses exaggerated gags and parodies in order to poke fun at the different countries of the world, Nanbaka uses prison humor and other parodies of otaku culture to deliver its comedy. From the security systems having weird ways of stopping their prisoners from escaping, to overly dramatic scenes, Nanbaka's bizarre antics escalate even more with each new episode. It's to the point where viewers are wondering what they are watching, but still, they can't look away from their T.V. or laptop screens, as it keeps them rolling on the floor with laughter and happy tears.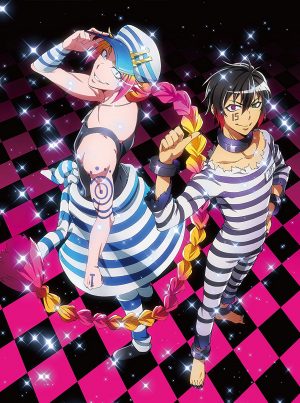 2. Interesting Cast
Hetalia and Nanbaka are overflowing with interesting characters. Hetalia's cast is mostly based on the stereotypes of each country, but even with its standard pattern, we can't help but love them as it's quite impressive that we get to see different countries act so human with flaws and all. From America's love for hamburgers, England's horrible cooking, Italy's love for pasta, and Japan's otaku ways, to Russia's love for sunflowers, and so on, each character is compelling and engaging on their own.
Of course, just like Hetalia, Nanbaka is also abundant with intriguing characters. They are also your average stereotypical characters, but from where the show is currently headed, it seems the whole cast is beginning to show another side of them that will step up their characters a notch. Particularly, we see this in Juugo. Juugo is introduced to us as a cheerful man who seeks thrills and adventure in his life, but as the show progresses, viewers are able to learn the real reason for his obsession with prison escapes. The same goes for his co-inmates Nico, Rock, and Uno, and the wardens; as despite all of them being goofball characters, they can be serious when they want to be. Also, some of the characters do have their own deep scars to tell us about, so you better watch out if the comedy aspect of the show lessens.
3. Episodic and a Good, Fun Watch
Both shows are quite episodic, but they are enjoyable nonetheless. Since Hetalia and Nanbaka tell the everyday life of our characters, some of you might think that it'll get boring after a few episodes. Well in Hetalia, they managed to avoid this by putting a funny twist in the world's history. Seeing the different countries as humans is definitely funny as viewers get to see how they react to certain things based on their stereotypes. There are also some serious moments in Hetalia but it's not that heavy or deep for anyone.
In Nanbaka, they manage to avoid this by adding some badass action in the anime. Not only that, as we stated earlier, the show is currently taking a different turn; so we can hopefully expect more amazing action scenes and great character development. Hetalia and Nanbaka are fun to watch and will surely not disappoint...
Final Thoughts
That's it for our latest slice of life recommendations! Touken Ranbu will surely give you that warm feeling you might need as the season is starting to get colder, while Nanbaka will surely brighten up your gloomy day with their ridiculous shenanigans. So what shows have you decided to add to your watch list? If you are watching them already, what do you think of the shows so far? Just speak up if you have anything at all to say about this article as we would love to hear from you. As always, look out for Honey's Anime for more otaku related content and enjoy your stay! Now signing off! Bye~
---