También puedes leer este artículo en:Español
With the arrival of spring comes new life, and new life means more anime characters to love! Last season brought us some great series with new twists on the slice of life genre, and we're still keeping it fresh with 6 new series to look forward to.
Deep down, we've all got our problems and insecurities, our joys and our ambitions. That doesn't change, whether you're fresh out of college, a dream prince, or a tanuki trying to blend into the human world! If you're looking for shows as calming as the new spring breeze, look no further than our slice of life recommendations!
6. Yume Oukoku to Nemureru 100 Nin no Ouji-sama: short stories

Episodes: 10
Air Date: March 2017 – Dec. 2017
In the land of dreams, there are 100 princes. Each has their own feelings and unique traits. These are the princes from the Yume Oukoku to Nemureru 100 Nin no Ouji-sama phone app, but told before they're put under a mysterious spell and must be saved! Learn about the daily lives the various princes lead and their relationships with each other in these various short stories.
This anime provides a little more backstory to the numerous princes you can save in the wildly popular (in Japan) mobile app Yume Oukoku to Nemureru 100 Nin no Ouji-sama, also known as 100nin. Focusing on events before the princess comes to banish the yumekui (dream eaters), you can enjoy seeing the princes as they were before calamity befell them. It makes it a lot easier to choose who you want in your party! It's a very easygoing and comical series with 8-minute episodes. The first episode is just four of the princes yelling about freedom as they experiment making tea in a way that pleases them rather than what is 'objectively right'. This is perfect if you just want to see handsome princes and laugh at silly antics!
Yume Oukoku to Nemureru 100 Nin no Ouji-sama PV
---
5. Uchouten Kazoku 2 (The Eccentric Family 2)

Episodes: 12
Air Date: April 2017 – ongoing
The Shimogamo family is trying to continue with their lives after the tumultuous events from the last season. Getting by without old friends and embracing new roles, this eccentric family is at least at peace. Yet, past grudges come back, and new rivalries form! Why does life have to be so hard for a tanuki that likes to play human?
This is another fanciful series to look forward to that derives inspiration from Japanese legends. While there is definitely some humor involved, it's done in an almost serious way. Tanuki are crafty and tricky by nature, so seeing how Yasaburou seamlessly switches his opinions to appease whoever is nearest him or to avoid trouble, is more of a character trait than just an attempt to make the audience laugh. If you liked Inari, Konkon, Koi Iroha with its mix of traditional mythical spirits in a modern human setting, you will probably enjoy Uchouten Kazoku as well!
The Eccentric Family Trailer
---
4. Hinako Note

Episodes: 12
Air Date: April 2017 – ongoing
Hinako has always had trouble holding a conversation with another person, but when it comes to talking to herself or animals, she can carry on just fine! As soon as another person tries to step in, however, she freezes up entirely! Determined to improve her speaking abilities, she moves into a dorm with some very cute yet eccentric girls. With such a supportive and kind crew, Hinako finds it easier to open up, and means to push herself even further by starting her own theater troupe!
Hinako Note is another classic 'cute girls doing cute things' anime. All the girls are very pretty and sweet. One thing that sets it apart is how the characters are able to change drastically through acting. It's incredibly intriguing to see these shy and weird girls play characters so unlike them confidently. The opening and ending themes have dances to go with them, which is already enough to catch our interest. Look forward to Hinako Note and watch these cute girls shine!
Hinako Note PV
---
3. Room Mate

Episodes: unknown
Air Date: April 2017 – ongoing
You're the new apartment manager, coming to meet the residents for the first time. When you arrive, you meet Takumi, a young man who would rather scale walls than use doors. He doesn't seem very friendly, but he's nice enough to show you inside. There, you meet the childish actor Aoi, and the cocky yet rather naked Shinya. These are the handsome men you'll be living with from now on.
Room Mate is the male equivalent of One Room, of the same series. Instead of three pretty girls who you get close to and interact with every day, it's three men! What's so interesting about Room Mate is its use of first person POV to make the viewer the main character. The dialogue is mostly assumed on the part of the 'main girl' while the guys carry the story along. This show really helps immerse you in a different, and arguably better, daily life.
Room Mate PV
---
2. Sakura Quest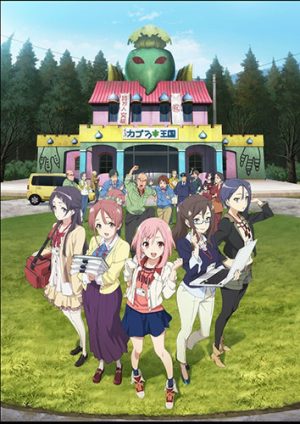 Episodes: unknown
Air Date: April 2017 – ongoing
Yoshino is fresh out of college and eager to find a job in Tokyo. She wants to avoid going back to her Podunk hometown no matter what. She found true happiness as a child being praised by happy citizens as she sat on a throne, though she can no longer remember if it was a dream or a memory. Demoralized after failing all her interviews, she agrees to spend one night in a rural town similar to her hometown for what she thinks is a one-time gig. Instead, she's made the 'queen' of the tourism initiative to revitalize the town of Manoyama. She's determined to cut her contract when she learns they want Yoshino to remain for a year, but an unknown tie to the town may convince her to stay.
Sakura Quest has, predominantly, a cast of women interacting with other women. Something notable about this anime is that all the women are older and look it as well. You won't find a token loli in the bunch as is common for anime these days. It's actually quite a refreshing cast, where these adult women are driven and take pride in their work and can't simply be described as 'nice girls'. Everyone looks lovely, but there is a maturity to their characters we are excited to see more of!
Sakura Quest Teaser PV
---
1. Kabukibu!

Episodes: 12
Air Date: April 2017 – ongoing
Kurogu had a love of kabuki theater instilled in him from a very young age thanks to his grandfather. Now, as a high school student, he desires to create his own kabuki club in order to bring an appreciation of kabuki to a wider audience. He'll find, though, that with the weight of hundreds of years of strict tradition, it's not so easy to get high schoolers interested. A rough start is not enough to deter Kurogu, and he'll work hard to inspire in others the same burning passion he feels, until the day he can put on his own performance!
A lot of recent anime have chosen to pick up niche interests and bring them into the mainstream. Kabukibu is fun because most people only have a vague idea of what it is and how it differs from other traditional theater, and it's showcased against a modern group (Kurogu's fellow students). It's hard to imagine for some people just how a show about traditional theater could be fun or engaging, but it's about making kabuki more reachable for a different audience. While some things are changed, it is only to allow kabuki to be used in the present as it was in the past. With a dynamic and colorful cast, we can't wait to see what kabuki will mean to those who don't see how they can connect yet.
Kabukibu! PV
---
Final Thoughts
Celebrate new (slice of) life this spring with these excellent shows to look forward to! Perhaps you wish to see what normal days are like for royalty? Perhaps you want to see how every day differs between city life and country life? Perhaps you want to step into a different daily life completely, unsatisfied with merely observing others. Whatever floats your boat, be it realistic or fantastic themes, there's something that will catch your interest this season!